Mauritius or Zanzibar for your holiday in 2023?
The picturesque islands of Mauritius and Zanzibar are two of the finest islands in the Indian Ocean - you could not have chosen two better destinations to consider for your paradise holiday.
Both are famed for their idyllic beaches and stunning natural beauty, along with their rich cultural heritage. But while these beautiful tropical islands are of a similar size, they are surprisingly different and will appeal to very different types of tourists.
Zanzibar, being closer to Africa (and part of Tanzania), offers the rich heritage of Africa and a holiday full of adventure and excitement. Mauritius is a lush volcanic island that has closer ties to Indian culture, and is the most progressive country of the Indian Ocean region.
This article will provide an independent and informative comparison of the islands, helping you choose the best location for your paradise holiday.
When to visit Mauritius or Zanzibar
Before comparing Zanzibar and Mauritius as holiday destinations, you must first consider the weather - and the timing of their wet seasons.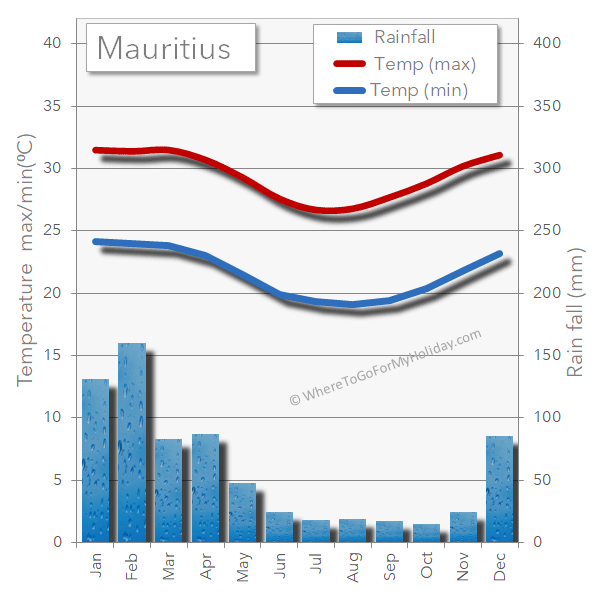 When to visit Mauritius?
Mauritius lies in the southern hemisphere, and offers almost perfect weather for nine months of the year, from April through to the end of December.
The cooler winter months of Mauritius (June to September) provides the best weather and is the ideal season to visit. After the winter the humidity starts to increase, and this leads into an unpredictable rainy season, but there will be constant h and heavy rains from mid-January until the end of March. During July and August, a powerful wind blows in from the Indian Ocean, and the eastern coastline is exposed to these strong winds.
The peak season for Mauritius is at Christmas and Easter and during the school summer holidays of August, and this is when the island will be at it's most expensive.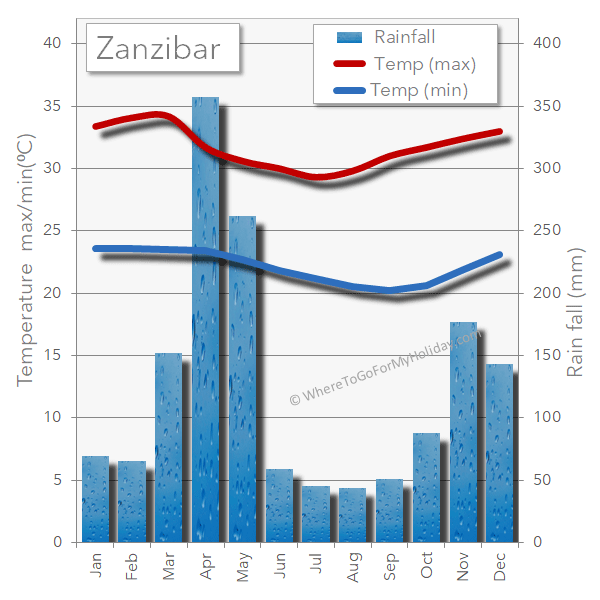 When to visit Zanzibar?
Zanzibar has two dry and two wet seasons, with the best time of year to visit being the longer dry season from June to October. The shorter dry season, between January and March, is hot and humid, but is fantastic for a beach-focused holiday.
The hot, tropical climate of Zanzibar means there is always the chance of intense rain showers year-round, however these rains are generally short-lived.
Zanzibar has two wet seasons: a brief wet spell around November (the Short Rains) and a more persistent rainy season lasting from April to May (The Long Rains). Never book a holiday during the Long Rains, as travel can be very difficult on the mud roads, the seas are rough, and many tourist services will be completely shut down.
The Christmas holidays are the most expensive time of year to visit, while from June to October offers decent weather and the best value.
Insight: Both Mauritius and Zanzibar are great destinations during the summer period (July/August), when the whole of Europe is overcrowded due to school holidays and the Caribbean is just coming in to its hurricane season.
Tourist introduction to Mauritius and Zanzibar
Zanzibar
Zanzibar is the finest paradise island of Africa, and while it may be a little rough around the edges, it provides an exciting and memorable holiday destination.
Zanzibar is an archipelago of islands situated 36km off the coast of Tanzania in the Indian Ocean. Most visitors to Zanzibar base themselves on the largest island, Unguja, which is often simply referred to as Zanzibar Island or even Zanzibar. The other two inhabited islands are Pemba and Mafia, but if this is your first trip to Zanzibar, we'd recommend being based on Unguja.
Unguja is 85 kilometres long and 39 kilometres wide, but the dreadful state of its roads makes the island feel much larger, as travel can be time-consuming.
Zanzibar is surrounded by thriving coral reefs, with its coastline blessed with vast white-coral sand beaches lined by palm trees. The finest beaches can be found on the eastern side of Zanzibar Island, with this area containing the tranquil beach towns of Kiwengwa, Jambian and Pingwe. To the north of the island is the relaxed beach town of Nungwi.
Stone Town is the bustling - if slightly chaotic - capital city, which makes for an enjoyable day trip from the peaceful beach towns. Inland, Zanzibar is filled with tropical forests, spice plantations and distinctive red soils, along with a multitude of semi-poor farming villages. Zanzibar shares the woes and issues of much of central Africa, however the people are cheery and welcoming.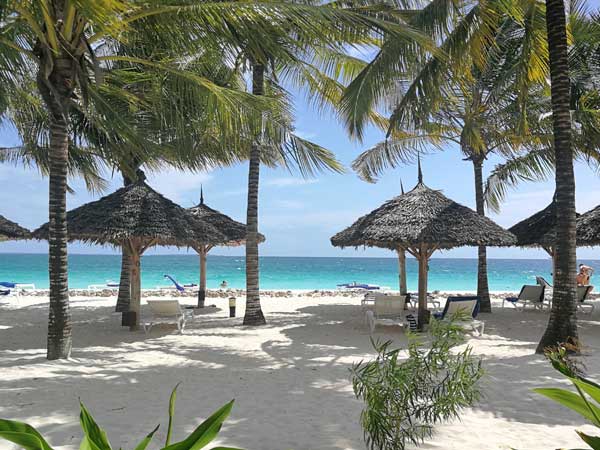 The pristine beaches to the north of Zanzibar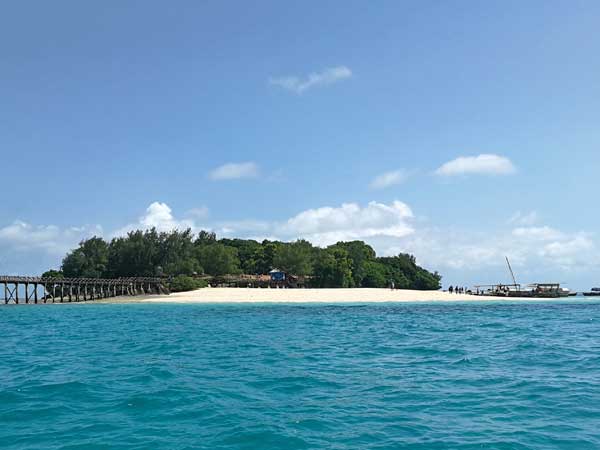 One of the many idyllic islands along the Zanzibar coastline
The luxurious resorts of Mauritius
The 97m drop of the Chamarel Waterfalls
Mauritius
Mauritius is a dormant volcanic island situated in the south Indian Ocean. The island, which is 61 km long and 47 km wide, is almost entirely surrounded by coral reefs, and along much of the coastline are white sandy beaches. The interior is mountainous and lush, with dense rainforests to the southside, and most of the population lives on the cooler flat central plateau.
The majority of the tourist development lies along the north and western coastline, which is sheltered from the strong south-easterly breezes that blow during July and August.
Mauritius is a safe and stable country, and is a mix of welcoming peoples and cultures - Hindus make up the largest religion, but there are substantial numbers of Muslims and Africans along with French nationals (ex-pats). The island is technically part of Africa, but has a surprising level of infrastructure and development, which can rival any Europe or North American country.
The capital city is Port Louis, but it has little attraction for tourists, apart from as a possible day trip. The largest and liveliest resort is Grand Baie (to the northeast), but for somewhere a bit more idyllic, there is Trou-aux-Biches (northeast), Flic en Flac (west) or Pereybere (north). Found along the northern side of the east coastline are the super luxurious resorts, but these can feel very remote from everything.
Mauritius offers a wide variety of accommodation, along with places to eat and activities. A holiday here is equally suited as a romantic honeymoon or for a family holiday, and even is a backpacking trip - if you can just find cheap flights!
The difference between Zanzibar and Mauritius
The main difference between the two islands for visitors is the standard of infrastructure. Mauritius has decent roads, western-feeling shops, a modern airport and a level of safety that is comparable to any American or European country. Zanzibar has a more haphazard feel, with dirt tracks, frequent power outages and a relaxed attitude to everything.
One of the easiest ways to sum up the differences between Zanzibar and Mauritius is to look at the GDP capital (average a person earns in a year). Zanzibar's average is just $656, while in Mauritius it is $11,280. Mauritius will be your safe and secure paradise holiday destination, while Zanzibar offers a more unpredictable, developing world experience and adventure.
A worldly traveller may consider certain areas of Mauritius a little sterile and overly tourist developed, but this may be ideal if you are travelling with your family or are a slightly older visitor.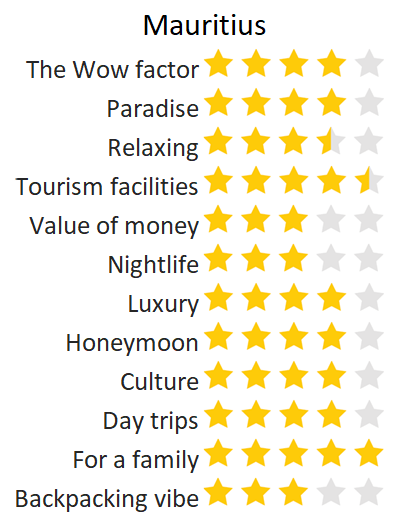 So why Mauritius?
Mauritius is the perfect paradise holiday destination if you want more than just paradise beaches and luxurious resorts.
Its 5-star resorts are as magnificent as anywhere else in the world, but it is what is beyond the white beaches and endless margaritas of your hotel the real appeal of Mauritius is discovered.
The diverse history of Mauritius means the island is a compelling mix of cultures and people, with Indian and African influences along with the colonial heritage of France, England and the Dutch. To the south-east are the mountains and dense rainforests of the Black River Gorges National Park, with its towering waterfalls, stunning natural scenery and challenging hiking trails.
There is the nightlife and holiday fun, of Grand Baie, the largest resort town of Mauritius, or there is the Sir Seewoosagur Ramgoolam Gardens, one of the finest Botanical Gardens in the world.
Mauritius boasts outstanding diving, with the entire island surrounded by coral reefs and numerous shipwrecks that were caught on these reefs. Being a safe, stable and well-developed country, makes Mauritius an ideal holiday destination for families or older travellers.
Mauritius is the paradise island for a truly hassle-free holiday, which offers so much more than just beaches.
So why Zanzibar?
Zanzibar is undoubtedly one of the best destinations in Africa. A holiday here offers an exciting blend of rich cultures, stunning natural scenery and welcoming people. If you are looking for something very different from your holiday, Zanzibar makes a great choice of destination.
One huge bonus of a holiday to Zanzibar is that it can be easily combined with a safari in neighbouring Tanzania. A two-week holiday will frequently be split between an exciting safari in the Serengeti, followed by a relaxing beach break in Zanzibar.
As a paradise island, Zanzibar boasts some of the world's finest beaches, with vast expanses of white coral sands and inviting turquoise sea water. The best beaches are to the far north (Nungwi), to the east (Kiwengwa) or to the southeast (Kizimkazi). The island's coral reefs are teeming with life, and diving at Zanzibar is surprisingly inexpensive.
Unlike many other paradise islands, there is actually plenty to do if you tire of spending time on the beaches. There are day trips to Stone Town, Prison Island, the Jozani Forest nature reserve, as well as multiple snorkelling and diving trips.
Zanzibar also provides excellent value for money, for both mid-price all-inclusive holidays and budget-focused backpacking trips. For an off-the-beaten-path backpacking destination, Zanzibar is a fantastic choice.
While Zanzibar is a popular holiday destination, the island never feels overrun with tourists.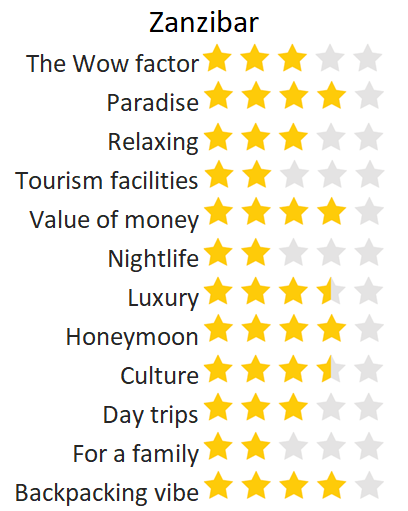 Sights of Mauritius
Capital city of Mauritius 1) Port Louis
Main resort towns: 2) Grand Baie 3) Pereybere 4) Flic en Flac 5) Balaclava 6) Trou aux Biches
Best beaches: 7) Flic en Flac 8) Pereybere 9) Grand Baie 10) Belle Mare
Tourist sights: 12) Black River Gorges National Park 13) Chamarel: 7 Colored Earth 14) Le Morne Brabant 15) Tamarind Falls 16) Ganga Talao and Grand Bassin 17) Aventure du Sucre 18) Sir Seewoosagur Ramgoolam Botanical Garden 19) île au phare 20) Casela Nature Parks
Transport: 21) Mauritius Airport
Sights of Zanzibar
Capital city 1) Stone Town
Main resort towns: 2) Kiwengwa 3) Nungwi 4) Jambiani 5) Pingwe 6) Paje
Best beaches: 7) Bwejuu Beach 8) Michamvi Beach 9) Nungwi Beach 10) Kendwa Beach 11) Kizimkazi Beach 12) Matemwe Beach
Tourist Sights: 13) Changuu (Prison Island) 14) Old Fort (Historic centre of Stone Town) 15) Jozani Forest 16) Snorkelling at Mnemba Island 17) The Rock restaurant
Transport: 18) Zanzibar Airport
The luxurious resorts of Mauritius
Where to be based for your Mauritius holiday
Mauritius is a varied holiday destination and this variety also applies to the many resort towns around the island. Due to the winter winds (Jul-Aug), tourism first developed along the sheltered northern coastline but has since expanded to wherever there are beautiful beaches, such as Belle Mare and Flic en Flac.
When choosing a hotel or resort, decide what style of holiday you are after, and then select a location which reflects this. Grand Baie, to the north of Mauritius, is the largest resort town but may be too overdeveloped and hectic for your paradise holiday. The surrounding villages of Trou-aux-Biches, Pereybere, and Pointe aux Canonniers have a much calmer atmosphere, along with beautiful beaches.
Flic en Flac town is highly recommended, has a bit of a trendy backpacker vibe and is surrounded by many outstanding resorts along the beautiful western coastline. Belle Mare is one of the finest beaches of Mauritius, and the eastern side tends to have a more exclusive atmosphere.
Mauritius is a relatively small island with recent roads (but awful traffic), and no matter where you are based, all of the islands is accessible via day trips or organised tours.
Activities and day trips for Zanzibar
Zanzibar is both ecologically and culturally diverse, with the extensive selection of tours and activities available reflecting this.
The trading importance of Stone Town has resulted in a cultural mixing pot of Arabic, African and Indian influences. With its UNESCO world heritage sites, characterful back streets and elegantly carved wooden doors, Stone Town is a thriving and engaging city that is well worth a visit.
The Zanzibar Archipelago comprises of many islands, and a popular excursion is an island-hopping trip that includes snorkelling. One of the largest islands, Prison Island, is famed for its ancient giant tortoises.
Some of the best snorkelling is around Mnemba island, while there are dolphin-watching tours and deep sea fishing trips that head further out into the Indian Ocean.
Zanzibar was once completely covered in dense forests, and Jozani Forest is a great region in which to view the natural environment, along with its inquisitive red colobus monkeys. On the more fertile lands are farms growing exotic species, and there are informative tours of these plantations.
For more relaxing excursions, there are Dhow boats that gently ply the coastal waters or offer sunset tours.
Insight: The only consideration with any day trips on Zanzibar is the potted and dusty road network which can make the best of travellers feel car sick.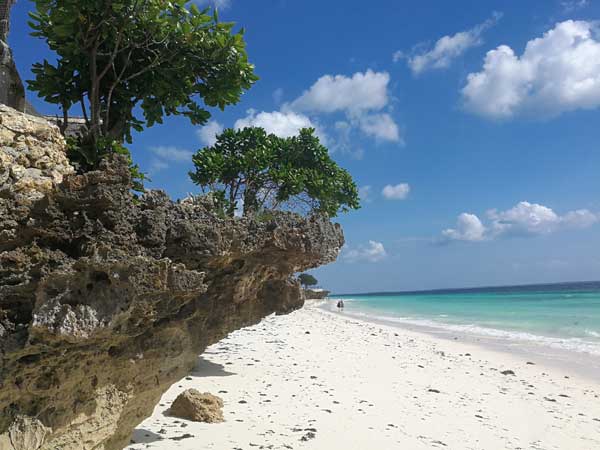 Zanzibar's stunning coastline
Which is more expensive for your holiday?
The following price comparison compares both destinations for a 1-week holiday in next month's time and will give you an indication of prices for a range of accommodation.
All of our pages