Where to stay in Amsterdam? The best neighbourhoods and districts for your trip in 2023
Amsterdam is the laidback capital of the Netherlands, famed for its liberal culture, bikes galore and Museums. The capital is distinct from any other city in the world with its meandering canals, quaint bridges, and historic architecture.
Given the city's culture, arts and geography it is a popular weekend trip for Europeans and pit-stop for those touring Europe. However, many visitors often concentrate on the central De Wallen area and the city's liberal smoking culture, and as a result, they miss out on many of Amsterdam's finest attractions.
This article will detail the best districts of Amsterdam to stay in to help you choose the best one for your trip.
The best districts of Amsterdam to stay in
The diversity of Amsterdam is reflected in the many varied districts and neighbourhoods. There is 'De Wallen' with its Red-light district, the upmarket Jordaan district or the artisan neighbourhood of De Pijp.
If this is your first visit to Amsterdam, the best five neighbourhoods to stay in are: 1) Grachtengordel 2) Jordaan 3) De Pijp 4) De Wallen 5) Leidseplein
Note: Most of the historic centre of Amsterdam lies within the Centrum district. This large area is divided into Centrum-West and Centrum-Oost, with Centrum-West containing the tourist neighbourhoods of Grachtengordel and De Wallen.
The map below shows the main tourist areas of Amsterdam.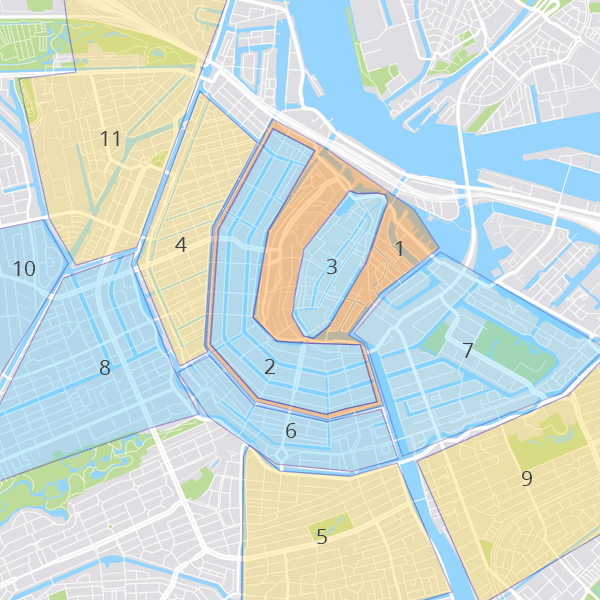 Key: 1) Centrum-West 2) Grachtengordel 3) De Wallen 4) Jordaan 5) De Pijp 6) Leidseplein 7) Centrum-Oost 8) Oud-West 9) Oud-Oost 10) De Baarsjes 11) Westerpark
Amsterdam may be one of northern Europe's most famous tourist destinations, but the city has a surprising shortage of mid-price hotels and rental rooms. This shortage is especially true from Fridays to Sundays during the peak season, with visitors seeking weekends away. To get the best prices, always book your accommodation as far in advance as possible.
The map below shows the location of hotels and rental rooms in Amsterdam. The map will display current prices and availability by altering the dates to suit your trip.
It's my first trip to Amsterdam. Where should I be based?
For anyone new to this artsy city, Grachtengordel is a perfect neighbourhood to stay in.
Also known as Amsterdam Centrum, this area looks like a postcard of the famous city and is a wonderful place to instantly feel immersed in the Dutch capital. Grachtengordel has a great selection of restaurants and amenities and is very welcoming.
As many tourists can find navigating the city a little disorientating and getting lost is common, this neighbourhood is centrally located and close to all main attractions.
Choose your location before looking for accommodation!
Always choose the location you'd like to be based in before looking for accommodation in Amsterdam. This may sound obvious, but it is all too easy to be sucked in by an amazing discount or outstanding reviews without really considering which area you will be staying in.
The top districts of Amsterdam in detail
The best base for your trip will depend on what you are looking for. Each district offers a different atmosphere, with some more suited to sightseeing while others are better for nightlife or culture. This section will provide an overview of the most popular areas of the city to help you choose.
Grachtengordel
Grachtengordel, also known as the Canal District, embodies the quintessential Amsterdam neighbourhood. The narrow canal-side streets are home to local Dutch shops, cafes, and restaurants. The main four waterways that flow through this district are picturesque, calming, and perfect to explore on foot or via a leisurely cruise.
Grachtengordel's character and central situation make it a popular tourist base, and the hotels in this area are expensive and often fully booked far in advance.
The must-see sights of Grachtengordel are:
• Cruising on the iconic canals at sunset or dusk.
• The chic shopping area of 'De Negen Straatjes' (The Nine Streets).
• The Bloemenmarkt (flower) market.
Grachtengordel is best experienced by roaming freely and enjoying the café culture. Our top café recommendations include Holtkamp and Pancakes Amsterdam.
By nighttime, the place to eat is Jansz Restaurant (within the Pulitzer Hotel), but for more reasonably priced food, try the Dutch cuisine at De Blauwe Hollander.
De Wallen
De Wallen, also known as Amsterdam's infamous red-light district, is the oldest neighbourhood within the city. Located near Grachtengordel, De Wallen offers medieval architecture, neon red-lit streets and unique bars and clubs.
As a residential area, you'll find places to stay here. However, due to its popularity among tourists, it's always very busy and tends to be more expensive. Visiting De Wallen and staying in a different neighbourhood may be better.
The must-see sights of De Wallen are:
• The famed Dam Square with the impressive Royal Palace Amsterdam
• The extraordinarily preserved 13th Century De Oude Kerk Church.
• Roaming the quirky Red-Light District by evening
• Getting your next read at Oudemanhuispoort Book Market
• Visiting the Amsterdam Museum
De Wallen is vibrant, lively, and entertaining at all times of the day. Do expect to frequently pass windows with erotic displays, and it is wise to be mindful when visiting this area with older children to avoid awkward questions.
The finest restaurants in Amsterdam are located around the Canal ring surrounding De Wallen. These are expensive but well worth it. Top recommendations include The Duchess for a regal and opulent meal or Bellezza for a fusion of art and cuisine.
Jordaan
Jordaan is a stylish, sought-after area located west of the Canal District. Built-in the early 17th century, this upscale district offers lavish accommodation in historic buildings, along with markets, boutiques, galleries, and cafes.
Jordaan is only a 20-minute walk from Central Station, making it a great spot for travellers who want a high-end getaway that is still centrally located.
The must-see sights of Jordaan are:
• Noodermarket Flea Market (Saturdays and Mondays from 9 am – 2 pm)
• World-famous Anne Frank House Museum,
• Roaming the leafy streets and taking in art galleries, cafes and 'Bruin bars' (brown bars).
• Strolling along the prettiest canal in Amsterdam, Brouwersgracht.
By night-time Jordaan is a mixture of old-fashioned and hipster bars. It is a perfect place to discover Dutch' Bruin Bars' such as the Papeneiland Café and Café t' Smalle. Jordaan is also a great neighbourhood for trying hearty Dutch specialties such as Stamppot.
De Pijp
Located in the south, De Pijp is a hip and vibrant neighbourhood popular among young people, students, and artists. Frequented by Dutch locals, it's a great choice for travellers looking for a fun atmosphere that is central but less touristy.
The area boasts some sprawling markets where you can find one-of-a-kind pieces made by local artists. For those looking to relax outdoors, it's also close to the famous Vondelpark and is within walking distance of major attractions.
De Pijp is famed for its quirky coffee shops, cosy bars, trendy nightclubs, and diverse restaurants. Must-see sights of De Pijp are:
• Heineken's historic brewery
• The leafy Sarphatipark where trendy types relax, chat and read.
• The sprawling Albert Cuyp Market
By night, De Pijp is alive and spirited. There are endless restaurants and bars to choose from and it is recommended to look before you go to get authentic cuisine. For those looking to take in the views with Michelin-Starred Cuisine, it is recommended to head to the Twenty-Third Bar (within the Hotel Okura). For those looking to start a night out somewhere quirky try the jungle-themed De Tulp.
Leidseplein
Leidseplein, a bustling neighbourhood in the southern part of Amsterdam's central canal ring, offers a diverse mix of nightlife and culture. It is close to Vondelpark, a beautiful park considered one of the best in the city, as well as the Museum District.
If you prefer a lively stay, enjoy the bustling bar and restaurant scene in Leiden Square, or watch the street performers who often perform in the area.
Must-see sights of Leidsephlein:
• Soak up Dutch art history at the Rijksmuseum, including works by Rembrandt.
• The Stedelijk modern art gallery also features works from Warhol, Van Gogh, and Picasso,
• Indulge in high-end retail therapy along the upmarket PC Hooftstraat up to the Willemsparkwe
Oud-West
While Oud-West is gaining popularity, it remains a quieter spot that is tucked away from the tourist crowds. Surrounded by green space, including Vondelpark and Remembrantpark, the Oud-West is still close enough to explore the Centrum on foot.
One of the most unique attractions of Oud-West is Ten Kate Markt – a market with fresh produce, baked goods, iconic Dutch cheese, and handmade goods. This residential neighbourhood is family-friendly and is a great choice if you want to explore incredible restaurants and shops at a slower pace.
Most romantic places to stay in Amsterdam
De Pijp is popular among younger couples, as its location is perfect for seeing the city's attractions during the day and then enjoying drinks and dancing on your doorstep at night.
For couples seeking a romantic getaway, the luxurious hotels and restaurants in this neighbourhood provide an unbeatable ambiance. For a more relaxing stay, consider Oud-West. Here you'll find green spaces and markets frequented by locals rather than streets and attractions bustling with tourists.
Where to stay in Amsterdam with kids
Families who want to be close to the attractions should consider Oud-West, a family-friendly neighbourhood away from the city centre's hustle and bustle. Tucked away from the crowds, the area is still close enough to visit Amsterdam's top tourist spots. It is also near Vondelpark, the city's largest green space, and has many shops and markets where you can find souvenirs for all ages.
Best nightlife district in Amsterdam
De Wallen has a reputation for its party scene. However, this district tends to be flooded with tourists wanting to check out the red-light district at all hours of the day, making it expensive and crowded.
For that reason, consider staying in Leidseplein. Located towards the south of the city, it's a fantastic alternative that boasts some of the city's hottest bars, clubs, coffee shops and live music venues.
If you're set on De Wallen, consider Grachtengordel as your home base, as it's the most central area and only a short walk to all the nightclubs and bars in Binnenstadb.
Where to stay for a business trip to Amsterdam
Business travellers wishing to stay at a luxurious hotel near the city's heart should consider Jordaan. This neighbourhood is near some of the city's best shopping at 'De Negen Straatjes' (The Nine Streets). It has a reputation for providing a more high-end experience than Amsterdam's other districts. While the area is popular with tourists by day, it is quieter at night and offers a fantastic variety of stylish restaurants and chic bars.
Which areas of Amsterdam should I avoid?
De Wallen, also called the red-light district, is a major tourist attraction. This area is known for its nightlife scene, making it a less desirable choice for families, business travellers and couples looking for a romantic stay.
Day trips from Amsterdam
Much like the city of Amsterdam, the Netherlands is easy to explore without a car. The country has great transport links, making it easy and affordable to travel to neighbouring towns, cities and countries like Belgium and Germany. If you're planning on spending time outside of the city, here are a few popular spots to visit for a day or more, all of which can be easily accessed using public transport.
Utrecht – Utrecht is a beautiful city well worth a day trip. The city's medieval centre has beautiful canals, unique cave bars and offers unparalleled views from Dom Tower. Utrecht is considered the student capital of the Netherlands, making it a great choice for travellers on a budget or those looking for a fun night out.
Keukenhof – If you find yourself visiting the Netherlands in the spring, check out the world-famous Keukenhof Gardens to see the tulips. Located just outside the town of Lisse, this picture-perfect 79-acre field is home to over 700 types of tulips and flowers.
Delft – This town was famous for its blue and white Delftware porcelain, dating back to the 1600s. Here you can wander along quaint streets, admire the gothic architecture, and watch local artists at work.
Giethorn – Giethorn is a real-life fairy-tale setting. This quaint village doesn't have roads, instead only canals. Though it's about a 2-hour journey via train and bus from the city, it's an idyllic escape.
Rotterdam – Unlike the narrow historical buildings that are found throughout the Netherlands, Rotterdam is a more modern city. If you're fascinated by architecture, you're sure to like exploring this unique and bold city and will love the tilted, yellow houses this city is known for.
Haarlem –Haarlem offers a change of pace from the bustling streets of Amsterdam, despite being only 15 minutes away by train. Here, you can wander along historic cobblestone streets, admire 18th-century windmills and visit a sprawling tulip field for an authentic Dutch experience.
How to get around Amsterdam
Amsterdam is compact and walkable. No matter which neighbourhood you stay in, the main tourist attractions can be easily reached on foot, by public transport or - if you prefer to live like a local - by bike.
It is also worthwhile getting a boat cruise to see the quaint streets from the water.
For those flying into Holland, the capital is just a 15-minute train ride from Schiphol Airport. The central station has major rail connections with other European destinations and the Eurostar for connections to Paris and London. The ease of transport to Amsterdam makes it a viable weekend stop.
Insight: For those new to Amsterdam and keen to explore on foot, it is vital to be mindful of the cycle lanes and stay out of these to avoid an accident. It is also important to treat crossing these lanes like a normal road; locals can cycle at a fast pace and are unlikely to slow for meandering tourists.