Where To Stay in Chicago? The best areas and districts for your hotel and accommodation in 2023
Chicago is a fun-loving, spirited North-Eastern city mistakenly overlooked by many tourists wanting to visit America. Yet those who venture to Chicago will discover everything and more needed for a memorable city break.
The city is a thriving metropolis, which also has a picturesque lakeside shoreline, beaches and an impressive waterfront.
This article will detail the best districts in Chicago to stay in and help you choose the best one for your trip based on your needs.
The best districts of Chicago to stay in
Chicago lies on the western side of Lake Michigan, with the Chicago River passing through the downtown area into the tranquil waters. The wider city sprawls north and south considerably, but visitors are wise to be based and stay in the central districts, which are safe and equipped for tourists.
The top five districts of Chicago to stay in (in order) are 1) The Loop 2) Magnificent Mile 3) Streeterville 4) River North 5) West Loop.
Top tip: Chicago is a sprawling city, and visitors are unlikely to see everything in one visit alone. Therefore, it is wise to stay in an area based on the sights you most want to see and the type of trip you want to have.
The map below shows the main tourist areas of Chicago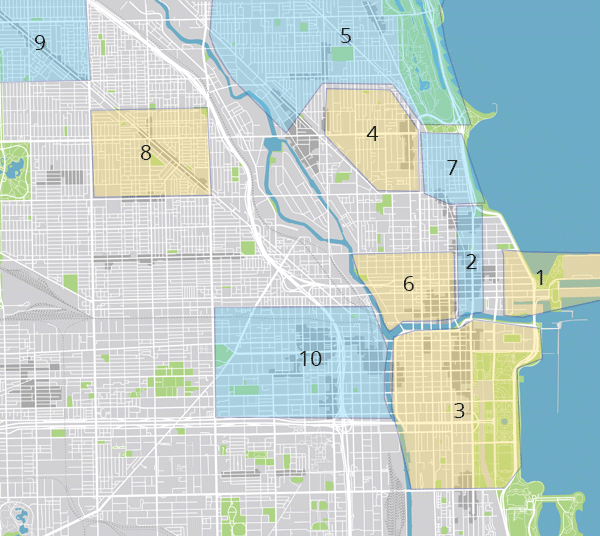 Key: 1) Streeterville (& Navy Pier) 2) Magnificent Mile 3) The Loop 4) Old Town 5) Lincoln Park 6) River North 7) Gold Coast 8) Wicker Park 9) Logan Square 10) West Loop
The map below shows the location of hotels and rental rooms in Chicago. By altering the date of your trip, the map will display current prices and availability:
It's my first time in Chicago; where should I stay?
For anyone new to this impressive city, it's vital to stay in the central Loop District to be close to everything and be situated in an area with many restaurants, amenities, sights, and great transport connections.
Hotels within the Loop are expensive, and it is highly recommended to book far in advance. However, the additional costs for staying here are absorbed by the ease of doing everything once you arrive.
Public transport from the airports and other American cities all arrive within this district (named for its looping transport hub): This makes the district a great option for short stays and those who require transport to get around.
Being based anywhere in this district ensures a short walk to the waterside, which is vital after a day within the bustling city.
Top tip: When considering a first-time trip to Chicago, it is vital to be aware that the city experiences harsh winters, and many of the sights and outdoor experiences that are worthwhile are best experienced in the shoulder or peak seasons.
The top districts of Chicago in detail
The Loop
The Loop is the central business district of Chicago and is home to many of the city's best-known attractions. If you want to be right in the thick of things, this is the place to stay. Unlike the other districts in Chicago, the Loop is also sandwiched between the Chicago River (West & North) and the waterfront to the East: This makes the Loop a great district for balancing city exploring and the outdoors. Accommodation options in the downtown loop include large luxury chain hotels in high-rise buildings. Prices are expensive but do range by season, proximity to the Chicago River and by day of the week.
The Loop features many of the top treasures of Chicago, and must-see sights are:
• Millennium Park and specifically the Cloud Gate sculpture (with amazing reflections of the city)
• The Art Institute with collections from World renowned artists (Open daily except Tuesdays and Wednesdays, adult tickets $32)
• The Sky deck on the 99th floor of the Willis Tower for inspiring views of Chicago.
• Shedd Aquarium (open daily from 9 – 6pm, prices vary and booking in advance recommended)
• The activity wonderland of Maggie Daley Park (open daily from 10 am – 9 pm)
The Loop has a wide selection of chain restaurants and quick eateries. For those keen to try Chicago delicacies, such as deep-dish pizza, the Revival Food Hall is a great hub to try a selection of treats.
By night, the Loop is vibrant, and the waterfront is particularly scenic with its illuminations. For the best views of the city lights, it is recommended to head to the AIRE bar (within the Hyatt Centric Hotel). For those wanting a more intimate spot, the 2twenty2 speakeasy bar is a local favourite.
Magnificent Mile
The architecture of the Magnificent Mile aligns with its name, and this district is home to high-end boutiques, fine dining restaurants and luxury hotels. The impressive Michigan Avenue is the place to be seen in the daytime for those who adore retail therapy and is well-connected to tourist sights of the Navy Pier, the downtown Loop, and night-time hotspots of River North.
Hotels within the Magnificent Mile are luxurious but sometimes, surprisingly, cheaper than the Loop. For those looking to stay in 5-star luxury, this district is also home to some of the finest hotel chains, such as Four Seasons and Waldorf Astoria.
Magnificent Mile must-see sights are:
• The lavish shops and fine dining along Michigan Avenue
• The colossal architecture of the Chicago Water Tower and other skyscrapers
By nighttime, the Magnificent Mile feels chic and trendy. For those preferring the former, it is recommended to be seen at the Signature Lounge at 875 North Michigan Avenue (formerly the John Hancock Centre). Alternatively, for trendy hipster types, it is recommended to head to the Botanic Brewery, Forbidden Root Restaurant and Bar.
Streeterville (Navy Pier)
The Streeterville District continues along Lake Michigan's waterfront, north of Chicago River's estuary. This area has a wonderful shoreline, including the sandy Oak Street Beach (to the north), lakefront trail and the boardwalk of Navy Pier, along with a good selection of accommodation, amenities, and shops. Expect hotels in this district to be similarly expensive and expansive to the Magnificent Mile as these districts blend seamlessly. Tourists staying in this area will be marginally out of the hustle and bustle of the Loop and slightly closer to the tourist attractions of Navy Pier than the Magnificent Mile.
Streeterville's must-see sights are:
• The Children's Museum for toy nostalgia (10 am – 5 pm daily, adults and children's tickets both $21)
• Taking a ride on the Centennial Wheel for air-conditioned, 360-degree views of Chicago (adult ticket $15)
• The Museum of Contemporary Arts (open daily except Mondays, adult tickets $19)
• Enjoying the rides at the Navy Pier
• Relaxing on Oak Street Beach with its city backdrop.
Streeterville is a great district from which to explore Chicago nightlife hotspots within River North, but the area also has some hidden local treats. Tourists can have a tipple at the Art Deco Sparrow Bar and high-end bars towards the Gold Coast District or head to the spirited Streeterville Social summer bar (Loews Hotel) for drinks and games.
Lincoln Park
Lincoln Park is known for being one of the most family-friendly areas in Chicago. Surrounded by streets filled with trees and gorgeous brick homes, this picturesque district is home to a host of family attractions, beautiful green spaces, and musical venues. Located north of the main downtown districts, this alternative area is a good place to stay for those who want to experience local life and a slower city pace. Lincoln Park is also preferential in the summer due to the open leafy areas.
Lincoln Park's must-see sights are:
• Lincoln Park Zoo is one of the only free zoos remaining in the country.
• The Chicago History Museum (open daily except Mondays, adult tickets $19)
• Seeing a show or band at one of Lincoln Park's live music venues
• Watching a comedy show at the Second City Comedy Club
By night Lincoln Park is a great area for those looking for lower pace entertainment options, and it is highly recommended to listen to some Chicago Blues, a local comedian or be seen at the Swanky rooftop J Parker bar.
River North
River North is one of the most popular areas for visitors to stay in Chicago, especially for business travellers who need food, drink, and entertainment after working hours. The district is right next to the heart of downtown and features many of the city's best restaurants, bars, and nightlife. Many business travellers also stay in River North because of its proximity to the financial district.
Good food and drink options within River North include:
• Exploring the northern riverbank walkway
• Visiting the House of Blues for some soulful Chicago music
• Popping into the Redhead Piano bar to listen and sip cocktails.
• Going all out at the Tao Chicago nightclub.
• Having a fancy cocktail at the Gilt Bar then head downstairs to the library.
West Loop
The West Loop has been included on this top list of where to stay in Chicago as it is an up-and-coming district, which offers something quite different to the rest of the downtown city. As the name suggests, this district is across the river from the Loop and well connected to the hustle and bustle but feels more trendy, relaxed, and fun.
Hotels in this area are well-rated and often favoured by those who visit Chicago for Sports. Prices are also marginally lower and can vary by sporting events and the playoffs (if local teams make them).
West loop must-see sights are:
• Going to watch a Chicago Blackhawks Ice hockey or Chicago Bulls basketball game at the United Center. Click here for a schedule of what's on: www.unitedcenter.com
• Visit Restaurant Row for delicious food from around the globe.
• Check out the French Market for yummy Parisian produce and patisserie.
• Game, drink and have fun at the Emporium Arcade Bar in Fulton Market.
By night West Loop is a spirited and vibrant district. The dining and drinking options are so wide that tourists visiting this district may want to stay night after night within the same area. Top recommendations include the century-old Press Room for dinner and the Lone Wolf for craft beers and cocktails.
Gold Coast
The Gold Coast is the one of the most affluent districts in Chicago and America: This district is lined with stunning homes and architecture, Lavish shops (particularly Oak Street) and home of the infamous original Playboy Mansion.
Wrigleyville
Wrigleyville is an up-and-coming area of Chicago that is quickly becoming a popular tourist destination. This district is home to Wrigley Field, which is where the Chicago Cubs play baseball. You'll find new hotels, shops, bars, and restaurants in this area of the city, which is perfect if you're looking for a holiday full of drinking and sports.
Choose your location before looking for accommodation!
Always choose the location in Chicago you want to be based in, before looking for accommodation. This may sound obvious, but it is all too easy to be sucked in by an amazing discount or outstanding reviews, without really considering which area you will be staying in.
Most romantic places to stay in Chicago
For a slower pace, relaxing stay in Chicago it is worth journeying north to the Lincoln Park District or to stay in the trendy West Loop. Lincoln Park has smaller boutique options, a slower pace, and interesting sights and is out of the hustle and bustle of the city.
Alternatively, the West Loop District feels like an escape from the towering skyscrapers and pace of the Downtown. Within the West Loop, tourists can visit more niche local attractions such as the French market and explore trendy areas such as Fulton Market.
Where to stay in Chicago with kids
Chicago is a great destination for kids as the city has an enormous selection of attractions and sights that will appeal to all ages and energy levels. The Loop is a great district for easy transit from the airports and for getting around the city.
For those with smaller children, it is wise to be situated close to one of the city's green parks or activity areas and to avoid the built-up downtown avenues, which can be hectic and not kid-friendly, particularly at rush hour. Therefore, it is wise to look for hotels along South Michigan Avenue that borders the waterfront strip, which includes Maggie Daley Park, Grant Park, and the Shedd Aquarium.
Where to stay for a business trip to Chicago
If you're looking for a place to stay that is full of business travellers, the best place for you is River North. This area is home to many of Chicago's financial institutions and corporate offices. You'll also find plenty of restaurants and bars in this area, making it the perfect place to unwind after long meetings.
Best nightlife districts in Chicago
For tourists looking to experience a city night out, it is highly recommended to stay in River North. As the sun fades the number of mouthwatering menus, stylish speakeasys, live music venues and clubs is incomparable.
For a truly memorable night out, it is highly recommended to take a sunset cruise of the Chicago River and take in the cityscape. From here, roam the riverside along the banks of the River North District, have a meal and then take any of the streets heading north to find a great bar. For those wanting to dance there are a range of clubs and live music venues for every taste.
Chicago is a city that continues into the night and anyone staying a few nights is wise to spend time exploring the city after dark to enjoy the sights and culture of this fantastic city.
What areas of Chicago should I avoid?
When it comes to dangerous parts of town, there are a few areas that you should avoid at night, such as the area around the United Center and some parts of River North. However, Chicago is generally a safe city, so you'll be fine as long as you use common sense and stay in well-lit areas.
How to get around Chicago
Chicago has an efficient well-connected public transport network that negates the need for taxis when arriving and travelling between districts. The grid system has colour-coded lines for ease and stops near all of the main attractions.
For those arriving via either the O'Hare Airport (blue line) or Midway Airport (orange line), the public transport system is an efficient way to arrive in downtown Chicago and then switch trains (if needed) to a specific district. For anyone staying longer than an overnight in Chicago, it is worthwhile purchasing a Ventra travel card or downloading the app to make payment easy and simple.
Chicago also has a lot of scenic trails for pedestrians, and it is worthwhile using these to explore the city and limit spending where possible. The city is also relatively flat, so it is easy to navigate on foot.