Where to Stay in Barcelona? The best areas and districts for your holiday in 2023
Barcelona is one of the finest tourist destinations in Europe.
Famed for its rich history, awe-inspiring architecture, glorious beaches, and vibrant culture - it is a city that has something for everyone. The diversity of Barcelona is reflected in the many varied districts and neighbourhoods, with each one boasting its own unique character and appeal.
This article will guide you through Barcelona's best neighbourhoods, and help you to choose which area to stay in during your visit.
Barcelona's best districts
Barcelona is hemmed in by the Mediterranean Sea to the east and the Collserola mountains to the west, and has one of the highest population densities of any European city. The combination of limited space and Barcelona's extensive history has created a city with many varied and colourful districts.
If this is your first visit to Barcelona, the best districts to be based in are: 1) El Born 2) Las Rambles 3) Gothic Quarter 4) Gràcia 5) El Raval
The map below shows the main tourist areas of Barcelona.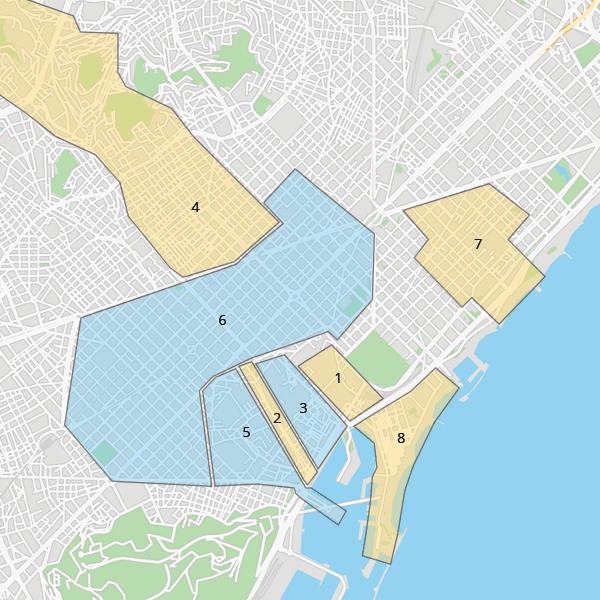 Key: 1) El Born 2) Las Rambles 3) Gothic Quarter 4) Gràcia 5) El Raval 6) Eixample 7) Poblenou 8) Barceloneta
Barcelona is one of the most famous and popular tourist destinations in Europe. The city has many accommodation options, but the sheer demand during the peak season means that the best places sell out fast.
The map below shows the location of hotels and rental rooms in Barcelona. By altering the dates to suit your trip, the map will display current prices and availability.
It's my first visit to Barcelona - Where Should I Stay?
If you're visiting Barcelona for the first time, it is advisable to choose somewhere centrally located, with easy access to the famous sights and public transport.
Las Rambles and the Gothic Quarter are ideal if you want to be near the action, but for somewhere more authentic that's still suitable for first-time visitors, El Born can't be beaten. El Born's beautiful winding streets, quirky bars, and close proximity to the beach make it the perfect base for exploring all that Barcelona has to offer.
For business travellers - Les Corts is Barcelona's financial and business hub, located in the city's upper west side. This modern district is home to L'illa Diagonal, one of Barcelona's largest and most iconic shopping malls, as well as the Camp Nou the stadium of FC Barcelona. This district is well suited for business visitors, and you'll find a decent range of upmarket hotels, restaurants and bars.
Choose your location before looking for accommodation!
Always choose the location you'd like to be based in before looking for accommodation in Barcelona. This may sound obvious, but it is all too easy to be sucked in by an amazing discount or outstanding reviews without really considering which area you will be staying in.
The best districts of Barcelona
Barcelona has a wealth of characterful neighbourhoods, and this section will provide an overview of the most popular areas of the city.
El Born
El Born is the ideal location in Barcelona for your holiday. It boasts medieval charm and an authentic Barcelona atmosphere, while having significantly fewer tourists than the Gothic Quarter.
El Born's convenient location puts you within walking distance of many of Barcelona's historical sights, along with the city's glorious beaches. Within El Born is a wide choice of restaurants and cafes, and there is decent nightlife once the sunsets.
Sights of the district include the awe-inspiring fourteenth-century Basilica de Santa Maria del Mar, and the Picasso Museum, which pays homage to the Spanish painter who once made his home in Barcelona. For food, head to the Mercat Santa Caterina, a vibrant food market complete with a unique mosaic roof - a nod to the city's versatile, quirky architecture.
Barri Gòtic (The Gothic Quarter)
The Gothic Quarter's picture-perfect streets are a must-see for anybody staying in Barcelona. The only downside is that the area is always crowded with tourists, especially when the cruise ships arrive.
This district is home to some of the city's oldest buildings - including Barcelona Cathedral – and the area is a joy to discover. Within the Gothic Quarter is a huge range of shops, restaurants and bars, but many of them are designed for tourists, so prices tend to be higher.
Shoppers wanting one-of-a-kind items will enjoy the trendy Calle Avinyó, a street lined with quirky vintage and independent shops. This district is also home to Barcelona's museum, the Museu d'Història de la Ciutat.
Once you've finished a day of exploring, treat yourself to a jug of sangria at the Gothic Quarter's famous square, Plaça Reial.
Gràcia
Incredibly popular with tourists and residents alike, Gràcia has the perfect mix of bohemian charm and family-friendly activity. With its quirky shops and international eateries, visitors to Gràcia won't be short of things to do.
This district is home to some of Barcelona's most impressive sights, including Gaudi's must-see masterpiece, Park Güell. Visitors to Gràcia will also be within walking distance of Barcelona's arguably most famous landmark, La Sagrada Familia.
Las Ramblas
Once described by Federico García Lorca as 'the one street in the world I didn't want to end', Las Ramblas is the grand boulevard that runs through the heart of Barcelona's city centre.
The street is lined with a variety of shops and restaurants, and is always a hive of activity, with street performers, bustling cafes and excited tourists. Added to this mix are highly skilled pickpockets, so always be wary of valuables.
Being based here, you will be in the centre of the action, but you will be paying a premium for your accommodation and any meals you eat here.
While in Las Ramblas you should head to La Boqueria Food Market, which is one of Barcelona's beloved food markets and dishes up a range of culinary delights.
Poblenou
Located to the east of the city centre, Poblenou is a hub of creativity, and is home to many designers, artists, and innovators. This thriving district is home to tech start-ups, and boasts a super-trendy social scene. Poblenou has a glorious beach, and a bustling atmosphere, but it is a relatively modern area of the city, and much of it lacks the charm of the Gothic districts.
Stay in Poblenou if you want to experience young, modern and vibrant Barcelona – or wish a more beach focused trip.
Eixample
Eixample surrounds the gothic heart of Barcelona, and the district is characterised by grand avenues and its grid plan layout, devised by Ildefons Cerdà, in 1851.
This extension (Eixample in Spanish) of Barcelona in the 19th century was created for the city's work-class, but today it is one of the wealthiest addresses in the city. The magnificent avenues are lined with boutique shops, chic restaurants and designer hotels. This is the area of the city that contains many upscale hotels, while being within walking distance of the charming Gothic quarter.
El Raval
The melting pot of Barcelona, El Raval, is a lively, multicultural district filled with independent shops and eateries. Located close to the action, this vibrant community is where you'll find Barcelona's Museum of Contemporary Art and an abundance of boutique shops selling unique items with affordable price tags.
Although El Raval has been historically known as one of the more dangerous parts of Barcelona, it's had a facelift in recent years, and has transformed into one of Barcelona's coolest areas.
Barceloneta
Barceloneta is the home of Barcelona's beaches, and this thriving area is also home to cafes, tapas, restaurants, and trendy bars. Barceloneta is famous for its seafood due to its seaside location, so if you're in the market for some good-quality calamari, you'll find it here. Barceloneta is also the location of the Catalonia history museum, which showcases the region's rich socio-cultural history.
Where Should I Stay for Nightlife?
Las Ramblas and the Gothic Quarter are home to a multitude of lively bars and nightclubs, but they can be expensive due to their tourist-heavy location.
El Born and Gràcia also boast their own quirky bars, which are well worth a visit, and cheaper than those found on Las Ramblas.
Barcelona's unofficial party central is Port Olímpic. Located by the beach, this area is home to some of the city's largest clubs, including Opium and Pacha. During summer, this area is awash with partygoers looking to experience the best of Barcelona's nightlife.
Are There Any Areas of Barcelona I Should Avoid?
Barcelona is generally considered a safe city, but some spots are rife with pickpockets and petty criminals. Areas such as Las Ramblas that attract many tourists are a pickpocket's paradise, so be vigilant with your belongings if you're exploring this district.
Although Barcelona's edgy El Raval has become somewhat gentrified over the years, it can still be a little dangerous at night, so keep your wits about you if you're visiting this quirky district.
I'm visiting Barcelona with my Family - Where Should I Stay?
Gràcia is slightly less central than other neighbourhoods but still easily accessible, making it perfect for families who want to escape the hustle and bustle of Barcelona's city centre.
This area is largely residential, so you'll feel at home living amongst other Spanish families who have lived in this area for generations. You'll also be close to some of the city's most impressive sights, such as the Gaudi masterpiece, Park Güell.
Which Nearby Towns I Should Visit?
If you've exhausted Barcelona's beaches, pack up your sun lounger and head to the stunning beach resort, Sitges. An upmarket holiday destination that was once a traditional fishing village, Sitges lies only a 40-minute drive from Barcelona, making it the perfect destination for a day trip.
If picturesque beaches against a backdrop of gothic cliffs is your thing, the nearby Costa Brava is well worth a visit. History fans should drive 50 minutes north-west of Barcelona to reach the Montserrat Monastery, an eleventh-century monastery set in the dramatic backdrop of the Montserrat mountain.