Where to Stay in Barcelona? The best areas and districts for your holiday in 2023
Barcelona is one of the finest tourist destinations in Europe. Famed for its rich history, awe-inspiring architecture, glorious beaches, and vibrant culture - it is a city that has something for everyone. The diversity of Barcelona is reflected in the many varied districts and neighbourhoods, each boasting its own unique character and appeal.
This article will guide you through Barcelona's best neighbourhoods and help you to choose which area to stay in during your visit.
Barcelona's best districts
Barcelona is sandwiched between the Mediterranean Sea to the east and the Collserola mountains to the west and has one of the highest population densities of any European city. The combination of limited space and Barcelona's extensive history has created a city with ten varied and colourful districts.
Within these districts, small neighbourhoods are brimming with different cultural sights, and this guide will focus on the best neighbourhoods, largely within the central Ciutat Vella District.
If this is your first visit to Barcelona, the best neighbourhoods to be based in are: 1) Gothic Quarter, 2) El Born, 3) El Raval, 4) Gràcia or 5) La Barceloneta
The map below shows the main tourist areas of Barcelona.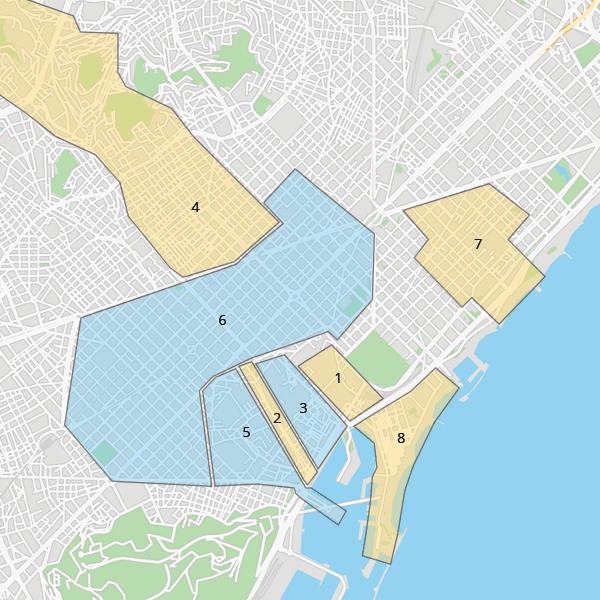 Key: 1) El Born 2) Las Rambles 3) Gothic Quarter 4) Gràcia 5) El Raval 6) Eixample 7) Poblenou 8) Barceloneta
Barcelona is one of the most famous and popular tourist destinations in Europe. The city has many accommodation options, but the sheer demand during the peak season means that the best places sell out fast.
The map below shows the location of hotels and rental rooms in Barcelona. The map will display current prices and availability by altering the dates to suit your trip.
It's my first visit to Barcelona - Where Should I Stay?
If you're visiting Barcelona for the first time, choosing somewhere centrally located, with easy access to the famous sights and public transport is advisable. The Gothic Quarter or El Born are top recommendations.
The Gothic Quarter is an authentic blend of historical sights, new vibrant restaurants, and nightlife. In comparison, El Born's beautiful winding streets, quirky bars, and proximity to the beach make it the perfect base for exploring all that Barcelona has to offer.
Choose your location before looking for accommodation!
Always choose the location you'd like to be based in before looking for accommodation in Barcelona. This may sound obvious, but it is all too easy to be sucked in by an amazing discount or outstanding reviews without really considering which area you will be staying in.
Barcelona's best districts in detail
El Born
El Born is the ideal location in Barcelona to book a hotel. It boasts medieval charm and an authentic Barcelona atmosphere, with significantly fewer tourists than the Gothic Quarter.
El Born's convenient location puts you within walking distance of many of Barcelona's historical sights and glorious beaches. El Born has many restaurants and cafes and a decent nightlife once the sunsets.
Sights of the district include the awe-inspiring fourteenth-century Basilica de Santa Maria del Mar and the Picasso Museum, which pays homage to the Spanish painter who once made his home in Barcelona. The area also has a wonderful green space, Ciutadella Park, filled with animals, sights, and monuments. It also has the impressive gateway Arc de Triomf, displaying its Romanesque heritage.
For food, head to the Mercat Santa Caterina, a vibrant food market complete with a unique mosaic roof - a nod to the city's versatile, quirky architecture. There is also an abundance of traditional tapas bars within El Born to enjoy yummy Catalonian dishes.
Barri Gòtic (The Gothic Quarter)
The Gothic Quarter's picture-perfect streets are a must-see for anybody staying in Barcelona. The only downside is that the area is always crowded with tourists, especially when cruise ships arrive.
This district is home to some of the city's oldest buildings - including Barcelona Cathedral – and the area is a joy to discover. Starting from the impressive Placa de Catalunya, the neighbourhood feels like a historical tour with the addition of trendy amenities and boutique hotels.
Shoppers wanting one-of-a-kind items will enjoy the trendy Calle Avinyó, a street lined with quirky vintage and independent shops. For those looking for interactive activities, the Museu d'Història de la Ciutat has many interesting exhibitions, and the L'Aquàrium de Barcelona is a great spot for kids.
Within the Gothic Quarter is a huge range of restaurants and bars, but many are designed for tourists, so prices tend to be higher. Try Tapeo Del Born, Arcano or L'antic Bocoi del Gotic for traditional local food.
Bars within this area often start to become lively around 10-11 pm, and Plaça Reial is a great starting point for those looking for a vibrant night out.
Las Ramblas
Once described by Federico García Lorca as 'the one street in the world I didn't want to end', Las Rambla is the grand boulevard that runs through the heart of Barcelona's city centre down to the waterfront and the controversial Christopher Columbus monument.
The street is the city's main thoroughfare and is lined with various shops, sights, and restaurants. It is always a hive of activity, with street performers, bustling cafes, and excited tourists. High-skilled pickpockets are added to this mix, so always be wary of valuables.
When roaming this street, leave time to fully enjoy the atmosphere, as it can take up to an hour to walk the mile in peak season.
While this area is not strictly a neighbourhood, it is included in the guide as being based here; tourists will be in the centre of the action. However, do expect to pay a premium for your accommodation, stick to street vendors for quick eats, and dine out in the neighbouring Gothic and Le Raval for better quality options.
El Raval
The melting pot of Barcelona, El Raval, is a lively, multicultural neighbourhood filled with independent shops and eateries. Although El Raval has been historically known as one of the rougher parts of Barcelona, it's had a facelift in recent years. It is now one of Barcelona's coolest areas, and tourists will feel safe day and night.
Located close to the action, this vibrant community is where you'll find Barcelona's Museum of Contemporary Art and an abundance of boutique shops selling unique items with affordable price tags.
El Raval is a good spot for dining out, and spending time at Mercado Boqueria Food Market is highly recommended. Here tourists can explore the local produce, sample Catalonian delicacies, and have a drink and tapas at one of the bars.
By night, El Raval is busy and popular; the area has been rejuvenated with hip bars and is popular with locals. A top recommendation is to start at the historic absinthe Bar Marsella.
Gràcia
The district of Gracia was once a separate town that was absorbed into the sprawl of Barcelona; as such, it has a strong local identity and feels more authentically Catalonian.
Gracia is incredibly popular with tourists and residents alike, as it has the perfect mix of bohemian charm and family-friendly activity. With its quirky shops and international eateries, visitors to Gràcia can enjoy roaming this area freely.
This district is home to some of Barcelona's most impressive sights, including Gaudi's must-see masterpiece, Park Güell, a fusion between architecture and nature (10 euros per adult). Visitors to Gràcia will also be within walking distance of Barcelona's arguably most famous landmark, La Sagrada Familia.
Accommodation options within Gracia are much more affordable than in other central neighbourhoods and feel much more authentic and unique. There are more Apartment hotels also for those looking for self-catering options. Those staying in this area are wise to be based in the Southern Vila De Gracia neighbourhood, which has good transport links, restaurants, and hotel options.
Eixample
Eixample surrounds the gothic heart of Barcelona, and the district is characterised by grand avenues and its grid plan layout, devised by Ildefons Cerdà in 1851.
This extension (example in Spanish) of Barcelona in the 19th century was created for the city's working class, but today it is one of the wealthiest addresses in the city. The magnificent avenues are lined with boutique shops, chic restaurants, and designer hotels. Eixample has many upscale hotels within walking distance of the charming Gothic Quarter.
Even for those who decide to stay in another part of Barcelona, Eixample is a must-see destination as it is home to the World renowned La Sagrada Familia: This colossal temple conceived by Gaudi is still being built 140 years after its conception, and work is due to continue until 2026. Anyone visiting Barcelona should see this magnificent building, but for those wanting to tour and explore the roof, booking tickets in advance and arriving early for the time slot is vital.
Eixample is also a wonderful area to enjoy a fine dining experience, and the Michelin-starred Mont Bar is a great daytime option for fine snack-style food.
Barceloneta
Barceloneta is the home of Barcelona's beaches, and this thriving area is also home to cafes, tapas, restaurants, and trendy bars.
Barceloneta is also the location of the Catalonia history museum (open Tuesday-Saturday), which showcases the region's rich socio-cultural history. The area also has an interesting local market, Mercat de la Barceloneta, where tourists can watch the locals buy fresh produce and sample delicacies.
Tourists in this area are wise to stroll the Moll de la Barceloneta esplanade by sunset to get beautiful views across the stylish boats and port toward the city. On the Mediterranean side, the area has wonderful sandy beaches with great amenities, water sports (most notably windsurfing and kitesurfing) and safe, calm waters for swimming.
Accommodation options in this area are designed for beach holidays and comprise of large luxurious hotel chains with some smaller authentic options and apartments further inland.
Barceloneta is famous for its seafood due to its seaside location, so if you're in the market for some good-quality calamari or paella, tourists will find it here.
Most Romantic places to stay in Barcelona
The Gothic Quarter is a beautiful neighbourhood where visitors will feel they have stepped back in time but with all the modern amenities for a relaxing and stress-free trip.
For couples, this area has a wonderful selection of intimate restaurants and beautiful narrow streets to explore hand in hand. The Gothic Quarter has more boutique hotel options and apartments than some other grand districts, and it is close to the waterfront for romantic evening strolls.
Where to stay in Barcelona for business travellers
For a business trip Les Corts is Barcelona's financial and business hub in the city's upper west side. This modern district is home to L'illa Diagonal, one of Barcelona's largest and most iconic shopping malls, and the Camp Nou, the stadium of FC Barcelona.
This district is well suited for business trips, and visitors will find a decent range of upmarket hotels with plenty of after-work restaurants and bars to relax and enjoy.
Where Should I Stay for Nightlife?
Las Ramblas and the Gothic Quarter are home to many lively bars and nightclubs, but they can be expensive due to their tourist-heavy location. El Born and Gràcia also boast their own quirky bars, which are well worth a visit and cheaper than those found in Las Ramblas.
Barcelona's unofficial party central is Port Olímpic. Located by the beach, this area is home to some of the city's largest clubs, including Opium and Pacha. During summer, this area is awash with partygoers looking to experience the best of Barcelona's nightlife.
Where Should I Stay in Barcelona with Kids
Gràcia is slightly less central than other neighbourhoods but still easily accessible, making it perfect for families who want to escape the hustle and bustle of Barcelona's city centre.
This area is largely residential, so you'll feel at home with other Spanish families who have lived there for generations. You'll also be close to some of the city's most impressive sights, such as the Gaudi masterpiece, Park Güell.
Are There Any Areas of Barcelona I Should Avoid?
Barcelona is generally considered a safe city, but some spots are rife with pickpockets and petty criminals. Areas such as Las Ramblas that attract many tourists are a pickpocket's paradise, so be vigilant with your belongings if you're exploring this district.
Top tips for your first trip to Barcelona
Book accommodation and sights in advance: When visiting Barcelona for the first time, booking your accommodation and main tourist attractions before arriving is recommended. World-renowned sights such as Gaudi's La Sagrada Familia can be booked up far in advance and run to timed entries.
Book fine dining experiences in advance: Barcelona has a wonderful selection of Gastronomic delights, and for those who wish to dine at a Michelin Star restaurant, this is worthwhile planning in advance to avoid disappointment.
Follow Spanish time: For those exploring Barcelona for the first time, it is also worthwhile shifting your daily schedule back to ensure you are dining and enjoying the nightlife in Spanish style. Breakfast is often a small coffee and pastry, but Lunch is considered the biggest meal, and restaurants will often be open from 10 - 4pm to serve. For those with little ones, it is also worthwhile considering evening self-catering options or tourist restaurants around Les Rambles, as many restaurants do not open until 7 pm, with peak serving at 9 pm.
Get a bargain meal: Where given the option, try the Menu of the day to get a feast for a reasonable price.
How to get around Barcelona
Barcelona is a wonderful city to explore on foot, and it is wise to be centrally located so all of the main tourist neighbourhoods can be explored separately or at a comfortable pace.
There is an efficient and cheap metro, bus, and tram network for tourists. The Metro also runs until 12 am and all night on Saturday, enabling tourists to discover the nightlife around Barcelona.
Aside from traditional transport, Barcelona also has two scenic ariel cable car rides that provide practical transport and wonderful views of the city. The first is the Mount Montjuïc line, which is an exceptional flight between Parc Montjuïc, Castell, and Mirado and takes in the vistas of the capital.
The second is a harbour cable car that connects the historic Montjuïc area to the modern Port Vell within Barceloneta.