Where to stay in Sydney? The best neighbourhoods and districts for your trip in 2023
Sensational Sydney is one of Australia's premier tourist destinations.
You'll find something for everyone here, from iconic tourist attractions and a vibrant artisan scene to thrilling nightlife and world-renowned beaches.
Sydney is a large and lively city with many diverse districts (known as suburbs in Australia), each boasting its own distinctive character and atmosphere. There's the artisanal area of Newtown, the bustling beaches of Bondi, and the harborside views and elegance of Darling Harbour. No matter your travel style, there's a Sydney district perfectly suited for you.
This guide looks at the best suburbs in Sydney, and will help you choose the best area of the city for your accommodation or hotel.
The best areas of Sydney
Sydney is a vast and sprawling city that spans the mouth of the Parramatta River. At the centre of the city is the compact downtown area, known as the Central Business District. This area is surrounded by characterful suburbs where you'll find much cheaper accommodation options. Along the stunning Sydney coastline are the beaches of Bondi, Coogee, Cronulla or Manly.
The best areas of Sydney to be based in are 1) Central Business District 2) Surry Hills 3) Newtown 4) Darlinghurst 5) Bondi Beach
Below is a map of the main tourist districts of Sydney. The highlighted yellow section marks the area you would want to be based within for your first trip to Sydney.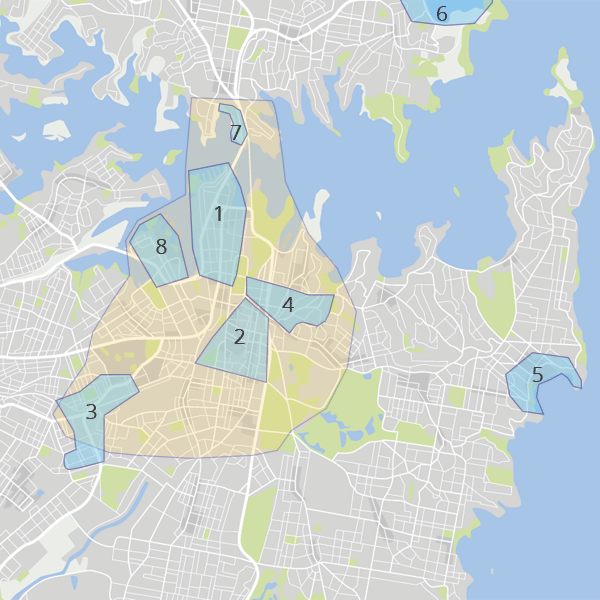 Key: 1) Sydney CBD 2) Surry Hills 3) Newtown 4) Darlinghurst 5) Bondi Beach 6) Manly Beach 7) Milsons Point 8) Pyrmont
The map below shows the location of hotels and rental rooms in central Sydney. By altering the dates to suit your trip, the map will display current prices and availability.
Sydney's best areas for your holiday
Sydney CBD
The Central Business District - often referred to as the CBD - is the modern side of Sydney. Situated on the southern side of the Parramatta estuary, its central location makes this suburb a popular choice for visitors new to Sydney. Being based here, you'll experience the bustle of city centre life, with numerous bars, restaurants, shops and vibrant nightlife to enjoy.
The Central Business District is home to Sydney's most iconic landmarks, including the Sydney Opera House, Circular Quay, the Harbour Bridge, the Royal Botanic Gardens, the Museum of Contemporary Art and Darling Harbour.
Being the most popular tourist area of Sydney, hotels tend to be high-end and rental rooms can be more expensive. If you're willing to be based slightly further out, the surrounding districts offer much better value for money.
Surry Hills
Surry Hills is regarded as the hip and artisan neighbourhood of Sydney. This is a fantastic location where you can experience Sydney like a local while taking in its lively atmosphere.
The suburb has some of the best bars and restaurants in the city, offering a melting pot of diverse cuisines. This makes it a must-visit destination for foodies. With its exciting vibe and proximity to many of Sydney's main tourist attractions, Surry Hills could be an ideal choice of base for your first visit.
Newtown
Newtown is the creative hub of Sydney. With its striking and colourful street art, vibrant restaurants and ever-present sense of community, it offers a very different side to Sydney. If you'd enjoy experiencing the unique art culture and music scene of the city, then this is the place to be based. King Street - the main street of Newtown - is a bustling area where you'll find some of the trendiest bars, pubs and restaurants in town.
Darlinghurst
Darlinghurst is a fantastic alternative if you'd prefer to be based close to Sydney CBD. With fewer tourists, it offers cheaper accommodation options, however, it is still within easy travelling distance of the main tourist sights of the city via Museum Train Station.
Close to Darlinghurst is Hyde Park, one of the largest parks in Sydney and home to the Anzac Day Memorial. The Australian Museum is also nearby, which gives a fascinating insight into the cultural history of Australia.
Darlinghurst is also a famous hotspot for the LGBT community, centred around Oxford Street and its many bars and venues. As Oxford Street intersects with the Surry Hills suburb, there's also a wide selection of cafes, restaurants and pubs to choose from.
Bondi Beach
Sydney is known for its stunning beaches, with Bondi Beach being the most famous by far.
While Bondi can often be quite crowded, this is a must-visit spot if you want to experience the laid-back and easygoing Aussie culture. A base in Bondi combines the best of a beach holiday with discovering Sydney and all it has to offer.
By morning you could be visiting world-famous attractions, before relaxing on the magnificent beach in the afternoon. For a longer stay in Bondi, you could try the famous Bondi to Coogee Walk, an incredibly scenic route between the two major beaches.
Manly Beach
While not as famous as Bondi, Manly provides a beautiful beach setting within Sydney.
A calmer and less crowded location than Bondi, Manly could be a great choice for your accommodation if you don't mind being based a little further out.
There are regular buses to central Sydney (the CBD) from Manly, as well as a popular ferry route.
Insight: The ferry from Circular Quay to Manly beach provides a wonderful view of Sydney's landmarks from the water - and it's an especially amazing experience on a sunny day.
Milsons Point
For somewhere completely unique and away from the tourist masses, consider the suburb of Milsons Point. Lying close to Harbour Bridge, this suburb is popular with locals and offers many rental room options.
If you're looking for ideas for a fun day out, Sydney's Luna Park is based in Milsons Point. This historic amusement park boasts a variety of roller coasters, rides and entertainment for you to enjoy, all with a beautiful view of the harbour by its side.
Choose your location before looking for accommodation!
Always choose the location you'd like to be based in before looking for accommodation in Sydney. This may sound obvious, but it is all too easy to be sucked in by an amazing discount or outstanding reviews without really considering which area you will be staying in.
It's my first visit to Sydney, which area should I stay in?
If you're new to Sydney, the best choice would be to stay in the Sydney CBD. This area contains many of the main tourist attractions and has excellent public transport links to all parts of the city.
The disadvantage of staying in the CBD is the costly nature of Sydney's lifestyle. Considered to be one of the most expensive cities in the world, staying in the city centre can be a pricey option for many. That's why the surrounding suburbs - such as Darlinghurst and Surry Hills - are a great alternative. They're still pretty central and offer plenty of things to do.
Where should I stay if I am a business traveller?
If you're travelling to Sydney for business, it is recommended to be based in the Central Business District. As the name implies, this is the centre for business in the city, with a choice of high-end hotels and fantastic options for food and socialising after work.
If you're planning on a longer stay in Sydney, more affordable areas can be found to the north of the city, including Milsons Point, North Sydney, St Leonard's and Chatswood. While the north area is not as famous for historical landmarks (except Milsons Point and North Sydney, which offer views of Darling Harbour), it provides a relaxing atmosphere and quaint lifestyle that's overwhelmingly popular among business professionals who want to stay in Sydney for a while.
What areas of Sydney to avoid?
Sydney is generally a safe city, as long as travellers exercise reasonable precautions and common sense. It's advisable to avoid travelling to certain parts of south-western Sydney, but this is a largely residential area of the city that holds little value for tourists and visitors.