Where to stay in Venice? The best area and district for your holiday to Venice.
Rich in history, culture and traditions, Venice is one of the finest tourist destinations in Italy.
This magnificent city appears to float on the still waters of the Laguna Veneta, while within it is a labyrinth of canals, charming alleyways, bridges, and wonderous historic buildings.
Venice's fame means the city is always crowded with tourists, and demand for accommodation is incredibly high during the peak season.
This article will provide a guide to the different districts of Venice and help you find the best location for your trip.
Related articles: 48 hours in Venice
The top districts of Venice
Venice is an island city with its historic centre formed by a tight cluster of 118 little islands. It is not a large city, but the maze of narrow alleys and bridges make it seem much bigger than it actually is.
The main districts of Venice are referred to as the 'Sestieri', because the city is divided into six areas.
The best districts if you are new to Venice are: 1) Cannaregio 2) Castello 3) Sant'Alvise (Cannaregio) 4) San Polo 5) Santa Croce 6) San Marco
The map below shows the districts and tourist areas of Venice.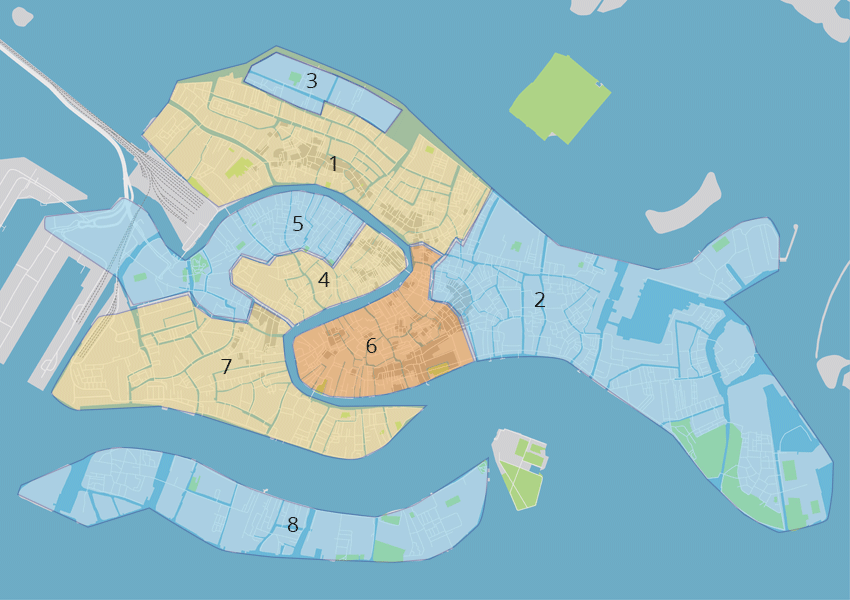 Key 1) Cannaregio 2) Castello 3) Sant'Alvise (Cannaregio) 4) San Polo 5) Santa Croce 6) San Marco 7) Dorsoduro 8) Giudecca
There is always high demand for accommodation in Venice, especially during the peak seasons (Jun-Aug) or around the Carnival, held in February. To secure the best prices and locations, you must book your accommodation far in advance.
The map below shows the location of hotels and rental rooms in Venice. By altering the date to your trip, the map will display current prices and availability:
It's my first visit to Venice, which district should I stay in?
If you want an authentic Venice experience, then the Cannaregio district is probably the best location for you. It provides the perfect balance between being close to the main tourist attractions and nightlife, while avoiding the crowds of tourists.
However, if you prefer a more central and classical tourism experience, then the San Polo district should be your choice. It is close to the main station, and the central location means it is close to all of the famous attractions.
For a calmer location for your trip consider the eastern side of Castello.
Choose your location before looking for accommodation!
Always choose the location you'd like to be based in before looking for accommodation in Venice. This may sound obvious, but it is all too easy to be sucked in by an amazing discount or outstanding reviews without really considering which area you will be staying in.
The best districts of Venice
Cannaregio
Cannaregio is probably the single most authentic district, or sestiere, of Venice.
This two-souls' neighbourhood is an ideal place for a real discovery of Venice. Slow-paced and chilled during the day, here you can grab coffees by the canals and take a lonely stroll to enjoy hidden views of the city. All the opposite in the evenings, buzzing with nightlife and loud locals—certainly a place you'll remember if you spend a night here!
This down-to-earth neighbourhood is perfect to enjoy local restaurants and have lunch by the canals. Known for its youthful vibe and endless bacaros (typical restaurants), it's a great place to taste the Venetian lifestyle.
The northern part of Cannaregio, Sant'Alvise, is the quietest area, almost untouched by tourism. Come here to see the gondolas workshops (remiere) where the boats are built or repaired, as well as the little training schools to become a gondolier.
The characteristic Ghetto is also within Cannaregio. Explore this area to immerse in Venetian history and taste delicious delicatessens from local bakeries. Here, you can also join a tour of the area from the Jewish Museum of Venice and visit the historically important synagogues.
San Marco
San Marco is the most famous and most visited district in Venice.
It is the setting for many of the city's historic monuments, including the Piazza San Marco, the Basilica di San Marco and the Palazzo Ducale. Within the district is the much-photographed Ponte dei Sospiri (Bridge of Sighs) an enclosed bridge, connecting Doge's Palace to the old prison.
San Marco is bordered by the Grand Canal on one side and the far less touristy neighborhoods of Cannaregio and Castello on the other. Here is where you can also cross the famous Rialto Bridge.
The area of San Marco is a must-see on your first time to Venice as it contains most of the iconic attractions of the city; however, keep in mind that it can be a bit overwhelming: this area is always filled with crowds of tourists, regardless of the season.
Dorsoduro
Dorsoduro might not be one of the most famous districts in Venice, but it actually bears most of its popular museums, including the Guggenheim Collection and Accademia Gallery.
Additionally, it has recently become increasingly popular among tourists for its Punta della Dogana site—one of the best places to catch a view of Venice and relax with a glass of wine. The Dogana del Mar (Sea Customs House of Venice) is the triangular area of Venice where the Grand Canal meets the Giudecca Canal. From there, you can appreciate a stunning and comprehensive view of Venice.
Dorsoduro houses some of the most picturesque canals and architecture, sun-kissed promenades and a young, relaxed vibe. It is, indeed, a university area and home to Venice's Ca' Foscari University, which also explains its artistic vibe and late-night bars.
The heart of the district is Campo Santa Margherita, a long and large square bursting with restaurants, bars and anything you can possibly look for. Come here during the day and you will witness the liveliest daytime spot for locals and children.
Areas to avoid in Venice:
Venice is not a dangerous city, and there are no specific districts you should avoid. However, it is always important to pay some extra attention at night, especially if you walk alone along the many dark and isolated alleys. Venice is a very vibrant and lively city during the day, covered by thousands of tourists. At night, though, most areas turn quiet, mysterious and silent, which is why it's good to be aware of the surroundings.
Additionally, there's always a risk of becoming a victim of theft in Venice, particularly near most tourist attractions. Many tourists are also robbed at the central station, Santa Lucia.
For a calmer and relaxed trip to Venice
If you wish to experience Venice as a local, but also avoid some of the crowds, then you should probably stay in the district of Castello when you visit Venice. This neighbourhood is authentic and quiet, slightly off the main tourist paths.
You can embrace the full essence of Venice in this extensive neighbourhood encircling the entire eastern side of the island. Stroll around and enjoy its variety of little stores, local restaurants, hidden beautiful parks and the famous Biennale art installation.
Venice's main hospital, S. Giovanni, is also within this sestiere. It's worth a visit for its unique beauty (it's been a hospital since the time of Napoleon!), and for a real tour into the history of medicine at its Old Pharmacy.
Finally, if you stay in Castello, head to a very unique bookstore, Libreria Acqua Alta, a must-see sight of the neighbourhood, filled with old books stored inside the typical Venetian boat, the gondola.
Where to Party in Venice
One of the best places for a fun night out in Venice is definitely the district of Cannaregio!
Head to Fondamenta dei Ormesini and Misericordia—two long promenades of little bars, restaurants and small typical bacaros—you won't be disappointed. As sunset approaches, you will see local crowds (and occasional tourists) cheering by the canals with glasses of wine or the typical Spritz cocktail.
Here, you can enjoy a beautiful and relaxing sunset with a fine glass of wine. Or you can certainly spend the night bar hopping with cheap drinks and little snacks (cicchetti) surrounded by loud locals.
And for a particularly authentic party experience, head to Al Timon, the most popular bar of the area.
For a longer stay in Venice
If you have some extra time while visiting Venice, then you might want to explore the surrounding islands.
If you are feeling adventurous and want to experience embarking on a typical Venetian "vaporetto", hop on one heading out to Murano and Burano islands and enjoy the refreshing boat trip with the beautiful sights of Venice.
The first stop on the vaporetto leaves you in Murano—a collection of seven individual islands connected by small bridges—famous for high-quality artisan craft, particularly it's worldwide known hand-crafted glass.
The following stop, Burano, is a picture-perfect island you've probably seen in pictures before. This joyful myriad of colourful little houses and narrow canals resembling Venice is certainly one of the prettiest places in Italy.
Another island worth visiting is S. Giorgio island, just off Giudecca and facing San Marco and Castello. Here you can visit beautiful museums and enjoy cultural activities inside the old Monastery restored by the Cini Foundation. Immersed in nature and overlooking Venice, in this little island, you can experience getting lost in another maze: The Borges Labyrinth of Venice, a spectacular example of art, creativity and beauty.