Where to stay in Venice? The best area and district in 2023
Venice is unlike any other destination in the world and is a tourist mecca for good reason: majestic waterways carve through beautiful neighborhoods, which are crammed with architecturally unique and significant buildings.
This remarkable city is a must-see destination for anyone wanting a memorable holiday, to see exquisite sights and feel immersed in Venetian culture.
Venice's tourist islands are surprisingly compact, and distances are walkable on foot, although do expect to get lost and walk via in direct routes (unless you are a local). Cars are not permitted in most districts as the Labyrinth of streets are often quick narrow and maze like. However, for those needing a rest it is highly recommended to see the city from the water via Gondola or boat tour.
Although Venice can be explored within a few days, it is highly recommended to slow your pace and experience the differing districts as these are each distinct and have contrasting appeal and sights.
If you're planning your first trip to Venice, this guide will detail the best districts and areas of the city to be based.
Related articles: 48 hours in Venice
The best districts to stay in Venice
Venice is an island city with its Historic Centre formed by a tight cluster of 118 little islands. It is not a large city, but the maze of narrow alleys and bridges make it seem much larger than it is.
The main districts of Venice are referred to as the 'Sestieri', because the city is divided into six areas.
The central historical districts of Venice are known as the six Sestieri. If you are new to Venice, the best districts to stay in are 1) San Marco 2) San Polo 3) Cannaregio 4) Dorsoduro.
The map below shows the districts and tourist areas of Venice.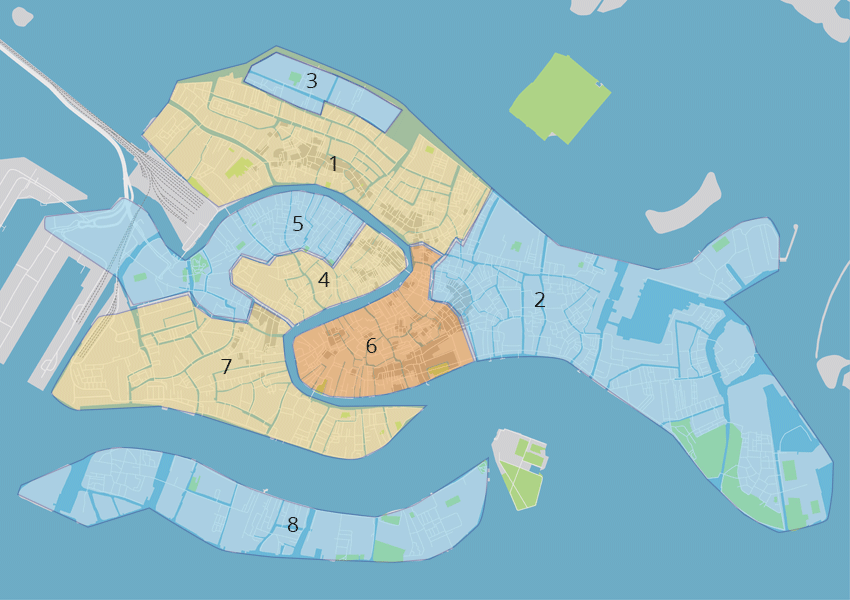 Key 1) Cannaregio 2) Castello 3) Sant'Alvise (Cannaregio) 4) San Polo 5) Santa Croce 6) San Marco 7) Dorsoduro 8) Giudecca
There is always high demand for accommodation in Venice, especially during the peak seasons (Jun-Aug) or around the Carnival, held in February. You must book your accommodation far in advance to secure the best prices and locations.
The map below shows the location of hotels and rental rooms in Venice. By altering the date to your trip, the map will display current prices and availability:
It's my first visit to Venice, which district should I stay in?
If you are new to Venice, then San Marco is a perfect place to stay and be introduced to the wonders of Venice.
This central district is ideally situated to explore the magnificent San Marco square, basilica, and many other sights before day trippers arrive.
San Marco is an upmarket neighborhood with many accommodation options, restaurants, and fine shops. As a rule, price rises by proximity to the Grand canal and the iconic Piazza, so it is worth looking for the best deals in advance. When dining out it is recommended to stay away from the main streets.
By far one of the finest ways to truly appreciate the wonder of this city is via, Gondola and San Marco if the best place to start from (outside of peak season). Tourists staying in this area are recommended to aim for a boat ride early evening to see sunset from the water, surprisingly the Gondola's can quieten at this time and the waterways become less congested (do expect them still to be busy though).
When navigating Venice for the first time, it is wise to slow your pace and enjoy roaming the streets. Mobile reception can be patchy, and signs can be comically bad. For those in the know it is best to download or take a paper map, enjoy getting lost and ask for directions. As San Marco is centrally located it is easy to happen back in the district by chance.
Choose your location before looking for accommodation!
Always choose the location you'd like to be based in before looking for accommodation in Venice. This may sound obvious, but it is all too easy to be sucked in by an amazing discount or outstanding reviews without really considering which area you will be staying in.
The best districts of Venice in detail
Cannaregio
Cannaregio is probably one of the most authentic Venetian districts in Venice's sestiere.
This down-to-earth neighbourhood is perfect to enjoy local restaurants and have lunch by the canals. Known for its youthful vibe and endless bacaros (typical restaurants), it's a great place to taste the Venetian lifestyle. Those looking for a unique shopping experience rather than the luxury brands of San Marco should head to Strada Nova. The northern part of Cannaregio, Sant'Alvise, is the quietest area, almost untouched by tourism. Come here to see the gondolas workshops (remiere) where the boats are built or repaired and the little training schools to become a gondolier.
The characteristic Jewish Ghetto is also within Cannaregio. Explore this area to immerse yourself in history and taste delicious delights at the Kosher bakeries. Here, you can also join a tour of the area from the Jewish Museum of Venice and visit the historically important synagogues.
As the sun sets the bars and restaurants of Cannaregio come alive with a trendy, bohemian vibe as tourists and locals sit along the canal drinking. Practically, Cannaregio is an excellent choice for those who do not want to roam endlessly looking for their accommodation as this district is the first point of entry if travelling by train or via ferry.
San Marco
San Marco is the most famous and most visited district in Venice, which is no surprise given the number of wondrous sights, location and hotels.
It is an ideal location for those wanting to stay in one of the more luxurious hotels, those staying on a short trip who want to access everything without getting continuously lost and do not mind being in amongst the tourist tribe.
When checking in at your accommodation, it is wise to always ask for a room with a view but do expect to pay a premium for canal view rooms. San Marco's most significant sights include the Piazza San Marco with the iconic Basilica di San Marco and the Rialto Bridge.
Those looking for the best arial view of this unique city can climb the San Marco Campanile. The central location of this district also means the other must-see districts are all neighbouring and can be explored independently. When entering Venice, this district can easily be found following the grand canal and continuous footfall from other tourists with luggage.
Top Tip: When staying within Venice, it is wise to take luggage that can be pulled along rather than carried and a bottle of water, as it can take time to locate your accommodation.
Dorsoduro
Dorsoduro might not be one of the most famous districts in Venice, but it houses most of its popular museums, including the Guggenheim Collection and Accademia Gallery.
Additionally, it has recently become increasingly popular among tourists for its Punta della Dogana site—one of the best places to catch a view of Venice and relax with a glass of wine. The Dogana del Mar (Sea Customs House of Venice) is the triangular area of Venice where the Grand Canal meets the Giudecca Canal. From there, you can appreciate a stunning and comprehensive view of Venice.
Dorsoduro houses some of the most picturesque canals and architecture, sun-kissed promenades, and a young, relaxed vibe. It is a university area and home to Venice's Ca' Foscari University, which also explains its artistic vibe and late-night bars.
The heart of the district is Campo Santa Margherita, a long and large square bursting with restaurants, bars and shops: This a great daytime spot for people watching and relaxing with a coffee.
San Polo
San Polo is a centrally located district, which tourists often overlook as a base to stay in the city. However, accommodation in this district offers good value for money, is family-friendly and feels more rustic than the high-end chains of San Marco.
With the exception of the vicinity near the Rialto Bridge, San Polo is a welcome respite from the relentless human traffic of other better-known districts, the housing feels more residential and there are endless beautiful streets to roam.
Top tourist sights include; the Mercato di Rialto (local market, open daily from 7.30 am to 1 pm) where tourists can spend time roaming around and watching the locals, the Basilica Dei Frari (one of the oldest churches in Venice) and the Campo San Polo, which comes alive at night with events and concerts.
San Polo also has a wide selection of restaurants and cafes, which have rare frontage along the grand canal, which are ideal for watching life float by.
Most romantic place to stay in Venice
Venice is made for lovers, but planning and booking accommodation early is wise to ensure you get the best deals and experiences.
For those looking for an opulent stay, high-end shops and restaurants then the San Marco District is fabulous. Most of the designer and boutique labels are based near or along the Calle Vallaresso west of the Piazza San Marco. For the district's top restaurants head west along the grand canal. One of the finest options for an unbeatable romantic view is the Terrazza Danieli where you can view the sunset over the Grand Canal and the beautiful sights of Dorsoduro district.
San Marco is also perfectly located for strolls to all of magnificent sights and districts without sightseeing starting to feel like an expedition.
Top Tip: If you intend on taking a Gondola ride it is wise to avoid the main stations around this district as queues can be lengthy and waterways congested. For a more peaceful experience for the 25-30 minutes, it is recommended to head to the San Polo District.
Where to stay in Venice on a budget
Venice is one of the most expensive cities in Europe and staying in the old city can absorb a lot of money. Therefore, staying within the main residential and business hub of Venice, Mestre District is highly recommended.
Mestre can be up to half the price and a has wide range of hostels and hotels: This district is connected to the historical centre by a long causeway and a regular bus service that takes only 15 minutes. Mestre is one of the few districts that allows cars and can be an excellent option for those who are touring Venice but do not want to pay significant prices for parking outside the historical district.
For those wanting to tour the waterways on a budget, the Vaparetto river bus is a great way to see the floating city for a fraction of the price of a Gondola. These river boats are also connected with all the Islands.
Regarding eating, it is wise to have main meals in Mestre and simply enjoy the gelato, and snack food within the old city. The Realto market (located within San Polo district) is an excellent option for picking up fresh fruit and drinks.
Where to stay and relax in Venice
If you wish to experience Venice as a local, but also avoid some of the crowds, you should probably stay in the district of Castello when you visit Venice. This neighbourhood is authentic and quiet, slightly off the main tourist paths.
You can embrace the full essence of Venice in this extensive neighbourhood encircling the entire eastern side of the island. Stroll around and enjoy its various little stores, local restaurants, hidden beautiful parks and the famous Biennale art installation.
Venice's main hospital, S. Giovanni, is also within this sestiere. It's worth a visit for its unique beauty (it's been a hospital since Napoleon), and for a real tour into the history of medicine at its Old Pharmacy.
Finally, if you stay in Castello, head to a unique bookstore, Libreria Acqua Alta, a must-see sight of the neighbourhood, filled with old books stored inside the typical Venetian boat, the gondola.
Where to stay in Venice with kids
San Polo is an excellent choice for families looking to stay within central Venice but out of the bustle. San Polo has a good range of accommodation options and more relaxed eateries. This beautiful district is a welcome retreat and has excellent connections to San Marco (via the Rialto Bridge).
Alternatively, away from the historical centre the Mestre District provides an excellent option for those with kids. Mestre has all the modern amenities needed for quick trips to the shops, good food options and a wide range of hotels.
Hotels in this district are less constraint by space and have more kid-friendly facilities. It is also easy to park for those travelling with a car, and many hotels have parking so the lengthy walk with luggage can be avoided.
Best nightlife districts in Venice
One of the best places for a fun night out in Venice is the district of Cannaregio.
It is highly recommended to head to Fondamenta dei Ormesini and Misericordiam, two long promenades of little bars, restaurants and small typical bacaros.
As sunset approaches, you will see local crowds (and occasional tourists) cheering by the canals with glasses of wine or the typical Spritz cocktail. You can enjoy a beautiful and relaxing sunset with a fine glass of wine here.
Alternatively, you can certainly spend the night barhopping with cheap drinks and little snacks (cicchetti) surrounded by talkative locals. And for a particularly authentic party experience, head to Al Timon, the most popular bar of the area.
Top tip: If you can afford it, Venice becomes alive in February each year with Carnival and this entirely chaotic experience is a unique event to join in the merriment, just make sure to bring a mask.
Areas of Venice to avoid
Venice is not a dangerous city, and there are no specific districts you should avoid. However, paying some extra attention at night is essential, especially if you walk alone along the many dark and isolated alleys.
Venice is a very vibrant and lively city during the day, covered by thousands of tourists. At night, though, most areas turn quiet, mysterious, and silent, so it's good to be aware of the surroundings.
Additionally, there's always a risk of becoming a victim of theft in Venice, particularly near most tourist attractions or the central station, Santa Lucia.
For a longer stay in Venice
If you have extra time while visiting Venice, you might want to explore the surrounding islands.
If you are feeling adventurous and want to experience embarking on a Vaporetto hop, on one heading out to Murano, Burano and S. Giorgio islands and enjoy the refreshing boat trip with the beautiful sights of Venice.
The first stop on the vaporetto leaves you in Murano—a collection of seven individual islands connected by small bridge, which is famous for high-quality artisan craft, particularly its renowned hand-crafted glass. The following stop, Burano, is a picture-perfect island full of colourful little houses and narrow canals resembling Venice.
Another island worth visiting is S. Giorgio Island, just off Giudecca facing San Marco and Castello. Here, tourists can visit beautiful museums and enjoy cultural activities inside the old Monastery restored by the Cini Foundation.