Where to stay in Stockholm? The best areas and districts for your holiday to Stockholm for 2023
Stockholm is a uniquely beautiful city and is a fantastic destination for a city break. The city extends over the waterways and islands that connect Lake Mälaren to the Baltic Sea.
Each of the islands and districts has its own distractive character and vibe, and provides many different options for where to be based in.
Stockholm is well known for being one of the most expensive cities in Europe. If you're a budget or mid-price visitor, Stockholm may be a destination to sacrifice a central location for something much better priced.
This guide will detail each of the main districts in Stockholm and help you choose the best area for your trip.
The best districts of Stockholm
Stockholm is a clean and safe city, which is best described as a city of water and parks - these waterways and green spaces cover over 60% of Stockholm's total area. The historic centre of Stockholm is on the island of Gamla Stan, but there is excellent public transport if you're based further out.
The best districts if you are new to Stockholm are: 1) Södermalm 2) Gamla Stan 3) Östermalm 4) Norrmalm 5) Kungsholmen
The map below shows the main tourist areas of Stockholm, along with the route of the three metro lines (Red, Green and Blue)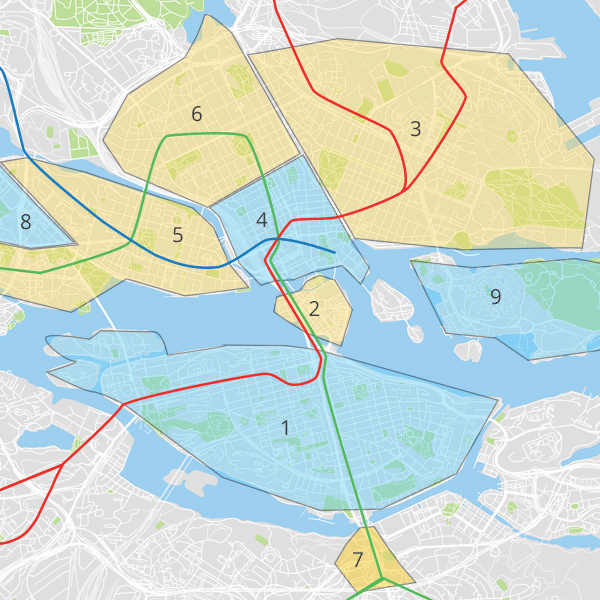 Tourist districts of Stockholm: 1) Södermalm 2) Gamla Stan 3) Östermalm 4) Norrmalm 5) Kungsholmen 6) Vasastan 7) Johanneshov 8) Kristineberg 9) Djurgården
Stockholm is a very pricey destination to visit, but one of the best methods to reduce your costs is to book your accommodation as far in advance as possible.
The map below shows the location of hotels and rental rooms in Stockholm. By altering the date to your trip, the map will display current prices and availability:
It's my first visit to Stockholm; which district should I stay in?
If you visit Stockholm for the first time, you might stay in Gamla Stan if you want to be in the middle of all the touristy spots; Södermalm if you want to feel and live like a local; and Kungsholmen if you want something local, but also a little more peaceful.
Choose your location before looking for accommodation!
Always choose the location in Stockholm you want to be based in, before looking for accommodation. This may sound obvious, but it is all too easy to be sucked in by an amazing discount or outstanding reviews, without really considering which area you will be staying in.
The top districts of Stockholm
The best base for your trip to Stockholm will depend on your interests. Different districts offer different atmospheres, with some being more suited to sightseeing and others for partygoers or foodies. This section will provide an overview of the most popular areas of the city.
Södermalm: the hip and most authentic district of Stockholm
Södermalm - also called Söder - has transformed into one of Stockholm's hottest neighbourhoods, attracting trendsetters, artists, along with celebrities.
The atmosphere here is relaxed, creative and open-minded, offering a wide range of fashion and design boutiques, as well as cute signature bars or cafés. In Södermalm, you can find breathtaking panoramic views of Stockholm from its many scenic spots and parks, like Fjällgatan or Monteliusvägen.
The hipster Nytorget square is one of the best places in Stockholm for experiencing the iconic fika, the coffee-and-cake ritual beloved by Swedes. This little square is filled with cafés with outdoor seating.
Östermalm – For business travellers, with high-end hotels and boutiques.
If you come to Stockholm for business, or wish to stay somewhere a little more upscale and exclusive, then Östermalm is the right fit for you. This district is known as the most affluent part of inner-city Stockholm, famous for its fine-dining restaurants, affluent exclusive boutiques, and high-end hotels.
Östermalm is where Swedish royalties hung out in their youth, living the high social life in the bars and clubs—so it's not a surprise that you would find a certain type of crowd and upscale dining choices in this very smart residential neighbourhood.
Stroll around the district to experience its suburban vibe, admiring the many beautiful and majestic-looking 19th century buildings. Östermalm is located on the other side of Södermalm, and it is also its opposite in essence. A little quieter—even though it has a strangely high concentration of nightclubs—classic in its style and older in its demographic.
A leisurely daytime highlight of the area is Östermalms Saluhall, the market hall in the centre of the area, where you can taste some of the best and most authentic Swedish delicatessens – from the famous räkmacka (shrimp sandwich), to a variety of smoked fishes and cured meats.
Gamla Stan – the historic and touristic center
The iconic Gamla Stan, or Stockholm's "Old Town", is what you've probably seen in photos when researching the Swedish capital. It comprises of four islands containing the Royal Palace, and the Nobel Prize Museum and overlooks the Parliament House. Gamla Stan is very charming, with its bright colourful buildings, a vibrant energy and stunning views over the water.
Tourists often stay in this area to enjoy exploring its cobbled streets and indulge in one of the many little cafes and restaurants of the popular Stortorget—the oldest square in Stockholm. For a cultural trip there are many museums such as the Vasa Museum or the Fotografiska.
Gamla Stan is filled with beautiful churches, narrow winding cobblestone streets, colourful buildings and absolutely stunning views of the city and its blended thriving nature.
Kungsholmen – peaceful residential island
Kungsholmen is primarily a residential island and a great location to experience authentic Stockholm. Being based here, you'll have the opportunity to mix with locals in the district's many restaurants and cafes.
During summer, there are also a couple of nice places to go for a swim on this island, like the big green area of Rålambshovsparken. Basically, you could spend an entire week here and never run out of things that would delight you!
A little more about Stockholm…
Business:If you are travelling for business, it is recommended to stay in Östermalm as it offers more opportunities for fine dining and more exclusive hotels. This location is close to Gamla Stan and all its popular spots and venues, as well as centrally located for transportation.
Areas to Avoid in Stockholm:
Despite being a very big city, Stockholm is extremely safe at any hour of the day or night. The Swedish capital is often considered one of the safest cities in Europe. While the city centre is all very safe, it is best to avoid outskirts areas like Tensta or Rinkeby.
Stockholm for a quieter experience:
If you are seeking a quieter and calmer trip, it is suggested to be based in the cute and cosy neighbourhood of Normmalm. This area provides a break from the hustle and bustle of the city centre, with less overcrowded cafes and streets, where you will be able to relax and enjoy a slower pace. Additionally, in Normmalm, you can find the Kungsträdgården, a pleasant park surrounded by thousands of pink cherry blossoms in the spring.
Another quiet area of Stockholm is the leafy island of Djurgården—a true paradise of nature right next to the city centre. On the island, you could explore the Rosendals Trädgård, a tranquil garden filled with views overlooking the Scandinavian capital.
Stockholm Party Scene:
If you are looking to party while in Stockholm, look no further than Södermalm! With its extremely diverse range of bars and clubs, you can find any type of fun around here. However, nightclubs are mostly located on the opposite side of the city, in Normmalm. Here you'll find many incredible clubs by the water, inside boats that become buzzing at night.
Further Afield?
There's nothing more characteristic of Stockholm in the summer, than its magnificent archipelago: a myriad of islands surrounding the city. These are connected by ferries leaving from many areas of Stockholm—it's a spread-out heaven of nature, water, and astounding views.
Whether you wish to visit the tiny Fjäderholmarna islands just 20 minutes on the ferry from central Stockholm, or somewhere further afield like the islands of Nåttarö, Grinda, Sandhamn or Utö, the archipelago is Stockholm's favourite getaway in the nature. Many of those islands to get busy by locals during the summer months, for day trips or longer vacations, while some exclusive islands are fully booked all year long by wealthy Swedes.