Where to stay in Stockholm? The best areas and districts for your holiday to Stockholm for 2023
Stockholm is a uniquely beautiful city and a fantastic destination for a city break. The city extends over the waterways and islands that connect Lake Mälaren to the Baltic Sea.
Each of the islands and districts has its distractive character and vibe and provides many options for where to be based.
Stockholm is well known for being one of the most expensive cities in Europe. If you're a budget or mid-price visitor, Stockholm may be a destination to sacrifice a central location for something much better priced. This guide will detail each of the main districts in Stockholm and help you choose the best area for your trip.
The best districts of Stockholm
Stockholm is a clean and safe city, best described as a city of water and parks - these waterways and green spaces cover over 60% of Stockholm's total area. The historic centre of Stockholm is on the island of Gamla Stan, but there is excellent public transport if you're based further out.
The best districts if you are new to Stockholm are: 1) Södermalm 2) Gamla Stan 3) Östermalm 4) Norrmalm 5) Kungsholmen
The map below shows the main tourist areas of Stockholm, along with the route of the three metro lines (Red, Green and Blue)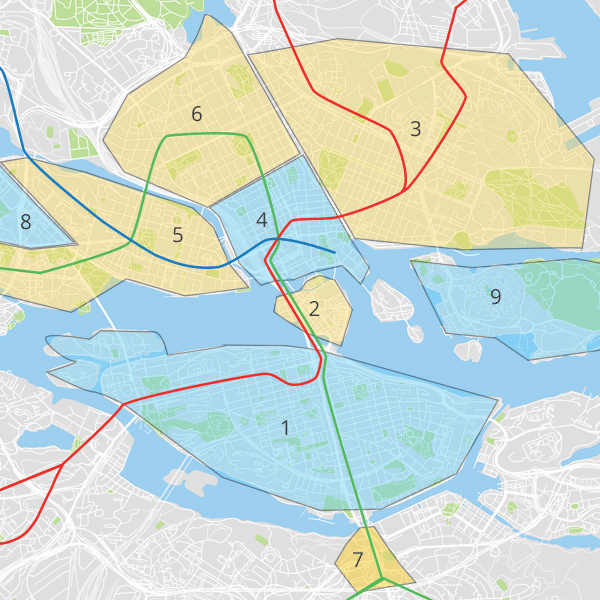 Tourist districts of Stockholm: 1) Södermalm 2) Gamla Stan 3) Östermalm 4) Norrmalm 5) Kungsholmen 6) Vasastan 7) Johanneshov 8) Kristineberg 9) Djurgården
Stockholm is a very pricey destination, but one of the best methods to reduce your costs is to research and book your accommodation as far in advance as possible.
The map below shows the location of hotels and rental rooms in Stockholm. By altering the date of your trip, the map will display current prices and availability:
It's my first visit to Stockholm; which district should I stay in?
If it is your first trip to Stockholm it is recommended to stay in Gamla Stan to be in the epicentre of the old medieval city: This area is brimming with historical sights to explore in the daytime and excellent public transport links; making it great for exploring further afield.
Alternatively, Södermalm is a great district for first-time visitors who want to stay in a more modern, local area with great cultural sights and food options. Accommodation here is also more economical.
If you are new to Stockholm, it is recommended to go on a few free walking tours to get a historical context of the city, an overview of sights and local tips. Two popular options are Stockholm Free Tours and Rainbow Tours Stockholm.
The top districts of Stockholm in detail
Södermalm
Södermalm - also called Söder - has transformed into one of Stockholm's hottest neighbourhoods, attracting trendsetters, artists, and celebrities. The atmosphere here is relaxed, creative and open-minded, offering a wide range of fashion and design boutiques.
Accommodation in Södermalm is well-priced compared to some other districts, and the transport links are good. If choosing to stay in this area, staying at the North overlooking Gamla Stan is recommended to ensure the old town is a walkable distance away.
Must-see sights in Södermalm are:
• Katarina Elevator to take in the views from the top of Södermalm
• The waterside views over Stockholm from Monteliusvägen.
• Fotografiska international museum
• The Baroque Maria Magdalena Church
• Stockholm City museum
• Hornstull Marknad (market) and its food truck scene.
By night Södermalm has more of an atmosphere than Gamla Stan and is worthy of a visit to enjoy some trendier and hipster eateries and bars. The Riverside Walk is also pretty to take in views of the old town lit up by night. Mariatorget Square is also a great area to explore at night that has contrasting old restaurants and new hip bars.
Top restaurant recommendations include Akkurat for delicious local food, live music, Pelikan and Kvarnen for delicious beers, and classic cuisine. For those looking to dine in hipster style, it is worthwhile trying Riche Fenix or Freyja.
Gamla Stan
The iconic Gamla Stan, or Stockholm's "Old Town", comprises of four islands filled with beautiful churches, narrow winding cobblestone streets, and colourful buildings. The islands also offer picturesque vistas of the surrounding city and serene nature.
Tourists often stay in this area to feel immersed in historical Stockholm. However, as accommodation is geographically limited, it is wise to book far in advance to get the best-rated boutique hotels.
Must-see sights of Gamla Stan
• Royal Palace, one of the largest residences in the world with Museums inside
• Nobel Prize Museum.
• Explore the main streets of Västerlånggatan and Österlånggatan.
• Stockholm Cathedral
• Visit Nytorget, Stortorget, and Mynttorget squares for a fika (coffee-and-cake ritual) beloved by Swedes.
Unlike Stockholm's more modern and lively neighbourhoods, Gamla Stan quietens at night, and the medieval old town is pedestrian-friendly for roaming free. Expect restaurants in this district to be popular at night but feel much more intimate: Those looking for a livelier nightlife should head to neighbouring Norrmalm.
Norrmalm
Norrmalm is the ultra-modern district of the city where the central station is located: This area is dominated by grand architecture and modern amenities: This district is well connected to national transport and the city metro, which makes it ideal for those staying on a shorter weekend break.
Accommodation in this district is cheaper than in the old town, and there is a wider selection of chain and family-friendly options. For tourists staying in this area, it is wise to stay to the south so the waterfront and Gamla Stan can easily be accessed without public transport.
Must-see sights and activities of Norrmalm
• Kungsträdgården (public gardens)
• Sergels Torg Plaza and shopping
• Royal Swedish Academy of Fine Arts
• Stockholm City Theatre
• National Museum of Art and Design
Norrmalm has an expected lively restaurant, bar and club scene by night, which feels very cosmopolitan and mixed. For those staying in Stockholm for a shorter break, it is recommended to head to historic Gamla Stan, trendy Södermalm and stylish Östermalm at night to get the most out of the city.
Östermalm.
This district is known as the most affluent part of inner-city Stockholm, famous for its fine-dining restaurants, affluent exclusive boutiques, and high-end hotels.
Östermalm is where Swedish royalties hung out in their youth, living the high social life in the bars and clubs—so it's not a surprise that tourists will find a certain type of crowd and upscale dining choices in this very smart residential neighbourhood.
Must-see sights in Östermalm are:
• Östermalms Saluhall (market): Filled with authentic Swedish delicatessens.
• Swedish Museum of Performing Arts.
• Take a walking tour of the district to admire the grand Swedish architecture.
Östermalm is located across the water from Södermalm, and it is also its opposite in essence. Even though it has a strangely high concentration of nightclubs, it is a little quieter—classic in its style and older in its demographic.
To dine in style in this district, head to Chez Jolie, Astoria or one of the fine dining options from celebrity chef Niklas Ekstedt, Tyge & Sessil, Ekstedt or Hillenberg.
Kungsholmen
Kungsholmen is primarily a residential island and a great location to experience authentic modern-day Stockholm. Being based here, tourists can mix with locals in the district's many restaurants and cafes. During summer, this district has a range of green spaces, such as Rålambshovsparken, to enjoy the outdoors and swim.
Accommodation in Kungsholmen is more rustic and cheaper than the more touristy areas: This is particularly a good area for those looking for a longer relaxed stay with excursions to different parts of Stockholm and the wider region.
Enjoy a long walk or jog along the beautiful pier immersed in nature on Norr Mälarstrand, offering exceptional views of Södermalm and boats sailing on the lake. For those staying or visiting this islet, it is impossible not to see the Iconic City Hall building that defines the skyline: This building is also where the annual Nobel peace prize ceremony is held.
Choose your location before looking for accommodation!
Always choose the location in Stockholm you want to be based in, before looking for accommodation. This may sound obvious, but it is all too easy to be sucked in by an amazing discount or outstanding reviews, without really considering which area you will be staying in.
The most romantic place to stay in Stockholm
Nowhere feels more intimate than Gamla Stan, and accommodation, restaurants, and sights feel like they are designed for couples. Staying overnight in Gamla Stan, once the cruise ships have departed, also feels quite magical. The medieval city is beautifully lit, and the waterway walks are romantic.
Where to stay for a business trip to Stockholm
If you are travelling for business, it is recommended to stay in Östermalm as it offers more opportunities for fine dining and exclusive hotels. This location is close to Gamla Stan and all its popular spots and venues and centrally located for transportation.
Where to stay and relax in Stockholm
A quiet area of Stockholm is the leafy island of Djurgården—a true paradise of nature right next to the city centre. On the island, you could explore the Rosendals Trädgård, a tranquil garden with views overlooking the Scandinavian capital.
Best nightlife districts in Stockholm
If you want to party while in Stockholm, look no further than Södermalm! With its extremely diverse range of bars and clubs where tourists can mingle with the hip and trendy locals. However, nightclubs are mostly located on the opposite side of the city, in Normmalm. You'll find many incredible clubs by the water and inside boats that become buzzing at night.
Where to stay in Stockholm with kids
Stockholm is a welcoming and kid-friendly city where restaurants, hotels and the locals are kind to little people. The abundance of waterways and nature surrounding the city makes it a great place for a longer trip with kids.
There are family-friendly hotel options within each of the top districts, but being centrally located in the south of Norrmalm will ensure that families are close to all major transport links to access the sights further afield, the ferry docks and that the old town is a short stroll away.
Top attractions in Stockholm for kids:
• Gröna Lund's Amusement Park
• Skypark Vaxholm
• The Viking Museum
• The National Museum of Science and Technology
• SkiStar Sports & Adventures (summertime only at Hammarbybacken ski slope)
Areas to Avoid in Stockholm
Despite being a very big city, Stockholm is extremely safe at any hour of the day or night. The Swedish capital is often considered one of the safest cities in Europe. While the city centre is very safe, avoiding outskirt areas like Tensta or Rinkeby is wise.
For a longer stay in Stockholm
There's nothing more characteristic of Stockholm in the summer than its magnificent archipelago: many islands surrounding the city. These are connected by ferries leaving from many areas of Stockholm—it's a spread-out heaven of nature, water, and astounding views.
Whether you wish to visit the tiny Fjäderholmarna islands just 20 minutes on the ferry from central Stockholm or somewhere further afield, like the islands of Nåttarö, Grinda, Sandhamn or Utö, the archipelago is Stockholm's favourite getaway in nature.
Many of those islands get busy by locals during the summer months for day trips or longer vacations, while wealthy Swedes fully book some exclusive islands all year.
How to get around Stockholm
Stockholm's main tourist neighbourhoods are walkable, but for those wishing to see multiple areas in a day or to explore at night, getting an unlimited travel pass is advisable in order to use the metro, ferry, and bus networks. The metro runs from 5 am until 1 am and is an efficient way to view the city for those on a shorter break. It is also highly recommended to utilise the ferry services to island-hop between districts.
How to get to Stockholm from Stockholm Arlanda Airport
Undoubtedly the fastest and easiest way to travel between the airport and Stockholm is via the high-speed train, which takes only 18 minutes and arrives at the central station. This mode of transport is expensive, but the relative ease from plane to city makes it worthwhile