Where to stay in Dublin? The best neighbourhoods and districts in 2023
Dublin is a top European city break, which has appeal year-round due to the abundance of all-weather things to do. Often considered a destination for a lively-spirited trip, this charming city also has a host of historical, cultural and kid-friendly sights that will ensure a memorable holiday for all.
Although the city's wider metropolitan area is sprawling, the city centre is relatively compact. As such, it is easy to navigate on foot or via the local 'Luas' tram, which makes it great for seeing a lot within a short space of time.
Understandably, Dublin is a popular getaway and accommodation in the centre is surprisingly in short supply. Therefore, it is recommended to decide where to stay and book well in advance to ensure you get the most of your time on the Emerald Isle. This article will give you a rundown of the various districts in Dublin, and help you choose the best for your trip.
The best areas of Dublin to stay in
Dublin city is informally split into the south and north sides, with the river Liffey being the dividing line. The most popular areas for tourists in Dublin tend to be on the south side of the river, but there are areas on both sides that are undoubtedly worth visiting.
If you are new to Dublin, the best districts to stay in are 1) Grafton Quarter, 2) Medieval Quarter 3) Temple Bar 4) Dublin One 5) Smithfield
The map below shows the main tourist areas of Dublin.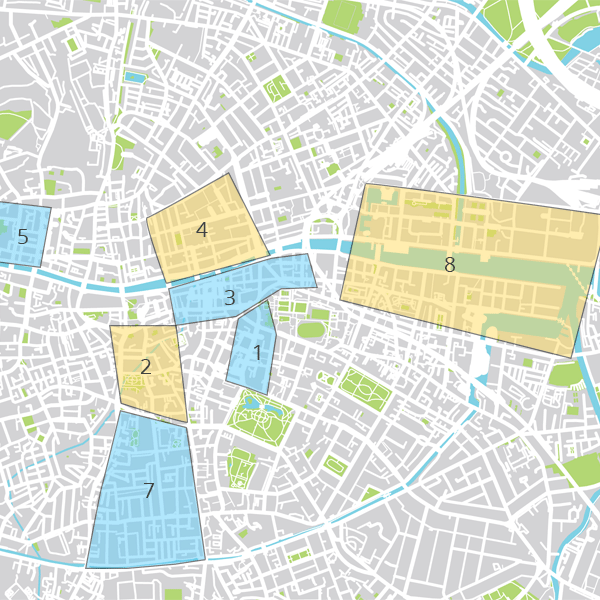 Dublin districts for tourists: 1) The Grafton Quarter 2) The Medieval Quarter 3) Temple Bar 4) Dublin One 5) Smithfield 6) Kilmainham 7) Portobello 8) The Docklands
Dublin may be one of the best tourist destinations in northwest Europe, but the city has a chronic shortage of hotel and rental rooms. This is especially true during the summer (June to August) when prices dramatically increase, and the best locations sell out. For any weekend break away in the summer, you will need to book far in advance.
The map below shows the location of hotels and rental rooms in central Dublin. By altering the date of your trip, the map will display current prices and availability.
It's my first visit to Dublin - where should I stay?
If it's your first time in Dublin, you should stay in the Grafton Quarter: This area is a gentle downhill walk to most of Dublin's main tourist sights and allows easy access to the best shopping district, restaurants, and the infamous Temple Bar nightlife. Staying anywhere within this district will allow you to experience the famous Irish hospitality and enjoy the best of this vibrant city without the excessive night-time noise or chaos of Temple Bar.
For the most luxurious hotels, look around the circumference of St Stephen's Green or on the roads leading off the park: This leafy green is a beautiful picnic spot and has extensive trails for those wanting a tranquil break. It is also well situated for trips to the museums or the trendy Portobello district to the West.
When travelling between the Grafton Quarter and the airport, it is best to take a taxi, which will take approximately 20 minutes. It is also possible to take the bus (line 700 route), which departs the airport every 30 minutes and is much cheaper (9 Euros). However, this can take up to 50 minutes due to stops on route.
Dublin's best districts to stay in
The Grafton Quarter
The Grafton Quarter is the focal point of Dublin's southside, particularly Grafton Street, which is one of Dublin's most prominent shopping streets. This area often has an exciting array of buskers and street performers, who are particularly appealing to those with kids. There are also countless options for accommodation around this area, along with an abundance of shops, cafes, bars, and restaurants.
At the top of Grafton Street lies the beautiful and peaceful St Stephen's Green, where you can take a break from the bustle of city life and spend some time walking the trails or simply relaxing.
From the Grafton Quarter, it is a short walk to the trendy Portobello district for an eclectic mix of shopping and quick eats, downhill into the night-time music of Temple bar or a stroll northwest to Medieval Quarter to soak up the history of this exciting city.
Accommodation within the Grafton Quarter varies from luxurious and boutique hotels to smaller rental apartments. As this is a famous district for those in the know, it is recommended to book well in advance when prices are the cheapest.
The Medieval Quarter
As the name suggests, The Medieval Quarter is the oldest part of Dublin: This is a great area to be located for exploring the top historical sights such as Dublin Castle, Christ Church, and St Patrick's Cathedral.
The Medieval Quarter is also a stone's throw from the world-famous Guinness Storehouse, which is a must-see attraction.
This district is also a great place to stay to get a true insight into both historical and contemporary Dublin. After viewing the sights by day, it is an easy and well-lit walk along Essex Street into the vibrant Temple Bar area and even further East to the trendy Trinity college area.
This outstanding district has limited accommodation options, and most are located on the fringe next to Temple Bar. When booking in this area, it is recommended to stay near the riverside, which makes navigating the city very easy.
Top tip: When staying in the Medieval Quarter, it is highly recommended to head to the Guinness Storehouse early morning to avoid the endless queues and bus tours. Tickets are best booked in advance and buying on the day can lead to excessive queuing.
Temple Bar
Probably the most touristy part of Dublin, the Temple Bar' old city' area brings out the Irish charm with cobblestone streets, traditional pubs, and beautifully unique architecture. By daytime, the warren of streets also become an eclectic mix of shops, small markets, and cafes, and it is beautiful to explore freely at leisure. This is also a good time to dine or have a 'quieter' Guinness.
Temple Bar is on the banks of the Liffey, and there is an impressive sculpture walk that passes some of the river's iconic bridges: This district is also wonderfully situated to reach all of the must-see sights within a 20-minute stroll.
By night, the Temple Bar becomes alive with lights, music, and merriment. Expect the main streets to be flooded with tourists, but it is still possible to take a back street and discover a more intimate pint and performance.
Top recommendations are the Old Guinness Storehouse (Crown street) for its atmosphere and endless live music, Porterhouse (Parliament Street) for good hearty Irish food and craft beers and the hidden Vintage Cocktail Club (Crown street) for a trendy Dubliner atmosphere.
Unlike many other districts of Dublin, there are many accommodation options, but it is worth choosing one of the quieter streets and ensuring an off-street/higher-level room for a better night's sleep.
Top tip: Temple bar hosts several small festivals throughout the year, but most notable is the Tradfest in January. If you are looking for a highly spirited trip and are prepared to book in advance, this is a fabulous time to enjoy the best of Irish music and stout.
Choose your location before looking for accommodation!
Always choose the location in Dublin you want to be based in, before looking for accommodation. This may sound obvious, but it is all too easy to be sucked in by an amazing discounts or outstanding reviews, without really considering which area of the city you will be staying in.
Most romantic places to stay in Dublin
Dublin is a beautiful city to explore as a couple. The city is crammed with romantic sights, intimate pubs and luxurious hotels.
For those looking for a central yet relaxed place to stay, staying within the south of the Grafton district around St Stephen's Green is highly recommended. This fashionable district houses some of the finest hotels in Dublin and is a beautiful tranquil escape from the bustle of the other central neighbourhoods.
From the Grafton district, it is a downhill walk to Trinity University, the romantic alleys of Temple bar, and the historical sights of the Medieval Quarter.
For couples looking for romantic evenings, staying within this district or heading west to the trendy canals of Portobello, where there is a range of sophisticated restaurants and stylish bars is recommended. Our top recommendations to impress your other half are 9 below for cocktail in sleek surroundings (9 St Stephen Green) and the expansive and eclectic Farrier and Draper (South William Street).
When exploring Temple Bar as a couple, it is also recommended to head to the side streets for a cosy pint and to ensure you stroll through the impressive 'Love Lane' artist walkway.
Where to stay in Dublin with kids
Despite the fame of Temple Bar and the Dublin nightlife, the city is also surprisingly filled with kid-friendly sights year-round. The best districts to stay with kids are Trinity (lower Grafton) and Grafton (near St Stephen's Green). These areas are close to shops and restaurants, and a lot of the tourist sights can be reached foot or via the tram.
Due to the unpredictability of the Irish weather, there are a surprising number of indoor activities. Our top recommendations include The Arc Cultural Centre, the Living history museum, Dublinia Museum (for Viking fans) and the Leprechaun Museum. When the sun shows, there is also a range of great outdoor spaces such as St Stephen's Green, Phoenix Park and Dublin Zoo.
For those staying with kids, it is highly recommended to book attractions in advance, especially in wet weather when tourists flock to the main undercover sights.
It is also worth planning your transport to/from Dublin and around the city in advance, as travel between the main sights can be tiring for little legs. Dublin has an inexpensive tram network (called the 'Luas' by locals), and tickets can be purchased at the machines or electronically via the Leapcard app.
For those wanting a fun way (but more expensive) to explore the city, there are also Hop on/Hop off bus services that run daily from 9-5 pm and come every 20 minutes.
Where to stay for a business trip to Dublin
As Dublin city centre is relatively small, business travellers could realistically stay in many of the exact locations as tourists, such as The Grafton Quarter and Dublin One.
However, the Docklands is a great area to stay in as it is home to many multinational companies, and there are a lot of hotels in the area which are accustomed to business travellers. If you are not working in the Docklands area, it is still an ideal location, as the city centre is within walking distance and quiet at night-time.
Where to stay in Dublin on a budget
For those wanting to stay in Dublin on a budget, it is wise to stick to areas slightly off the tourist trail north of the river, such as the north of Dublin one or Smithfield: These areas are great for eating and have a wide selection of big restaurant chains to keep dining costs low.
If staying in areas slightly further out, the Dublin tram network is a great way to hop on and off at your leisure. These areas are also well-served by public transport to the airport and coastal sights, which can lower overall costs even more.
Top tip: If you are travelling on a budget, booking the critical sights in advance is wise to ensure you receive the best discounts. Also, limit drinking in tourist hotspots, as the prices can be inflated.
Best nightlife districts in Dublin
If you plan to party in Dublin, you should stay in or near Portobello, which is close to Camden Street and Harcourt Street. These streets are full of bars, nightclubs, and chaotic partygoers.
Temple Bar district is also a good choice for those who prefer sleepy mornings and partying into the night: This district is famed for its small bars playing Irish music throughout the night. If you choose to drink here, do not expect to be surrounded by the Irish, as this is a melting pot of European and worldwide travellers.
What areas should I avoid in Dublin?
As with any city, Dublin has some rough areas, but if you are vigilant and take precautions (particularly at night-time), most city centre areas should be safe for tourists. Some locations on the outskirts of Dublin best avoided by tourists are Darndale, Blanchardstown, Finglas, Jobstown, and Cherry Orchard. Besides the fact that these are known to be less desirable neighbourhoods, they are also residential and have minimal appeal for tourists.
Other notable Dublin districts to stay in
Dublin One
Dublin One on the north side of the Liffey River spans the area from O'Connell Street to Capel Street. O'Connell Street is historically significant in Ireland, as it was the site of many important events. Running perpendicular to it is Henry Street, one of the largest shopping streets in Dublin. During the day, this area is full of activity and has countless options for food, shopping, and entertainment. At night, however, this area does not have much to offer and can be somewhat secluded.
Smithfield
An up-and-coming cultural hub, Smithfield offers easy access to the city centre by foot or by Luas (Dublin's tram). There are several entertainment options in its bars and cinema, as well as the Jameson Whiskey Distillery, one of Dublin's top tourist attractions. Smithfield is also within walking distance of the free-to-enter National History Museum and the Phoenix Park, where you will find Dublin Zoo, the president's residence (Áras an Uachtaráin), and other exciting sites.
Portobello
Portobello is a Dublin suburb located very close to all the action of the city. It is a favourite among young professionals, with plenty of hip bars and trendy restaurants. This area is also near Camden Street and Harcourt Street, two of Dublin's most popular clubbing hotspots.
Kilmainham
Kilmainham is located in Dublin 8, an area becoming increasingly gentrified. With traditional pubs and hipster cafes around every corner, the site has a trendy, relaxed atmosphere while retaining its Dublin charm. There is plenty to do here, too, such as the historic Kilmainham Gaol and the Irish Museum of Modern Art.
Dublin as a more extended holiday destination
Dublin is right on the coast, and some gorgeous seaside towns are well worth a visit. Malahide, Howth, Dun Laoghaire, Bray, and Greystones are just a few towns accessible by train from the city centre, where you can take in the sea air, hike along the scenic cliffs, or even partake in some watersports.