Where to Stay in Dublin? The best areas, districts and neighbourhoods for your Dublin trip in 2023
Dublin, the capital of Ireland, is known for its rich culture, extensive history and welcoming people. Along with its many tourist attractions, modern Dublin is a forward-thinking and multicultural city, that is a fantastic destination to visit.
On a map, it may seem like Dublin is a sprawling metropolitan area, but in reality, the city centre is rather small in comparison to its European counterparts. If you were to get accommodation anywhere in the city centre, most of the major tourist attractions of Dublin would be easily walkable.
That said, there are still large differences between the many neighbourhoods and districts. Depending on what kind of trip you are after, certain areas might be more suitable than others. This article will give you a rundown of the various districts in Dublin, and help you choose the best for your trip.
The best areas of Dublin
Dublin city is informally split into the southside and the northside, with the River Liffey being the dividing line. The most popular areas for tourists in Dublin tend to be on the south side of the river, but there are areas on both sides which are certainly worth a visit.
The best districts if you are new to Dublin are: 1) The Grafton Quarter, 2) The Medieval Quarter, 3) Temple Bar
The map below shows the main tourist areas of Dublin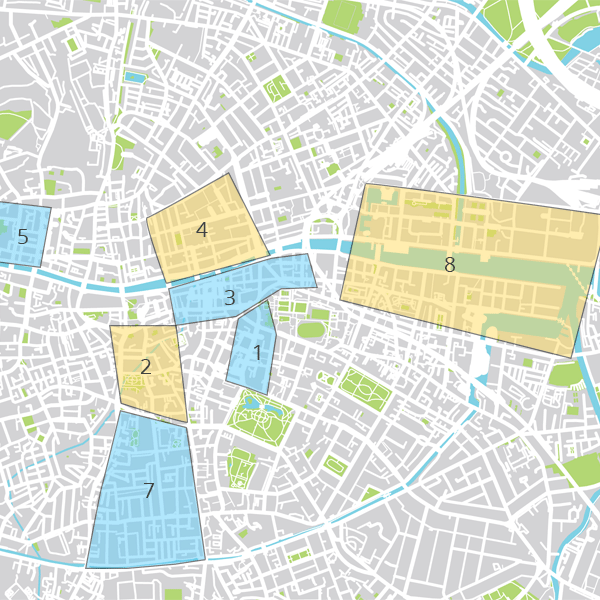 Dublin districts for tourists: 1) The Grafton Quarter 2) The Medieval Quarter 3) Temple Bar 4) Dublin One 5) Smithfield 6) Kilmainham 7) Portobello 8) The Docklands
Dublin may be one of the best tourist destinations in northwest Europe, but the city has a chronic shortage of hotel and rental rooms. This is especially true during the summer season (June to August), when prices dramatically increase and the best locations sell out. For any weekend break away in the summer, you need to book far in advance.
The map below shows the location of hotels and rental rooms in central Dublin. By altering the date of your trip, the map will display current prices and availability.
It's my first visit to Dublin - where should I stay?
If it's your first time in Dublin, you should stay in one of the southside areas - The Grafton Quarter, Temple Bar, or The Medieval Quarter.
These areas are within walking distance from most of Dublin's most important sites. You would be right in the hustle and bustle of the city, with easy access to an array of cultural and historical activities, and a lot of other entertainment options. This part of Dublin also has a great variety of restaurants to suit any taste, along with all kinds of shops.
For business travellers: As Dublin city centre is quite small, businesses travellers could realistically stay in many of the same locations as tourists, such as The Grafton Quarter and Dublin One, but the Docklands is probably the best location for those travelling for work.
Choose your location before looking for accommodation!
Always choose the location in Dublin you want to be based in, before looking for accommodation. This may sound obvious, but it is all too easy to be sucked in by an amazing discounts or outstanding reviews, without really considering which area of the city you will be staying in.
Dublin's best districts
The Grafton Quarter
The Grafton Quarter is the focal point of Dublin's southside, particularly Grafton Street, which is one of Dublin's largest shopping streets. There are countless options for accommodation around this area, along with an abundance of shops, cafes, bars, and restaurants. At the top of Grafton Street lies the beautiful and peaceful St Stephen's Green Park, where you can take a break from the city and spend some time in some nature.
The Medieval Quarter
As the name suggests, The Medieval Quarter is the oldest part of Dublin, comprising Dublin Castle, Christ Church and St Patrick's Cathedral. It's the ideal place to be based for those wanted to delve into the history of Dublin and Ireland. The Dublinia museum is located here, which explores the Viking origins of Dublin in detail. This area is also very close to Ireland's most visited tourist attraction - the Guinness Storehouse.
Temple Bar
Probably the most touristy part of Dublin, the Temple Bar area brings out the Irish charm with cobblestone streets, traditional pubs, and cute vintage shops. It can be awash with tourists late into the night, and slightly pricier than other parts of the city, so best to avoid this area if you'd rather surround yourself with locals. But for those only visiting Dublin for a night or two, this is a great place to base yourself to get the true tourist experience.
Dublin One
Dublin One on the north side of the Liffey River, spans the area from O'Connell Street to Capel Street. O'Connell Street is extremely historically significant in Ireland, as it was the site of many important events. Running perpendicular to it is Henry Street, one of the largest shopping streets in Dublin. During the day, this area is full of activity and has countless options for food, shopping, and entertainment. At night, however, this area does not have much to offer and can be somewhat secluded.
The Docklands
The Docklands is an area spanning both the north and south sides of the river. It is sometimes called the 'Silicon Docks', because it is home to a large number of tech companies - most notably the European headquarters of Google, Facebook, and LinkedIn. The area is full of sleek office blocks, expensive supermarkets, and modern eateries. This area also happens to be home to some of Dublin's most important venues: the Bord Gais Energy Theatre, the 3Arena, and the Convention Centre Dublin.
Smithfield
An up-and-coming cultural hub, Smithfield offers easy access to the city centre by foot or by Luas (Dublin's tram). There are a number of entertainment options in its bars and cinema, as well as the Jameson Whiskey Distillery, one of Dublin's top tourist attractions. Smithfield is also within walking distance of both the free-to-enter National History Museum, and the Phoenix Park, in which you will find Dublin Zoo, the president's residence (Áras an Uachtaráin), and other interesting sites.
Portobello
Portobello is a Dublin suburb located very close to all the action of the city. It is a favourite among young professionals, with plenty of hip bars and trendy restaurants. This area is also in close proximity to Camden Street and Harcourt Street, two of Dublin's most popular clubbing hotspots.
Kilmainham
Kilmainham is located in Dublin 8, an area becoming increasingly gentrified. With both traditional pubs and hipster cafes around every corner, the area has a trendy, relaxed atmosphere, while still retaining its Dublin charm. There is plenty to do here too, such as the historic Kilmainham Gaol, as well as the Irish Museum of Modern Art.
Where should I stay as a business traveller?
The Docklands is a great area to stay if you are in Dublin for businesses. It is home to many multinational companies, and there are a lot of hotels in the area which are accustomed to businesses travellers. If you are not working in the Docklands area, it would still be an ideal location, as the city centre is within walking distance, and it is quiet at nighttime.
What areas should I avoid?
As with any city, Dublin has some rough areas, but as long as you are vigilant and take precautions (particularly at nighttime), most areas of the city centre should be safe for tourists. Some locations on the outskirts of Dublin which are probably best avoided by tourists are Darndale, Blanchardstown, Finglas, Jobstown, and Cherry Orchard. Besides the fact that these are known to be less desirable neighbourhoods, they are also residential and have very little appeal for tourists.
I want to party - where should I stay in Dublin?
If you are planning to party in Dublin, you should stay in or near Portobello, which is in very close proximity to Camden Street and Harcourt Street - areas full of bars, nightclubs and partygoers late into the night. Temple Bar is also a good option for those who want to party.
Are there any neighbouring towns that I should visit?
Dublin is right on the coast, and there are some gorgeous seaside towns which are well worth a visit. Malahide, Howth, Dun Laoghaire, Bray, and Greystones are just a few of the towns accessible by train from the city centre, where you can take in the sea air, hike along the scenic cliffs, or even partake in some watersports.