Where To Stay in New Orleans? The best districts and neighbourhoods for your holiday in 2023
New Orleans is synonymous with drinking and partying, culminating in the annual Mardi Gras celebrations. However, the spirited city has much more to offer with its rich jazz heritage, French history, and Southern charm.
Situated on the banks of the Mississippi, this city is a wonderful adventure for families, young travellers and those looking for great southern cuisine, a fun time and great hospitality.
Sadly, the city is also notorious for its high crime rate; this can be avoided by staying in the central districts, which are home to the best sights to see in New Orleans.
This guide will detail the city's main districts and help you choose the best place to stay to get the most out of New Orleans.
The best districts of New Orleans to stay in
While New Orleans appears as a sprawling city on a map, the main tourist areas are quite compact and surround the downtown area. Many also interlink along the riverbank of the Mississippi and are joined by wide boulevards, making exploring on foot enjoyable and easy.
The best districts of New Orleans to stay in and explore are the:
1) French Quarter 2) Marigny 3) Garden District, 4) Warehouse District (in the Central Business District) 5) Mid-city.
The map below shows the main tourist areas of New Orleans.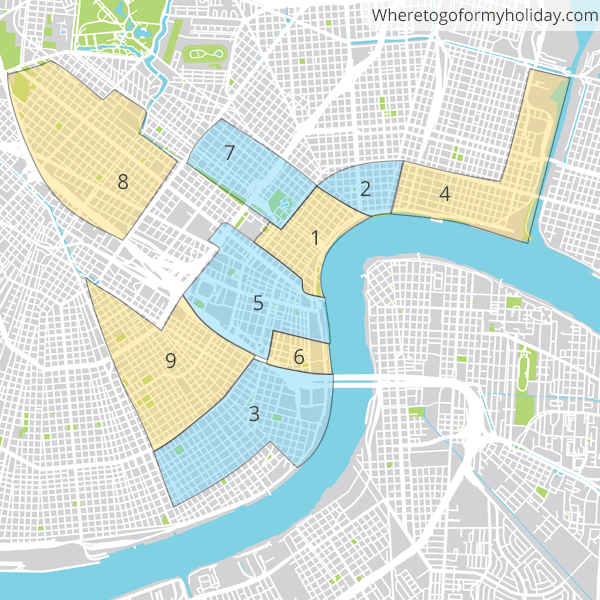 New Orleans districts: 1) French Quarter 2) Marigny 3) Garden District 4) Bywater 5) Central Business District 6) Warehouse District 7) Tremé 8) Mid-City 9) Central City
The map below shows the location of hotels and rental rooms in central New Orleans. By altering the date of your trip, the map will display current prices and availability.
It's my first time in New Orleans. Where should I stay?
If you're visiting New Orleans for the first time, it is wise to stay in the French Quarter, which is the epicentre of the Big Easy experience and has many main tourist sights.
Staying in the French Quarter makes it easy to explore other must-see districts by walking or taking short Streetcar rides, and at night, it is the place to experience authentic New Orleans spirit and music.
For those new to the city, spending at least a few days in New Orleans and pacing sightseeing between day and night to truly get the most out of the city is wise.
Must-see attractions should include:
• Exploring the French Quarter by day and Bourdon Street by night.
• Taking a Steamboat ride along the Mississippi.
• Take the streetcar to the affluent Garden District and explore the hip Warehouse area.
The top districts of New Orleans in detail
French Quarter
The French Quarter is the most famous area of New Orleans for a good reason: It's commonly referred to as the "downtown" of New Orleans and is the quintessential area that is often featured in photographs.
This district is excellent for visitors looking to get a taste of old New Orleans, with its French and Spanish influences seen throughout the architecture, food, and culture. By nighttime, this area is a vibrant mixture of music, impromptu processions, and heavy drinking, especially around the infamous Bourbon Street.
There is always a high demand for accommodation in the French Quarter, and rooms here are typically more expensive and sell out first. For those wanting to stay in this area, staying away from the main streets is wise if sleep is important.
Top Sights of the French Quarter
• Pirates Alley, a small walkway of unusual shops and historic buildings
• Jackson Square and the St. Louis Cathedral
• Bourbon Street by night: 13 blocks of neon and mayhem
• The Sophisticated architecture of Royal Street
• French Market for French delicacies
• New Orleans Audubon Aquarium
• Woldenberg Riverfront Park
The French Quarter by night is an essential experience for anyone visiting New Orleans, and there is such a wide variety of eateries, restaurants, bars, and nightclubs that it is possible to keep returning and get a different experience every night.
Top local recommendations include the historical Cafe Du Monde for coffee and beignets, Commerce Restaurant for classic southern food, Mena's Palace for Cajun specialities, the Carousel bar with its quirky moving bar and Mambos for delicious Margaritas and Southern bites.
Marigny
Marigny is north of the French Quarter and sits along the Mississippi River. It is conveniently located within walking distance of the downtown area. Dubbed a laid-back and artisan neighbourhood, tourists will find local art shops, restaurants, bars, and music venues in funky buildings.
While Marigny is still crowded and popular with tourists, it offers a calmer scene than the French Quarter. For those looking for an interesting but laidback alternative, Marigny is the place to be.
For accommodation options in Marigny, it is wise to be close to Esplanade Avenue or St Claude Avenue as these are the main stops for trams into the centre. It is also worth noting that accommodation in Marigny is more orientated toward self-catering apartments and boutique options rather than larger chain hotels.
Must-see sights in Marigny:
• Frenchmen Art Market
• Frenchmen Street and its renowned live music venues
• Rock Market for eats and treats
• The scenic Riverfront Crescent Park
By night, Marigny is the place to enjoy Jazz, visit wine bars and drink in hipster dive bars. Try the Spotted Cat Music Club for a great introduction to Jazz and then head for drinks and late-night food along Frenchmen Street.
Garden District
The Garden District is an upmarket neighbourhood south of the Central Business District. White picket fences, stylish houses, and lush greenery characterise it. This area is popular for its high-end shopping, dining and accommodation and is a relaxing contrast to the downtown.
Within Mardi Gras celebrations, this district is a great place to see the carnival before the craziness once it reaches the French Quarter.
Must-see sights of the Garden District are:
• Magazine Street; 6 miles of boutique and luxury shops
• A walking tour to explore the aspirational stunning streets, architecture, and mansions.
• Audubon Zoo
The Garden District offers a more intimate evening atmosphere but is a great place to try local delicacies. Top recommendations include the creole food at Commander's Palace and the Camellia Grill for delicious Southern dishes.
Warehouse District & Business District
The Business District is a thriving centre of commerce and, as such, is modern, stylish and has an iconic skyline.
While some might consider this area to be characterless when compared to the French Quarter, it is a fast-growing and evolving cultural district with museums, theatres, and art galleries scattered about. The artisan hub of the Central Business District is focused within a smaller area called the Warehouse District.
In the Central Business District, tourists will find trendy hotels boasting rooftop bars and chic restaurants. However, there is also a wide range of accommodation types and choices, which makes it a good area for those with a lower budget.
Must-see sights within the Business District are:
• Downtown Market
• The National WWII Museum
• Louisiana Children's Museum,
• "Gallery Row" on Julia Street
The Business District is a great place to dine out in style, and there is a huge selection of restaurants with cuisine from around the World. Top recommendations include Herbsaint Bar and Restaurant for Southern-French cuisine creations, Domenica for Italian rural food and Willa Jean Southern Bakery for daytime pastries and treats.
Mid-City District
For those looking for a more authentic and less touristy trip to New Orleans, Mid-City is the best neighbourhood to be based in. This is one of the most vibrant areas with an incredible music scene, attracting some of New Orleans' best musicians and artists.
Mid-City is home to historic landmarks and famous festivals such as the Jazz and Heritage Festival. The district feels less claustrophobic than the central areas, with numerous parks and green areas crossed by cycle paths.
Mid-City is also near New City Park, which has many attractions, including Besthoff Sculpture Park, Carousel Gardens Amusement Park, and Storyland.
Accommodation within the Mid-City is more limited than in other districts and is more orientated to self-catering options. However, there is also a range of smaller hotels and Inns for those wanting a less rustic experience.
Mid-city is a great place by night for more local restaurants, which are popular with residents. These include Brown Butter for delicious comfort food, Ruby Slipper Café for delicious brunch and Russell's Marina Grill for delicious grilled local cuisine.
Choose your location before looking for accommodation!
Always choose the location in New Orleans you want to be based in, before looking for accommodation. This may sound obvious, but it is all too easy to be sucked in by an amazing discount or outstanding reviews, without really considering which area you will be staying in.
Also consider your needs before booking accommodation. Do you need car parking with your accommodation? Children or pets?
Where to stay in New Orleans with kids
New Orleans has many sights for children, and it is recommended to choose the French Quarter to be within the hub of activity. This district also has good transport links to the New City Park and other top kid attractions. For those looking for slightly cheaper options, the Central Business District also has a lot of larger chain hotels that are family-friendly and have great amenities.
The top sights in New Orleans for Kids are:
• Taking a Steamboat ride along the Mississippi
• Visiting New City Park, particularly Carousel Gardens and Storyland
• Take the streetcar to the leafy Garden District and roam the endless shops along Magazine Street.
• Audubon Zoo and Aquarium
Where to stay for a business trip to New Orleans
For those visiting New Orleans on business, staying in either the Central Business District or Garden District is best. The Central Business District is home to many corporations, and it has a wide range of luxury hotels with rooftop bars and restaurants to enjoy after work hours.
Alternatively, the Garden District is the perfect place to have a more relaxing stay after work hours. This area is quiet and calm and has incredible stylish restaurants and low-key bars.
Where to stay and relax in New Orleans
If you're visiting New Orleans for a relaxing vacation, staying in the Garden District is best. The Garden District is home to some of the most upscale hotels and resorts offering world-class spas, great restaurants, fantastic architecture, and historical sights.
The Garden District is primarily residential, but it's still close enough to the French Quarter to enjoy all the great dining and entertainment New Orleans offers.
Best nightlife districts in New Orleans
Regarding partying, the best district to stay in to be near the action is the French Quarter. This area has endless bars, nightclubs, and restaurants open late into the night. It's also home to the famous Bourbon Street, one of the city's busiest streets that never sleeps. Here, there are clubs, live music venues, and bars in every direction.
What areas of New Orleans should I Avoid?
While New Orleans is relatively safe, some neighbourhoods outside of the downtown area should be avoided, including Saint Roch and Central City, which have higher crime rates and poverty. Tremé is one of the most characterful districts of New Orleans, but it is not recommended to walk around late at night.
How to get around New Orleans
New Orleans relies on an above-ground transport network of buses and streetcars connecting the main tourist districts. For tourists looking to get around the city traditionally, the four streetcar routes connect all main tourist routes. This mode of transport is cheap (3 dollars for a day pass). The most popular route is the St. Charles Streetcar line, which runs North to South, Connecting the Mid-town with the Downtown and Garden Districts.
How to get to New Orleans from New Orleans International Airport
Public transport between the airport and New Orleans is well-run, efficient and frequent; the Regional Transit Authority (RTA) provides an airport bus service (Route 202), which takes approximately 30 minutes. For
Alternatively, official taxis cost approximately 36 dollars for a single trip to the French Quarter (taxis accept both cash and cards).