Where To Stay in New Orleans? The best districts and neighbourhoods for your New Orleans holiday in 2022
New Orleans, Louisiana, is the ultimate tourist destination in the southern United States. With its unique heritage, varied attractions, and vibrant atmosphere, it's easy to understand why millions flock here each year.
The city is an exciting mixing pot of cultures, constructed upon its rich history and feeds off the energy of its population. History and culture radiate from every corner, while the Mardi Gras celebration is one of the best festivals in the United States.
New Orleans boasts many characterful and distinctive neighbourhoods, but which district of the city is best for your trip? This guide will detail each of the city's main areas and help you choose the best for your trip.
The best districts of New Orleans
While New Orleans appears as a sprawling city on a map, the main tourist areas are quite compact and surround the downtown area. This downtown area is known as the French Quarter, while each of the surrounding districts have their own unique styles and benefits for being based in.
The best districts of New Orleans are: 1) French Quarter 2) Marigny 3) Garden District 4) Warehouse District (in the Central Business District) 5) Bywater
The map below shows the main tourist areas of New Orleans.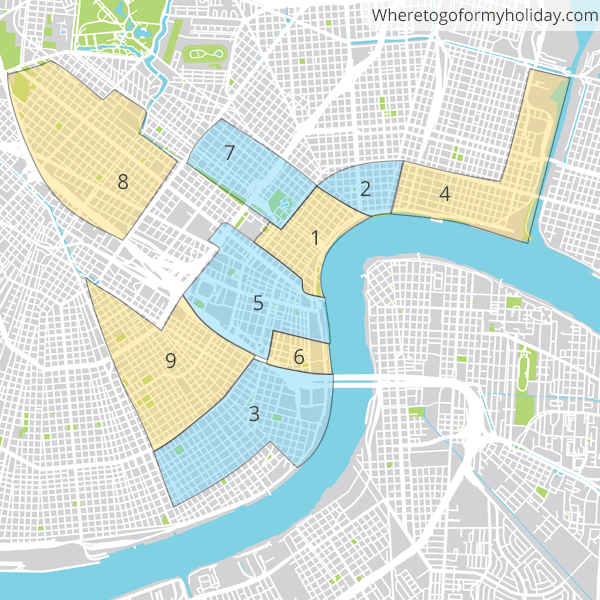 New Orleans districts: 1) French Quarter 2) Marigny 3) Garden District 4) Bywater 5) Central Business District 6) Warehouse District 7) Tremé 8) Mid-City 9) Central City
The map below shows the location of hotels and rental rooms in central New Orleans. By altering the date of your trip, the map will display current prices and availability.
The main tourist areas of New Orleans
French Quarter
The French Quarter is the most famous area of New Orleans, and for a good reason. It's commonly referred to as the "downtown" of New Orleans and is the area you will recognize from photos and promotional material. The most famous street is Bourbon Street and is lined with many of the classical historical buildings of the city.
This district is excellent for any visitors looking to get a taste of old New Orleans, with its French influence seen throughout the architecture, food, entertainment, and culture.
Not only will you find great boutiques and hand-crafted home goods, but you'll be able to see magnificent views of the Mississippi River and live street performers. If you're looking for a more crowded tourist spot that truly highlights the city's history, then French Quarter might be the best choice for you. There is always high demand for accommodation in the French Quarter, and rooms here are typically more expensive and sell out first.
Marigny
Marigny is just to the north of the French Quarter and sits along the Mississippi River. It is conveniently located within walking distance of the downtown area. Dubbed as a laid-back and artisan neighbourhood, you'll find local art shops, restaurants, bars, and music venues in funky buildings.
Marigny is most well-known for "Frenchmen Street," an area popular with tourist, renowned for its live music venues. Besides the music, the homes in Marigny are different to those of the French Quarter, as most were built between 1900 and 1930. Marigny's music scene attracts many artists and musicians who live here due to its location and lower rent prices.
While Marigny is still crowded and popular with tourists, it offers a calmer scene than the French Quarter. So, if you're looking for a more local area that still has plenty of entertainment, then Marigny is the place to be.
Garden District
If you're looking for an area of New Orleans that is considered more upmarket, then the Garden District might be the area for you. This is another neighbourhood located just outside of the French Quarter and features some of the most stunning homes in all of New Orleans.
You'll see plenty of white picket fences with lush greenery throughout this district, which also happens to be one of the most expensive places to live. So naturally, this area isn't exactly cheap to be based in either.
The district's attractions including the famous St. Charles Streetcar along some of the best dining and boutiques in all of New Orleans. However, if you're looking for a more refined trip to New Orleans, which is also home to many celebrities, then the Garden District might be just right for you.
Central Business District
The Central Business District (CBD) is one of the most important areas of New Orleans because of all the big businesses and corporations that are headquartered here. In addition, it has an incredible skyline with towering high rises, so it's no wonder why so many people choose to stay in this part of town while they visit the city.
While some might consider this area to be characterless when compared to the French Quarter, it's still home to one of the fastest-growing arts districts, with museums, theatres, and art galleries scattered about. This artisan hub of the Central Business District is focused around the old industrial buildings of the Warehouse District.
Within the Central Business District you'll find trendy hotels boasting trendy rooftop bars and chic restaurants, plus you'll still be within walking distance to the French Quarter area. If you're not into visiting popular attractions and want to explore an up-and-coming, industrial area, the CBD might be the perfect neighbourhood for your visit.
Mid-City District
If you want a more authentic and less touristy trip to New Orleans, Mid-City might be the right neighbourhood for you to be based in. This is one of the most vibrant areas with an incredible music scene, attracting some of New Orleans' best musicians and artists.
Mid-City is home to historic landmarks and famous festivals such as the Jazz and Heritage Festival. The district feels less claustrophobic than the central areas, with numerous parks and green areas crossed by cycle paths and footpaths.
Since this is less of a touristy area, you'll find locals frequenting the restaurants, bars and shops of the district.
Choose your location before looking for accommodation!
Always choose the location in New Orleans you want to be based in, before looking for accommodation. This may sound obvious, but it is all too easy to be sucked in by an amazing discount or outstanding reviews, without really considering which area you will be staying in.
Also consider your needs before booking accommodation. Do you need car parking with your accommodation? Children or pets?
It's my first visit to New Orleans. Which district should I stay in?
If you're visiting New Orleans for the first time as a solo traveller or with a significant other, then it's suggested to stay in either the French Quarter or Marigny. Both of these neighbourhoods are centrally located and have lots to do, including a ton of restaurants, bars, museums, and shops.
However, if you're visiting with family and want a more relaxed and upscale neighbourhood, visiting the Garden District is a great idea. This area is beautiful and far enough away from Bourbon Street so you can get a good night's sleep without noise pollution keeping you up all night.
Where should I go as a business traveller?
If you're visiting New Orleans as a business traveller, it's best to stay in either the CBD or Garden District. The CBD is home to many corporations with plenty of high-end hotels for your convenience, plus rooftop bars and restaurants that you can enjoy after work hours.
If you want the best of business and relaxation, then the Garden District is the perfect place for you. This area is quiet, calm, and has incredible food to keep you full after a long day at work.
What areas of New Orleans should I Avoid?
While New Orleans is relatively safe, some neighbourhoods outside of the downtown area are unsafe and should be avoided, including Saint Roch and Central City, which have higher rates of crime and poverty. If you find yourself in these areas, try to avoid walking around at night and always be aware of your surroundings.
Tremé is one of the most characterful districts of New Orleans, but it is not recommended to walk around late at night.
If I want to party, where should I stay in New Orleans?
As far as partying goes, the best district to stay in if you want to be near the action is the French Quarter. This area has tons of bars, nightclubs, and restaurants that are open late into the night for your convenience. It's also home to the famous Bourbon Street, which is one of the busiest streets in the city that never sleeps. You'll find clubs, live music, and bars in every direction here, so why not stay right in the heart of it all?
Where's a good place for me to feel like a local while I'm visiting New Orleans?
If you want to feel like a true New Orleanian while you're exploring this culture-rich city, then both Mid-City and Marigny are great districts to visit. Both of these areas are on the outskirts of the French Quarter and away from all the tourists, but still offer some excellent cuisine and entertainment.
Where should I stay for a relaxing vacation in New Orleans?
If you're visiting New Orleans for a relaxing vacation, then it's best to stay in the Garden District. The Garden District is home to some of the most upscale hotels and resorts that offer world-class spas and great restaurants, plus fantastic architecture and historical sights to check out. This area is primarily residential, but it's still close enough to the French Quarter, so you can enjoy all of the great dining and entertainment that New Orleans has to offer.
What area is near the airport?
If you need to stay close to the airport, you'll want to consider staying outside of downtown, near the Metairie area. Metairie is New Orleans' largest suburb and only a ten-minute drive from the airport, making it a convenient option for travellers who need to fly in or out. However, it's important to note that the French Quarter is about 30 minutes drive from the airport, so you won't be within walking distance of all of the famous attractions if you stay in Metairie.
Should I visit New Orleans?
If you're looking for a place to relax, party, or learn about history and culture, then New Orleans is the perfect destination for you. New Orleans offers a ton of sightseeing and entertainment opportunities, plus tons of hotel rooms, bed and breakfasts, and airbnbs for your convenience. So whether you want to enjoy a relaxing stroll through one of the many parks, or party at Mardi Gras on Bourbon Street, New Orleans has it all.