Where to stay in Riga? The best neighbourhoods and districts for your trip in 2022
Riga, the capital of Latvia, is well known for its medieval architecture, turbulent history and timeless Baltic charm. Visitors to the city fall in love with its many fascinating historical sites, art nouveau architecture and vibrant nightlife, as well as the unique local cuisine.
Despite their proximity, Riga's districts are varied, each offering a different holiday experience. Depending on your interests, certain areas may be more suitable than others. This article will give you an overview of the city's best districts and help you choose the ideal base for your trip.
The best areas of Riga
Most of Riga's best neighbourhoods for tourists are situated to the east of the River Daugava. The Old City, with its major tourist attractions, lies next to the river itself, while the greener, more artistic and commercial areas are found further east. It's worth exploring a variety of these areas during your trip in order to experience Riga's varied culture.
The best districts if you are new to Riga are: 1) The Old Town, 2) Mežaparks, 3) Brasa 4) The riverside of Āgenskalns
The map below displays the main areas of Riga where tourists could stay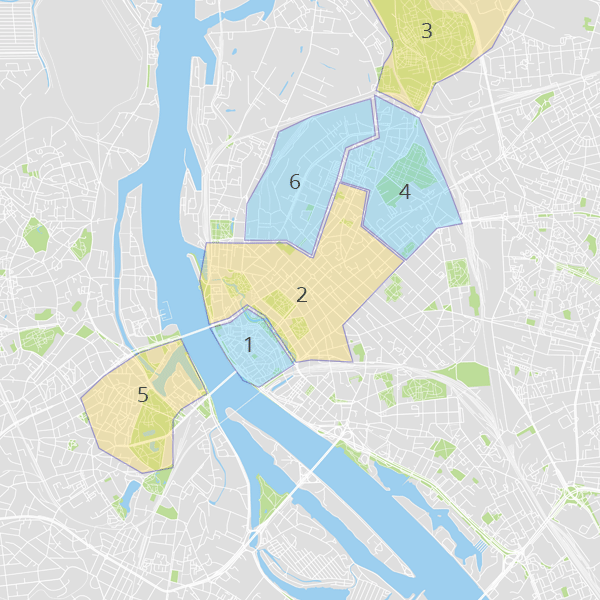 The tourist districts of Riga: 1) Vecrīga (The Old Town) 2) Centra rajons (Central District) 3) Mežaparks 4) Brasa 5) Āgenskalns 6) Skanste
The map below shows the location of hotels and rental rooms in central Riga. By altering the dates to suit your trip, the map will display current prices and availability.
It's my first visit to Riga - where should I stay?
If it's your first time in Riga, we'd recommend staying close to the river – either in the Old Town or across the river in Āgenskalns. These areas are within walking distance of the major tourist sites and local markets, as well as providing great local food and nightlife options.
For business travellers to Riga
Riga is a small and easily walkable capital, so staying in any of the city's best districts will allow you close access to the business centre. However, the most convenient areas for business travellers to be based in are Skanste or the Central District.
Riga's best districts
Vecrīga (The Old Town)
The most picturesque part of the city, the Old Town is full of historic medieval sites. The entire district has been named a UNESCO World Heritage Site for its significance in European history and its contemporary beauty.
It's the best place to stay for travellers interested in learning about Latvian heritage, as well as anyone interested in medieval European architecture. The area is also home to the city's best food and drink options, so if you're hoping to try some authentic Latvian food in a tourist-friendly setting, then this would be an ideal area to choose.
Centra rajons (Central District)
The Central District is largely a residential area, with fewer tourists than other parts of Riga. However, it is only a short walk to the major attractions and offers a range of great options for eating and shopping.
Its entry is marked by the impressive Freedom Monument, with its streets home to many fine examples of the art nouveau architecture that Riga is famous for. These elegant, 20th-century buildings house quaint local cafes and great restaurants that are popular with Latvian diners.
Mežaparks
Mežaparks translates from Latvian as 'forest parks', with the neighbourhood being perfect for those looking to enjoy some green spaces away from the city crowds. Its beautiful parks are full of small local cafes, as well as a choice of restaurants and shops.
There are many options for accommodation here, overlooking Riga's forested city park, and all are within walking distance of the main tourist attractions. You can come here to take a break from the sightseeing and city hubbub, while experiencing a small taste of the Latvian forests that sprawl out beyond the city's bounds.
Brasa
Brasa has been referred to in the past as "the most hipster neighbourhood in the world." It's filled with eclectic modern art galleries, vintage shops, quirky bars/cafes, and young, artistic residents.
If you fancy staying in a more residential area and discovering local life beyond the tourist districts, then Brasa is an excellent option. There are many accommodation and restaurant options in the area, and again it's within walking distance of all the major sights.
Āgenskalns
Unlike the other options already mentioned, Āgenskalns is found on the west side of the river. Every weekend since 1898, the bustling Āgenskalns Market has been filled with the tempting aroma of fresh coffee and Latvian baked treats.
On Sundays, it becomes an antiques market, and if you're visiting in winter, you can expect to see a host of cultural activities - like concerts, exhibitions and festivals - held within the market.
The Kalnciema Quarter of Āgenskalns is perfect for travellers who prefer to avoid the tourist crowds in the Old Town, but still want to be immersed in the local history and culture.
Skanste
Fast progressing into the most modern district of Riga, the business centre of Skanste is ideal for business travellers in the city. Though largely filled with commercial and residential properties, the district is within easy walking distance of Riga's more charming neighbourhoods. It offers access to the best business facilities in Riga, without depriving visitors
Choose your location before looking for accommodation!
Always choose the location in Riga you want to be based in, before looking for accommodation. This may sound obvious, but it's all too easy to be sucked in by amazing discounts or outstanding reviews, without really considering which area you will be staying in.
What areas of Riga should I avoid?
As a tourist, it's rare that you will stray too far into the less desirable areas in Riga. The major attractions and pleasant neighbourhoods are all fairly centralised and close together. However, if you do head away from the centre of the city you should be more vigilant in neighbourhoods like Avotu Iela, Zolitude, Purvciems and Bolderaja.
I want to party in Riga - where should I stay?
You should stay in the Central District or the Old Town. Here, the parties last late into the night, and travelling revellers can stumble out of underground taverns and heavy metal karaoke bars while remaining close to their accommodation. This area is the favourite clubbing destination of locals and tourists alike, so it's easy to enjoy without speaking any level of Latvian.
Are there any neighbouring towns that I should visit?
If your idea of a beach trip literally involves Baltic conditions, head to Jumala. Here you can brave the icy waters of the Baltic Sea, or enjoy one of the many spas situated along the coast. If you'd prefer to see a historical site and a more traditional Latvian town, head to Sigulda. Its castle was built in 1207 by the 'Order of the Brothers of the Sword', and it overlooks the stunning forests of the Gauja Valley.