Where to stay in Riga? The best neighbourhoods and districts in 2023
Riga is a compact yet captivating capital city with much more to offer than many tourists expect. It is also still an extraordinarily cheap destination where visitors can afford to stay in luxury.
Lying between Scandinavia and eastern Europe, Riga's turbulent history of occupation finally ended with independence in 1991: This past has given way to fascinating museums, varied architecture, and triumphant sights.
Sights not to be missed are the central market, housed in Soviet Zeplin hangers, the views from St Peter's Church, and the old town's fairytale architecture. In addition, the recent modernisation of transport links across the city has allowed visitors to discover delights such as the Mežaparks' forest and Jurmala beach resort.
This article will give an overview of the city's best neighbourhoods and help you choose the ideal base for your trip.
The best areas of Riga
Most of Riga's best tourist neighbourhoods are situated east of the river Daugava. The Old City, with its major tourist attractions, lies next to the river, while the greener, more artistic and commercial areas are found further east. It's worth exploring these areas during your trip to experience Riga's varied culture.
The best districts if you are new to Riga are: 1) The Old Town, 2) Central District 3) Mežaparks, 4) Brasa 5) The riverside of Āgenskalns
The map below displays the main areas of Riga where tourists are recommended to stay.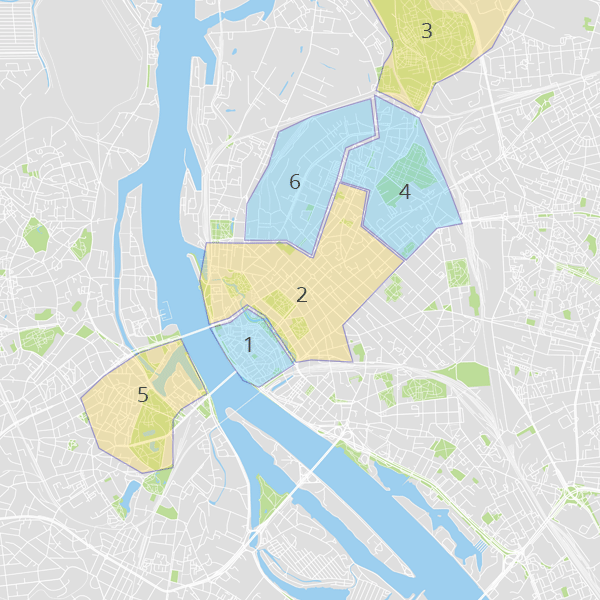 The tourist districts of Riga: 1) Vecrīga (The Old Town) 2) Centrs (Central District) 3) Mežaparks 4) Brasa 5) Āgenskalns 6) Skanste
The map below shows the location of hotels and rental rooms in central Riga. The map will display current prices and availability by altering the dates to suit your trip.
It's my first visit to Riga, where should I stay?
If it's your first time in Riga, staying close to the river in the Old Town is recommended: This area feels truly magical and is a wonderful place to wake up each day.
Riga's Old Town is truly a sight to behold, with endless streets of fabulous architecture and colourful buildings brimming with Latvian culture. Top highlights include the House of the Black Heads. Church of St Peter, the Three Brothers and the Swedish Gate.
Following a free walking tour is an excellent way to get acquainted and ensure you don't miss anything. After a tour, you can either follow the recommendations from the local guides or venture out to see the other districts.
Accommodation options in this neighbourhood are vast, and for those who can afford it, it is wise to stay in one of the fine four or 5-star hotels as prices are a fraction of other capital cities: The concierge services are also great for making dining reservations and getting transport guidance.
Restaurant options in the old town are reasonably priced, and it is easy to find traditional Latvian cuisine. For those who are keen to try local delicacies, it is recommended to try Pelēkie zirņi ar speķi (the National dish of Latvia), Karbonāde, and Latvian Rye bread.
The central district of Riga (Old Town and Central neighbourhoods) is only 3km long and navigable on foot. However, it is recommended to still use the public network (trams, buses and trolleybuses) to get to the other beautiful districts.
As with everything else in Riga, public transport is very affordable. For ease, downloading the app on your phone in advance and buying a 24-hour ticket for 5 euros or a three-day ticket for 8 euros is worthwhile.
It is easy to arrive from the airport by bus (number 22). Tickets can be bought from the driver for 2 euros or at the kiosk in advance. The stop is outside the airport (30 minutes) and departs every 15 minutes from 5.30 am to 12 am.
Alternatively, a taxi takes approximately 15 minutes and should cost around 15 euros, but always ask before getting in.
The best neighbourhoods to stay in Riga
Vecrīga (The Old Town)
The old town is truly outstanding, and, shockingly, this expansive, beautiful centre has yet to gain mass tourist appeal. Anyone lucky enough to visit Riga's Old Town is unlikely to find a historic centre that rivals its beauty, turbulent history and abundance of sights within Europe. The entire district has been named a UNESCO World Heritage Site for its significance in European history and contemporary beauty.
Hotels within the Old Town are surprisingly reasonable, and it is well worth looking for historical and grand local hotels (rather than chain hotels) to feel truly immersed in Latvian culture.
Visitors can freely roam and discover the sights themselves, but it is highly recommended to either follow a free walking tour or a guided map tour to ensure that the real treasures of this area are not missed. It is also fascinating to hear the origins of sights and how Riga retained its Latvian culture and resilience through both Soviet and Nazi occupation.
Top sights to ensure you do not miss are the House of the Blackheads, St Peter's Church and the view from the bell tower (open daily 10 am – 6 pm), and the Swedish Gate. All these sights are steeped in history, which is fascinating. For those with time, it is worth visiting the museums in this area, most notably the Museum of the Occupation of Latvia, to get more of an understanding of the resilience of this country.
Food and drink in the Old Town are in abundance and expect restaurants to be focused on local cuisine. In terms of nightlife, there are pubs in the Old Town that retain the Latvian charm and others that are designed for cheap drinking and partying.
We highly recommend walking to and having a drink at the Skyline bar (Radisson Blu Latvija Conference & Spa hotel) to take in the old city views with a fine cocktail. Other Latvian-favoured night spots include Balzambars, Ala Folk Club for great Latvian music and Distiller Republic for local craft beer.
Centrs (Central District)
Entry to this, the Centrs neighbourhood is marked by the impressive Freedom Monument. At 42 metres high, this symbolic statue has 56 sculptures depicting Latvian history and stands to represent the resilience of this Nation.
From here, the central neighbourhood is characterised by colourful and elaborate Art Nouveau architecture: These elegant, 20th-century buildings house quaint local cafes and great restaurants that are popular with Latvian diners. A particular highlight not to be missed is Albert Street.
Top sights within this area include the Riga White House (National Opera & Ballet), Freedom Monument, Nativity of Christ Cathedral and Art Nouveau Museum.
The Central District is largely a residential area, with fewer tourists than other parts of Riga. However, it is only a short walk to the major attractions. Staying here is a good option for those combining Riga on a wider tour of the country or those wanting to travel to other further away neighbourhoods. Accommodation here is very reasonably priced.
The Central District is also a great area for dining out and drinking with the locals. Our top recommendations include the Gimlet Nordic Cocktail Bar and the Black Magic Bar, serving cocktails using Latvian ingredients.
The Latvian National Opera and Ballet are surprisingly cheap and an extraordinary experience for those staying nearby. For those wanting to watch a show, it is well worth looking at the schedule in advance and booking.
Mežaparks
The Mežaparks neighbourhood of Riga is a rare find within a capital city: This extensively scenic area directly translates from Latvian as' forest parks' and gives visitors a snapshot of the country's natural beauty. Mežaparks is a wonderful contrast to the lively central neighbourhoods and allows visitors to take part in outdoor activities.
Top recommendations in this area are the watersports on the placid Lake Kisezers, Riga Zoo, taking a sculpture tour and seeing a show at the Grand stage.
Accommodation in Mežaparks surrounds the park and Lake Kisezers: This is largely self-catering apartments, but there are a few hotels too. There is also a small range of cafes and restaurants in this area.
Mežaparks can be easily reached from the centre by Tram number 11, and the journey takes approximately 30 minutes. You can easily reach the zoo and a range of restaurants from the tram stop, including Bella Bella and Restorāns Daba Mamma.
Choose your location before looking for accommodation!
Always choose the location in Riga you want to be based in, before looking for accommodation. This may sound obvious, but it's all too easy to be sucked in by amazing discounts or outstanding reviews, without really considering which area you will be staying in.
Most romantic places to stay in Riga
Riga doesn't immediately resonate with couples due to its infamous drinking and partying reputation. However, the old town is ideal for a low-cost, luxury break within a truly remarkable historic centre that feels almost fairytale.
The nightlife scene is easily avoided by staying in one of Riga's four or 5-star hotels, and there is also a wide range of stylish, intimate and trendy bars for couples to drink at.
Must-see sights for couples include ascending St Peters Church bell tower to get a magical view of the old city, roaming the old city on a walking tour, visiting the Opera for an evening performance, and exploring the central market for some beautiful Latvian memorabilia.
Where to stay in Riga with children
For those visiting with children, staying in one of the larger chain hotels, such as the Radisson or Wellton, on the border of the old town/ Maskačka neighbourhoods is highly recommended.
Hotels here have more amenities, restaurants, and facilities for children without the need for a lot of translation. Being situated near the old town will also allow mini trips to the historical sights to be supplemented with pool time.
Public transport connections from the nearby Central District will also enable families to get to the wonderful family attractions of Mežaparks. Riga is generally considered a family-friendly city, but staying away from cheaper accommodation in the old town is wise to ensure that your hotel is not filled with partygoers.
Best nightlife neighbourhoods in Riga
For those looking to party Latvian style, staying in the Central District or the Old Town is recommended. Here, the parties last late into the night, and revellers can stumble out of underground taverns and heavy metal karaoke bars while remaining close to their accommodations. This area is the favourite clubbing destination for locals and tourists alike, so it's easy to enjoy without speaking Latvian.
For those willing to try something new, Latvian cocktails will often include Black Balsam, a vodka-based spirit believed to have medicinal properties.
When to stay in Riga on a business trip
Fast progressing into the most modern district of Riga, the business centre of Skanste is the ideal place for business travellers to stay in the city. Though largely filled with commercial and residential properties, the district is within easy walking distance of Riga's more charming neighbourhoods. It offers access to the best business facilities in Riga without depriving visitors of the chance to enjoy the city's historical and artistic districts in their downtime.
Other interesting neighbourhoods to stay in
Brasa
Brasa has been referred to in the past as "the most hipster neighbourhood in the world." It has eclectic modern art galleries, vintage shops, quirky bars/cafes, and young, artistic residents. If you fancy staying in a more residential area and discovering local life beyond the tourist districts, then Brasa is an excellent option. The area has many restaurant options, and it is within walking distance of all the major sights.
Āgenskalns
Unlike the other options already mentioned, Āgenskalns is found on the west side of the river. Every weekend since 1898, the bustling Āgenskalns Market has been filled with the tempting aroma of fresh coffee and Latvian baked treats.
On Sundays, it becomes an antique market. If you're visiting in winter, you can expect to see a host of cultural activities - like concerts, exhibitions, and festivals - held within the market.
The Kalnciema Quarter of Āgenskalns is perfect for travellers who prefer to avoid the tourist crowds in the Old Town but still want to be immersed in the local history and culture. Highlights include exploring the markets, walking in Victory Park and dining on the riverside.
Āgenskalns is connected to the central district by bus and taking 4, 7 and 8.
Maskačka
This neighbourhood houses one of Riga's top attractions. Riga central market is worthy of a visit, even if just for this sight. The market is the largest in Europe and is housed with a series of old Soviet Zeplin hangers. The market is wonderful and feels truly Latvian. Come here to people-watch, find virtually anything and head to the street food bars to sample modern Latvian cuisine. The market is a 10-minute walk from the centre and is open daily from 8 am to 5 pm.
Riga as a longer holiday
The capital of Latvia is also a gateway to a host of fabulous tourist destinations, which makes Riga a great place to stay for a longer holiday. Top day trips include Jurmala and Sigulda
The beach resort of Jurmala. Beautiful coastal resort with a stunning sandy shoreline on the Baltic coast. Here you can brave the icy waters of the Baltic Sea or enjoy one of the many spas situated along the coast. Jurmala is reached by taking the train from Riga Central Station and getting off at Majori. The journey takes approximately 25 minutes (a single is 1.43 Euros).
Historic Sigulda and its castle built in 1207 by the 'Order of the Brothers of the Sword': This beautiful city also overlooks the stunning forests of the Gauja Valley and is a great overnight stay. Sigulda can be reached via bus or train, which takes approximately 50 minutes. See the above website for up-to-date timetables.
What areas of Riga should I avoid?
As a tourist, you rarely stray too far into the less desirable areas in Riga. The major attractions and pleasant neighbourhoods are all centralised and close together. However, if you head away from the city centre, you should be more vigilant in neighbourhoods like Avotu Iela, Zolitude, Purvciems and Bolderaja.