Where to stay in Berlin? The best neighbourhoods and districts for your trip in 2023
Berlin is the progressive and vibrant capital of Germany.
The city prides itself on its electric nightlife and sunny beer gardens, as well as its rich cultural and musical heritage. Known for its diversity, Berlin is home to a rich variety of districts and neighbourhoods. Each one boasting it's own distinctive character and vibe, which will appeal to different types of travellers.
This article will guide you through Berlin's notable neighbourhoods and help you choose where to stay during your next visit.
The best districts of Berlin
Berlin is a vast and sprawling city with over 3.5 million inhabitants, spread out over 12 Bezirke (districts). These huge districts are subdivided into 96 Kiez (neighbourhoods), with many of them having their own unique identity and atmosphere.
If you're new to Berlin, you'll want to stay around the Mitte district (Bezirke), as this is where all the famous sights and attractions can be found.
Insight: Confusingly for visitors new to Berlin, Mitte is not only the name of the central district, but also the most popular tourist neighbourhood within it. Inside Mitte district (Bezirke) are the six Kiez (neighborhoods) of Mitte, Moabit, Tiergarten, Wedding, Gesundbrunnen and tiny Hansaviertel.
Other great starting points are Tiergarten and Prenzlauerberg, while business travellers may prefer the upscale Charlottenburg district. For a nightlife-focused trip to Berlin, you'll want to be based in Prenzlauerberg, Friedrichshain or Neukölln. If you'd prefer a calmer and more authentic trip during the peak season (May to August), then the outskirts of Wannsee, Grunewald or Reinickendorf would be ideal.
The Top 5 neighborhoods to stay in Berlin are 1) Mitte, 2) Prenzlauerberg, 3) Charlottenburg, 4) Tiergarten, and 5) Friedrichshain.
Below is a map of the main tourist neighbourhoods in Berlin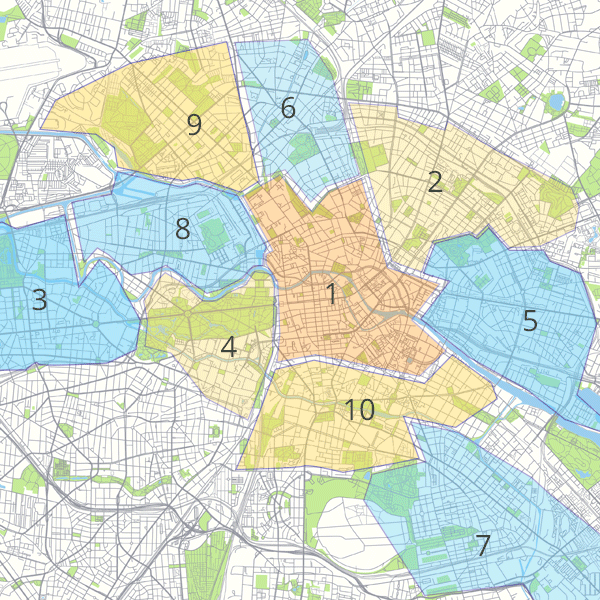 Key to the best neighborhoods in Berlin: 1) Mitte 2) Prenzlauerberg 3) Charlottenburg, 4) Tiergarten 5) Friedrichshain 6) Gesundbrunnen 7) Neukölln 8) Moabit 9) Wedding 10) Kreuzberg
The map below shows the location of hotels and rental rooms in central Berlin. By altering the dates to suit your trip, the map will display current prices and availability.
It's my first time in Berlin, where should I stay?
The majority of the main tourist attractions of Berlin are located close to the city centre. For your first visit it's best to be based in the central neighbourhood of Mitte ('Centre' in German), or at least the much larger Mitte district (areas 1, 8, 6 and 9 on the above map). Here you'll be very close to the action, with excellent public transport links making it easy to travel throughout the city.
Prenzlauerberg and Kreuzberg are good alternative districts to be based in. Kreuzberg is a multicultural neighbourhood, while Prenzlauerberg is urban-trendy, however both are experiencing gentrification and becoming more expensive to stay in. For more affordable accommodation, consider the districts of Wilmersdorf and Schöneberg.
Choose your location before looking for accommodation!
Always choose the location you'd like to be based in before looking for accommodation in Berlin. This may sound obvious, but it is all too easy to be sucked in by an amazing discount or outstanding reviews without really considering which area you will be staying in.
I've heard that the Berlin nightlife is intense! Where can I join in?
Berlin is famous for its buzzing nightlife, which is centred around the many clubs and bars scattered around the city. Your best bet for a memorable night out is the Mitte district, where you'll find multiple nightclubs - including the legendary KitKatClub.
Prenzlauerberg is an extremely fashionable district that is popular with the liberal youth of Berlin. Here you will find upscale bars and clubs offering fancier cocktails, but these can be pricey. The LGBT+ scene is very active in Berlin, with many gay and lesbian bars dotted around the Friedrichshain area.
Berlin is steeped in history and culture, where should I go to experience it?
Culture and arts can be found in abundance in Mitte and Charlottenburg, although Friedrichshain contains some not-to-be-missed pieces of Berlin history. The spacious parks of Tiergarten and Templehof offer some welcome respite from the crowds and the chance to enjoy a moment of peace in this buzzing city.
The Mitte district is the place to be if you want to see the best of Berlin. This central borough has it all, from the iconic TV Tower that stands over Alexanderplatz to the fascinating museums and galleries on Museum Island.
If you want to spend an evening watching one of Germany's famous operas, you'll find two of the three main opera houses in Mitte. The third is in Charlottenburg, near the grand Charlottenburg Castle.
Charlottenburg is also home to the Kaiser Wilhelm Memorial Church, which is situated at one end of the Kurfürstendamm avenue. This bombed-out church, along with the many bullet-marked buildings around the city, acts as an eerie reminder of Berlin's troubled past.
To see the remains of one of the world's most famous walls, head to the East Side Gallery in the Friedrichshain district. This open-air gallery and street market immerses you in history as you look over real segments of the Berlin Wall.
Travelling around the Berlin
Berlin's famous public transport systems - namely the U-Bahn and S-Bahn trains - are surprisingly affordable for such a busy city. Most of the popular attractions can be easily accessed by these, however many locals prefer to walk and avoid a potentially stuffy ride when the weather is warmer.
The city also boasts a variety of e-bike and e-scooter companies, encouraging the city's more youthful residents to use these eco-friendly alternatives.
How can I unwind in Berlin?
While Berlin is a lively city, it is surrounded by endless rolling fields, sun-dappled woodlands and wide lakes perfect for swimming.
Locals and tourists alike often leave the big city and head for the calm surroundings of Grunewald, which literally translates as 'Green Woods'. This immense forest offers many fantastic walking paths, with its tall trees providing shade from the hot summer sun.
To the west of Berlin, the big lakes of Wannsee, Nikolasee and Reinickendorf are especially popular when the weather warms up. Many Berliners enjoy escaping the city for an afternoon to visit one of the lakeside beaches, which are often ensconced in the surrounding woodlands.
In the city itself, there are over a hundred canals scattered throughout the districts, where you can take a pleasant stroll or sit and relax in one of the country's famous beer gardens. Some popular beer gardens can be found in Tiergarten and Kreuzberg.
What's the best place for business travellers in Berlin?
Business travellers will want to stay in the more exclusive Charlottenburg district, which is the wealthiest area of Berlin. Charlottenburg contains most of the famous Kurfürstendamm avenue, which is lined with exclusive boutiques and expensive department stores like the great KaDeWe. There are also many grand hotels and upscale restaurants in the area, making it ideal for business meetings.
Where to go in Berlin to escape the tourist crowds?
The best place to sit back and relax in Berlin is the magnificent Tiergarten park, situated in the Tiergarten district. This large, wooded park is the perfect spot to enjoy a few hours of peace while in the city, and also offers visitors a few glimpses into Berlin's history.
At the eastern entrance to Tiergarten stands the iconic Brandenburg Gate, and from here you can see the imposing Victory Column. Between these two landmarks you'll find the Soviet War Memorial, which is flanked by two Soviet-era tanks. The park is also home to Berlin Zoo.
If you're based around the east of Berlin, you can also take some time out in the beautiful Treptower park. Situated in the Treptow-Köpenick district, the park runs alongside the River Spree and also contains a large Soviet war memorial. In addition, the old airport in the Tempelhof area closed in 2008 and has since become a regular hangout spot for Berliners who want to play or picnic on this wide, grassy field.
What areas in Berlin should I avoid?
As is the case with most European capitals, Berlin has its own share of pickpockets. If you venture into tourist-heavy areas, make sure to keep track of all your valuables. During the day, serious crime isn't a common occurrence, but the districts of Moabit, Neukölln, and Lichtenberg can be more dangerous once it gets dark.
Where to go for day trips from Berlin?
The best place to travel to outside of Berlin is the beautiful town of Potsdam. Once home to the great German emperors of old, Potsdam is now a quaint and colourful town filled with sun-soaked cafés. Its highlight is the magnificent Sanssouci palace and gardens.
Further out from Berlin is the picturesque town of Brandenburg, which is intersected by the Havel River. Here you can hire a boat and enjoy a pleasurable cruise around the peaceful countryside.