Where to stay in Budapest? The best neighbourhoods and districts for your trip in 2023
Hungary's vibrant capital is relatively new by European standards. In fact, Budapest was formed in the 19th century when three neighbouring cities were merged: Buda, Pest, and Obuda. This led to the vast and varied metropolis that we see today, with many districts spread out on either side of the mighty Danube river that runs through the city.
If you're planning your first trip to Budapest, this guide will detail the best districts and areas of the city in which to be based.
The best districts of Budapest
Budapest was created when the three cities were combined in 1873, and the geography of each could not be more different. Buda, on the western side of the Danube, nestles between steep hills, while Pest is flat and expansive. The city is divided into 23 numbered districts, but the historic areas are still referred to by their traditional names.
The Top 5 districts to stay in Budapest are: 1) Várkerület (district 1) 2) Erzsébetváros (district 7) 3) Inner City (district 5) 4) Óbuda (district 3) 5) Józsefváros (district 8).
The map below shows the main tourist areas of Budapest, along with the three metro lines: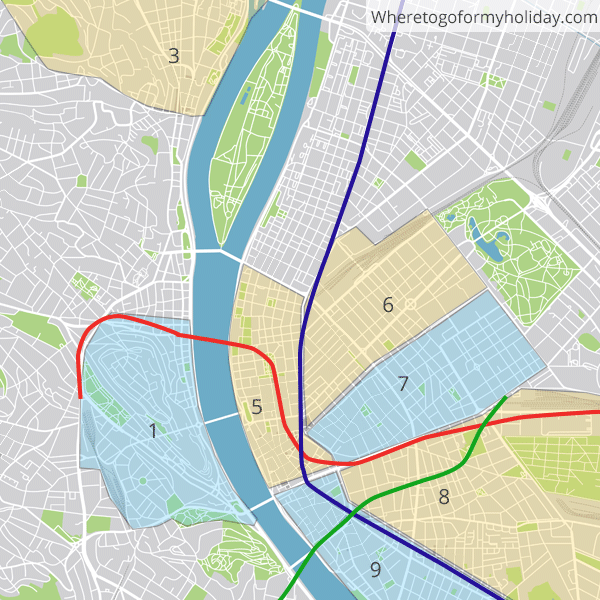 The tourist districts of Budapest District 1) Várkerület District 3) Óbuda - Old Buda District 5) Belváros-Lipótváros (Inner City) District 6) Terézváros (Theresa Town) District 7) Erzsébetváros (Elizabeth Town) District 8) Józsefváros (Joseph Town) District 9) Ferencváros (Francis Town)
The map below shows the location of hotels and rental rooms in central Budapest. By altering the date to suit your trip, the map will display current prices and availability.
It's my first time in Budapest, where should I stay?
First-time visitors who want to easily experience the best of Budapest should definitely check out the Várkerület and the Inner City area (District 5). These are also the ideal places - alongside Józsefváros - to see the elaborate architecture and historic treasures that attract so many visitors to the city.
Insight: District 5 is regarded as the centre of Budapest and comprises of two neighbourhoods: Belváros (Inner City) and Lipótváros (Leopold Town).
Many of the most popular sights in Budapest are situated around the centre, so it's best to find accommodation in the heart of the city. The most expensive hotels are located in the Várkerület, whereas the backpacker's hostels tend to be found along the east of the Danube. Affordable rooms can be found in Terézváros, Erzsébetváros, Józsefváros or the Inner City, and these are all ideal districts to be based in when exploring the city.
If you're someone who likes to party, the famous ruin bars of Erzsébetváros are guaranteed to give you an evening to remember. Those looking to relax can head to the thermal baths in Zugló and the 2nd District, or enjoy discovering the picturesque and traditional Old Buda.
Shoppers can browse the luxury boutiques of Terézváros, while trendsetters will enjoy exploring the artsy cafes of the Palace District. Anyone keen to try local foods and craft beers can find these at the markets and bars in Ferencváros.
Budapest is an incredible capital that offers an unforgettable experience for every kind of traveller.
Choose your location before looking for accommodation!
Always choose the location in Budapest you want to be based in, before looking for accommodation. This may sound obvious, but it's all too easy to be sucked in by amazing discounts or outstanding reviews, without really considering which area you will be staying in.
I've heard Budapest throws amazing parties! Where are they?
Hungary's capital is famous for its incredible party atmosphere, with most of the fun to be had in the buzzing Erzsébetváros area.
The old city streets, lined with tall apartment buildings, were devasted by bombs in the Siege of Budapest during World War II, but locals refused to let that stop the party. Instead, Erzsébetváros began the trend of turning entire semi-demolished buildings into insane clubs and bars. These so-called 'Ruin Bars' are filled with students and tourists taking in the eclectic decor.
Each club is unique and can have a completely different vibe from one room to the next. You can drink a cocktail as you explore the dance floors, before finding yourself listening to live music in a courtyard beer garden. The action often spills out onto the streets, where new friends are made as you wait in line for a late-night takeaway.
The up-and-coming central parts of Ferencváros and Józsefváros also have Ruin Bars, but these have a calmer atmosphere. Here you can enjoy an evening drink while gaining an insight into the years of Hungarian history hidden within the walls.
Budapest is immersed in history and culture, where can I see it best?
The Hungarian Parliament Building in Budapest is truly a sight to behold. A vast Gothic structure highlighted by dark red roofs and imposing spires, it is one of many incredible architectural treasures located in the Inner City district.
The riverside district is a great starting point for those seeking a cultural tour of Budapest. From there you can take a short cable car ride up Castle Hill, directly into the heart of the Várkerület. While the museums, castle and palace make it a worthwhile journey, the Várkerület also offers an amazing panoramic view over the capital.
In the adjacent New Buda district, you can also explore the old Citadella fort. If the hilltop structures aren't enough, you can move on to the emerging Palace District, which is a sub-section of Józsefváros.
This area is also where you'll find an abundance of museums, theatres and botanical gardens. If you prefer learning about Budapest's ancient history, be sure to visit the Roman archaeological sites in Old Buda.
How can I unwind in Budapest?
The best place to lie back and relax in Budapest is in one of its renowned thermal baths. An extensive network of hot springs under the city provides a natural supply of refreshing water that is harnessed by authentic bathhouses.
The most famous thermal bath in Budapest can be found in Zugló, right in the heart of the City Park. A range of baths and spas can also be found in the 2nd District, along the Danube. If you're looking for a way to escape the busy streets and sweltering sunshine, Budapest also has many cool caves just waiting to be explored.
You'll find the longest caverns in the Várkerület, filled with impressive stalactites and crystal-clear pools. You can also venture into an underground labyrinth, where the man who inspired the Dracula stories was once imprisoned.
What's the best place for business travellers in Budapest?
If you're visiting Budapest for business reasons, it's most likely that you'll want a place in the upscale Inner City area. Here you'll find grand hotels and fancy restaurants tucked between the vibrant government buildings and fascinating art galleries. You can also venture over to Terézváros to visit Andrássy Avenue, known as the Champs Elysées of Budapest.
Where can I keep calm in the capital?
Budapest is a buzzing city with a population of almost two million, so it's easy to be overwhelmed when you first arrive. While some dive headfirst into the culture and chaos, others prefer to sit back and watch the city go by.
Old Buda is the oldest of the districts and offers visitors a more traditional perspective. Set away from the busy centre, it boasts charming cobblestone streets lined with colourful houses and authentic Hungarian taverns. As you walk around, you start to feel as though you are in a quaint country town, making it the perfect spot for a bit of peaceful sightseeing.
The 13th District is closer to the centre and more modern in appearance, but it is filled with sun-soaked cafes and ice cream shops where you can relax and take in the city life.
What areas should I avoid?
Like any European capital, Budapest has its fair share of petty pick-pocketers. If you are travelling to any tourist-heavy areas, be sure to keep your belongings secure. In the daylight, you are safe throughout the city, but hanging around the eastern outskirts of Erzsébetváros, Józsefváros, and Ferencváros in the dark is not recommended.
I have a car, are there any nearby scenic spots I can drive to?
If you follow the Danube to the north of Budapest, you will come across the traditional town of Vác. Characterised by a large cathedral in the town's main square, Vác impresses visitors with its authentic Baroque feel.
Just outside Budapest, to the north-east, you will come across Gödöllő, where the old Austro-Hungarian Emperor Franz Joseph stayed over the summer. You can even visit the historic Gödöllő Royal Palace.
If you're looking for some of Hungary's natural wonders, the nearby Danube Ipoly National Park offers a range of terrains, from woodland paths to canyon-side trails. You can also find an impressive medieval castle in the neighbouring town of Esztergom.