Where to stay in Budapest? The best neighbourhoods and districts for your trip in 2023
Budapest is a historically significant capital city with a lot to offer weekenders, holidaymakers, and backpackers alike.
It is hard to believe that this beautiful city was once the headquarters of both Soviet and Nazi occupation and was formed by merging three cities, Buda, Pest, and Obuda: This has culminated in a city that feels like a living museum with vibrant districts that are culturally distinct.
Often referred to as the city of spas, Budapest boasts the biggest European spa complex and a wide range of other places to rejuvenate. The city is expansive to roam, and using the Metro to get around and save energy to ascend the hills of Buda to get stunning night-time views is highly recommended.
If you're planning your first trip to Budapest, this guide will detail the best districts and areas of the city to be based.
The best districts of Budapest to stay in
Budapest has a beautiful topography; the Danube cuts through the city's heart dividing flat, expansive Pest and Buda's steep, leafy hills. This natural topography gives way to 23 districts of differing cultural and historical value, which are numbered to make navigation easier (although many still use the traditional names, so it is wise to know both).
The best districts to stay in Budapest are 1) Várkerület (District 1), 2) Belváros-Lipótváros (District 5), 3) Terézváros (District 6) 4) Erzsébetváros (District 7) 5) Józsefváros (district 8).
The map below shows the main tourist areas of Budapest, along with the three metro lines: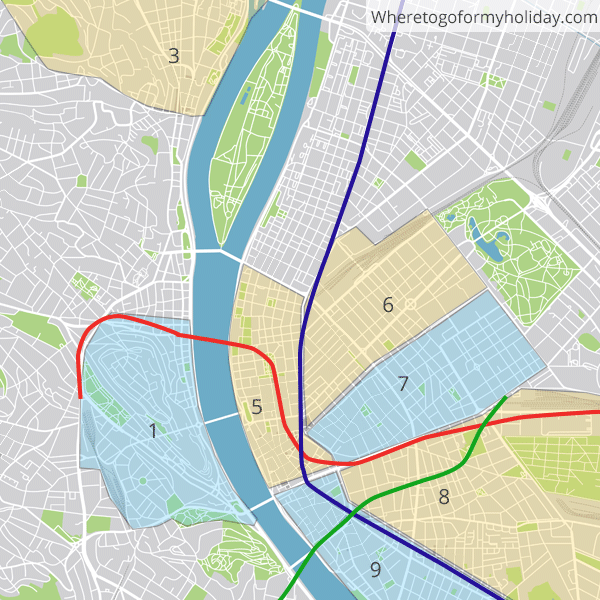 The tourist districts of Budapest: 1) District 1 Várkerület (Castle District) 2) District 3 Óbuda - Old Buda. 3) District 5 Belváros-Lipótváros (Inner City) 4) District 6 Terézváros (Theresa Town) 5) District 7 Erzsébetváros (Elizabeth Town) 6) District 8 Józsefváros (Joseph Town) 7) District 9 Ferencváros (Francis Town)
The map below shows the location of hotels and rental rooms in central Budapest. The map will display current prices and availability by altering the date to suit your trip.
It's my first time in Budapest, where should I stay?
First-time visitors who want to easily experience the best of Budapest should stay in either districts 5 or 6. These are the ideal places to see the elaborate architecture and historical treasures that attract many city visitors.
District 5 is the inner heart of the historical centre, where some of the most significant cultural sights, such as the Parliament Building, St Stephen's Basilica and Chain bridge, are located. This area has a host of accommodations, dining, and amenities. It is also centrally situated for a stroll across the Chain bridge to old Buda or towards Terezvaros for the largest spa and city park. Accommodation is the most expensive in this area, and it is wise to book well in advance.
Alternatively, neighbouring district 6 feels equally historical and is better located for a shorter stroll to the leafy city park, renowned museums, Vajdahunyad Castle and some of the more expansive, cheaper spas, such as Széchenyi Thermal Bath. Accommodation around this area is marginally cheaper, and there is still a wide range of restaurant and dining options.
Insight: District 5 is regarded as the centre of Budapest and comprises of two neighbourhoods: Belváros (Inner City) and Lipótváros (Leopold Town).
The best districts to stay in Budapest
District 5: Belváros-Lipótváros
District 5 spans the longest length of the Danube riverside starting from the wonderous Parliament building to the impressive central market building (Nagy Vásárcsarnok), which is a 35 minute walk. This area is beautifully restored and is worthy of roaming, to happen upon magnificent sights such as St Stephen's Basilica, Parliament and the chain bridge, which are supplemented by smaller but culturally vital sights such as Shoes on the Danube.
This District boasts some of the city's best shopping districts and restaurants. From the historic Vörösmarty Square, Vaci street is the busiest shopping street filled with souvenirs. Alternative options in this District are the more high-end fashion street of Andrássy.
Due to the sheer number of amenities and sights in this District, it is not surprising that accommodation prices are high, and those looking for a better price should head to the streets neighbouring district 6. As a rule, the closer proximity to the riverside, the fancier the streets and amenities.
Top tip: If you are staying in this area, booking tickets to the Parliament building in advance or turning up early is recommended, as tickets often run out.
District 6 Terézváros (Theresa Town)
District 6 is a wonderful location for those who want to be near the main sights without paying a premium rate. Theresa town is sandwiched between the historical sights, City park and the vibrant Erzsébetváros.
This area is still crammed with cultural sights such as the House of Terror (headquarters of the Soviet and Nazi occupation), Hero square and some of the city's most renowned museums. However, this district also benefits from the lush city park and is a great option for those wanting to head to the extensive thermal baths, Zoo and Vajdahunyad Castle.
Top Tip: If you are staying in this district, it is recommended to download the city's metro app and use this for effortless travel over to the Buda sight of the river.
Also, when visiting the museums, it is wise to get an audio guide as many exhibits are written in Hungarian only.
District 1 Várkerület (Castle District)
Cross the Danube and the pace of the city slows. Buda is steeply set, unlike Pest, and the landscape feels much more serene. However, this seemingly relaxed, trendy District still has a lot to offer for those willing to exert themselves slightly more.
Due to its orientation, District one has the most iconic and wondrous views over the city; the most popular is the Fisherman's Bastion, which is an extension of the castle or the Citadella. The heights of this District are served by a funicular train, which can be a great option in the summer heat.
Whilst there are fewer accommodation options here, visitors will find more cost-effective and boutique hotels. The Castle district also has the finest Turkish thermal baths in the city, which are well worth a relaxing visit.
Most romantic places to stay in Budapest
Budapest is a beautiful city for couples. The heights of District 1 offer spectacular vistas, the historical sights are magnificent, and the plethora of spas offer divine couple experiences. For those looking for a relaxed, luxurious experience, it is recommended to stay in District 5, where couples can stroll the Danube by twilight, cross to the views from old Buda and spend the daytime wandering the historical sights.
Top tip: Due to the historical struggles of the capital city, it is recommended that couples avoid some of the sights which focus on Soviet and Nazi occupation as some of the content can be upsetting.
Choose your location before looking for accommodation!
Always choose the location in Budapest you want to be based in, before looking for accommodation. This may sound obvious, but it's all too easy to be sucked in by amazing discounts or outstanding reviews, without really considering which area you will be staying in.
Where to stay in Budapest with kids
Budapest is a vibrant, bustling city and a great choice for families wanting to experience a cultural trip. As the city is extensive to explore, it is wise for families to opt for a central location so sights can be visited early in the day to avoid tour groups. As such, District 5 offers the most extensive options and is a great choice for those with varying tastes.
For younger families requiring a more peaceful base, staying near the city park or on the leafy Buda side of the city is recommended. Accommodations in these areas are more family-friendly, and restaurants will be more accommodating for kids.
For those staying in Budapest with kids, it is vital to download the Metro app to ensure easy navigation around the city; it is also worthwhile booking the sights in advance. In the blistering summer heat, it is also worth ensuring that one of the open-air lidos is nearby. Unfortunately, children under the age of 14 are generally not allowed into the city's top spas.
Where to stay for a business trip to Budapest
If you're visiting Budapest for business reasons, you'll most likely want a place in the upscale District 5. Here you'll find the most luxurious hotels and fancy restaurants between vibrant government buildings and fascinating art galleries. You can also venture over to Terézváros to visit Andrássy Avenue, known as the Champs Elysées of Budapest.
Where to stay in Budapest on a budget
For those on a budget or backpacking through Budapest, it is highly recommended to seek out more affordable accommodation options within District 9. This area, located east along the Danube, has a wide range of apartment hotels, hostels, and cheaper hotels. This neighbourhood also has more authentic Hungarian shops, restaurants, and quick eats for those on a budget. The area is still very pleasant but expect to be walking longer distances; it is an approximate 10-20 minute walk just to District 5.
Best nightlife districts in Budapest
Hungary's capital is famous for its incredible party atmosphere, with most of the fun to be had in the buzzing District 7 (Erzsébetváros).
The old city streets, lined with tall apartment buildings, were devastated by bombs in the Siege of Budapest during World War II, but locals refused to let that stop the party. Instead, Erzsébetváros began turning entire semi-demolished buildings into clubs and bars. These so-called 'Ruin Bars' are filled with students and tourists taking in the eclectic decor.
Our top recommendations are Szimpla Kert, El Lato Kert for incredible Tacos and drinks, and Fogas & Instant – a sprawling bar with uniquely themed rooms for every musical taste.
The up-and-coming central parts of Ferencváros and Józsefváros also have Ruin Bars, which have a calmer atmosphere. Here you can enjoy an evening drink while gaining an insight into the years of Hungarian history hidden within the walls.
Top tip: Budapest's metro system runs until 11 pm each night, so it is wise to end your night around this time if you travel from a further away district.
Where to stay and relax in Budapest
The best place to lie back and relax in Budapest is in one of its renowned thermal baths. An extensive network of hot springs under the city provides a natural supply of refreshing water that is harnessed by authentic bathhouses. The most famous thermal bath in Budapest can be found in Zugló, right in the heart of the City Park. A range of baths and spas can also be found in the district 2, along the Danube.
Alternatively, District three is the oldest of the districts and offers visitors a more traditional perspective. Set away from the busy centre; it boasts charming cobblestone streets lined with colourful houses and authentic Hungarian taverns. As you walk around, you start to feel like you are in a quaint country town, making it the perfect spot for peaceful sightseeing.
What areas should I avoid in Budapest
Like any European capital, Budapest has its fair share of petty pick-pocketers. If you are travelling to any tourist-heavy areas, be sure to keep your belongings secure. In the daylight, you are safe throughout the city, but hanging around the eastern outskirts of Erzsébetváros, Józsefváros, and Ferencváros in the dark is not recommended.