Where to stay in Madrid? The best areas and neighbourhoods for your holiday in 2023
Madrid is a fun city that is hugely enjoyable to explore both day and night.
The capital is brimming with proud Spanish heritage, cuisine and culture but also feels cosmopolitan and modern. Every central neighbourhood has its own character, sights and atmosphere that make it continuously interesting and absorbing.
Madrid is also filled with a lot of fun attractions, interesting museums and beautiful galleries, which make it a great destination for holidaymakers, even those with kids. At night the city becomes even more diversified, and it is wise to book accommodation based on your preferences to ensure you get the most out of Madrid.
The best districts to stay in Madrid
On a map, Madrid appears as an expansive and sprawling city, but actually, all of the main tourist areas are relatively close together.
For those visiting Madrid it is wise to stay within the Centro District: This large area covers central Madrid and has many popular neighbourhoods, which this guide will focus on.
For your first trip to Madrid, the best neighbourhoods to stay in are: 1) Sol 2) Gran Vía 3) Chueca 4) Malasaña 5) La Latina
The map below shows the main tourist neighbourhoods of central Madrid: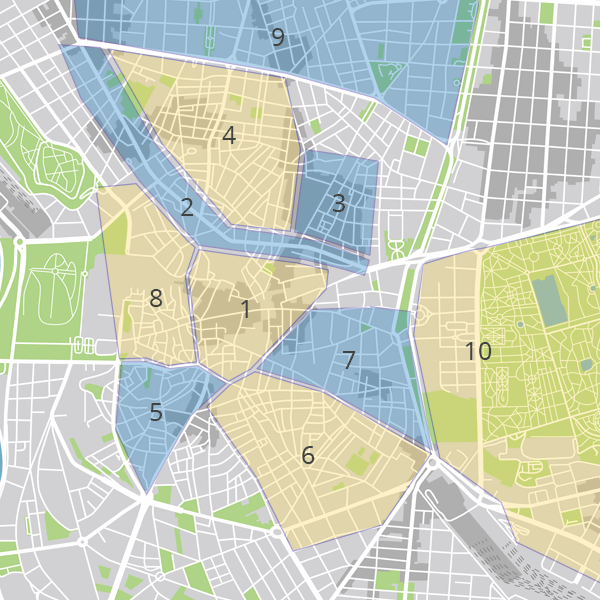 The main tourist districts in Madrid: 1) Sol 2) Gran Vía 3) Chueca 4) Malasaña 5) La Latina 6) Lavapiés 7) Barrio De Las Letras 8) Chamberí 9) Retiro
Madrid may be one of southern Europe's most iconic tourist destinations and is popular year-round. This popularity is especially noticeable from Friday to Sunday during the peak season, as many opt for weekend breaks to the city. To get the best prices, always book your accommodation far in advance.
The map below shows the location of hotels and rental rooms in Madrid. The map will display current prices and availability by altering the dates to suit your trip.
It's my first time in Madrid where should I stay?
The neighbourhood of Sol is an excellent choice for first-time visitors, as it is right in the centre of the city and close to everything. From here, the main tourist sights are walkable, and there is a central transport hub, which makes arrival and getting around effortless.
Hotel options in Sol are well-equipped and well-rated, and staff will be able to advise on walking routes, city highlights and help with dinner reservations. For first-time visitors, it is advised to enjoy a culinary or 'tapas' tour, as this will give you a wonderful insight into Spanish food, culture and the differing neighbourhoods.
Madrid's best districts
Sol
The Plaza Puerta del Sol is regarded as the centre of Madrid, and the district surrounding it is known as Sol: This busy district is home to great bars, eateries and shops, as well as the iconic statue of the 'Bear and the Strawberry Tree'. Sol also offers excellent public transport, with metro services covering the entire city. The district is very touristy but a great base for first-time visitors.
Must see sights in Sol
• The historical food Market of San Miguel
• The aristocratic Plaza Mayor
• Círculo de Bellas Artes
• The Teatro Espanol (theatre)
• The baroque Santa Cruz Palace and Plaza
Central Sol is a wonderful place to dine and take in a Flemico show designed for tourists. Notably, the San Miguel Market is a wonderful evening spot to start with Tapas before exploring the surrounding streets. Other top cafes and restaurants in this area include La Mallorquina for divine pastries, the La Venencia for a glass of sherry and Lhardy, Casa Revuelta or La Casa del Abeuelo for a traditional dinner.
Gran Vía
The Gran Vía is the city's main artery that divides Sol from the other trendy northern neighbourhoods.
The grand boulevard never sleeps and is famed for its magnificent flagship shops and luxury department stores. It also has huge branches of Spanish clothing brands, such as Zara and Mango.
The Gran Via has a wonderful selection of stylish and luxury hotels, many of which have rooftop bars and restaurants from which to see the city life. Hotels on this boulevard are understandably expensive but have good leisure facilities and are well situated which can help to offset the premium price.
For tourists staying in Gran Via, it is recommended to dine on the adjacent, tree-lined Calle de Fuencarral and then return to Grand via for the entertainment, bars and nightclubs.
Top recommendations include the ornate Metropolis building for drinks and a stunning view down the via, the 360° Sky Bar on the 26th floor of the Riu Plaza España and Del Diego for impressive cocktails.
La Latina
La Latina is the oldest district of Madrid, with a maze of narrow streets that follow the medieval layout of the city. The district is famed for its tapas restaurants along the Cava Alta and Cava Baja. La Latina combines traditional churches and basilicas with modern bars and restaurants.
This colourful, proud Spanish neighbourhood is one of the most popular with tourists who prefer more rustic and boutique accommodation options, and prices are much more reasonable for budget travellers.
La Latina is a particularly vibrant part of the city to stay within the fiestas between May and August. Must-see sights in La Latina are:
• The vintage and flea Rastro market (every Sunday, 9 am – 2 pm)
• Mercado de la Cebada for cuisine from all of the Mediterranean
• Basílica de San Francisco el Grande
• Dalieda dahlia gardens (particularly at sunset)
Amongst the top-recommended restaurants are Juana La Loca for tapas, Posada de la Villa for traditional Spanish roast food and the family-run Malacalin for traditional Spanish stews.
Local tip: Don't be surprised to see waxy napkins on the floors of popular restaurants; it is tradition to toss these after use, and it is often a sign of a great eatery rather than a dirty one.
Malasaña
Malasaña is an alternative, hipster neighbourhood, which was the centre of Spain's 'La Movida' cultural movement during the 1970s and has remained countercultural ever since. Home to eccentrics, artists and intellectuals, the streets of this borough are lined with trendy bars and unique independent shops.
Malasaña is one of the best areas in Madrid for nightlife, with a progressive and social atmosphere.
The accommodation in this neighbourhood consists of a few 'good' rated hotels and a variety of rental apartments. Prices tend to be cheaper than neighbouring Cheuca but increase with proximity to the Grand Via.
Must-see sights in Malasaña
• The lively Plaza del Dos de Mayo
• Iglesia de San Antonio de Los Alemanes (Step inside to see one of the most beautiful frescos in Spain)
• Palacio de Liria art museum and scenic gardens
• Eat and explore the industrial-chic Mercado de San Ildefonso (food market)
Top cafe and restaurant recommendations include Misión Café for hipster coffee and homemade pastries, Bodegas El Maño for delicious Tapas and Bodega La Ardosa for Spanish treats.
By night this vibrant area is a wonderful neighbourhood to explore, and most notably, it is worthwhile walking down the cool Calle de Fuencarral. It is also recommended to visit the trendy bars of La Vía Lactea (The Milky Way), 1862 Cocktail Bar and Tupperware.
Chueca
Known as the LGBT hub of Madrid, Chueca is one of the most progressive districts of the city. Chueca boasts a thriving nightlife scene and is the setting for Madrid's annual Pride celebrations. At the centre of Chueca is the Plaza de Chueca, a square lined with chic bars and restaurants and a popular meeting spot for locals.
Accommodation options in this neighbourhood are clustered between Chueca Square and the Grand Via and mostly consist of rental properties. However, the shops and food markets in this area make self-catering a viable and enjoyable option.
Top tourist sights of Chueca are:
• The Mercado de San Antón for delicious Spanish cuisine
• Romanticism Museum featuring works from Gustavo Adolfo Bécquer, Lord Byron and Goethe.
• The leafy Plaza de la Villa de París
By night Chueca is a safe, fun-filled, Liberal neighbourhood. There are many smaller eateries and great relaxed bars and clubs. Amongst the most highly rated are Angelita for great Spanish cuisine and cocktails to follow in the basement, Roostiq, famed for its Spanish BBQ menu and the ultra-cool DSTAge two Michelin star restaurant.
Barrio de Las Letras
Barrio de las Letras translates as 'neighbourhood of the letters, ' with good reason. This district is famous for its links to literature, with Spanish intellectual heavyweights such as Miguel de Cervantes once making a home within its streets.
Art lovers will be spoiled for choice as this district is home to The Thyssen-Bornemisza Museum, Prado Museum (finest collections from Goya and El Greco) and Reina Sofía Museum (Spanish artists including Picasso).
Also situated close to El Retiro Park, this district is perfect for cultural travellers.
Choose your location before looking for accommodation!
Always choose the location you'd like to be based in before looking for accommodation in Madrid. This may sound obvious, but it is all too easy to be sucked in by an amazing discount or outstanding reviews without really considering which area you will be staying in.
Where to stay in Madrid with kids
For those with younger children, it is wise to be located within either the leafy Retiro Park area or the Autstrias neighbourhood, where there are sights and more green open spaces to explore and relax, especially in the summer heat.
Young children travel for free, so utilising public transport is worthwhile to get little legs around and see the sights without exhaustion.
When travelling with kids, it is wise to book and plan where to eat in advance, where possible, at dinner time due to the later serving times.
Top sights for children in Madrid:
• El Retiro Park which has paddle boats and sights to explore
• Parque de Atracciones de Madrid theme park
• Zoo Aquarium de Madrid is a huge park that combines sea and land animals in their habitats.
• Faunia wildlife park
Where to stay for a business trip to Madrid
Chamberí is Madrid's unofficial business district, and its quiet, calm atmosphere makes it perfect for work trips. Don't be put off by the residential atmosphere, as Chamberí is incredibly well connected to the city centre by public transport. This sophisticated district also boasts a great choice of bars and eateries to enjoy after a hard day at the office.
Best nightlife districts in Madrid
Malasaña and Chueca offer a great variety of thriving bars at reasonable prices, ideal for partygoers visiting Madrid. If you'd like some tapas with your cocktails, look no further than the friendly La Latina for a night out on the town. Las Letras also deserves mention - during the week, its beautiful streets are full of locals indulging in a beer or two after a hard day at work.
Where to stay and relax in Madrid
Retiro is the ideal spot for a relaxing trip, known for its sprawling park and laid-back vibe. In Retiro, you're much less likely to be kept up by the sounds of Madrid's buzzing nightlife. While La Latina can be jam-packed during the weekends, on weekdays this famous district is quieter. It provides the perfect spot for exploring churches, basilicas and authentic tapas restaurants.
Madrid as a longer holiday
If you're staying in Madrid for a few days or longer, consider taking a day trip to one of the stunning nearby towns and cities. History fans will be fascinated by the royal El Escorial, only 45 minutes from Madrid. Toledo and Segovia are also popular destinations. Both are within driving distance of Madrid and offer a wide range of trendy bars, tasty food and stunning historical sites.
Areas of Madrid to avoid
While Madrid is generally considered a safe city, some areas can be riskier. Visitors hanging around Puerta del Sol can fall victim to scam artists or thieves who frequent the streets looking for unsuspecting tourists. If you plan on visiting this popular spot, be vigilant with your belongings. Although Lavapiés is a vibrant district, it can be less safe during the evenings. Stick to the main streets if you're visiting at night.
How to get around Madrid
Madrid has an efficient and cheap Metro system, which can save time and energy in the hotter months. The main hubs are Sol and Grand Via: From these stops, the Red and Green lines enable tourists to get to Chuca, La Latina and other must-see neighbourhoods.
The Metro runs from 6 am – 2 am, which makes it a cheaper alternative to getting taxis at night. Top-up' Multi Cards' can be purchased at Metro stations or the Airport, but for those wanting to travel Madrid more widely, it is worthwhile getting a Travel Card for a certain number of days to get unlimited travel. Madrid also has a good bus network for those wanting to see the city sights while travelling.
Getting to Madrid from Madrid-Barajas Airport is easy and cost-effective via public transport. A shuttle bus runs 24 hours a day, every 15-20 minutes in the daytime, which takes approximately 30 minutes and it costs just 5 Euro.