Where to Stay in Madrid? The best areas and districts for your holiday in 2023
Madrid is the beating heart of Spain.
It is a vibrant and energic city that offers an authentic taste of Spanish culture and traditions. Within Madrid, you'll discover historic sights, stunning architecture, and world-class art galleries. Along with the classic tourist attractions, there is a thriving artisan scene, pulsating nightlife and, of course, delicious Spanish food!
The diversity of Madrid is reflected in the many varied districts and neighbourhoods. Each district has its own unique character and charm, that will appeal to different types of travellers. This article will guide you through Madrid's best neighbourhoods and help you choose where to stay during your next visit.
The best districts of Madrid
On a map, Madrid appears as an expansive and sprawling city, but actually, all of the main tourist areas are relatively close together.
For your first trip to Madrid, you'll want to be based within the Centro district. This large area covers all of central Madrid and has many popular neighbourhoods. Of these neighbourhoods, Sol is an excellent choice for first-time visitors, as it is right in the centre of the city and close to everything.
For somewhere more authentically Spanish while remaining close to the action, consider the Malasaña, Chueca or La Latina neighbourhoods. These three areas have prices being more budget-friendly than in Sol. Gran Vía is the main avenue of Madrid and is the setting for many high-end hotels.
For your first trip to Madrid, the best neighbourhoods to be based in are: 1) Sol 2) Gran Vía 3) Chueca 4) Malasaña 5) La Latina
The map below shows the main tourist neighbourhoods of central Madrid: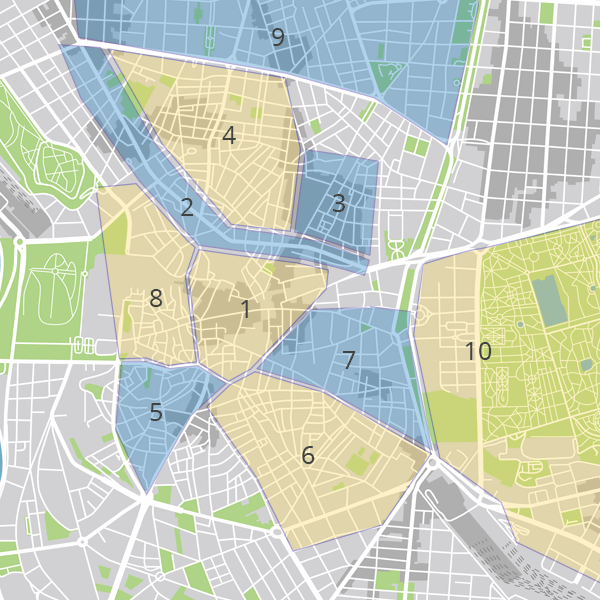 The main tourist districts in Madrid: 1) Sol 2) Gran Vía 3) Chueca 4) Malasaña 5) La Latina 6) Lavapiés 7) Barrio De Las Letras 8) Chamberí 9) Retiro
Madrid may be one of the most famous tourist destinations of southern Europe, but the city has a surprising shortage of mid-price hotels and rental rooms. This shortage is especially true Friday to Sundays during the peak season, as visitors book long weekends away. For you to get the best prices, always book your accommodation as far in advance as possible.
The map below shows the location of hotels and rental rooms in Madrid. By altering the dates to suit your trip, the map will display current prices and availability.
Madrid's best districts
The best base for your trip to Madrid will depend on your interests. Different districts offer different atmospheres, with some being more suited to sightseeing and others for partygoers or foodies. This section will provide an overview of the most popular areas of the city.
Sol
The plaza Puerta del Sol is regarded as the centre of Madrid, and the district surrounding it is known as Sol. This busy district is home to great bars, eateries and shops, as well as the famous statue of the 'Bear and the Strawberry Tree'. Sol also offers excellent public transport with metro services covering the entire city. The district is very touristy but a great base for first-time visitors.
Gran Vía and Calle de Fuencarral
The Gran Vía is the grand shopping street of Madrid and is the setting for many high-end hotels, department stores and trendy restaurants. It's home to magnificent flagship shops and luxury department stores, including huge branches of Spanish clothing stores such as Zara and Mango. Adjacent to Gran Vía is the lesser-known but equally impressive Calle de Fuencarral, whose tree-lined streets are home to more shops and delicious eateries.
Malasaña
Malasaña was at the centre of Spain's 'La Movida' during the 1970s, and this hipster neighbourhood has remained countercultural ever since. Home to eccentrics, artists and intellectuals, the streets of this borough are lined with trendy bars and unique independent shops, while the vibe of the district is artisanal.
Malasaña is one of the best districts in Madrid for nightlife, with a progressive and social atmosphere. During your stay, do include a visit to the trendy bars of La Vía Lactea (The Milky Way) and Tupperware.
La Latina
La Latina is the oldest district of Madrid, with a maze of narrow streets that follow the medieval layout of the city. The district is famed for it's tapas restaurants found along the Cava Alta and Cava Baja. La Latina is home to a mix of traditional churches and basilicas, with modern bars and restaurants. It's also home to Madrid's best known weekly market, El Rastro. This is a really good area of Madrid to be based in.
Chueca
Known as the LGBTQ+ hub of Madrid, Chueca is one of the most progressive districts of the city. Chueca boasts a thriving nightlife scene and is the setting for Madrid's annual Pride celebrations. At the centre of Chueca is the Plaza de Chueca, a square lined with chic bars and restaurants and a popular meeting spot for locals.
Lavapiés
Lavapiés is Madrid's melting pot, with years of multicultural influence creating a diverse and fascinating district. The go-to neighbourhood for fans of authentic international food, there are as many Indian restaurants lining its streets as traditional tapas places. Lavapiés is also the setting for the San Lorenzo festival held on the second week in August.
Barrio De Las Letras
Barrio de las Letras literally translates as 'neighbourhood of the letters', and with good reason. This district is famous for its links to literature, with Spanish intellectual heavyweights such as Miguel de Cervantes once making a home within its streets. Art lovers will be spoiled for choice, with The Thyssen-Bornemisza Museum, Prado Museum and Reina Sofía Museum (AKA The Golden Triangle of Art) all located in this vibrant district.
Chamberí
For visitors who want to avoid the hustle and bustle of Madrid's main centre, Chamberí offers some welcome respite. This tranquil district has a more residential feel than the city's other areas, however, it is also home to many fine-dining eateries and luxury shops that will keep you occupied during your stay. Another treat for art lovers is Chamberí's Museo Sorolla, the previous home of artist Joaquín Sorolla y Bastida, which houses many of his impressive works.
Retiro
Retiro gets its name from the stunning park at its centre, where tourists flock to enjoy its tranquillity and green space. El Retiro park boasts a pretty boating lake, which you can make the most of by hiring a boat and enjoying a relaxing row. The rest of the Retiro district is mainly residential, with many families and upper-class Madrileñans making their home in this laid-back area.
Choose your location before looking for accommodation!
Always choose the location you'd like to be based in before looking for accommodation in Madrid. This may sound obvious, but it is all too easy to be sucked in by an amazing discount or outstanding reviews without really considering which area you will be staying in.
Where Should I Stay for Business?
Chamberí is Madrid's unofficial business district, and its quiet, calm atmosphere makes it perfect for work trips. Don't be put off by the residential atmosphere, as Chamberí is incredibly well connected to the city centre by public transport. This sophisticated district also boasts a great choice of bars and eateries for you to enjoy after a hard day at the office.
Where Should I Stay for Nightlife?
Malasaña and Chueca both offer a great variety of thriving bars with reasonable prices, ideal for partygoers visiting Madrid. If you'd like some tapas with your cocktails, look no further than the friendly La Latina for a night out on the town. Las Letras also deserves mention - during the week, its beautiful streets can be found full of locals indulging in a beer or two after a hard day at work.
Are There Any Areas I Should Avoid?
While Madrid is generally considered a safe city, some areas can be riskier than others. Visitors hanging around Puerta del Sol can fall victim to scam artists or thieves who frequent the streets looking for unsuspecting tourists. If you plan on visiting this popular spot, be vigilant with your belongings.
Although Lavapiés is a vibrant district, it can be a little less safe during the evenings. Stick to the main streets if you're visiting at night.
Madrid for a family or relaxing trip?
Retiro is the ideal spot for a family or relaxing trip, known for its sprawling park and laid-back vibe. In Retiro, you're much less likely to be kept up by the sounds of Madrid's buzzing nightlife.
While La Latina can be jam-packed during the weekends, on weekdays, this f district is quieter. It provides the perfect spot for exploring churches, basilicas and authentic tapas restaurants.
Which Nearby Towns I Should Visit?
If you're staying in Madrid for a few days or longer, consider taking a day trip to one of the stunning nearby towns and cities. History fans will be fascinated by the royal El Escorial, situated only 45 minutes from Madrid.
Toledo and Segovia are also popular destinations. Both are within driving distance of Madrid and offer a wide range of trendy bars, tasty food and stunning historical sites.