Where to stay in Tallinn? The best areas and districts for your trip in 2023
Tallinn, the capital of Estonia, is one of the finest medieval cities in eastern Europe.
It is famed for its impressive Gothic architecture, cobbled streets and historic churches, all surrounded by sections of ancient city walls.
While it is a historic city, Tallinn is also progressive and vibrant, with one of the fastest-growing creative and tech scenes in Europe. All of this makes it a fantastic destination for a city break, or an ideal place to visit during a longer tour of the Baltic states.
This article will guide you through Tallinn's best neighbourhoods, helping you choose which area to stay in during your visit.
The best areas of Tallinn
Tallinn is situated in the north of Estonia, overlooking the Gulf of Finland. Visits to Tallinn are generally based within the walled old town, which is home to most of the city's major tourist attractions. However there are many neighbourhoods to discover here, each offering visitors a different experience
The best districts if you are new to Tallinn are: 1) Toompea (Old Town), 2) All-Linn (Old Town) 3) Kalamaja, 4) Kadriog
The map below shows the main tourist areas of Tallinn.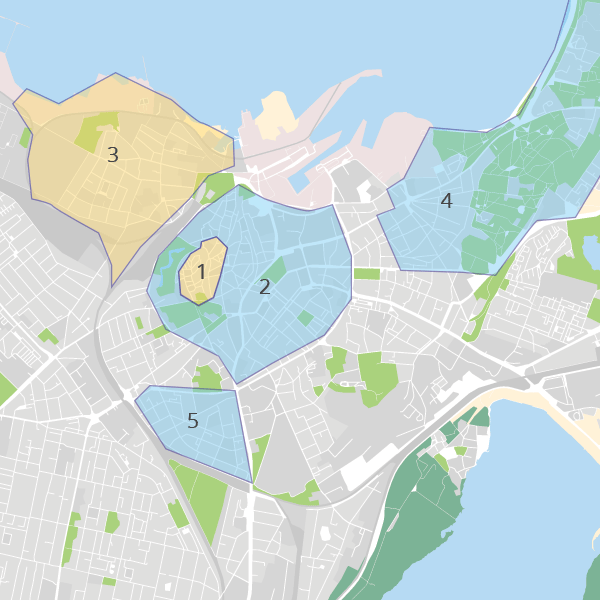 Key:1) Toompea (Old Town) 2) All-Linn (Old Town) 3) Kalamaja, 4) Kadriog 5) Uus Maailm 6) Pirita (off the map – to the north of Kadriog)
The map below shows the location of hotels and rental rooms in Tallinn. By altering the dates to suit your trip, the map will display current prices and availability.
Tallinn's tourist season is brief (July to mid-September), however the city provides a wonderful destination for a weekend away. During the summer, many of its hotels will be packed with Finns, who make the short crossing to embrace the cheap price of alcohol in Estonia.
It's my first visit to Tallinn - where should I stay?
If it's your first time in Tallinn, we'd recommend staying in - or close to - the Old Town. This is where most of the tourist attractions can be found, as well as a wide selection of restaurants, bars and shops. The Old Town area is well connected to Tallinn's other neighbourhoods via public transport and is also close to the city's main train station.
For remote workers and business travellers
Tallinn is extremely popular amongst digital nomads, with its tech-forward approach to business attracting many young and creative companies. To immerse yourself in this business culture, stay in Kalamaja, home to many startups and tech companies. There are also several business hotels close to the Old Town, which are ideal for business travellers who would also like to experience Tallinn's tourist attractions.
Choose your location before looking for accommodation!
Always choose the location you'd like to be based in before looking for accommodation in Tallinn. This may sound obvious, but it is all too easy to be sucked in by an amazing discount or outstanding reviews without really considering which area you will be staying in.
Tallinn's Best Districts
Old Town
If you're visiting Tallinn for sightseeing, you should stay in the Old Town. Fortified by medieval walls, its cobbled walkways and narrow streets allow visitors to step into a bygone era. This is where the majority of tourist amenities can be found, and it also boasts an array of excellent restaurants, bars, shops and cafes. Come here to enjoy traditional pubs, historic churches and medieval charm.
Within the Old Town are two distinct neighbourhoods: Toompea (Upper Town) and All-linn (Lower Town). Situated at the top of a hill, Toompea is home to a heavily fortified castle - now the Estonian Parliament - and ancient cathedrals and churches. All-linn lies at the base of the hill was traditionally where the merchants lived. Today this area contains many of the classical, medieval buildings of Tallinn.
No matter where you're based within the Old Town, you will have a fantastic trip.
Kalamaja
This former fishing village has become a hub for digital nomads. Tallinn is extremely popular amongst remote workers due to its tech-first attitude and amenable visa laws. It is also a popular neighbourhood for students.
Though still filled with traditional wooden buildings, the area is also a hotspot for the newest and best restaurants, cafes and bars in Tallinn. Its young, creative atmosphere and burgeoning food scene are the reason Kalamaja was named one of the coolest neighbourhoods in the world by TimeOut in 2020.
Uus Maailm
Distinctly more bohemian than other parts of the city, Uus Maailm is a friendly and laidback neighbourhood in Tallinn. While it's close to the tourist sites in Old Town, it offers travellers a more authentic local atmosphere, with great shops, cafes and restaurants nearby.
Pirita
If you're feeling brave enough to swim in the Baltic Sea, you can join the locals relaxing in the beach neighbourhood of Pirita. This district is ideal for those looking to escape the busy city, while remaining close enough to the Old Town to take in the sights. A calm and peaceful area, it offers beautiful beach views as well as great restaurants and cafes close to the seafront.
Kadriog
If you're looking for high-end options, check out Kadriog - a more exclusive neighbourhood. The Estonian President lives here, as do many other influential figures.
Visitors can experience the luxury introduced to Estonia by Russian royalty, with the district's architecture and design having been heavily influenced by the presence of the Czars. While it is slightly further from the Old Town than other neighbourhoods, it is easy to access the city or the beach from this leafy suburb using public transport.
Where should I stay in Tallinn as a digital nomad or remote worker?
If you are travelling to Tallinn as a remote worker, the best base for you would be the cool suburb of Kalamaja. This area is referred to as the 'Palo Alto' in startup culture, with many tech companies being based within this district. While it is the hub of local business and investment - almost all oriented around the tech-first culture of Tallinn - this area also has a creative and sociable vibe.
What areas should I avoid?
It's unlikely that you will run into any danger in Tallinn if you are sticking to the tourist sites or the residential neighbourhoods mentioned above. However, it is worth avoiding the Põhja-Tallinn district, as it has a higher rate of petty crime than other parts of the city.
I want to party - where should I stay?
Stay in the Old Town or in Kalamaja. If you want to party in subterranean medieval pubs, where tourists and locals mingle over dark beers and Estonian snacks, head to the Old Town. If you prefer fashionable bars and a young, creative crowd, we'd recommend staying in Kalamaja. These areas are both popular with tourists, so it's easy to party without speaking any level of Estonian.
Are there any neighbouring towns that I should visit?
To experience the dramatic tall trees and Baltic winds that characterise much of the country's landscape, take a day trip to Lahemaa National Park, close to the town of Vihasoo. This forested park offers a variety of fantastic hiking trails and opportunities to spot local wildlife, including bears, beavers and lynxes. Many travellers also take advantage of the nearby ferry connection to enjoy a day trip from Tallinn to Helsinki, Finland.