Where to stay in Tallinn? The best areas and districts for your trip in 2023
Tallinn is one of the finest medieval cities in Eastern Europe. It is famed for its impressive Gothic architecture, cobbled streets, and historic churches encircled by sections of the ancient city wall.
While it is a historic city, Tallinn is also progressive and vibrant, with one of Europe's fastest-growing creative and tech scenes. The nightlife is fun, the food is inventive, and there are plenty of trendy places to see.
Situated along the Baltic coastline, the capital has a wonderful shoreline with promenades, marinas, and even sandy beaches, all a short tram or bus ride away.
This makes Tallinn a fantastic destination for a city break or an ideal place to visit during a longer tour of the Baltic States.
This article will guide you through Tallinn's best neighbourhoods, helping you choose which area to stay in during your visit.
The best neighbourhoods of Tallinn to stay in
Tallinn is a compact city in Northern Estonia, overlooking the Gulf of Finland. Visits to Tallinn are often centred around sightseeing within the Old Town, home to most of the city's major tourist attractions. However, many distinctive neighbourhoods are also worthwhile exploring.
The best districts of Tallinn to stay in are 1) Toompea (Old Town), 2) All-Linn (Old Town), 3) Kalamaja, and 4) Kadriorg.
The map below shows the main tourist areas of Tallinn.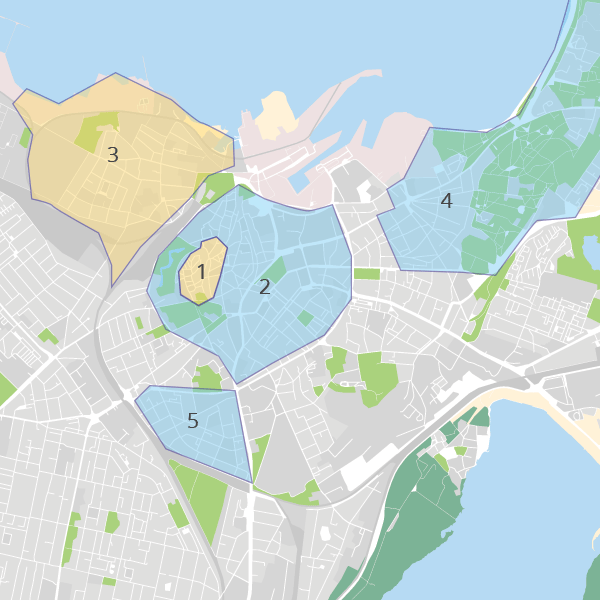 Key:1) Toompea (Old Town) 2) All-Linn (Old Town) 3) Kalamaja, 4) Kadriog 5) Uus Maailm 6) Pirita (off the map – to the north of Kadriog)
The map below shows the location of hotels and rental rooms in Tallinn. The map will display current prices and availability by altering the dates to suit your trip.
Tallinn's peak tourist season runs from July to mid-September. However, as the city provides a wonderful destination for a weekend away, it is popular all year round. During the summer, many of its hotels will be packed with Finns, who make the short crossing to embrace the low price of alcohol in Estonia!
It's my first time in Tallinn where should I stay
If you are visiting Tallinn for the first time, you must stay within the old town to be immersed in the bygone medieval era. The old town is pristinely preserved, proudly Latvian, and there are plenty of places to enjoy local music, culture, and cuisine.
Hotels in the historic centre are exceedingly popular and more expensive, but as Tallinn remains relatively cheap, it is worth paying more for an authentic Latvian experience. Eating out is a wonderful experience, so it is recommended not to pay extra for breakfast or dinner packages.
For those new to Tallinn, it is wise to commence a trip to this historic city with a local walking tour to give a deeper understanding of the culture and other highlights not to be missed.
Getting around Tallinn's old town is easy on foot, and public transport is only needed for accessing sights further out, such as the Maritime Museum and the wonderful beaches.
For those who plan to visit a lot of the main tourist sights and use public transport frequently, it is wise to purchase a Tallinn card at an airport Kiosk or on arrival in the city: These cards make public transport free, give discounts to a lot of the main sights and in peak months will enable queue jumping.
Getting to and from Tallinn via the Airport (4km away) is well-served by public transport, and there is no need for private taxis or car hire. The two easiest options are via Tram or Bus: The number 4 Tram route stops outside the terminal (stop Lennujaam), costs just 1.50 Euro and takes approx. 25 mins. Trams run throughout the day starting at 5.30 am. Alternatively, the bus takes a similar time and costs the same but feels slightly less traditional. If you plan on renting a car, getting a hotel with parking facilities is worthwhile as public parking is restricted and very limited in the old town.
Choose your location before looking for accommodation!
Always choose the location you'd like to be based in before looking for accommodation in Tallinn. This may sound obvious, but it is all too easy to be sucked in by an amazing discount or outstanding reviews without really considering which area you will be staying in.
Tallinn's Best Districts
Old Town
Within the Old Town are two distinct neighbourhoods: Toompea (Upper Town) and All-Linn (Lower Town). Situated at the top of a hill, Toompea is home to a heavily fortified castle - now the Estonian Parliament - and ancient cathedrals and churches. All-Linn at the base of the hill was traditionally where the merchants lived. Today this area contains many of the classical and medieval buildings of Tallinn.
As the old town is compact, exploring freely on foot is worthwhile as most of the iconic sights are easily located. For those with little ones, there is also a land train to ensure you capture all the sights. Starting on Toompea Hill, must-see sights include the impressive salmon pink 18th Century Toompea Castle, the Russian Alexander Nevsky Church, and St Olaf's Church, with beautiful views over the coastline and city.
Heading down to All-Linn, visitors are spoilt by the number of sights: Most notable are St Catherine's Passage, the old city wall, and the magnificent Viru Gate: Those wishing to truly experience 14th Century Tallinn should also spend time at Kiek in de Kök Museum (open 11 am to 6 pm daily).
All-Linn also has a beautiful town hall square with regular markets and many local artisan shops.
The Old Town neighbourhood has a wide range of dining options, but heading to Vine Street or Ratskaevu Street for the most authentic Estonian treats is worthwhile. Our top recommendation is Cru Hotel restaurant, which is located just within the beautiful 14th Century Viru gates and serves hearty seasonal Estonian food. On the outskirts of the Old Town, visiting the Viru Keskus food hall is also well worth visiting to taste local cuisine. (Open daily from 11:00 – 9 pm)
Kalamaja
This former fishing village has become a hipster, urban hub for art, design and technology. Though still filled with traditional wooden buildings, the area is also a hotspot for the newest and best restaurants, cafes, and bars in Tallinn. Its young, creative atmosphere and burgeoning food scene are why reason Kalamaja was named one of the world's coolest neighbourhoods in the world by TimeOut in 2020.
Kalamaja is a 10-minute walk from the historic old town and is a great place to see youthful Tallinn. Top sights in this area include Telliskivi Creative City, a former industrial complex that now houses a plethora of trendy and artisan shops, cafes and eateries and the Seaplane Harbour Museum (15 euros or free with Tallinn card, open daily from 10 am to 6 pm all year round).
Accommodation options in Kalamaja are more rustic than in the old town, and many visitors staying in this area choose self-catering aparthotels.
For those wishing to eat in this hipster area, it is highly recommended to wander along Telliskivi Street and Reisijate Street. Top recommendations include the Grudgey atmosphere in F-Hoone for quirky treats and Fotografiska Tallinn for a combination of cool art and café scene.
Kadriorg
The grand neighbourhood of Kadriorg is a leafy area that is home to some of the capital's finest galleries, museums, and historic dwellings. Visitors can experience the luxury introduced to Estonia by Russian royalty, with the district's architecture and design heavily influenced by the presence of the Czars.
Kadriorg is a 30-minute walk from the Old Town or a short tram ride via route 1 or 3 (costing approximately €1.60 single). The top sights in Kadriorg are the Kadriorg Park, Kumum Modern Art Museum (open Tues to Sun, 10 am until 6 pm, €12 per adult) and the elaborate 18th Century Kadriorg Palace (open Tues to Sun, 10 am until 6 pm, €7 per adult). For detailed information about the museums and galleries of Kadriorg.
There are only a few places to stay in Kadriorg, and our top recommendation is the fantastic Rija Fonnental Design Hotel.
Uus Maailm
Distinctly more bohemian than other parts of the city, Uus Maailm is a friendly and laid-back neighbourhood in Tallinn. While it's close to the tourist sites in Old Town, it offers travellers a more authentic local atmosphere, with great shops, cafes, and restaurants nearby.
Pirita
If you feel brave enough to swim in the Baltic Sea, you can join the locals relaxing in the beach neighbourhood of Pirita. This district is ideal for those looking to escape the busy city while remaining close enough to the Old Town to take in the sights. A calm and peaceful area, it offers beautiful beach views and great restaurants and cafes close to the seafront.
Where should I stay in Tallinn as a digital nomad or remote worker?
If you are travelling to Tallinn as a remote worker, the best base for you would be the cool suburb of Kalamaja. This area is referred to as the 'Palo Alto' in startup culture, with many tech companies being based within this district. While it is the hub of local business and investment - almost all oriented around the tech-first culture of Tallinn - this area also has a creative and sociable vibe.
Where to stay in Tallinn with children
Tallinn has a wide range of sights and activities for children, and it is wise to be in the old town to ensure that the main sights, restaurants and activities are a short stroll away. From here, a short tram ride can also easily access many of the main attractions outside the old town.
Top attractions for young visitors include Kiek in de Kök Fortifications (Old Town) and particularly the secret passageways and old towers, which are great for exploring, Kadriorg Palace (Kadriorg), Seaplane Harbour Museum (Kalamaja), Tallinn Zoo and Pirita Beach.
Best nightlife neighbourhoods in Tallinn
Stay in the Old Town or Kalamaja. If you want to party in subterranean medieval pubs, where tourists and locals mingle over dark beers and Estonian snacks, head to the Old Town. If you prefer fashionable bars and a young, creative crowd, we'd recommend staying in Kalamaja. These areas are popular with tourists, so it's easy to party without speaking any level of Estonian.
Where to stay in Tallinn on a business trip
Tallinn is extremely popular amongst digital nomads, with its tech-forward approach to business attracting many young and creative companies. To immerse yourself in this business culture, stay in Kalamaja, home to many startups and tech companies. There are also several business hotels close to the Old Town, ideal for business travellers who want to experience Tallinn's tourist attractions.
Are there any neighbouring towns that I should visit?
To experience the dramatic tall trees and Baltic winds that characterise much of the country's landscape, take a day trip to Lahemaa National Park, close to the town of Vihasoo. This forested park offers a variety of fantastic hiking trails and opportunities to spot local wildlife, including bears, beavers and lynxes. Many travellers also take advantage of the nearby ferry connection to enjoy a day trip from Tallinn to Helsinki, Finland.
There are four sandy beaches where you can dip your toes into the Baltic Sea, the most popular of which is Pirita Beach. This two-kilometre-long beach has an excellent view of the Old Town and the bustling ship traffic on the Gulf of Finland.
What areas should I avoid in Tallinn?
It's unlikely that you will run into any danger in Tallinn if you are sticking to the tourist sites or the residential neighbourhoods mentioned above. However, it is worth avoiding the Põhja-Tallinn district, as it has a higher rate of petty crime than other parts of the city.