Dubrovnik or Warsaw; a vs city comparison and travel guide
Both Warsaw and Dubrovnik are fantastic cities, but which is better for your city-break or holiday?
We understand your dilemma. There is a wealth of information about both cities, but little stating which is the better destination and more suited for your trip.
This article will provide our unbiased opinions of Dubrovnik and Warsaw, and hopefully help you to choose the best city to visit.
The article is divided into the following sections, and can be jumped to using the links:
• Introduction to the cities
• Scores and ratings
• Which one should I, friends, or family visit?
• When to visit and weather
• Who is the city suited for?
• The perfect 48hours (with map)
• Tourism details (where to stay? airport details?)
At once cutting-edge and steeped in history, vibrant and packed with chilled-out parks, Warsaw is the beating heart of modern Poland.
In many ways, it's a metropolis of contradictions. UFO-like shopping malls loom large on one corner, while a USSR-era skyscraper crowns the square next door. The Old Town looks medieval but it's actually a total reconstruction following the WWII. And the food scene oscillates from hearty Slavic dumplings in traditional milk bars to chic Michelin star restaurants.
But all that's part of the fun. You never really know what's around the corner in this happening capital. From romantic walks through Łazienki Park to sobering tales of anti-Nazi uprisings, masterworks of Polish art in the national galleries to fair-trade coffee roasteries in hipster Mokotow district, there's oodles to add to the itinerary.
Prepare to be wowed by the sheer audacity of Dubrovnik. A castle on the Adriatic, the whole town is ringed by glowing limestone battlements, topped with keeps and turrets, and crowned by Byzantine basilicas. It looks like something plucked from Game of Thrones. Scratch that – it was plucked from Game of Thrones (Dubrovnik is now famed as one of the main filming locations for the hit HBO series).
But put that modern claim to fame aside and there's still a truly enchanting city to get stuck into. From the bustling Stradun walkway (the main drag) to the Gothic façades of the Sponza Palace to the shimmering pebble beaches of the Lapad Peninsula, you can pack your itinerary full of histories of wars and republics, tasty Croatian foods, and a healthy dose of Adriatic sun and sea. Downsides include booming summer crowds and cruise shippers.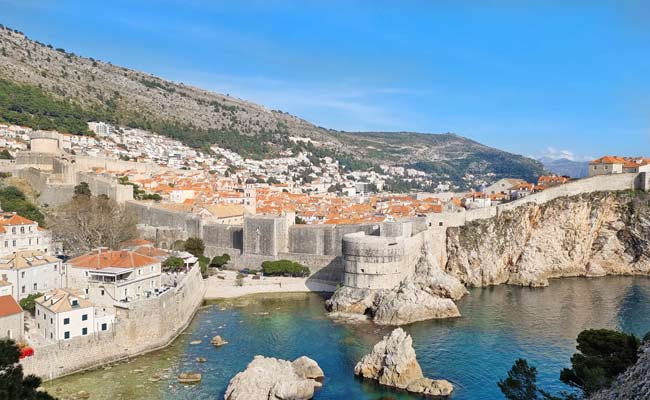 Dubrovnik is one of the most picturesque cities in Europe, so long as your happy to share the experience with thousands of other tourists.
The historic centre of Warsaw
Summary
Where would I journey for a personal escape?
Lisbon
Where would I send my parents for a memorable visit?
Dubrovnik
Where's the ideal destination for my adventurous 19-year-old cousin?
Lisbon
Where should my food-obsessed friend indulge their culinary passions?
Lisbon
Note: The above comparisons are weather-independent and are based on travel during the most opportune times of the year. Details about the ideal travel seasons are elaborated upon later in this article.
In the sections that follow, you'll find a comprehensive comparison between these two fascinating cities. This includes recommendations on the duration of stay, the best times to visit, and tailored 48-hour itineraries for each city.
The final segment delves into practicalities for your travels, such as the best airport to fly into, the optimal districts for your accommodation, and insider tips, for when you come to explore the city.
We hope that you find all of this information useful, in planning your next exciting trip!
How long to spend each city?
Choosing how long to spend in Dubrovnik really depends on what you want out of your city break. A fly-in whirlwind tour of the Old Town can be great if you're on the hunt for culture and history. The museum collections of the Sponza Palace and the Rector's House, walking routes of the City Walls, and sightings of landmarks like Large Onofrio Fountain can all be packed into just a day or two.
But it might be best to allow a little extra time. With all the castles and churches here, it's easy to forget that Dubrovnik is an Adriatic riviera destination at heart. You've got pine forests, olive groves, rakija distilleries and the lost-paradise island of Mljet to think about. You certainly won't want to rush those during the warmer months, so consider staying a week or more to explore the city itself and those stunning surroundings.
Warsaw can be done quickly. Just a few days is all you'll need to see the Old Town, the Palace of Culture and Science, the grand parks, and the main museums. To squeeze the lot in, you'll need to make use of the extensive public tram and bus networks. It might be worth considering a 72-hour (36 PLN) ticket, which you can buy at newsagent kiosks.
Of course, if you've got extra time to spare, Warsaw will always be able to fill it. Once you've checked off the main attractions, there are stacks of more local sights, eateries, and activities to get stuck into. They include café hopping down in hipster Mokotow, tasting ethnic foods in multicultural Praga, and even day outings to the Kampinos Forest or the post-industrial city of Łódź.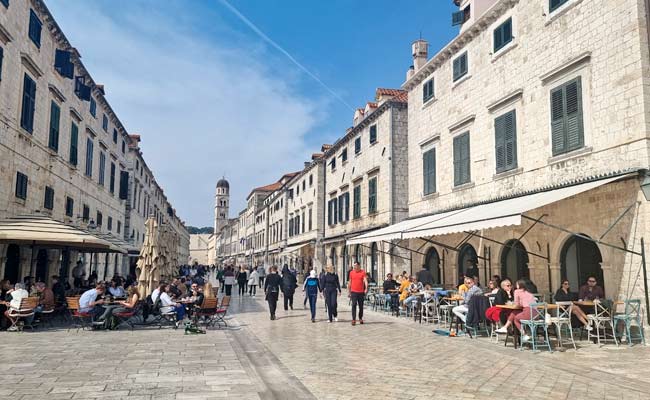 The Stradun is the characterful main street of Dubrovnik
The Park Royal Baths Park (Łazienki Królewskie) is the largest park in Warsaw and a great location for a summers day
If you don't want to wrap yourself up in cotton wool and thermals every time you step outside, it might be best to avoid the winter months in Warsaw. From November to December, below-zero temperatures are normal in the Polish capital, along with icy rain, sleet and snow.
Most locals often say that spring and early autumn are the sweet spots. While summer's warm, it can often be humid, and there's no beach or ocean nearby to help you cool off. Months like April and May see milder days and cool nights, while September is prime time to wander the famous parks of Warsaw, as the trees begin to change colour and glow orange, ochre and yellow.
Summer might seem like the perfect time to put together a trip to Croatia's castle city. However, temperature highs in the low 30s and strong midday sun can make things a little tiring. And that's not even mentioning the whopping great big crowds. Recent protests by Dubrovnik's locals have really highlighted the problem of summertime tourism – there's hardly an inch to move in the Old Town, especially when huge cruise ships are docked at port.
Things might improve thanks to recent laws barring any more than two large vessels per day, but we still think September and October come up trumps. This southern corner of the Balkans stays pleasantly warm well into the autumn, so you shouldn't have to worry about having the weather to laze on Lapad Beach. What's more, visitor numbers, hotel rates, and flight prices all plummet following the end of the summer vacations.
If you're one for enthralling tales of warring republics and battles with the Ottomans, Dubrovnik has you covered. If you're the sort who loves jaw-dropping European old towns with enough castles and churches and cobbled alleys to keep you going for a whole trip, it's also perfect.
Oh, and Dubrovnik takes care of globetrotters who come in search of a little Mediterranean sand, sun and sea. You won't have to venture far to find a cove to swim in, a yacht charter, or even a remote island villa where you can crank up the R&R.
If you're not big on crowds, then summer trips (as noted above) to Dubrovnik are surely best avoided. And it's hardly the place for anyone in search of big-metropolis vibes. For a city, Dubrovnik is relatively small and compact.
Warsaw really charms those who love fast-paced, buzzing capital cities. While the Old Town is a stunner, it's not the main show. Instead, you'll spend your hours exploring vibrant and lived-in neighborhoods that burst with fusion eats and fine dining. You'll embark on craft beer tours and have artisan breakfasts in kitschy cafes.
On the flip side, there's some seriously immersive history. The Warsaw Uprising Museum and the POLIN exhibitions are fine introductions to the struggle of the Polish people and Polish Jews during Nazi occupation. You've got the 800,000 pieces of the acclaimed National Museum to get through. And there are grand parks with Chinese gardens and monuments of Chopin.
The gothic Saint Florian's Cathedral in Warsaw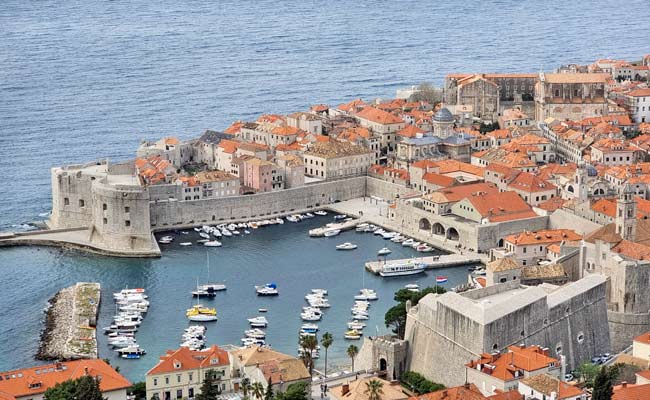 The pretty harbout of Dubrovnik
48hours in Dubrovnik
Hopping from crenulated towers overlooking the Adriatic Sea to hidden local swimming spots to soaring summits in the Dinaric Alps, this fun-filled 48 hours could just be the perfect introduction to this awesome city:
Day 1: Start – where else? – on buzzy Stradun. The main artery of the Old Town of Dubrovnik, it runs from the port to Pile Gate (a 16th-century stone gatehouse that's worth a photo stop), passing Irish pubs, coffee joints, and Croatian konoba (taverns) as it goes. Sip a cappuccino and devour a pastry there before making for the Large Onofrio Fountain.
An elaborate water feature that's stood since the 1430s, it still dispenses crystal-clear water for drinking. Fill the bottle and then move to the iconic City Walls. These can be traversed entirely.
You can choose to do them on a guided tour (a Game of Thrones tour is available) or by yourself. In all, the whole stroll takes around two hours from start to finish, covering two kilometres of fortifications that include glimpses of famous citadels like Fort Minčeta (1319) and the dungeon-like Fort Revelin (now home to an EDM nightclub – remember that for later!).
For the evening, retreat to the legendary Buža Bar. It gazes straight out southwards across the Adriatic Sea. You can watch locals diving from the rocks into the water as you sip your sundowner beer.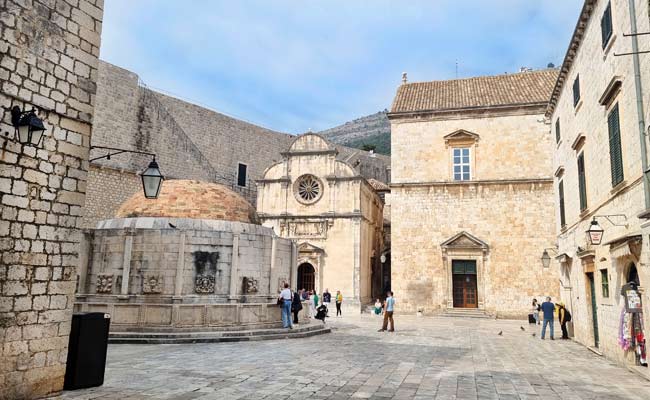 The Onofrijeva fountain and the towering city walls of Dubrovnik
Day 2: Kick start the day with a dip in the Med at Banje Beach. This is the closest beach to the Old Town of Dubrovnik and has a free section where you can take a quick swim while gawping at the high fortresses overhead.
Cafés and gelato shops line Frana Supila just above it, where you can grab a bite for breakfast before making for the base station of the Dubrovnik Cable Car – it's less than 500 metres away. Tickets might cost 170 HRK (€22) apiece, but the sweeping 180-degree views from the top station of Mountain Srd are simply awesome.
You'll be able to see the red-tiled roofs of the Old Town below, the wooded crags of Lokrum Island, and the remote Elaphiti Islands (perfect day outings by boat if you have some more time to spare) beyond.
Return to ground level and then hop on a bus going over to the Lapad Peninsula. This is great for the evening. A quick splash in the sea can be followed by uber-fresh seafood dinners with crisp Croatian wine in the traditional taverns just by the bay.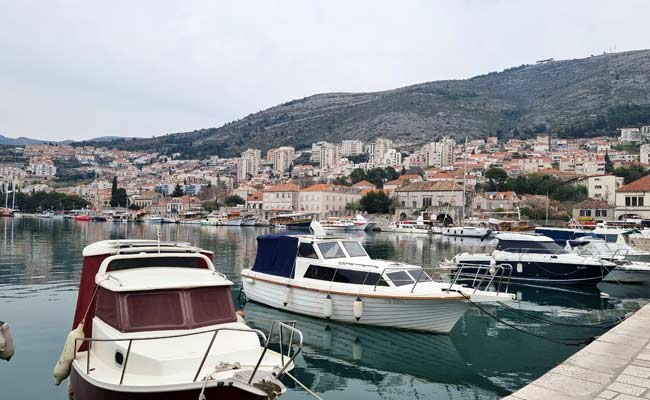 The New Town of Dubrovnik is centred around the harbour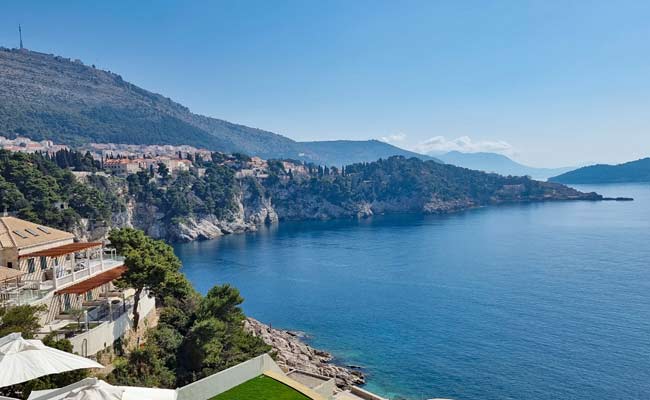 The dramatic coastline to the west of Dubrovnik Old town
48hours in Warsaw
This perfect first 48 hours offers a fun-filled and exciting introduction to life in the Polish capital. It's a cocktail of wartime history, art, and – of course – good old Slavic beer.
Day 1: Hit the Old Town of Warsaw as early as you can. That way, you'll avoid the crowds, and – on a sunny day – get to catch the gilded medieval-style frontispieces in some perfect photography light. You certainly won't want to miss a moment on grand Plac Zamkowy (Castle Square).
The Royal Castle that gives it the name is the star of the show, with its orange-tinged exteriors and Baroque domes. It, like the whole rest of the Old Town, is actually deceptively new. The entire district had to be rebuilt from ruins in the wake of WWII.
Wait for the folk from the Free Walking Tour under Zygmunt's Column. Their two-hour odyssey through this part of the capital really digs down into the unique mosaic of architecture. After that's done, you can hit Nowy Swiat and follow the route Polish monarchs once took in and out of the city. It's now a buzzing modern thoroughfare with dumpling taverns and beer halls (perfect for lunch).
Follow it all the way south and hop a few more blocks and you'll soon be in Łazienki Park. It's an icon of the metropolis. An evening stroll here could start with a vision of the huge Chopin statue and end with a sighting of the Classicist Temple of Diana. For dinner, where better than hipster Mokotow? The district has everything from Tex-Mex to stylish sushi bars.
The Warsaw Barbican (barbakan warszawski) dates from 1540, and was part of the fortifications that encircle the city
Day 2: A selfie stop outside of the iconic Palace of Culture and Science starts day two with a bout of Soviet architecture. A 237-metre spire of a building, it was a personal gift to Poland by one Joseph Stalin. From there, a few trams stops can whisk you over to the Warsaw Uprising Museum. The enthralling exhibits of that showcase the heroic efforts of Poland's underground resistance during the fight against the Nazis.
Afterwards, make straight for the riverside and the leafy Vistula Boulevards. They're a hubbub of life in the summer months. Dog walkers meet buskers and street entertainers right by the water. (An optional drop into the family-friendly Copernicus Science Centre is a great addition if the rain's a-pouring). For the evening, hip and elegant Praga awaits. That's arguably Warsaw's most stylish area, with Lebanese kitchens giving way to bohemian bars and cool coffee shops.
The striking Palace of Culture, standing at 237m is the tallest building in Poland
You'll want to arrive and depart from Dubrovnik Airport if you're coming on a quick city break. It's located just over 15 kilometres from the heart of the city. Shuttles run regular routes from the Old Town and the Kantafig bus interchange to the airport terminals. The journey takes around 45 minutes to an hour in good traffic and costs between 35-55 HRK, depending on the operator you choose.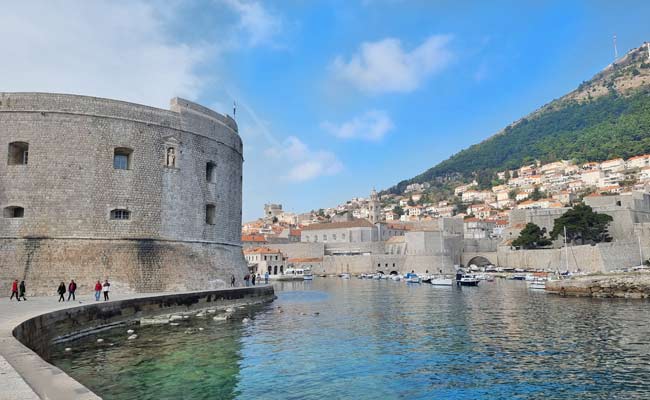 The entrance to Dubrovnik harbour
Dubrovnik is a super walkable city. In fact, getting lost in the Old Town area is one of the best things to do here. Don't go thinking you can use the City Walls to navigate. The ticket for those costs 200 HRK (€29) and is only valid for a single entry.
To get back and forth from districts around the Old Town and the beaches of Lapad and beyond, there's an efficient local bus network. Virtually all routes will either take you to the historic heart of Dubrovnik or terminate at the main Kantafig station. You can purchase fares onboard for 15 HRK but they're a little cheaper if bought from a kiosk in advance.
Try to seek out a place to stay as close to the Old Town as you can if you're coming to see the history sights and enjoy the walking tours. Remember that the district is super compact, so boutique B&Bs with cosy rooms are the name of the game within its boundaries. For extra space and proximity to the Adriatic Sea, you could look to the larger hotels and guesthouses around Banje Beach or Gruz to the north.
Public transport in Warsaw means trams and buses. The network of more than 260 combined lines can take you virtually anywhere you want to go.
What's more – it's cheap! Just 3,4 PLN can get you from A to B on any route, but there are also 24- and 72-hour tickets that won't break the bank. You can get them at machines located at the stops, or in any kiosk dotted around town.
Saint Alexander's Church was constructed in honour of the Russian tsar Alexander I
Warsaw has two international airports. There's the larger Warsaw Frederic Chopin Airport, which can be reached by direct train from Warsaw's main station on line S2 or S3. The smaller Warsaw Modlin International Airport is a hub for European low-cost carriers. To go from terminal to city from there, you can ride the private Modlinbus, or catch the loop train that goes to both airports and then Warszawa Centralna.
A big Polish presence and a welcoming local vibe means there's rarely trouble for tourists in WarsawPickpockets, angry bouncers in clubs, and the classic European taxi scammers are the most common frustrations beyond that. .
When it comes to picking a hotel, it's typically best to be on the western side of the Vistula River. Some of the very best accommodation choices hide amid the cobbled lanes and squares of the Old Town. Others sit within walking distance, by Mirow or the Palace of Culture and Science. Being on the far side of the river means finding some cool aparthotels in local's favourite Praga.