Naples or Budapest; a vs city comparison and travel guide
Both Naples and Budapest are fantastic cities, but which is better for your city-break or holiday?
We understand your dilemma. There is an abundance of travel guides for both cities, but few actually comparing them, and advising you which is the better for your trip.
This article will provide our unbiased and independent views of Budapest and Naples, hopefully making your choice that little easier.
The article is divided into the following sections, and can be jumped to using the links:
• Introduction to the cities
• Scores and ratings
• Which one should I, friends, or family visit?
• When to visit and weather
• Who is the city suited for?
• The perfect 48hours (with map)
• Tourism details (where to stay? airport details?)
In many ways, Naples is split in two halves; a town of shadow and light.
There's the Naples of pizza dough and La Dolce Vita, which is all about kicking it by the azure Tyrrhenian Sea with good food and great wine.
Then there's the gritty city, whose reputation comes from the Camorra mafiosos and the ramshackle alleys around Spaccanapoli street. Both are immersive and interesting in their own right
Put simply, Naples is one of the most authentic and enthralling cities in Italy. The self-proclaimed capital of the south, it's got Roman history and gorgeous landscapes in equal measure.
It promises something for honeymooners, backpackers, foodies, and outdoorsy types, but won't sugar-coat the experience with anything special for tourists.
The Spaccanapoli cuts Naples in two and transitions from the old to modern sides of the city
Straddling the snaking Danube in the very heart of Europe is Budapest, the buzzing capital of Hungary.
Here, a city of two halves – Buda and Pest – unites to form a complex tapestry of over 1.7 million lives. With grand 19th-century bridges stitching together the landscape, Budapest entices with its blend of storied history, striking architecture, café charm, and lively nightspots.
Whether your eyes are drawn to the regal palaces atop Buda Hill or the heady aroma of sulphur from steaming bathhouses, Budapest never ceases to captivate. Venture into ruin bars, gaze upon the monumental Dohány Street Synagogue, or stroll the wide boulevards left behind by the Communist era.
In Budapest, every glance reveals a new layer of intrigue, a city where the past and present are locked in an endless dance.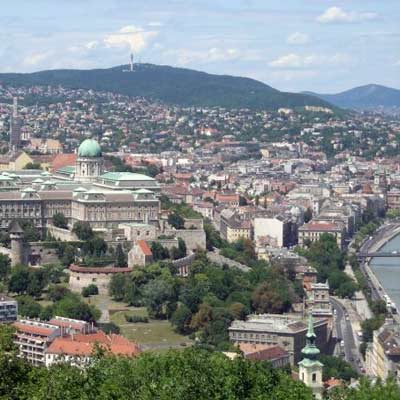 Budapest is a vibrant and modern city just waiting to be explored
The harbour front in Naples
Summary
Where would I journey for a personal escape?
Budapest
Where would I send my parents for a memorable visit?
Budapest
Where's the ideal destination for my adventurous 19-year-old cousin?
Budapest
Where should my food-obsessed friend indulge their culinary passions?
Budapest
Note: The above comparisons are weather-independent and are based on travel during the most opportune times of the year. Details about the ideal travel seasons are elaborated upon later in this article.
In the sections that follow, you'll find a comprehensive comparison between these two fascinating cities. This includes recommendations on the duration of stay, the best times to visit, and tailored 48-hour itineraries for each city.
The final segment delves into practicalities for your travels, such as the best airport to fly into, the optimal districts for your accommodation, and insider tips, for when you come to explore the city.
We hope that you find all of this information useful, in planning your next exciting trip!
How long to spend each city?
Fly-in visits for three days are enough to check off the major must-see sights of Budapest. This is a compact capital with good underground and bus links. You can get easily get across town – going from Buda Castle on one side of the city all the way to the Széchenyi Thermal Baths at the other takes less than an hour on public transport.
That said, Budapest has plenty of hidden secrets up its sleeve. You could easily while away a whole week enjoying cheap happy hours in the ruin bars, bathing in the Art Deco spas, and visiting islands up the Danube. If you're coming in summer, you could also extend a stay to include the art galleries and cobbled lanes of Szentendre, the mineral-rich waters of Lake Balaton, and the rustic Tokaj wine country to the east.
That's a tricky one. Naples itself can be seen from tip to toe in just a couple of days. We'd say around 48 hours is perfect for tasting Neapolitan pizzas in legendary L'Antica Pizzeria da Michele and feeling the vibes down lively Spaccanapoli – the main drag in the historic centre.
For a longer stay of five to seven days, there's a catch: A lot of Naples's main draws are outside of town. Think the likes of Pompeii, the soaring crater of Vesuvius, and the Amalfi Coast. To add those on, you'll need to plan to come here for considerably more time.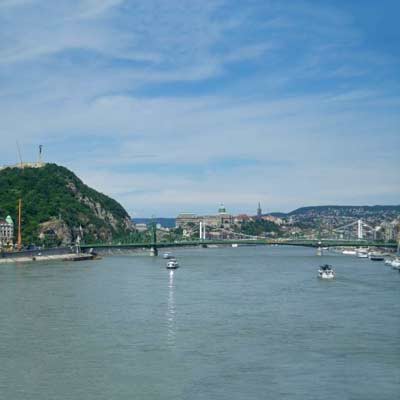 The mighty Danube River cuts Budapest in two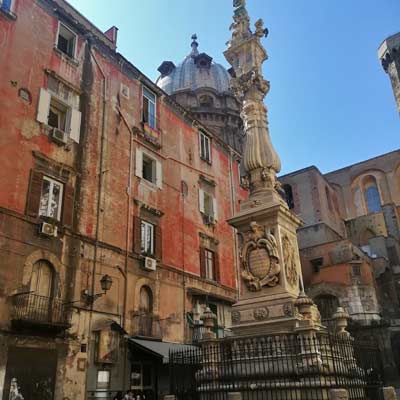 The obelisk of San Gennaro in the Piazza Riario Sforza
Spring is the best time of year in Naples. This southern city gets warm nice and early, so you can expect April highs in the 20s and even enough sun to hit the beaches of Gaiola and the local lidos if you want to take a dip in the Med. There are fewer other travellers about before the summer rush too, which means you'll find it more pleasant strolling the historic centre and Pompeii.
Of course, that's not to say the summer is bad in these parts. It most certainly isn't. Reliable warmth and loads of sunshine, topped off with a buzz about town, help make the months between June and August great options. Just be prepared to pay extra for hotels and flights, and don't expect the city to be quiet.
Late spring and early autumn are when locals often say Budapest is at its best. Temperatures average around 23-25 degrees in May and September. There's not an overload of rain then either. And it's perfect for avoiding the crowds of midsummer city breakers that come during the European holidays.
There's also something to be said for visiting Budapest in the midst of winter. Mercury plummets between November and March, and it's not uncommon to see the Danube freeze over with huge chunks of ice. What's more, the tenements and side streets of the Jewish Quarter and the historic Inner City areas ooze atmosphere on cold, snowy days. Just be sure to pack the thermals!
Budapest's layers of history combine with a sleepless nightlife scene, making this European capital a great pick for a whole host of travellers. The backpacking crowd can make for the Jewish Quarter's ruin bars and glug uber-cheap Hungarian beers in bohemian courtyards.
More culturally aligned visitors might prefer to unearth the past of the Hungarian empire on the grounds of Buda Castle, or pay their respects at the haunting House of Terror museum that chronicles the dark days of Stasi rule.
You might not feel totally at home here if you're a big fan of beaches and sun. Budapest is a landlocked city in a landlocked country, so the ocean is never near. Hungary's capital isn't the greenest of towns, either. There are parks, but they're really on the outskirts. It's very much an urban destination.
Naples is a raw and immersive Italian city. It's got pizza places that are frequented by locals. It's got wine bars serving gorgeous Campanian tipples. It's lived-in and gritty and real. That makes it perfect for city hoppers who like atmosphere and energy. And the joys don't end there…
Just around the Bay of Naples are two of the country's most impressive archaeological sites: Pompeii and Herculaneum. They'll entertain the history lovers, along with the likes of the Castel dell'Ovo and the vast Museo Archeologico Nazionale. Loved-up duos might also want to make Naples a pitstop on a couple's break to the impossibly gorgeous Amalfi Coast that lies to the south.
Naples isn't for those who like small, easy-going towns where there's lots of room. It's crammed between the volcanos and the sea, so things are compact in the centre. It can also be quite hectic, with touts and traffic.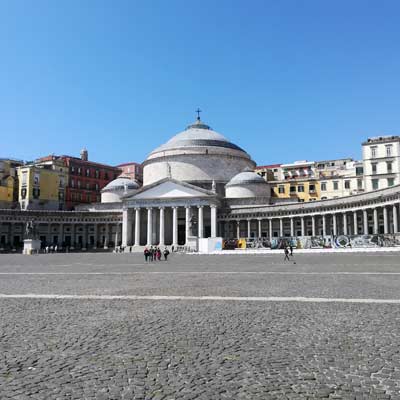 The Piazza Plebiscito is the grand square of Naples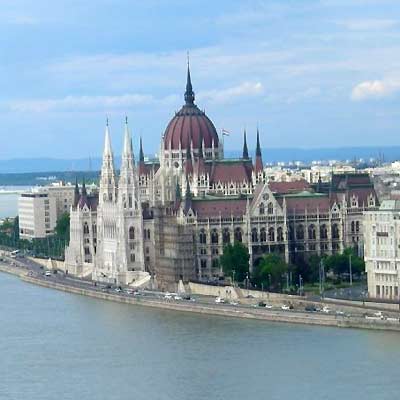 Hungarian Parliament is the tallest building in Budapest
48hours in Budapest
Day 1: Start on the Pest side of the city. That's home to the huge Dohány Street Synagogue. It's one of the great landmarks of Budapest and reigns as the largest synagogue in Europe. From there, head to the wide boulevard of Andrássy, a spectacular thoroughfare and UNESCO site that's lined with Neo-Classical mansions.
Visit the House of Terror museum on one end to unravel the haunting past of Communist rule in Hungary. Then, go for a hard-earned spa session in the famous Art Deco baths of Széchenyi. Dinner can be nothing less than a paprika-smoked goulash in Gettó Gulyás, followed by a beer in the mind-boggling art gallery come bar that is Szimpla Kert.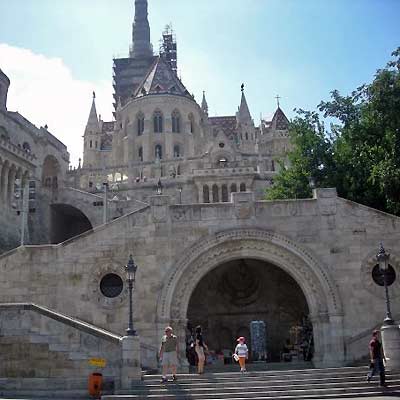 Pest cathedral
Day 2: Breakfast in the Central Market Hall that dates from 1897. Grab some sweet Hungarian pastries and then hop across the Danube on the handsome Liberty Bridge. In front of you, the elegant Gellért Baths are an optional stop. Or, push on up to the Fisherman's Bastion and the Citadella. These were once defensive outposts where Hungarian armies protected their capital. These days, they have stunning views of the Danube. A walk to the north takes you to the Castle District. You can tour the grounds and take in the architecture, or go inside for regal court rooms. Be sure to take some photos of the imposing Hungarian Parliament Building across the water. Finally, drop back into Pest for dinner in the Inner City. That area has everything from Tex-Mex joints to smoky 1930s speakeasies.
Gellért Hill offers some of the best views of Budapest, the hill is named after Saint Gerard who was murdered in 1065 by being put in a barrel and rolled down the hill…
Everything from millennia-old villas to rich art collections is on offer in this 48-hour guide to Naples. Oh, and there are plenty of chances to devour pizza – it's considered the very best in Italy.
Day 1: Start in the Quartieri Spagnoli. Ramshackle and rough around the edges, it's the perfect combo of Neapolitan grit and charm. There's bound to be a cafeteria serving cannoli (crunchy Sicilian pastries) and cappuccino there that takes your fancy.
You'll need the energy, because your next destination is the acclaimed Naples National Archaeological Museum. It's known to have one of the largest collections of Roman artifacts anywhere in the world, but the standout highlight is surely the Alexander Mosaic, reconstructed from the floors of Pompeii's opulent House of the Faun.
Once you're done in there, head south to the sleepless street of Spaccanapoli. Literally meaning 'the street that divides Naples', it does exactly as that implies. It runs right through the heart of the city, with drooping washing lines, street-food vendors and age-old churches looming on both sides. It will take a while to walk its two kilometres but it's all about breathing in the urban energy. What's more, the iconic L'Antica Pizzeria da Michele sits at the eastern end.
You'll be rewarded there by one of the best pizzas in town – choose between marinara (just fresh tomato passata and garlic) and bufalina (with buffalo mozzarella). After lunch, make for the port area.
That's crowned by the turrets of the Castel Nuovo, a grand fortification that has a history of more than 800 years. Behind that comes vast Piazza del Plebiscito. Prepare to be stunned by its sheer size and grand horse statues. For evening, a few cocktails and some tasty homecooked pasta awaits in the osterias of stylish Chiaia district.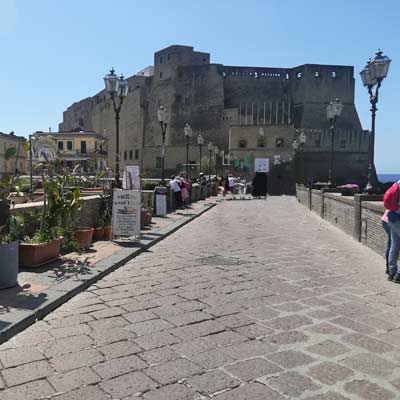 The Castel dell'Ovo (Egg castle) on the harbour front of Naples
Day 2: Rise early and get to the platforms of Naples Centrale station. That's where the trains depart for Pompeii in the morning. You might just have heard of that place – it was once an entire Roman resort town for the nobles and elite of the empire.
That is, until Mount Vesuvius suddenly erupted in 79 AD and flooded it with lava and ash. These days, the site is an amazing and haunting archaeological dig, with whole streets, entire villas, and even brothels complete with Roman wall art just waiting to be discovered.
It's likely Pompeii will take more than half of the day, while the most devoted history buffs can add on a trip to Herculaneum to boot. If not, head back to Naples city and go straight to the hilltops where the Castle of St Elmo keeps watch. That's the Vomero district, and it's famed for its sweeping panoramas of the Gulf of Naples and Mount Vesuvius. With that as the backdrop, find yourself a traditional trattoria or pizzeria and dine with a view of the metropolis to cap off the trip.
Pompeii was covered in 6m of volcanic ash when Mount Vesuvius erupted in AD 79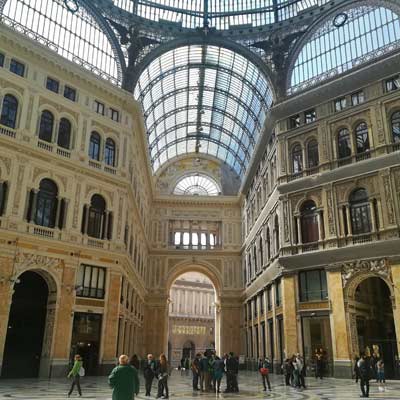 The elegant Galleria Umberto I shopping gallery in Naples
Capodichino Airport, or Naples Airport, is the main gateway to the city by air. It's the fifth largest in the country, so should have lots of low-cost and premium services jetting into its runways. There's a metro line to the terminal in the works, but for now arrivals will need to use the Alibus to Naples Centrale station. Tickets cost about €5 each way and the travel time is roughly 15 minutes outside of rush hours.
Centrale Station is a main stop on the north-south railway line through Italy. It's easy to get there on high-speed links from Rome and even Milan. That's one of the most glamourous ways to arrive in Campania, offering gorgeous views of the countryside before pulling right into the heart of the city.
When it comes to booking hotels in Naples, take some time to consider each neighbourhood one by one. Most travellers are drawn to the Historic Centre (or Centro Storico in local speak). That's the home of the Duomo and the buzzing lane of Spaccanapoli.
It's probably one of the pricier and more lively areas to stay. Alternatively, go to Vomero for boutique B&Bs with great views, not to mention proximity to some of the coolest hipster eateries and cafes. Or, choose the down-to-earth Quartieri Spagnoli, which is filled with hostels and guesthouses that shouldn't break the bank.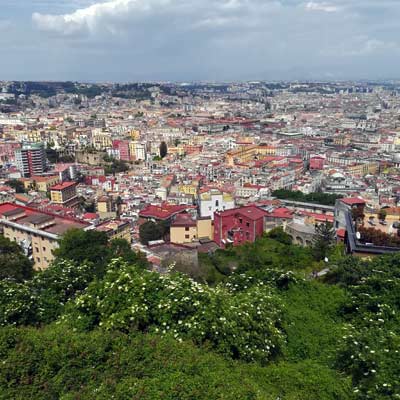 The view over Naples from the surrounding hills
Naples has a reputation for being Italy's roughest and most dangerous place.
It's true that crime rates are higher here than in the north. What's more, the mafia are still in action in these parts. You'll want to be a little more careful walking around areas like the Naples Centrale station and Quartieri Spagnoli.
Also try to stick to more touristy central districts, and don't walk alone at night. On top of that, be wary of street touts selling stolen goods, and be on the guard for pickpockets and drive-by thieves on scooters.
Travelling to and around Budapest is super easy. There's an efficient underground network. Tickets for that cost 350 HUF per ride with a single transfer allowed. You can also use river boats (HUF750 per journey) and buses (350 HUF).
Taxis are rarely needed, but they are cheap, costing 280 HUF per kilometer. Be sure to insist your driver puts the meter on, and never accept offers from taxi touts at the airport.
The Fisherman's Bastion, Budapest
Talking of the airport, Budapest Airport sits around 22 kilometers from the city center. You can get to and from the terminals using the dedicated express bus (€2) or by train (€2.70). Both options take between 30-40 minutes. Be sure to buy tickets at machines by the stops – they're more expensive when purchased direct from drivers.
When it comes to picking hotels in Budapest, you're best off focussing on the Pest side of the city. That's where the bulk of the best lodgings are located. Being in the Jewish Quarter can be noisy, but perfect if you want to hit the nightlife of Szimpla and the other ruin bars. The Inner City area is charming and quieter, with some boutique options. Meanwhile, Újlipótváros is a local's favourite, with its cool cafés and art galleries and sleek Airbnbs.
Related articles: Where to stay in Budapest
Budapest is largely safe and crime statistics are in line with European norms. Some well-known scams include taxi drivers who overcharge and sellers of fake goods. Pickpocketing is also a rare but real problem. Just be aware of your personal possessions and be vigilante, especially when on public transportation.
Price wise, Budapest is surely up there with the cheapest of European capitals. A large beer can cost as little as 500 HUF (€1.50). Food in a midrange restaurant will set you back between 2,000 HUF and 3,000 HUF (€6-9). Nights in hotels are noticeably less than in nearby Vienna, too.