Riga or Marrakesh; a vs city comparison and travel guide
Both Riga and Marrakesh are fantastic cities, but which is better for your city-break or holiday?
We understand your dilemma. There is an abundance of travel guides for both cities, but few actually comparing them, and advising you which is the better for your trip.
This article will provide our unbiased and independent views of Marrakesh and Riga, hopefully making your choice that little easier.
The article is divided into the following sections, and can be jumped to using the links:
• Introduction to the cities
• Scores and ratings
• Which one should I, friends, or family visit?
• When to visit and weather
• Who is the city suited for?
• The perfect 48hours (with map)
• Tourism details (where to stay? airport details?)
Riga is a cool and collected Baltic capital Bridging both sides of the Daugava River estuary, its laid-back districts effortlessly flit from elegant Art Nouveau to stoic northern cottages built from wood.
But it's the Old Town area that really draws the eye. That's a web of cobbled alleys and hidden squares. Onion domes and Gothic belfries loom overhead in those parts, and hearty Latvian taverns slosh with beers and burst with dumplings in cellars beneath the flagstones.
Be warned that Riga has developed a reputation for stag and hen do weekending. If you travel during the summer, you're likely to encounter at least one group of boozed-up Brits.
But that shouldn't put you off. There are enough craft beer joints, bohemian cafes, and restaurants to go around. What's more, the old guild houses and haunting churches can balance the experience out with a dollop of culture and history.
The Swedish Gate one of the original gates in Riga's fortifications
Mystical and magical, Marrakesh could have been plucked from One Thousand and One Nights.
A city of souks and madrassahs, it will enthrall with its spice markets, lantern bazaars, pottery hawkers, carpet stalls – the list goes on. All that resides in the throbbing medina area, anchored on Jemaa el-Fnaa square, where you'll dodge snake charmers, fortune tellers, monkey tamers, and dance troupes come the evening.
Around the medieval centre of town is a sprawling modern city. Neighborhoods there come in the form of stylish Gueliz, with its Parisian-influenced boulevards and palm-lined streets.
There's also the Jardin Majorelle, where the designer Yves Saint-Laurent has wrought the cacti plumes and the ponds into something truly special.
Riga castle stands along the Daugava River
The skyline of the Marrakesh with the Atlas Mountains covered in snow in the distance
Summary
Where would I journey for a personal escape?
Marrakesh
Where would I send my parents for a memorable visit?
Riga
Where's the ideal destination for my adventurous 19-year-old cousin?
Marrakesh
Where should my food-obsessed friend indulge their culinary passions?
Marrakesh
Note: The above comparisons are weather-independent and are based on travel during the most opportune times of the year. Details about the ideal travel seasons are elaborated upon later in this article.
In the sections that follow, you'll find a comprehensive comparison between these two fascinating cities. This includes recommendations on the duration of stay, the best times to visit, and tailored 48-hour itineraries for each city.
The final segment delves into practicalities for your travels, such as the best airport to fly into, the optimal districts for your accommodation, and insider tips, for when you come to explore the city.
We hope that you find all of this information useful, in planning your next exciting trip!
How long to spend each city?
Two or three days is usually enough to get a good feel for the character and charms of Marrakesh.
In fact, lots of travellers say that any more than that is downright exhausting. That's because the touts and hawkers in the bazaars don't ever give up, and there's not much of a conception of personal space.
Still, 48 hours or so shouldn't be too overwhelming. And it will be plenty to check off the medina, the Majorelle Garden, stoic Koutoubia Mosque, and the lovely parks, all while having enough time to enjoy the enchanting riad hotels offered by this corner of the world.
Lots of travellers will be tempted to stay longer by the promise of the Atlas Mountains that loom on the horizon. If you can, a jaunt to those is definitely a good idea. It's a bus of a few hours up to the trekking hub of Imlil. From there, you can get a guide to navigate some gorgeous trails, and even climb the highest peak in North Africa (Mount Toubkal at 4,167 metres).
Riga might be the largest of the three Baltic capitals, but it's still a relatively small city. You can get from end to end in less than 40 minutes in the car, while the districts that are of interest to travellers are all within walking distance of each other.
That helps if you're only planning a short weekend away. Fly-in, fly-out city breaks are totally doable. In fact, a couple of days is what the majority of travellers come for.
If you want to explore for longer, you might want to come during the summertime. Not only can the winters here get downright cold (more on that later), but Riga is close to the some of the most celebrated beach resorts on the whole Baltic coast.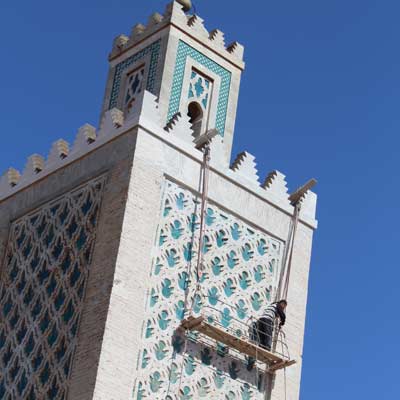 Cleaning the Kutubiyya Mosque tower, Marrakesh
The skyline of central Riga, with Riga cathedral at the centre
The Baltic summers are a tamer version of the warm season in the south of the continent. It's pleasant here when the temperature squeezes into the low 20s. Then, Riga goes al fresco in earnest.
The cafes on the main squares in the Riga Old Town buzz with life and chatter. There are students and backpackers sharing stories in the beer bar gardens at evening. Those, coupled with the enticing beaches of Jūrmala, are all reasons to plan to arrive sometime between June and September.
Winter in this corner of the continent can be cold. Really cold. It's not uncommon to see whole weeks go by without the thermometers passing single figures, or even positive numbers! Snow is normal, too, so it's wise to pack underlayers and good boots to hit the sightseeing trail anytime from November onwards.
It's no secret that Morocco gets hot. In fact, the summertime here can see temperatures exceed 40 degrees on a regular basis. That's not good for sightseeing and walking around. In fact, it can be downright exhausting. What's more, the crowds spike in Marrakesh between July and August, as holidaymakers flock in, even despite the soaring mercury levels.
Much better options are spring, in April, and autumn, in October. They have average highs in the upper 20s, and hardly a drop of rainfall. It's probably wise to avoid Ramadan dates, however, because that can affect transport and hotel services. Marrakesh also offers winter sun. Drop in between November and March to find average warmth of 18 degrees and clear blue skies. Evenings can be cool then, so a jumper is advisable.
Riga does well to distil rich Baltic history, a touch of hedonism, and authentic culture into a bitesize destination. With a population of under 650,000, you're not going to have to navigate a colossal megacity to get stuck into the action here.
You can spend most of your time walking from sight to sight, and enjoy relaxed dining and nightlife scenes to boot. It's one for the more chilled traveller.
The flip side of all that is that Riga isn't some bucket-list-busting capital. It's not got huge, world-famous sights. Instead, it's about enjoying the atmosphere, the regional food, and the intriguing merchant heritage of the place. You also might want to steer clear of the city if you hate the sight of stag and hen dos. They are rampant between June and August especially.
Feeling adventurous? Then, yes – Marrakesh is for you! An amazing place of spice smells and pandemonius markets, it's nothing like the cities you find on mainland Europe. You'll be hassled at every corner.
You'll dodge donkeys and hurtling minibuses. You'll encounter strange snake charmers and magicians. But all that is part of the fun, and what makes this Moroccan jewel the perfect place to break away from the comfort zone.
There's also something of a luxurious edge to Marrakesh. If you're willing to fork out for a hotel, then you can bag some seriously plush places, whether it's an inner-city riad with flower-filled courtyards or an oasis resort with infinity pools overlooking the Atlas Mountains.
House of the Blackheads in Riga
The Jamaa el Fna market square at sunset
Follow this fun-filled itinerary to make the most of your trip to Marrakesh. In just 48 hours, it packs in broiling tagines and stunning mosques, not to mention walks through the famous souks.
Day 1: Dive straight into the souks. Frantic and fun, these are the lifeblood of Marrakesh; ancient marketplaces where Berbers and spice traders once plied their trade. Things are now a little more tourist orientated. Head to D.El Maâden street and you'll find handcrafted leather bags and sandals.
Coming off that is the souk of the Babouches, where tanned slippers burst from every cobbler shop. You can then move to Souk Chouari to find whittled trinkets and statues in the carpenter's quarter. Still going north, you soon come to Souk des Teinturiers, where the pungent smells of tanning chemicals herald the leathermaker's market.
Double back and walk past Cafe Árabe to refresh with some mint tea and biscuits. Then it's into the heart of the medina, where the hubbub of Souk Semmarine unfolds with lantern shops, pastry vendors, and sparkling gold jewellery. Also be sure to breeze through the fragrant Souk Et Attarin, stacked with colourful soaps and all sorts of healing herbs.
Southwards brings you along Kennaria dabachi street, home to the veggie-friendly Corner Café and its falafel pitas (a great lunch). South again and you'll hit the Bahia Palace.
A whopping 160 rooms fronting vast courtyards and palm-topped gardens awaits there – a glimpse onto the grand old age of the viziers back in the 1800s. For dinner, return to the souks to find loads of spots selling aromatic tagines in traditional clay pots.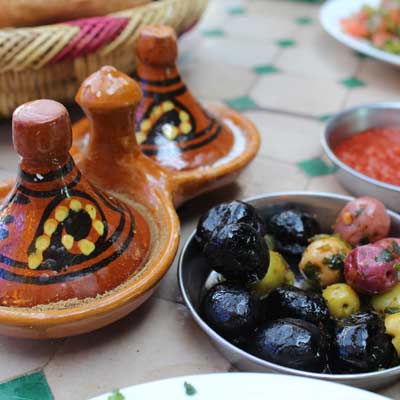 Expect delicious food while in Morocco
Day 2: Don't be tempted by the allure of the bazaars right away. The other – more modern – half of Marrakesh awaits on day two. Find that to the west and north of the medina, holding the secret Majorelle Garden. This is unquestionably one of the city's (and all of Morocco's) most enchanting attractions.
A pleasure park that has been landscaped and curated by, among others, the French fashion designer Yves Saint-Laurent, it hosts a vivid blue villa and ponds peppered with lily pads. Beyond is the district of Gueliz. That was built in the image of France, so expect wide boulevards and chic café-bakeries, along with classy clothes stores and bistros.
For lunch, the quiet Cyber Park is a great place for a picnic. It's got babbling fountains and benches in the shade of date palms, all framed by the snow-capped Atlas Mountains. It's also a short walk from there to Jemaa el-Fnaa – the great plaza in the middle of the city.
Arrive in the early evening and you'll see entertainers of all sorts. Curious dancers, mystics speaking in tongues, the infamous snake charmers – they all make an appearance. To the side is the wonderful Koutoubia mosque, which looks especially handsome during sunset.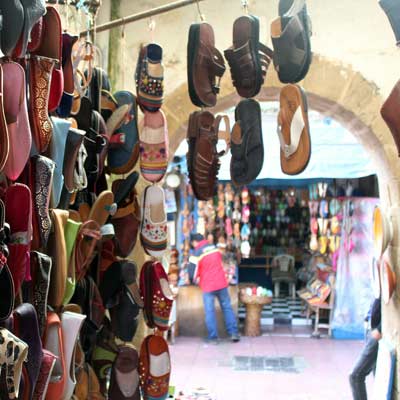 The colourful markets of Marrakesh
Majorelle Gardens
Hop between the charming plazas and Art Nouveau neighbourhoods of Riga with help from this curated itinerary. It lasts two days and includes most of the mainstream sights and some hidden extras for good measure:
Day 1: Breeze straight into the Riga Old Town. This medieval maze of a district is a fairy-tale place to be. It's also got a glut of sights. Start on the square topped by Saint Peter's Church. The oldest Christian building in the city, it's been rebuilt and reconstructed many a time.
You can scale the 120 or so metres to the top of the spire to get 360-degree views of the river, the capital, and even the Baltic coast. Back on ground level and a few streets over, you can see beautiful Town Hall Square. The most eye-catching building in the city looms on one side.
It's the so-called House of the Blackheads, where rich bachelor merchants held court for several hundred years. Delve inside for exhibits that unravel the enthralling past of the city since the age of the Hanseatic League.
Move northwards through Dome Square to have sunny lunches under the handsome cathedral building. Then push on to Riga Castle. First raised in 1330, it's gilded with additions that were built by the Swedish invaders of Latvia.
As evening closes in, you could opt to join the famous Riga Pub Crawl. They hit a number of underground Latvian taverns and then a pumping club.
The cobbled streets of Riga's old quarter
Day 2: Hangover or not, you should rise early and make for the western area of Miera Iela. The cracked-plaster façades of the old buildings there herald what's surely the most hipster and creative corner of the city. Students and young professionals are everywhere, and there are some top brunch spots to kick start your morning. Then bear eastwards, back towards the Old Town.
On the way, you'll have to navigate Centrs district. Your first pitstop should be Alberta 12, where a grand edifice decorated with statues of nymphs and floral motifs commands the attention. It's one of the finest examples of the Art Nouveau style for which Riga is famous. Inside, you'll even find the Riga Art Nouveau Museum, which chronicles the architectural and design style from the turn of the century onwards.
Lunch can be had in the new town area to the south – Dzirnavu Iela especially has some charming café-bars and great shopping. The pretty walking paths of Vermane Garden can be perfect for an afternoon stroll if the sun is shining. They will take you all the way to the vibrant Pilsetas kanals garden, the home of the town's padlock-covered love bridge that's in good proximity to some hearty Old Town taverns for dinner.
The freedom Monument – the three stars represent the three regions in Latvia
The Art Nouveau on the Alberta 12
Marrakesh
Marrakesh Menara Airport sits just to the west of the heart of the city. It's now a major arrival point for low-cost carriers coming out of Europe, but also has premium flag-carrying airlines and domestic services coming into its runways. The distance from terminal to souk is just three miles.
However, you'll need to push a hard bargain with the taxi drivers outside for even that short journey – they're renowned for their scams and inflated prices. A fair rate is around 40-50 MAD. There's also a bus. Look for the No 19 Airport Express costing 30 MAD with a free return included if you make the trip within a fortnight.
You'll certainly need to have your wits about you in Marrakesh. Unlike any European city, it's hectic and in-your-face. There's always someone trying to sell you something or hassle you into taking a tour.
A simple 'no' and a determined walk past them is usually enough to shake off the attention. Always haggle for taxis and goods but try to keep the bartering light-hearted and fair. It's also best not to walk through the Guéliz district after dark – it's known for being the riskier area.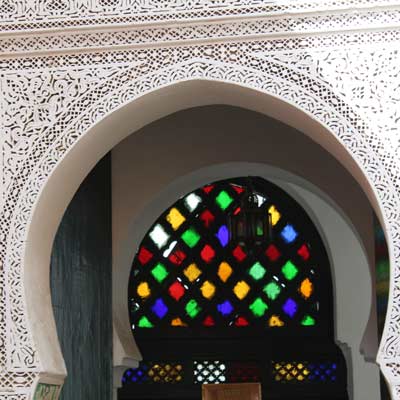 Beautiful Islamic art in Marrakesh
Hotel wise, there's really nothing like a classic Moroccan riad. In fact, we'd go as far as to say don't book anything else in Marrakesh. They're old, Berber mansions that are centred on a tiled courtyard that either has a babbling fountain or a small splash pool.
You can pay less and get a more traditional one, but the luxurious riads are an experience in themselves. They typically exist in the medina area and on its fringes.
Riga
Riga International Airport is the largest in all of the Baltic states. It's served by flights originating all over Europe, in Russia, and even the Middle East. Bus 22 and plenty of private taxi firms offer connections to the city, though you'll need to be wary of scam drivers who often crank up the price to €80 or more! The trip to the downtown from the terminals usually takes no more than 30 minutes.
You shouldn't need to deal with any public transport on a city break to Riga. The town is nice and compact, so a good pair of shoes and a willingness to walk is usually enough to get around. That said, there are streetcars, buses and minibuses on the same network. Grab yourself an e-talons ticket to use the lot. Each ride costs €1.15 and needs to be renewed if you transfer.
You'll almost certainly want to seek out a hotel in Riga Old Town. That will put you right in the thick of the action. We'd recommend steering clear of Audēju Iela, though.
It's vibrant and lively, but the pumping bars can make it hard to sleep at night. Quieter areas include the northern portion of the district and the streets around Riga Castle.
Riga castle is official residence of the Latvia President
Keep your guard up when walking around Riga, particularly after dark or a few beers. The capital is generally safe, but areas like Maskavas Forštate should be avoided. Pickpockets and petty theft, along with taxi scams, tend to be the biggest dangers of all.