Istanbul or Florence; a vs city comparison and travel guide
Both Florence and Istanbul are fantastic cities, but which is better for your city-break or holiday?
We understand your dilemma. There is an abundance of travel guides for both cities, but few actually comparing them, and advising you which is the better for your trip.
This article will provide our unbiased and independent views of Florence and Istanbul, hopefully making your choice that little easier.
The article is divided into the following sections, and can be jumped to using the links:
• Introduction to the cities
• Scores and ratings
• Which one should I, friends, or family visit?
• When to visit and weather
• Who is the city suited for?
• The perfect 48hours (with map)
• Tourism details (where to stay? airport details?)
Florence comes at you in a flurry of priceless art, pastel-painted jewellers, romantic piazzas, marble-gilded basilicas, and saffron-scented risotto. Nestled into the rolling Arezzo hills in the northern part of Tuscany, this is the very birthplace of the European Renaissance.
Florence flows in its 15th-century brilliance; there's the Uffizi Gallery - home to works by Michelangelo and Sandro Botticelli - and the handsome Ponte Vecchio bridge.
Delve beneath the famed sights and Florence is a lived-in Italian metropolis. Locals devour lampredotto sarnies while glugging Chianti reds in hidden trattoria.
Florence's allure is as classical as the city itself, but be warned you will be sharing the experience with many others, as there will be crowds!
With one foot in Europe and the other in Asia, Istanbul is the bridge between two continents. As much of a cliché as that might sound, this really is a place where you can wander between spiked mosque minarets on one street and be gazing at a Byzantine cathedral the next, and where shisha smoke mingles with the smells of falafel;
Most travelers aim for the north-western portion of the city, and separated from Asian Turkey by the Bosphorus Strait. Its districts include enthralling Sultanahmet – the home of the iconic Topkapi Palace and the legendary Hagia Sofia – and vibrant, youthful Galata.
Those who prefer off-the-beaten-track adventures can go over to Asian Istanbul, for atmospheric areas laced with hookah plumes and bazaars.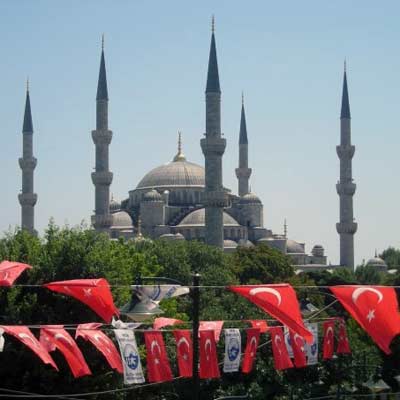 The Blue Mosque in Istanbul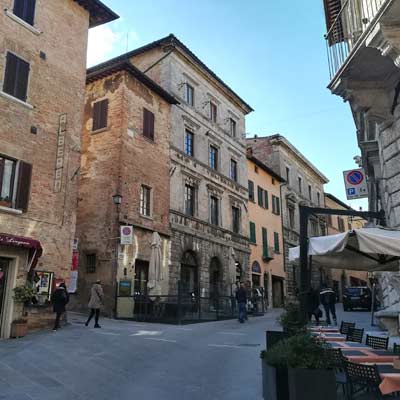 Every street in Florence is characterful
Summary
Which city would I go to?
Istanbul
Which one would I recommend to my parents?
Florence
Which location for my 19-year-old cousin?
Istanbul
Which for my food obsessed friend?
Florence
Note: The above comparison does not consider the weather, and assumes travel at the best time of year - which is detailed later in this article.
The following sections compare the two cities and considers; how long to spend in them, when to visit, and provides suggested 48hours in each city (along with an interactive map).
The final section is tourism practicalities and includes which airport to fly into, what district to be based in and how best to explore the city.
We hope that you find all of this information useful, in planning your next exciting trip!
How long to spend each city?
Don't think you can distil Istanbul into a few short days. Even with weeks to explore, this vast metropolis (it's one of the largest in the world, let alone Europe) will surely still hold secrets. That said, a fly-in jaunt for a weekend is always going to be fun. You'll just need to pick your side of town and focus on the sights you want to see the most. So, choose between the Old City streets and Asian Istanbul before arriving, and plan accordingly if time is limited.
For those with longer to spare, this great Turkish town is your oyster. You'll be able to cross the Bosphorus to explore districts of steamy hammams and mosques. You can have whole days in the Grand Bazaar and Ottoman palaces. You might even be able to head over to Agva (for beaches) and the islands of Marmara (for wild hikes in pine woods). Basically, having too much time is rarely an issue.
Florence demands at least two days. Lovers of this enchanting town will surely scoff at that. They wax lyrical about how Florence seduces folk who pass its way into staying weeks, months, years, and even whole lifetimes. Still, we think it's possible to check off the main sights, try the top dishes, and explore the historic center with around 48-72 hours total.
In the peak season there are extremely long queues for the galleries and Duomo cathedral; to avoid wasting precious time, it is advisable to pre-purchase tickets and start the day sightseeing very early (before 8am).
There are many good day trips from Florence, which are easily accessible by train, and include Siena, Lucca, and Arezzo. Florence may be a smaller city, but a fabulous one-week holiday could be had based here.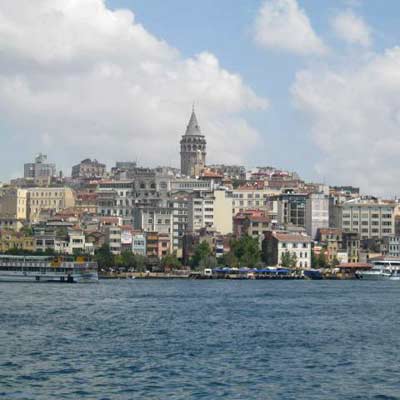 The Beyoglu district in Istanbul with the medieval Galata tower rising above this historic section of the city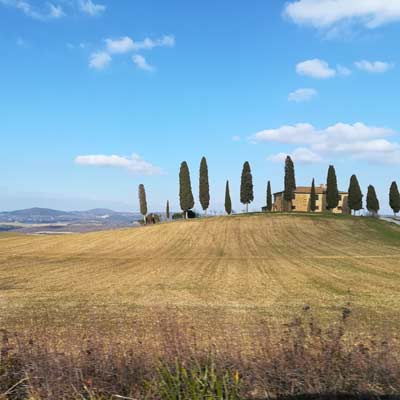 Tuscany is a beautiful region to discover
When things get hot in Istanbul, things get really hot. In fact, it's not uncommon for summertime temperatures to creep over 30 degrees. What's more, June to August is when the crowds come, packing out sights like the Grand Bazaar.
The upshot here is that spring and fall reign as the top times in the calendar to plan a visit. March, April, September and October tend to be cooler, less busy and less expensive.
Winter can bring snows. Photographers will adore the city when it's blanketed, as the Hagia Sofia and the Blue Mosque look simply stunning under a sheen of the white stuff. However, the months from November to February can be bitterly cold, so off-season visitors will need to wrap up warm and forget having al fresco Turkish coffees on the street side.
You've got to remember that Florence is up there with the most famous in Italy, and the vast majority of the 15.4 million visitors that come annually turn up in the summer months! That sends hotel rates skywards between June and August and means you'll need to jostle for space in front of Giotto's Bell Tower and the Duomo.
The ideal time to visit Florence is from April to June or September and October. They have good weather, fewer people, and cheaper prices, not to mention food festivals and wine harvest events. Winters are cooler and possibly wet but have the lowest number of tourists.
Culture and art are the pillars of Florence. Lovers of the late Middle Ages and the Renaissance will feel right at home between the Accademia Gallery and the Uffizi. Within their halls are iconic sculptures like Michelangelo's David, The Birth of Venus by Botticelli, and Caravaggio's haunting Medusa. And that's only scratching the surface!
Adding to the mix are the intriguing collections of the Museo Galileo for science buffs, the Ponte Vecchio for architecture aficionados, and tasty Tuscan farm foods for gourmands. Downsides include high visitor numbers, so it's best to steer clear if you're not a fan of crowds, particularly in the summer.
Florence is not an overly expensive destination, is relatively safe and has a small city atmosphere.
There's no doubt that Istanbul is one of the more adventurous and unusual breaks for European travellers. Most folk come to Turkey on package holidays, with pre-booked hotels by the sea. But this destination forgoes all that in favour of enthralling Ottoman history and heady bazaars.
It's a place that will help you break out of the comfort zone and push your boundaries a little.
Those keen on seeing a city that's walkable and compact should certainly steer clear of Turkey's largest. At 15.5 million strong and covering two separate continents, this isn't a bitesize destination by any stretch.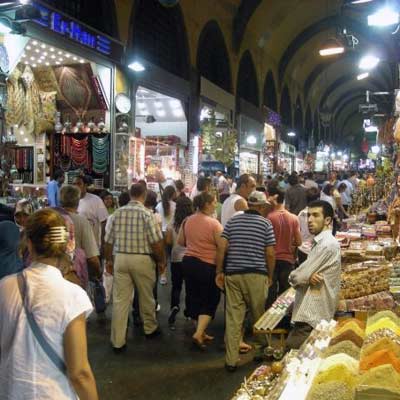 The lively and chaotic Grand Bazaar in Istanbul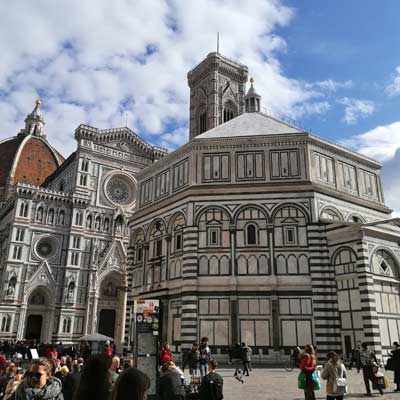 The Duomo has a gothic design, but the façade is covered in red green and white marble
You can unearth some seriously jaw-dropping sights, taste some unforgettable food, and get a grounding in Turkish history with only 48 hours to spend in Istanbul.
Day 1: There's really nowhere else to begin but Sultanahmet. This is the Istanbul you will have seen on the postcards; the land of minarets and mighty mosque domes. The kingpin of it all is the colossal Hagia Sophia.
In its long life of more than 1,500 years it's been an Orthodox cathedral and a mosque. It's now a museum containing gorgeous mosaics and frescos, although the star of the show is still its dome, flaunting an amazing 30-metre diameter.
Sitting opposite just to the south is the majestic Blue Mosque. Built in the early 1600s, it's still in working order. And even more history awaits in the Topkapi Palace Museum, which is a few blocks northwards. That sprawling complex reigned as the home of the Ottoman sultans. It's now a UNESCO site and occupies a stunning perch above the Bosphorus.
A pitstop at the Tarihi Sultanahmet kofta house is a must for those keen on trying traditional Turkish meatballs – the joint's been in operation since the 1920s!
From there, it's not far to the Grand Bazaar. One of the largest markets on the planet, it's a haven for haggling and souvenir shopping, where lantern sellers converge on sari stalls and shisha houses.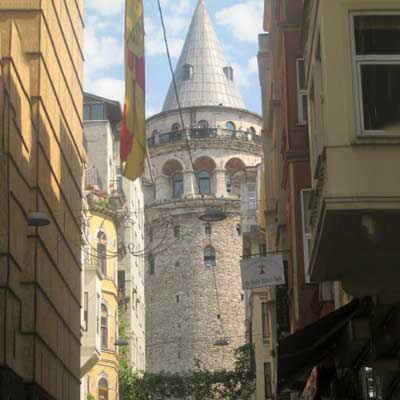 Galata tower is at the heart of the Beyoglu district
Day 2: Big, modern Taksim Square starts day two with a sighting of what 21st-century Istanbul is all about. Be sure to take a glimpse of the honorific statue at its heart.
That's the Republic Monument, made to celebrate the foundation of the Turkish state in 1928. Nearby Istiklal Street has abundant choices on the food front, no matter if you're craving a gritty Turkish coffee or a regional breakfast spread of mezze cheeses, flatbreads, and olives.
It's also a busting artery of the city, with high-street shopping and a classic trolley car running its length. One thing you can't miss – literally! – here is Galata Tower. Built by the Genoese to protect their European strongholds from the east, it's a mind-blowing fortification that boasts sweeping panoramas from its top floors.
Your afternoon session should be dedicated to exploring the Bosphorus. There's really no better way to do that than on a boat. Some cruises even offer stops in Asian Istanbul and meals with the sunset to boot.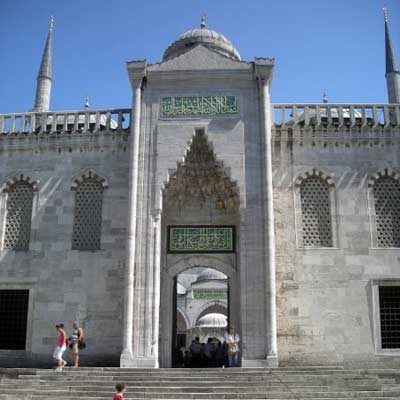 The entrance to the Blue Mosque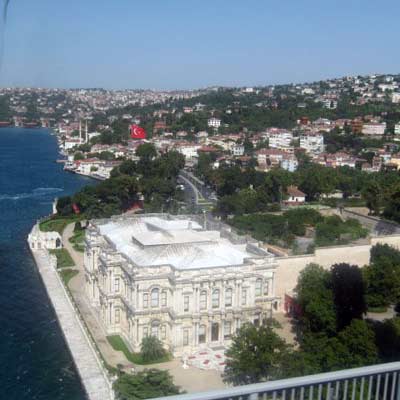 The Beylerbeyi Palace was the summer residence of the Sultan
48 hours in Florence
Early morningstarts are key in Florence, to hit the galleries and basilicas before the crowds. Don't worry, though, this two-day itinerary has time to rest with beautiful views in Renaissance gardens come the afternoon…
Day 1: Make for the Piazza del Duomo for the break of dawn – seriously, the earlier you can get there the better. That way, you can snap shots of the great cathedral and adjacent Giotto's Bell Tower without plumes of visitors getting in the way!
Look to the green-white marble inlays and the striking Gothic Revivalism of the whole building and think about hitting the 87-meter high lookouts of the belfry for some sweeping views across the city and the Apennines.
Traditional Tuscan design oozes from the lovely Palazzo Vecchio on Piazza della Signoria – this is the town hall, dating from way back in the 1400s. Grab an on-the-go pizza slice and make north to Galleria dell'Accademia after that.
A quick in and out there should be enough to appreciate the wonderful David statue by Michelangelo, before hopping back to the riverside and crossing the Ponte alle Grazie (have the camera ready).
For sunset, a climb to the Piazzale Michelangelo is a must. The panoramas include the Tuscan hills and the pastel-painted tops of the city, which look stunning as the light dips low.
For dinner try the regional meal of Bistecca alla Fiorentina (Florentine steak).
The shops along the Ponte Vecchio traditionally sold jewellery
Day 2: It's a museum morning in the famous Uffizi Gallery on day two. For art lovers, the journey here is a rite of passage. The collections span several wings of a great palace in the heart of central Florence and can take hours on end to appreciate fully.
Highlights that simply can't be missed include The Birth of Venus (Botticelli), Laocoön and his Sons (Bandinelli), Raphael's portrait of Pope Leo X, and Caravaggio's unforgettable Medusa. Back outside, the Ponte Vecchio bridge isn't far. It was once a butcher's market but is now famous for its jewellery boutiques.
On the hills beyond are the handsome Boboli Gardens, all brimming with babbling fountains and carved statues. Further up again is Forte di Belvedere, where even more breathtaking views of Florence are on offer come the evening.
The Uffizi Gallery exhibits the greatest collection of Renaissance art
The statue of David is regarded Michelangelo finest work
Florence
The best place to touchdown on a flight is surely Amerigo Vespucci International Airport. A mere 15 minutes' drive (7km) in a taxi, or 30 minutes in a train, can link you from the downtown to the terminals there.
Unfortunately, the bulk of Europe's budget carriers will jet into Pisa. That's still close – around 1-1.5 hours (83km) in the bus to the west.
Avoid flying into Bologna, as this is even further away (115km), and bus transfer 1.5-2 hours.
You definitely won't have to worry about finding somewhere to stay. From slick boutique hotels to simple hostels, Florence has all sorts. The town's primary industry is tourism, after all. Just expect prices to soar in the middle of the summer, before dropping again around the start of September.
The Piazza della Signoria
In terms of neighborhoods, you'll want to focus on bedding down within the SS67 ring road. More specifically, the districts of San Giovanni (the historic core) and Santa Croce are perhaps the most central, even if the latter retains a lived-in Italian feel. San Marco is a whisker to the north, hosting the bulk of the low-cost hotels and guest houses. Oltrarno boasts buzzy nightlife venues and hip coffee shops.
Related articles: Where to stay in Florence?
You probably won't need any forms of transport in Florence other than your own two feet. The town is eminently walkable. Be sure to bring comfy shoes that are suited to long days, however, especially if you're keen to scale to the lookout points around Piazzale Michelangelo.
For exploring the surrounding region, a rental car is a must. These tend to be cheap in Italy and are best organised from the airport to avoid driving through the centre of town.
Aside from the infamous Stendhal syndrome – a condition supposedly caused by exposure to too much beautiful Florentine art – there are no standout risks to visiting this city. The centre is generally safe and well maintained, crime rates are relatively low, and the locals are often happy to help out.
The modern Istanbul New Airport is the main hub serving this big city. It handles the largest amount of air traffic in Turkey, so expect to find lots of connections in from Western Europe and beyond. Regular shuttle buses link the terminals with the downtown in around 50 minutes to one hour, but, be warned, travel times can vary greatly depending on traffic. The smaller Sabiha Gokcen International Airport hosts most of the services coming in from across the Middle East. It's over on the south side of the metropolis.
Public transit in Istanbul is just what you might expect from a vast, consistently expanding megacity. The best way to go about getting from A to B is to bag yourself an Istanbulkart. It's an all-in-one pass to the town's multi-faceted transport networks, allowing holders to use buses, trams, trains, metros, and even a few of the ferries. You'll need to buy your card from a kiosk and then top it up with credit to make journeys.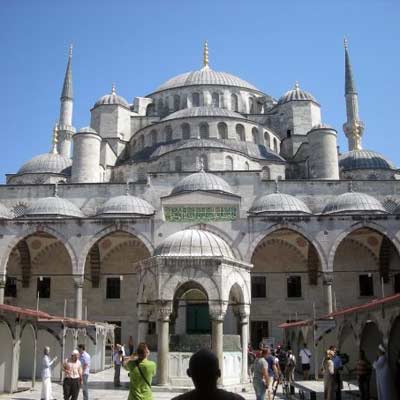 The Sultan Ahmed Mosque
Istanbul's tourist areas suffer from the same scams as many other European cities. Fake guides, pickpockets and unregistered taxis are particularly common, so be sure to have your wits about you when sightseeing. Be wary when converting cash in the Old Town area too, because extortionate commission rates and even fake banknotes have been reported.
Choosing a hotel in Istanbul really depends on what you want. Sightseeing in Sultanahmet is what most people come for and there are loads of hotels to pick there, even if paying a premium is normal. Beyoglu is better if you're after chain hotels and boutique stays, and it's right on the more modern and happening part of town. Asian Istanbul will likely be cheaper, but also a ferry ride from the most famous attractions.