Warsaw or Istanbul a vs city comparison and travel guide
Both Warsaw and Istanbul are fantastic cities, but which is better for your city-break or holiday?
We understand your dilemma. There is an abundance of travel guides for both cities, but few actually comparing them, and advising you which is the better for your trip.
This article will provide our unbiased and independent views of Istanbul and Warsaw, hopefully making your choice that little easier.
The article is divided into the following sections, and can be jumped to using the links:
• Introduction to the cities
• Scores and ratings
• Which one should I, friends, or family visit?
• When to visit and weather
• Who is the city suited for?
• The perfect 48hours (with map)
• Tourism details (where to stay? airport details?)
At once cutting-edge and steeped in history, vibrant and packed with chilled-out parks, Warsaw is the beating heart of modern Poland.
In many ways, it's a metropolis of contradictions. UFO-like shopping malls loom large on one corner, while a USSR-era skyscraper crowns the square next door. The Old Town looks medieval but it's actually a total reconstruction following the WWII. And the food scene oscillates from hearty Slavic dumplings in traditional milk bars to chic Michelin star restaurants.
But all that's part of the fun. You never really know what's around the corner in this happening capital. From romantic walks through Łazienki Park to sobering tales of anti-Nazi uprisings, masterworks of Polish art in the national galleries to fair-trade coffee roasteries in hipster Mokotow district, there's oodles to add to the itinerary.
With one foot in Europe and the other in Asia, Istanbul is the bridge between two continents. As much of a cliché as that might sound, this really is a place where you can wander between spiked mosque minarets on one street and be gazing at a Byzantine cathedral the next, and where shisha smoke mingles with the smells of falafel;
Most travelers aim for the north-western portion of the city, and separated from Asian Turkey by the Bosphorus Strait. Its districts include enthralling Sultanahmet – the home of the iconic Topkapi Palace and the legendary Hagia Sofia – and vibrant, youthful Galata.
Those who prefer off-the-beaten-track adventures can go over to Asian Istanbul, for atmospheric areas laced with hookah plumes and bazaars.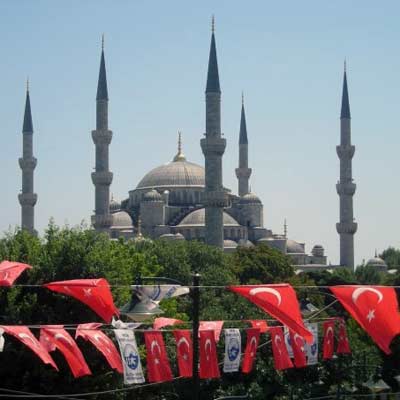 The Blue Mosque in Istanbul
The historic centre of Warsaw
Summary
Which city would I go to?
Istanbul
Which one would I recommend to my parents?
Istanbul (via a guided tour)
Which location for my 19-year-old cousin?
Istanbul
Which for my food obsessed friend?
Istanbul
Note: The above comparison does not consider the weather, and assumes travel at the best time of year - which is detailed later in this article.
The following sections compare the two cities and considers; how long to spend in them, when to visit, and provides suggested 48hours in each city (along with an interactive map).
The final section is tourism practicalities and includes which airport to fly into, what district to be based in and how best to explore the city.
We hope that you find all of this information useful, in planning your next exciting trip!
How long to spend each city?
Don't think you can distil Istanbul into a few short days. Even with weeks to explore, this vast metropolis (it's one of the largest in the world, let alone Europe) will surely still hold secrets. That said, a fly-in jaunt for a weekend is always going to be fun. You'll just need to pick your side of town and focus on the sights you want to see the most. So, choose between the Old City streets and Asian Istanbul before arriving, and plan accordingly if time is limited.
For those with longer to spare, this great Turkish town is your oyster. You'll be able to cross the Bosphorus to explore districts of steamy hammams and mosques. You can have whole days in the Grand Bazaar and Ottoman palaces. You might even be able to head over to Agva (for beaches) and the islands of Marmara (for wild hikes in pine woods). Basically, having too much time is rarely an issue.
Warsaw can be done quickly. Just a few days is all you'll need to see the Old Town, the Palace of Culture and Science, the grand parks, and the main museums. To squeeze the lot in, you'll need to make use of the extensive public tram and bus networks. It might be worth considering a 72-hour (36 PLN) ticket, which you can buy at newsagent kiosks.
Of course, if you've got extra time to spare, Warsaw will always be able to fill it. Once you've checked off the main attractions, there are stacks of more local sights, eateries, and activities to get stuck into. They include café hopping down in hipster Mokotow, tasting ethnic foods in multicultural Praga, and even day outings to the Kampinos Forest or the post-industrial city of Łódź.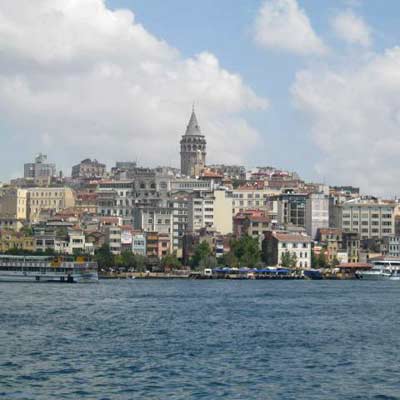 The Beyoglu district in Istanbul with the medieval Galata tower rising above this historic section of the city
The Park Royal Baths Park (Łazienki Królewskie) is the largest park in Warsaw and a great location for a summers day
When things get hot in Istanbul, things get really hot. In fact, it's not uncommon for summertime temperatures to creep over 30 degrees. What's more, June to August is when the crowds come, packing out sights like the Grand Bazaar.
The upshot here is that spring and fall reign as the top times in the calendar to plan a visit. March, April, September and October tend to be cooler, less busy and less expensive.
Winter can bring snows. Photographers will adore the city when it's blanketed, as the Hagia Sofia and the Blue Mosque look simply stunning under a sheen of the white stuff. However, the months from November to February can be bitterly cold, so off-season visitors will need to wrap up warm and forget having al fresco Turkish coffees on the street side.
If you don't want to wrap yourself up in cotton wool and thermals every time you step outside, it might be best to avoid the winter months in Warsaw. From November to December, below-zero temperatures are normal in the Polish capital, along with icy rain, sleet and snow.
Most locals often say that spring and early autumn are the sweet spots. While summer's warm, it can often be humid, and there's no beach or ocean nearby to help you cool off. Months like April and May see milder days and cool nights, while September is prime time to wander the famous parks of Warsaw, as the trees begin to change colour and glow orange, ochre and yellow.
Warsaw really charms those who love fast-paced, buzzing capital cities. While the Old Town is a stunner, it's not the main show. Instead, you'll spend your hours exploring vibrant and lived-in neighborhoods that burst with fusion eats and fine dining. You'll embark on craft beer tours and have artisan breakfasts in kitschy cafes.
On the flip side, there's some seriously immersive history. The Warsaw Uprising Museum and the POLIN exhibitions are fine introductions to the struggle of the Polish people and Polish Jews during Nazi occupation. You've got the 800,000 pieces of the acclaimed National Museum to get through. And there are grand parks with Chinese gardens and monuments of Chopin.
There's no doubt that Istanbul is one of the more adventurous and unusual breaks for European travellers. Most folk come to Turkey on package holidays, with pre-booked hotels by the sea. But this destination forgoes all that in favour of enthralling Ottoman history and heady bazaars.
It's a place that will help you break out of the comfort zone and push your boundaries a little.
Those keen on seeing a city that's walkable and compact should certainly steer clear of Turkey's largest. At 15.5 million strong and covering two separate continents, this isn't a bitesize destination by any stretch.
The gothic Saint Florian's Cathedral in Warsaw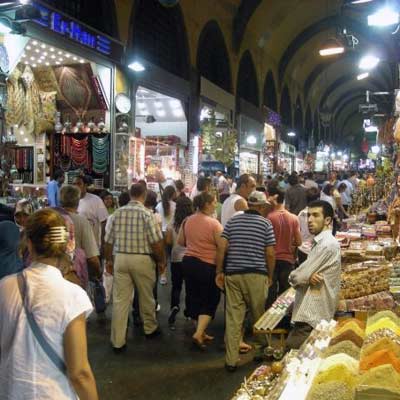 The lively and chaotic Grand Bazaar in Istanbul
You can unearth some seriously jaw-dropping sights, taste some unforgettable food, and get a grounding in Turkish history with only 48 hours to spend in Istanbul.
Day 1: There's really nowhere else to begin but Sultanahmet. This is the Istanbul you will have seen on the postcards; the land of minarets and mighty mosque domes. The kingpin of it all is the colossal Hagia Sophia.
In its long life of more than 1,500 years it's been an Orthodox cathedral and a mosque. It's now a museum containing gorgeous mosaics and frescos, although the star of the show is still its dome, flaunting an amazing 30-metre diameter.
Sitting opposite just to the south is the majestic Blue Mosque. Built in the early 1600s, it's still in working order. And even more history awaits in the Topkapi Palace Museum, which is a few blocks northwards. That sprawling complex reigned as the home of the Ottoman sultans. It's now a UNESCO site and occupies a stunning perch above the Bosphorus.
A pitstop at the Tarihi Sultanahmet kofta house is a must for those keen on trying traditional Turkish meatballs – the joint's been in operation since the 1920s!
From there, it's not far to the Grand Bazaar. One of the largest markets on the planet, it's a haven for haggling and souvenir shopping, where lantern sellers converge on sari stalls and shisha houses.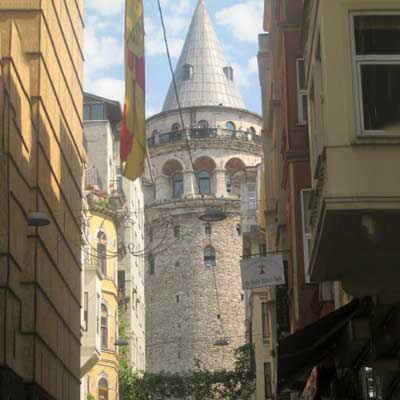 Galata tower is at the heart of the Beyoglu district
Day 2: Big, modern Taksim Square starts day two with a sighting of what 21st-century Istanbul is all about. Be sure to take a glimpse of the honorific statue at its heart.
That's the Republic Monument, made to celebrate the foundation of the Turkish state in 1928. Nearby Istiklal Street has abundant choices on the food front, no matter if you're craving a gritty Turkish coffee or a regional breakfast spread of mezze cheeses, flatbreads, and olives.
It's also a busting artery of the city, with high-street shopping and a classic trolley car running its length. One thing you can't miss – literally! – here is Galata Tower. Built by the Genoese to protect their European strongholds from the east, it's a mind-blowing fortification that boasts sweeping panoramas from its top floors.
Your afternoon session should be dedicated to exploring the Bosphorus. There's really no better way to do that than on a boat. Some cruises even offer stops in Asian Istanbul and meals with the sunset to boot.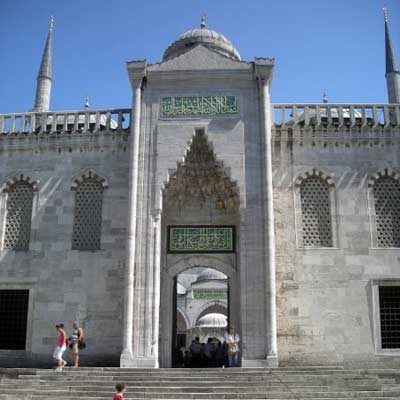 The entrance to the Blue Mosque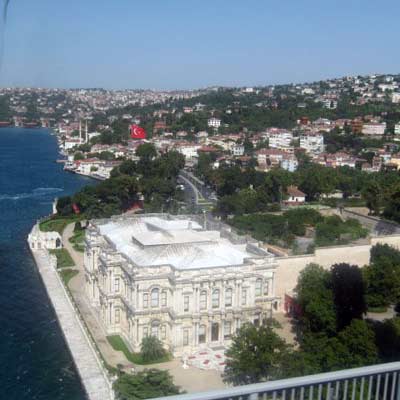 The Beylerbeyi Palace was the summer residence of the Sultan
48hours in Warsaw
This perfect first 48 hours offers a fun-filled and exciting introduction to life in the Polish capital. It's a cocktail of wartime history, art, and – of course – good old Slavic beer.
Day 1: Hit the Old Town of Warsaw as early as you can. That way, you'll avoid the crowds, and – on a sunny day – get to catch the gilded medieval-style frontispieces in some perfect photography light. You certainly won't want to miss a moment on grand Plac Zamkowy (Castle Square).
The Royal Castle that gives it the name is the star of the show, with its orange-tinged exteriors and Baroque domes. It, like the whole rest of the Old Town, is actually deceptively new. The entire district had to be rebuilt from ruins in the wake of WWII.
Wait for the folk from the Free Walking Tour under Zygmunt's Column. Their two-hour odyssey through this part of the capital really digs down into the unique mosaic of architecture. After that's done, you can hit Nowy Swiat and follow the route Polish monarchs once took in and out of the city. It's now a buzzing modern thoroughfare with dumpling taverns and beer halls (perfect for lunch).
Follow it all the way south and hop a few more blocks and you'll soon be in Łazienki Park. It's an icon of the metropolis. An evening stroll here could start with a vision of the huge Chopin statue and end with a sighting of the Classicist Temple of Diana. For dinner, where better than hipster Mokotow? The district has everything from Tex-Mex to stylish sushi bars.
The Warsaw Barbican (barbakan warszawski) dates from 1540, and was part of the fortifications that encircle the city
Day 2: A selfie stop outside of the iconic Palace of Culture and Science starts day two with a bout of Soviet architecture. A 237-metre spire of a building, it was a personal gift to Poland by one Joseph Stalin. From there, a few trams stops can whisk you over to the Warsaw Uprising Museum. The enthralling exhibits of that showcase the heroic efforts of Poland's underground resistance during the fight against the Nazis.
Afterwards, make straight for the riverside and the leafy Vistula Boulevards. They're a hubbub of life in the summer months. Dog walkers meet buskers and street entertainers right by the water. (An optional drop into the family-friendly Copernicus Science Centre is a great addition if the rain's a-pouring). For the evening, hip and elegant Praga awaits. That's arguably Warsaw's most stylish area, with Lebanese kitchens giving way to bohemian bars and cool coffee shops.
The striking Palace of Culture, standing at 237m is the tallest building in Poland
Public transport in Warsaw means trams and buses. The network of more than 260 combined lines can take you virtually anywhere you want to go.
What's more – it's cheap! Just 3,4 PLN can get you from A to B on any route, but there are also 24- and 72-hour tickets that won't break the bank. You can get them at machines located at the stops, or in any kiosk dotted around town.
Saint Alexander's Church was constructed in honour of the Russian tsar Alexander I
Warsaw has two international airports. There's the larger Warsaw Frederic Chopin Airport, which can be reached by direct train from Warsaw's main station on line S2 or S3. The smaller Warsaw Modlin International Airport is a hub for European low-cost carriers. To go from terminal to city from there, you can ride the private Modlinbus, or catch the loop train that goes to both airports and then Warszawa Centralna.
A big Polish presence and a welcoming local vibe means there's rarely trouble for tourists in WarsawPickpockets, angry bouncers in clubs, and the classic European taxi scammers are the most common frustrations beyond that. .
When it comes to picking a hotel, it's typically best to be on the western side of the Vistula River. Some of the very best accommodation choices hide amid the cobbled lanes and squares of the Old Town. Others sit within walking distance, by Mirow or the Palace of Culture and Science. Being on the far side of the river means finding some cool aparthotels in local's favourite Praga.
The modern Istanbul New Airport is the main hub serving this big city. It handles the largest amount of air traffic in Turkey, so expect to find lots of connections in from Western Europe and beyond. Regular shuttle buses link the terminals with the downtown in around 50 minutes to one hour, but, be warned, travel times can vary greatly depending on traffic. The smaller Sabiha Gokcen International Airport hosts most of the services coming in from across the Middle East. It's over on the south side of the metropolis.
Public transit in Istanbul is just what you might expect from a vast, consistently expanding megacity. The best way to go about getting from A to B is to bag yourself an Istanbulkart. It's an all-in-one pass to the town's multi-faceted transport networks, allowing holders to use buses, trams, trains, metros, and even a few of the ferries. You'll need to buy your card from a kiosk and then top it up with credit to make journeys.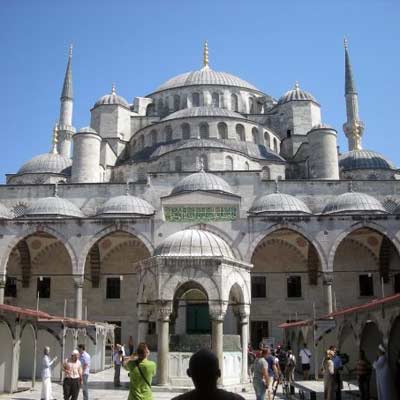 The Sultan Ahmed Mosque
Istanbul's tourist areas suffer from the same scams as many other European cities. Fake guides, pickpockets and unregistered taxis are particularly common, so be sure to have your wits about you when sightseeing. Be wary when converting cash in the Old Town area too, because extortionate commission rates and even fake banknotes have been reported.
Choosing a hotel in Istanbul really depends on what you want. Sightseeing in Sultanahmet is what most people come for and there are loads of hotels to pick there, even if paying a premium is normal. Beyoglu is better if you're after chain hotels and boutique stays, and it's right on the more modern and happening part of town. Asian Istanbul will likely be cheaper, but also a ferry ride from the most famous attractions.