Istanbul or Amsterdam; a vs city comparison and travel guide
Both Amsterdam and Istanbul are fantastic cities, but which is better for your city-break or holiday?
We understand your dilemma. There is an abundance of travel guides for both cities, but few actually comparing them, and advising you which is the better for your trip.
This article will provide our unbiased and independent views of Amsterdam and Istanbul, hopefully making your choice that little easier.
The article is divided into the following sections, and can be jumped to using the links:
• Introduction to the cities
• Scores and ratings
• Which one should I, friends, or family visit?
• When to visit and weather
• Who is the city suited for?
• The perfect 48hours (with map)
• Tourism details (where to stay? airport details?)
Modern Amsterdam is a great place to visit. Europe's most liberal city is attempting to mature and rebrand itself as a cultural and stylish destination.
There will be always visitors who come for the quirky and liberal aspect of the city, from the coffee shops, which sell no coffee and the red lit streets, but there is so much more than Amsterdam's stereotypes.
Found in the city are world class museums, social nightlife and welcoming attitude rarely experienced elsewhere.
Istanbul is one of the most captivating cities in the world. Situated on the banks of the Bosphorus, it straddles Europe and Asia, offering a unique blend of East and West. The city's rich history is evident in its grandiose architecture, from the 6th-century Hagia Sophia to the 16th-century Topkapi Palace.
You can wander through ancient markets, explore the shadowy streets of the Ottoman Quarter, or relax in one of Istanbul's many parks. With its vibrant culture and stunning setting, Istanbul is a city that will stay with you long after you've left.
The Blue Mosque in Istanbul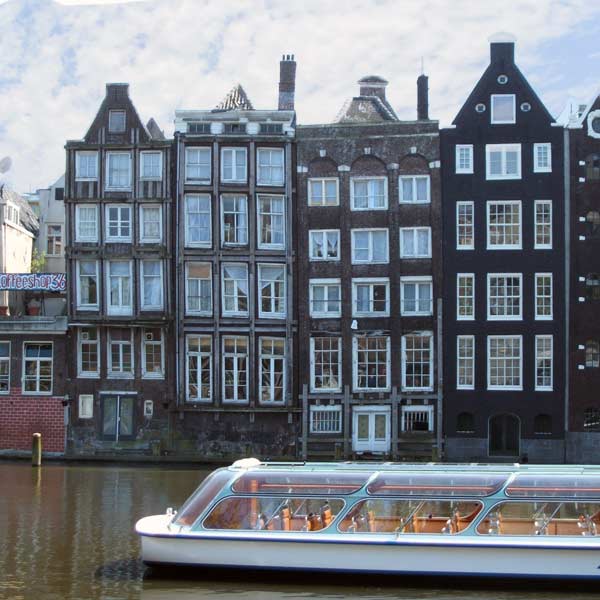 Singel canal in Amsterdam with typical Dutch houses and houseboats.
Summary
Which city would I go to?
Istanbul
Which one would I recommend to my parents?
Amsterdam
Which location for my 19-year-old cousin?
Istanbul
Which for my food obsessed friend?
Istanbul
Note: The above comparison does not consider the weather, and assumes travel at the best time of year - which is detailed later in this article.
The following sections compare the two cities and considers; how long to spend in them, when to visit, and provides suggested 48hours in each city (along with an interactive map).
The final section is tourism practicalities and includes which airport to fly into, what district to be based in and how best to explore the city.
We hope that you find all of this information useful, in planning your next exciting trip!
How long to spend each city?
Istanbul is a city that you could spend weeks exploring and still not see everything it has to offer. Three days is the best length, however, if you only have one day to spend in Istanbul, you can still see some of its most iconic sights, such as the Blue Mosque and the Grand Bazaar.
With two days in Istanbul, you could visit some of the city's most popular attractions, such as the Topkapi Palace and the Hagia Sophia. You can also take a cruise on the Bosporus Strait and explore the city's many markets and mosques.
Three days is ideal to get a good flavour of Amsterdam, and in this time you could include a quick day trip out of town. Much less and it might feel a bit rushed, especially if you are visiting for the first time.
If you can afford more time, there are a surprising amount of places worth visiting in the surrounding area. Many people like to visit Keukenhof in spring, the largest flower garden in the world. There are also the Zaanse Schans Windmills and fairy-tale castle 'Kasteel De Haar' not too far away.
Lots of people also like to visit one of the numerous planned cities built on land reclaimed from the sea such as Almere or Lelystad, a short 20-minute train ride from the central train station. Because these cities are so new, they have prided themselves on drawing on the latest innovations in architectural design.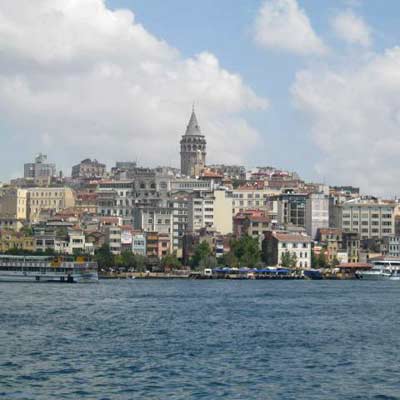 The Beyoglu district in Istanbul with the medieval Galata tower rising above this historic section of the city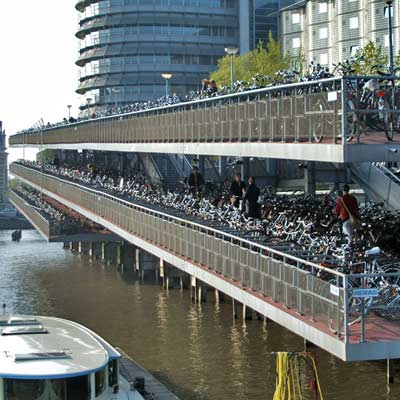 The Dutch love to cycle…..
Spring is the best time of year to visit Amsterdam before the summertime high tourist season hits, and you can catch either the King's Day festival in April or awe at the sea of tulips at Keukenhof.
The warmest month in Amsterdam is August with average temperatures of around 22 degrees (71F) which isn't that hot! It gets pretty chilly in winter, down to just above freezing. The weather is generally very changeable all year round so we recommend you be prepared for all weathers at all times! It could easily rain or be windy for at least one of the days you are there.
When things get hot in Istanbul, things get really hot. In fact, it's not uncommon for summertime temperatures to creep over 30 degrees. What's more, June to August is when the crowds come, packing out sights like the Grand Bazaar.
The upshot here is that spring and fall reign as the top times in the calendar to plan a visit. March, April, September and October tend to be cooler, less busy and less expensive.
Winter can bring snows. Photographers will adore the city when it's blanketed, as the Hagia Sofia and the Blue Mosque look simply stunning under a sheen of the white stuff. However, the months from November to February can be bitterly cold, so off-season visitors will need to wrap up warm and forget having al fresco Turkish coffees on the street side.
There's no doubt that Istanbul is one of the more adventurous and unusual breaks for European travellers. Most folk come to Turkey on package holidays, with pre-booked hotels by the sea. But this destination forgoes all that in favour of enthralling Ottoman history and heady bazaars.
It's a place that will help you break out of the comfort zone and push your boundaries a little.
Those keen on seeing a city that's walkable and compact should certainly steer clear of Turkey's largest. At 15.5 million strong and covering two separate continents, this isn't a bitesize destination by any stretch.
There's something for everyone in Amsterdam.
While it has historically attracted hipsters, it also has a lot to offer to those looking for a peaceful and relaxed place to getaway. It's easy to follow one of the canals out from Rembrandtplein in the centre to a quieter neighbourhood such as Jordaan or Prinsengracht either on foot or by bike, or even better, floating along by canal boat.
Believe it or not, Amsterdam is also an incredibly family-friendly city. The relaxed approach to parenting permeates its museums, sights and events and the city is home to hundreds of playgrounds and child-friendly cafes.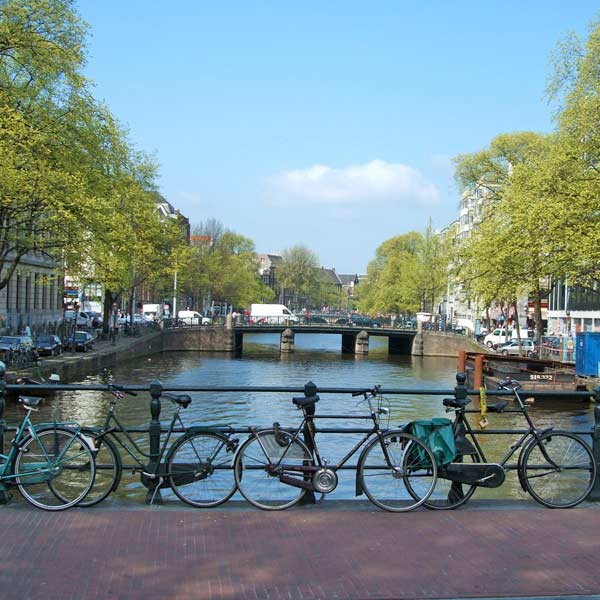 The canals in Amsterdam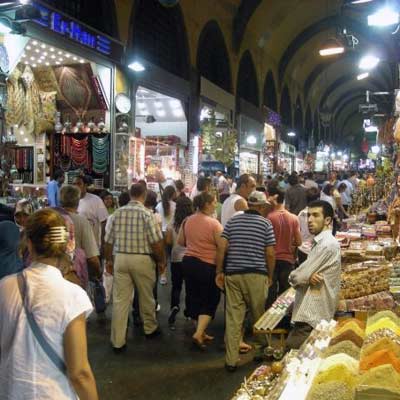 The lively and chaotic Grand Bazaar in Istanbul
You can unearth some seriously jaw-dropping sights, taste some unforgettable food, and get a grounding in Turkish history with only 48 hours to spend in Istanbul.
Day 1: There's really nowhere else to begin but Sultanahmet. This is the Istanbul you will have seen on the postcards; the land of minarets and mighty mosque domes. The kingpin of it all is the colossal Hagia Sophia.
In its long life of more than 1,500 years it's been an Orthodox cathedral and a mosque. It's now a museum containing gorgeous mosaics and frescos, although the star of the show is still its dome, flaunting an amazing 30-metre diameter.
Sitting opposite just to the south is the majestic Blue Mosque. Built in the early 1600s, it's still in working order. And even more history awaits in the Topkapi Palace Museum, which is a few blocks northwards. That sprawling complex reigned as the home of the Ottoman sultans. It's now a UNESCO site and occupies a stunning perch above the Bosphorus.
A pitstop at the Tarihi Sultanahmet kofta house is a must for those keen on trying traditional Turkish meatballs – the joint's been in operation since the 1920s!
From there, it's not far to the Grand Bazaar. One of the largest markets on the planet, it's a haven for haggling and souvenir shopping, where lantern sellers converge on sari stalls and shisha houses.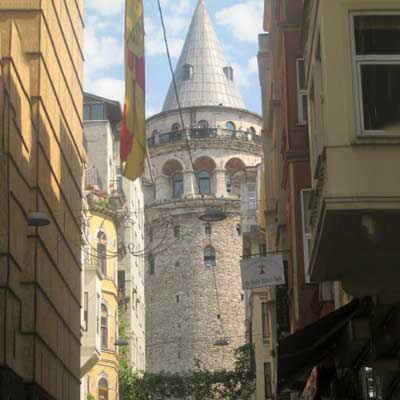 Galata tower is at the heart of the Beyoglu district
Day 2: Big, modern Taksim Square starts day two with a sighting of what 21st-century Istanbul is all about. Be sure to take a glimpse of the honorific statue at its heart.
That's the Republic Monument, made to celebrate the foundation of the Turkish state in 1928. Nearby Istiklal Street has abundant choices on the food front, no matter if you're craving a gritty Turkish coffee or a regional breakfast spread of mezze cheeses, flatbreads, and olives.
It's also a busting artery of the city, with high-street shopping and a classic trolley car running its length. One thing you can't miss – literally! – here is Galata Tower. Built by the Genoese to protect their European strongholds from the east, it's a mind-blowing fortification that boasts sweeping panoramas from its top floors.
Your afternoon session should be dedicated to exploring the Bosphorus. There's really no better way to do that than on a boat. Some cruises even offer stops in Asian Istanbul and meals with the sunset to boot.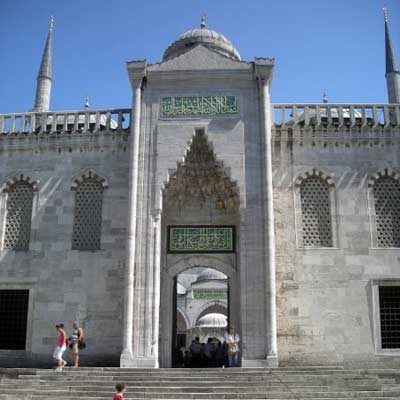 The entrance to the Blue Mosque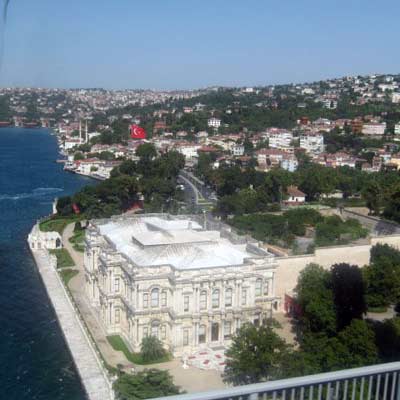 The Beylerbeyi Palace was the summer residence of the Sultan
48hours in Amsterdam
Start on day 1 in the Museum Quarter where some of Amsterdam's world-class museums are.
Rijksmuseum where Rembrandt's 'The Night Watch' is held can be found here, as well as the Van-Gogh Museum and Stedelijk Museum, which contains a huge collection of everything from sculpture to painting to photography by artists such as Picasso and Warhol.
In the afternoon, head to the artisan area of Jordaan. It has a homely charm to it with all the houseboats along the quays and old crooked buildings.
If you're looking for a night out, head to the areas of Leidseplein or Rembrandtplein in the evening.
Spring at Dam Square with the Royal Palace in the background.
On day 2 head to Dam Square and the Royal Palace then the red-light district.
A visit to the Anne Frank House is a fascinating and sobering experience but this can get very busy so we recommend booking ahead online for a specific time.
If you are looking for something a bit slower paced in the evening - a great photo opportunity is from the Magere Brug. After dark, this bridge is illuminated by over a thousand lights and due to its location, it makes for a good vantage point where you can see 15 bridges at the same time.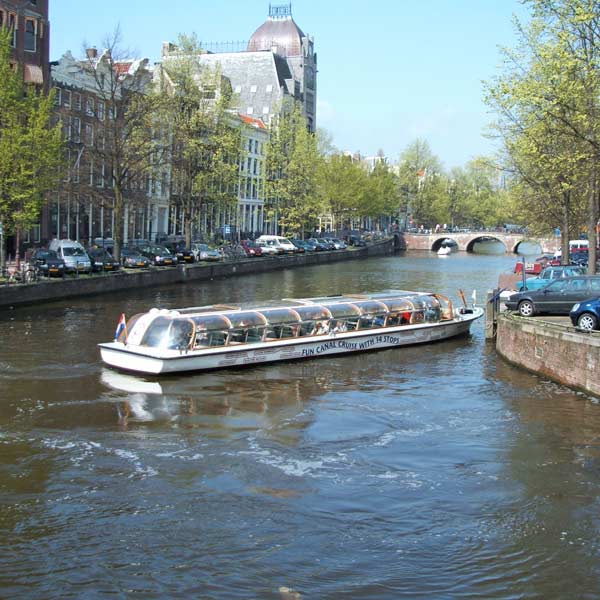 Boat cruise along a canal in Amsterdam
On arrival in Amsterdam Schiphol airport, the quickest way to get into town by public transport is the train which costs €5.40 and takes 20 minutes. The bus costs €5 and takes about 35 minutes.
Amsterdam is an expensive city. Walking and cycling are the best ways to get around. By boat you can see all the big sights too and there are many options for hop-on-hop-off. There is also an impressive public transport system of trams, buses, metros, trains and ferries to help you get around.
Rijksmuseum in Amsterdam
All cities have their perils but with regards to Amsterdam, probably the main ones to consider are bike safety and caution in the "coffee shops". As well as the usual bike safety rules you'd expect at home, keep an eye out for nippy scooters on the bike lanes and avoid rush hour if possible. In terms of the coffeeshop visits – don't underestimate the effects of the products, as the varieties sold here are more potent than elsewhere.
Amsterdam is typically an extremely safe city for solo female travellers but it's not advised to visit the Red Light District at night as the area does have a seedier vibe.
The modern Istanbul New Airport is the main hub serving this big city. It handles the largest amount of air traffic in Turkey, so expect to find lots of connections in from Western Europe and beyond. Regular shuttle buses link the terminals with the downtown in around 50 minutes to one hour, but, be warned, travel times can vary greatly depending on traffic. The smaller Sabiha Gokcen International Airport hosts most of the services coming in from across the Middle East. It's over on the south side of the metropolis.
Public transit in Istanbul is just what you might expect from a vast, consistently expanding megacity. The best way to go about getting from A to B is to bag yourself an Istanbulkart. It's an all-in-one pass to the town's multi-faceted transport networks, allowing holders to use buses, trams, trains, metros, and even a few of the ferries. You'll need to buy your card from a kiosk and then top it up with credit to make journeys.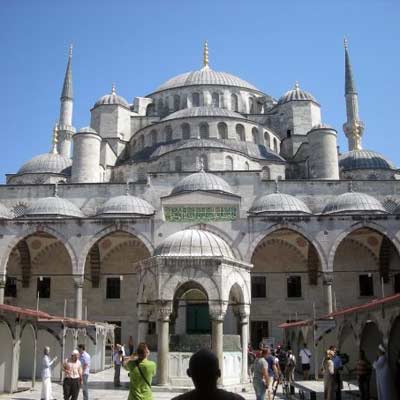 The Sultan Ahmed Mosque
Istanbul's tourist areas suffer from the same scams as many other European cities. Fake guides, pickpockets and unregistered taxis are particularly common, so be sure to have your wits about you when sightseeing. Be wary when converting cash in the Old Town area too, because extortionate commission rates and even fake banknotes have been reported.
Choosing a hotel in Istanbul really depends on what you want. Sightseeing in Sultanahmet is what most people come for and there are loads of hotels to pick there, even if paying a premium is normal. Beyoglu is better if you're after chain hotels and boutique stays, and it's right on the more modern and happening part of town. Asian Istanbul will likely be cheaper, but also a ferry ride from the most famous attractions.