Paris or Amsterdam; a vs city comparison and travel guide
Both Amsterdam and Paris are fantastic cities, but which is better for your city-break or holiday?
We understand your dilemma. There is an abundance of travel guides for both cities, but few actually comparing them, and advising you which is the better for your trip.
This article will provide our unbiased and independent views of Amsterdam and Paris, hopefully making your choice that little easier.
The article is divided into the following sections, and can be jumped to using the links:
• Introduction to the cities
• Scores and ratings
• Which one should I, friends, or family visit?
• When to visit and weather
• Who is the city suited for?
• The perfect 48hours (with map)
• Tourism details (where to stay? airport details?)
Paris is famed as the capital of Romance, the epicentre of French culture and grand European art, and the home of iconic monuments like the Eiffel Tower. There's no question that it's an amazing city to explore.
Everywhere you go along the Seine River it seems like there's a world-class museum or gallery beckoning. But Paris can also be overwhelming, not to mention downright gritty in some parts.
The history here goes back to the Celtic tribes of the 400s BC. But it was the 7th-century fortifications on the Île de la Cité that went on to form the medieval kernel of the town.
The capital still radiates out from that, with bohemian neighborhoods along the Canal Saint-Martin, stereotypically Parisian cafes and cobbled streets in Montmartre, and enthralling cultural and foodie attractions throughout other arrondissements (areas).
Summary
Which city would I go to?
Paris
Which one would I recommend to my parents?
Paris
Which location for my 19-year-old cousin?
Amsterdam
Which for my food obsessed friend?
Paris
Note: The above comparison does not consider the weather, and assumes travel at the best time of year (which is detailed later in this article)
The following sections compare the two cities and considers; how long to spend in them, when to visit, and provides suggested 48hours in each city (along with an interactive map).
The final section is tourism practicalities and includes which airport to fly into, what district to be based in and how best to explore the city.
We hope that you find all of this information useful, in planning your next exciting trip!
How long to spend each city?
Paris could take a lifetime to explore completely. This is a living, breathing, sprawling capital city, which means even the locals can be surprised at the new cafes, bistros, and cultural events that come and go. For travellers, at least three days is a good idea.
That's probably just enough to see the mainstay sights and hop into the Louvre to catch a glimpse of the Mona Lisa. Trips to explore outer arrondissements and sample Paris's pumping nightlife should probably be between four days and a whole week, with more extensions needed if you want to hit the Loire Valley for wine tasting.
Three days is ideal to get a good flavour of Amsterdam, and in this time you could include a quick day trip out of town. Much less and it might feel a bit rushed, especially if you are visiting for the first time.
If you can afford more time, there are a surprising amount of places worth visiting in the surrounding area. Many people like to visit Keukenhof in spring, the largest flower garden in the world. There are also the Zaanse Schans Windmills and fairy-tale castle 'Kasteel De Haar' not too far away.
Lots of people also like to visit one of the numerous planned cities built on land reclaimed from the sea such as Almere or Lelystad, a short 20-minute train ride from the central train station. Because these cities are so new, they have prided themselves on drawing on the latest innovations in architectural design.
Spring is the best time of year to visit Amsterdam before the summertime high tourist season hits, and you can catch either the King's Day festival in April or awe at the sea of tulips at Keukenhof.
The warmest month in Amsterdam is August with average temperatures of around 22 degrees (71F) which isn't that hot! It gets pretty chilly in winter, down to just above freezing. The weather is generally very changeable all year round so we recommend you be prepared for all weathers at all times! It could easily rain or be windy for at least one of the days you are there.
Paris is known for its café culture, it would be a shame to miss all those al fresco coffees on the canal side. Enjoyments like that are most likely to be had in the warmer months, which – this far north in France – means May to September.
Outside of those, the rainfall picks up and things get chilly. That said, the summer is the most expensive and busy part of the year, so you'll be contending with others for those selfies by the Eiffel Tower.
Visits pre-Christmas tend to be pricier than those after Christmas. If you're eager to cosy up and see Paris in the ice and cold, you might want to push your break to February or March. Those months tend to be nice, quiet and free from the tourist masses.
Paris is a master of art and culture. From the gold-gilded palaces of Versailles to the endless works of the Louvre and the Musée d'Orsay, you'll never be short on paintings or architecture or sculpture.
But the best Paris trips mix all that with a little bit of food, some classic sightseeing, and even a touch of hedonism. That makes this a versatile city-break option, offering wine bars and bucket-list attractions like the Eiffel Tower.
It's probably worth dodging Paris if you're not the sort who deals well with crowds, traffic, and big cities. The nearest place you can go to escape to nature are the forest parks on the outskirts. What's more, it can take a while to get from A to B in the French capital.
There's something for everyone in Amsterdam.
While it has historically attracted hipsters, it also has a lot to offer to those looking for a peaceful and relaxed place to getaway. It's easy to follow one of the canals out from Rembrandtplein in the centre to a quieter neighbourhood such as Jordaan or Prinsengracht either on foot or by bike, or even better, floating along by canal boat.
Believe it or not, Amsterdam is also an incredibly family-friendly city. The relaxed approach to parenting permeates its museums, sights and events and the city is home to hundreds of playgrounds and child-friendly cafes.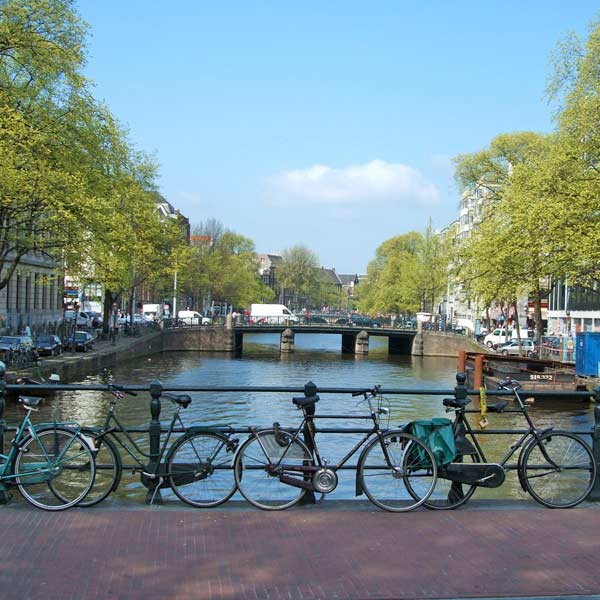 The canals in Amsterdam
Paris in 48 hours is a hard ask, but this itinerary should help distil the city's preeminent culture, art and atmosphere into two short days:
Day 1: Breakfast time in the 19th arrondissement. Local and traveller joints meet there, with some charming cafés and bakeries lining Le Bassin de la Villette, where there are open-air swimming spots in the summer months. Then, move south-west along the picturesque Canal Saint-Martin.
It takes you to the beating heart of the city, just shy of where the Île de la Cité hosts the beautiful Cathedral of Notre Dame. Take your photos and then move across the Seine River to the famous Latin Quarter.
Day 2: Seek out the bohemian neighborhood of Montmartre to start your second day in Paris. It's known for its zigzagging cobbled streets and urban staircases, but also comes replete with cosy coffee houses with crispy croissants. At the very top of the hill where the district is draped is the gorgeous Sacré-Cœur. Its great travertine domes gaze over the city, so expect some awesome views.
On the way down, heading west, you might just pass by the infamous Moulin Rouge and its makeshift windmill all lit up in red neon. You can catch a metro from that to go along to Ternes. Emerge and you'll be looking straight down at the Arc de Triomphe, which marks the start of the Champs-Élysées – a place to shop till you drop.
Be sure to pull yourself from that grand boulevard with enough time (and light) left to see the Eiffel Tower in all its glory. The landmark is just over the river to the south, but the best view might be from the Trocadéro Gardens on the northern banks.
48hours in Amsterdam
Start on day 1 in the Museum Quarter where some of Amsterdam's world-class museums are.
Rijksmuseum where Rembrandt's 'The Night Watch' is held can be found here, as well as the Van-Gogh Museum and Stedelijk Museum, which contains a huge collection of everything from sculpture to painting to photography by artists such as Picasso and Warhol.
In the afternoon, head to the artisan area of Jordaan. It has a homely charm to it with all the houseboats along the quays and old crooked buildings.
If you're looking for a night out, head to the areas of Leidseplein or Rembrandtplein in the evening.
Spring at Dam Square with the Royal Palace in the background.
On day 2 head to Dam Square and the Royal Palace then the red-light district.
A visit to the Anne Frank House is a fascinating and sobering experience but this can get very busy so we recommend booking ahead online for a specific time.
If you are looking for something a bit slower paced in the evening - a great photo opportunity is from the Magere Brug. After dark, this bridge is illuminated by over a thousand lights and due to its location, it makes for a good vantage point where you can see 15 bridges at the same time.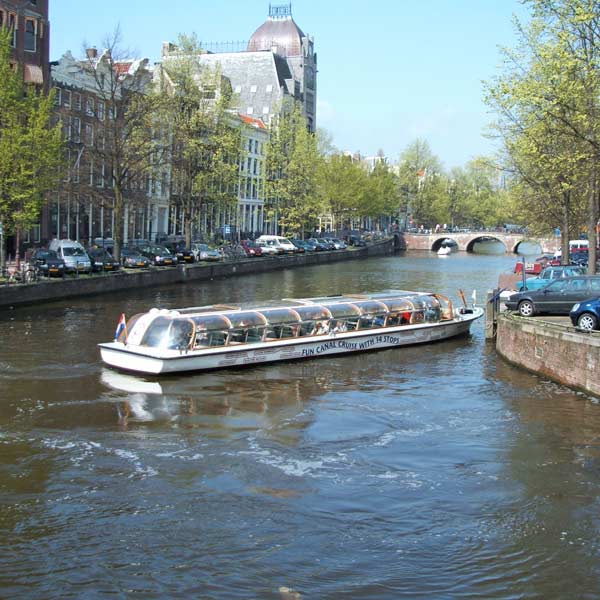 Boat cruise along a canal in Amsterdam
On arrival in Amsterdam Schiphol airport, the quickest way to get into town by public transport is the train which costs €5.40 and takes 20 minutes. The bus costs €5 and takes about 35 minutes.
Amsterdam is an expensive city. Walking and cycling are the best ways to get around. By boat you can see all the big sights too and there are many options for hop-on-hop-off. There is also an impressive public transport system of trams, buses, metros, trains and ferries to help you get around.
Rijksmuseum in Amsterdam
All cities have their perils but with regards to Amsterdam, probably the main ones to consider are bike safety and caution in the "coffee shops". As well as the usual bike safety rules you'd expect at home, keep an eye out for nippy scooters on the bike lanes and avoid rush hour if possible. In terms of the coffeeshop visits – don't underestimate the effects of the products, as the varieties sold here are more potent than elsewhere.
Amsterdam is typically an extremely safe city for solo female travellers but it's not advised to visit the Red Light District at night as the area does have a seedier vibe.
Paris is served by two large international airports. Low-cost carriers typically use Orly. From there, you can hop to Anthony Train Station and then switch to the urban metro line to reach the city. The trip costs around €12 in total. The more famous and larger airport at Roissy Charles de Gaulle is for long-haul fliers and premium services. It's linked straight to the Gare du Nord station in the middle of the city by regular trains that take around 35 minutes from terminal to town.
The Parisian transport network is vast and efficient. Travelers shouldn't need more than the RER and Metro combination. They can be caught to virtually all the major sights and areas around the capital. You can purchase a contactless card ticket to travel on all the lines – tariffs are €1.90 per ride.
Even among the French themselves, the Parisian people are renowned for being curt and a little rude. Remember that this is a working, living metropolis, so expect central areas to be busy with commuters and the like. You'll also want to be especially cautious on public transport when carrying large luggage or travelling at night, because pickpocketing and thefts certainly aren't unheard of.