Budapest or Amsterdam; a vs city comparison and travel guide
Both Amsterdam and Budapest are fantastic cities, but which is better for your city-break or holiday?
We understand your dilemma. There is a wealth of information about both cities, but little stating which is the better destination and more suited for your trip.
This article will provide our unbiased opinions, and hopefully help you to choose the best city to visit.
The article is divided into the following sections, and can be jumped to using the links:
• Introduction to the cities
• Scores and ratings
• Which one should I, friends, or family visit?
• When to visit and weather
• Who is the city suited for?
• The perfect 48hours (with map)
• Tourism details (where to stay? airport details?)
Straddling the snaking Danube in the very heart of Europe is Budapest, the buzzing capital of Hungary. The largest city in the country, it's split into Buda (in the west) and Pest (in the east). They're joined by grand 19th-century chain bridges to form a continuous metropolis that's home to more than 1.7 million people.
Budapest magnetizes visitors with a mixture of rich history, bold architectural sites, café culture, urban spas and vibrant nightlife. Look one way and you'll see the elaborate Habsburg-era palaces that crown Buda Hill.
Look another and you find steaming bathhouses smelling of sulphur. And that's not even mentioning the heady ruin bars, the colossal Dohány Street Synagogue, and the wide boulevards left over from Communist times.
Summary
Which city would I go to?
Amsterdam
Which one would I recommend to my parents?
Amsterdam
Which location for my 19-year-old cousin?
Budapest
Which for my food obsessed friend?
Amsterdam
Note: The above comparison does not consider the weather, and assumes travel at the best time of year (which is detailed later in this article)
The following sections compare the two cities and considers; how long to spend in them, when to visit, and provides suggested 48hours in each city (along with an interactive map).
The final section is tourism practicalities and includes which airport to fly into, what district to be based in and how best to explore the city.
We hope that you find all of this information useful, in planning your next exciting trip!
How long to spend each city?
Fly-in visits for three days are enough to check off the major must-see sights of Budapest. This is a compact capital with good underground and bus links. You can get easily get across town – going from Buda Castle on one side of the city all the way to the Széchenyi Thermal Baths at the other takes less than an hour on public transport.
That said, Budapest has plenty of hidden secrets up its sleeve. You could easily while away a whole week enjoying cheap happy hours in the ruin bars, bathing in the Art Deco spas, and visiting islands up the Danube. If you're coming in summer, you could also extend a stay to include the art galleries and cobbled lanes of Szentendre, the mineral-rich waters of Lake Balaton, and the rustic Tokaj wine country to the east.
Three days is ideal to get a good flavour of Amsterdam, and in this time you could include a quick day trip out of town. Much less and it might feel a bit rushed, especially if you are visiting for the first time.
If you can afford more time, there are a surprising amount of places worth visiting in the surrounding area. Many people like to visit Keukenhof in spring, the largest flower garden in the world. There are also the Zaanse Schans Windmills and fairy-tale castle 'Kasteel De Haar' not too far away.
Lots of people also like to visit one of the numerous planned cities built on land reclaimed from the sea such as Almere or Lelystad, a short 20-minute train ride from the central train station. Because these cities are so new, they have prided themselves on drawing on the latest innovations in architectural design.
Spring is the best time of year to visit Amsterdam before the summertime high tourist season hits, and you can catch either the King's Day festival in April or awe at the sea of tulips at Keukenhof.
The warmest month in Amsterdam is August with average temperatures of around 22 degrees (71F) which isn't that hot! It gets pretty chilly in winter, down to just above freezing. The weather is generally very changeable all year round so we recommend you be prepared for all weathers at all times! It could easily rain or be windy for at least one of the days you are there.
Late spring and early autumn are when locals often say Budapest is at its best. Temperatures average around 23-25 degrees in May and September. There's not an overload of rain then either. And it's perfect for avoiding the crowds of midsummer city breakers that come during the European holidays.
There's also something to be said for visiting Budapest in the midst of winter. Mercury plummets between November and March, and it's not uncommon to see the Danube freeze over with huge chunks of ice. What's more, the tenements and side streets of the Jewish Quarter and the historic Inner City areas ooze atmosphere on cold, snowy days. Just be sure to pack the thermals!
Budapest's layers of history combine with a sleepless nightlife scene, making this European capital a great pick for a whole host of travellers. The backpacking crowd can make for the Jewish Quarter's ruin bars and glug uber-cheap Hungarian beers in bohemian courtyards.
More culturally aligned visitors might prefer to unearth the past of the Hungarian empire on the grounds of Buda Castle, or pay their respects at the haunting House of Terror museum that chronicles the dark days of Stasi rule.
You might not feel totally at home here if you're a big fan of beaches and sun. Budapest is a landlocked city in a landlocked country, so the ocean is never near. Hungary's capital isn't the greenest of towns, either. There are parks, but they're really on the outskirts. It's very much an urban destination.
There's something for everyone in Amsterdam.
While it has historically attracted hipsters, it also has a lot to offer to those looking for a peaceful and relaxed place to getaway. It's easy to follow one of the canals out from Rembrandtplein in the centre to a quieter neighbourhood such as Jordaan or Prinsengracht either on foot or by bike, or even better, floating along by canal boat.
Believe it or not, Amsterdam is also an incredibly family-friendly city. The relaxed approach to parenting permeates its museums, sights and events and the city is home to hundreds of playgrounds and child-friendly cafes.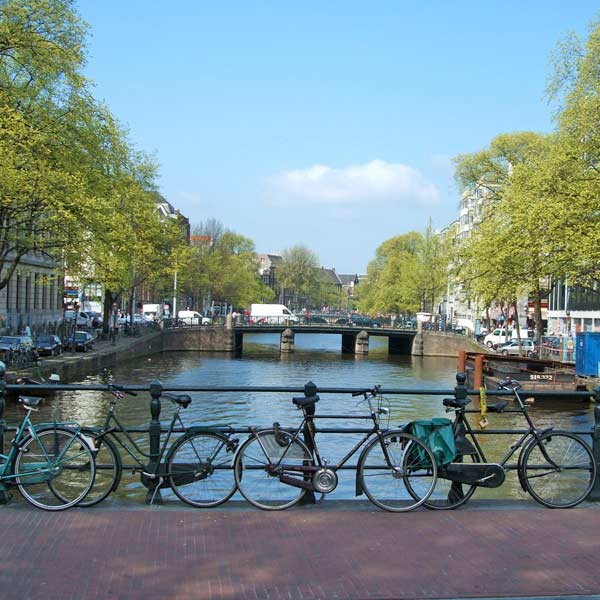 The canals in Amsterdam
48hours in Budapest
Day 1: Start on the Pest side of the city. That's home to the huge Dohány Street Synagogue. It's one of the great landmarks of Budapest and reigns as the largest synagogue in Europe. From there, head to the wide boulevard of Andrássy, a spectacular thoroughfare and UNESCO site that's lined with Neo-Classical mansions.
Visit the House of Terror museum on one end to unravel the haunting past of Communist rule in Hungary. Then, go for a hard-earned spa session in the famous Art Deco baths of Széchenyi. Dinner can be nothing less than a paprika-smoked goulash in Gettó Gulyás, followed by a beer in the mind-boggling art gallery come bar that is Szimpla Kert.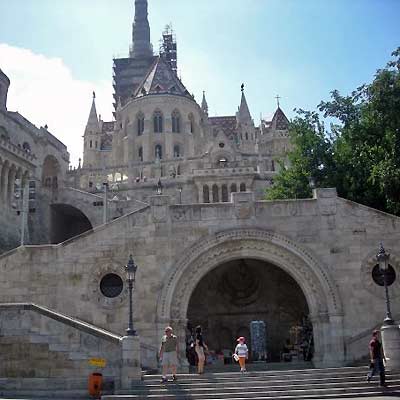 Pest cathedral
Day 2: Breakfast in the Central Market Hall that dates from 1897. Grab some sweet Hungarian pastries and then hop across the Danube on the handsome Liberty Bridge. In front of you, the elegant Gellért Baths are an optional stop. Or, push on up to the Fisherman's Bastion and the Citadella. These were once defensive outposts where Hungarian armies protected their capital. These days, they have stunning views of the Danube. A walk to the north takes you to the Castle District. You can tour the grounds and take in the architecture, or go inside for regal court rooms. Be sure to take some photos of the imposing Hungarian Parliament Building across the water. Finally, drop back into Pest for dinner in the Inner City. That area has everything from Tex-Mex joints to smoky 1930s speakeasies.
48hours in Amsterdam
Start on day 1 in the Museum Quarter where some of Amsterdam's world-class museums are.
Rijksmuseum where Rembrandt's 'The Night Watch' is held can be found here, as well as the Van-Gogh Museum and Stedelijk Museum, which contains a huge collection of everything from sculpture to painting to photography by artists such as Picasso and Warhol.
In the afternoon, head to the artisan area of Jordaan. It has a homely charm to it with all the houseboats along the quays and old crooked buildings.
If you're looking for a night out, head to the areas of Leidseplein or Rembrandtplein in the evening.
Spring at Dam Square with the Royal Palace in the background.
On day 2 head to Dam Square and the Royal Palace then the red-light district.
A visit to the Anne Frank House is a fascinating and sobering experience but this can get very busy so we recommend booking ahead online for a specific time.
If you are looking for something a bit slower paced in the evening - a great photo opportunity is from the Magere Brug. After dark, this bridge is illuminated by over a thousand lights and due to its location, it makes for a good vantage point where you can see 15 bridges at the same time.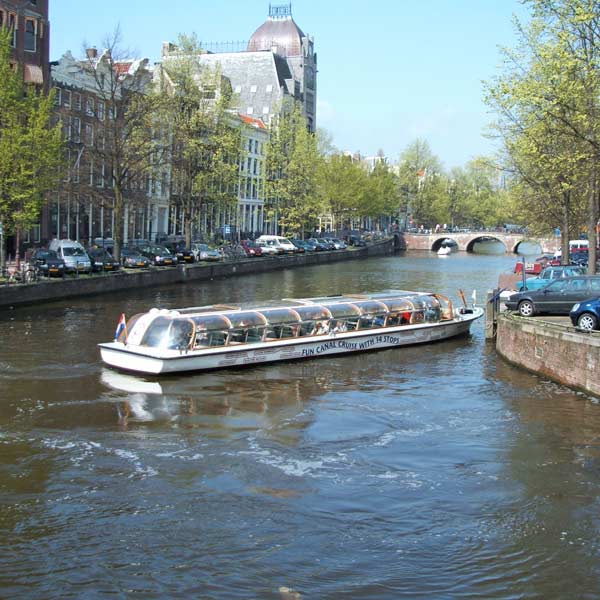 Boat cruise along a canal in Amsterdam
On arrival in Amsterdam Schiphol airport, the quickest way to get into town by public transport is the train which costs €5.40 and takes 20 minutes. The bus costs €5 and takes about 35 minutes.
Amsterdam is an expensive city. Walking and cycling are the best ways to get around. By boat you can see all the big sights too and there are many options for hop-on-hop-off. There is also an impressive public transport system of trams, buses, metros, trains and ferries to help you get around.
Rijksmuseum in Amsterdam
All cities have their perils but with regards to Amsterdam, probably the main ones to consider are bike safety and caution in the "coffee shops". As well as the usual bike safety rules you'd expect at home, keep an eye out for nippy scooters on the bike lanes and avoid rush hour if possible. In terms of the coffeeshop visits – don't underestimate the effects of the products, as the varieties sold here are more potent than elsewhere.
Amsterdam is typically an extremely safe city for solo female travellers but it's not advised to visit the Red Light District at night as the area does have a seedier vibe.
Talking of the airport, Budapest Airport sits around 22 kilometers from the city center. You can get to and from the terminals using the dedicated express bus (€2) or by train (€2.70). Both options take between 30-40 minutes. Be sure to buy tickets at machines by the stops – they're more expensive when purchased direct from drivers.
When it comes to picking hotels in Budapest, you're best off focussing on the Pest side of the city. That's where the bulk of the best lodgings are located. Being in the Jewish Quarter can be noisy, but perfect if you want to hit the nightlife of Szimpla and the other ruin bars. The Inner City area is charming and quieter, with some boutique options. Meanwhile, Újlipótváros is a local's favourite, with its cool cafés and art galleries and sleek Airbnbs.
Budapest is largely safe and crime statistics are in line with European norms. Some well-known scams include taxi drivers who overcharge and sellers of fake goods. Pickpocketing is also a rare but real problem. Just be aware of your personal possessions and be vigilante, especially when on public transportation.
Price wise, Budapest is surely up there with the cheapest of European capitals. A large beer can cost as little as 500 HUF (€1.50). Food in a midrange restaurant will set you back between 2,000 HUF and 3,000 HUF (€6-9). Nights in hotels are noticeably less than in nearby Vienna, too.