Krakow or Budapest; a vs city comparison and travel guide
Both Krakow and Budapest are fantastic cities, but which is better for your city-break or holiday?
We understand your dilemma. There is a wealth of information about both cities, but little stating which is the better destination and more suited for your trip.
This article will provide our unbiased opinions, and hopefully help you to choose the best city to visit.
The article is divided into the following sections, and can be jumped to using the links:
• Introduction to the cities
• Scores and ratings
• Which one should I, friends, or family visit?
• When to visit and weather
• Who is the city suited for?
• The perfect 48hours (with map)
• Tourism details (where to stay? airport details?)
Krakow is Poland's cultural capital, it was one of the few cities of central Europe to have emerged largely unscathed from WWII. It is famed for its delightful Old Town, with cobbled alleys, centuries-old palaces and medieval castles.
But history aside, Krakow is also very much a lived-in town. Throw in leafy parks, bohemian districts, cutting-edge art galleries, and alluring nearby mountain ranges and it's easy to see why Krakow remains such a popular destination.
Straddling the snaking Danube in the very heart of Europe is Budapest, the buzzing capital of Hungary.
The largest city in the country, it's split into Buda (in the west) and Pest (in the east). They're joined by grand 19th-century chain bridges to form a continuous metropolis that's home to more than 1.7 million people.
Budapest magnetizes visitors with a mixture of rich history, bold architectural sites, café culture, urban spas and vibrant nightlife. Look one way and you'll see the elaborate Habsburg-era palaces that crown Buda Hill.
Look another and you find steaming bathhouses smelling of sulphur. And that's not even mentioning the heady ruin bars, the colossal Dohány Street Synagogue, and the wide boulevards left over from Communist times.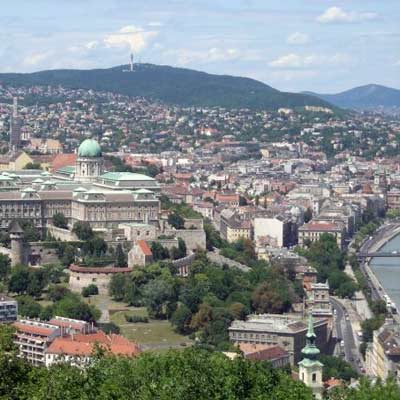 Budapest is a vibrant and modern city just waiting to be explored
The Rynek Główny is the main plaza of Krakow, and standing at the centre is the impressive Bazylika Mariacka (Saint Mary's Basilica)
Summary
Which city would I go to?
Krakow
Which one would I recommend to my parents?
Krakow
Which location for my 19-year-old cousin?
Budapest
Which for my food obsessed friend?
Krakow
Note: The above comparison does not consider the weather, and assumes travel at the best time of year - which is detailed later in this article.
The following sections compare the two cities and considers; how long to spend in them, when to visit, and provides suggested 48hours in each city (along with an interactive map).
The final section is tourism practicalities and includes which airport to fly into, what district to be based in and how best to explore the city.
We hope that you find all of this information useful, in planning your next exciting trip!
How long to spend each city?
Fly-in visits for three days are enough to check off the major must-see sights of Budapest. This is a compact capital with good underground and bus links. You can get easily get across town – going from Buda Castle on one side of the city all the way to the Széchenyi Thermal Baths at the other takes less than an hour on public transport.
That said, Budapest has plenty of hidden secrets up its sleeve. You could easily while away a whole week enjoying cheap happy hours in the ruin bars, bathing in the Art Deco spas, and visiting islands up the Danube. If you're coming in summer, you could also extend a stay to include the art galleries and cobbled lanes of Szentendre, the mineral-rich waters of Lake Balaton, and the rustic Tokaj wine country to the east.
In many ways, Krakow is the perfect example of a city-break destination. Not only is it compact and walkable, but its main-see sights are all connected via leafy parklands or riverside paths. You can check off the castle, the Old Town, the Jewish Quarter, and plenty more in a mere 48 hours. And the airport hosts oodles of low-cost flight links to cities right across Europe, which makes it easy to whiz in for just a couple of days.
If you're looking to add excursions (and there are loads of them) to your itinerary, you might need a little longer. Trips to Auschwitz, the salt mines in Wieliczka, and the Tatra Mountains can be crammed together in a single two-day tour, but it's better to do them separately and leave at least a day for each.
What's more, the wild Krakow nightlife might just put you out of action for a morning. Those with a penchant for vodka might be better off planning 4-5 days at least in the Polish city of kings.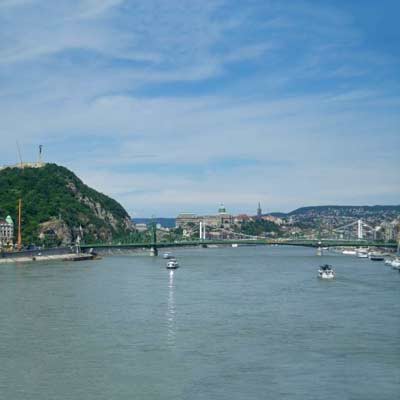 The mighty Danube River cuts Budapest in two
The extensive history of Wawel Castle is reflected in the numerous architectural styles, there are baroque renaissance and ancient medieval found within this wonderous castle
Summertime sees Krakow fill to bursting with tourists. It's the peak season, and things can get rammed on the main drags of the Old Town. That's why it's often better to try to come in months like May or September. Those are outside of major European vacations. There will be way fewer people queuing for the Wawel Castle. Hotel prices in Krakow also tend to drop considerably after August, while the Tatra Mountains are at their most handsome in spring and autumn.
Krakow in the winter is a totally different beast. Woolly jumpers, thermal underlayers, snow boots – you'll need the lot. Temperatures in south Poland can ebb to minus 25 degrees in the height of the season. However, the Planty Park and the Old Town do look truly stunning under a layer of snowflakes. It's also the time of year to plan ski trips near to Krakow. Just beware that pollution can be bad in the centre – the winter smog is some of the worst on the continent.
Late spring and early autumn are when locals often say Budapest is at its best. Temperatures average around 23-25 degrees in May and September. There's not an overload of rain then either. And it's perfect for avoiding the crowds of midsummer city breakers that come during the European holidays.
There's also something to be said for visiting Budapest in the midst of winter. Mercury plummets between November and March, and it's not uncommon to see the Danube freeze over with huge chunks of ice. What's more, the tenements and side streets of the Jewish Quarter and the historic Inner City areas ooze atmosphere on cold, snowy days. Just be sure to pack the thermals!
Budapest's layers of history combine with a sleepless nightlife scene, making this European capital a great pick for a whole host of travellers. The backpacking crowd can make for the Jewish Quarter's ruin bars and glug uber-cheap Hungarian beers in bohemian courtyards.
More culturally aligned visitors might prefer to unearth the past of the Hungarian empire on the grounds of Buda Castle, or pay their respects at the haunting House of Terror museum that chronicles the dark days of Stasi rule.
You might not feel totally at home here if you're a big fan of beaches and sun. Budapest is a landlocked city in a landlocked country, so the ocean is never near. Hungary's capital isn't the greenest of towns, either. There are parks, but they're really on the outskirts. It's very much an urban destination.
Krakow's a seriously versatile travel destination. Weaving the threads of a long, regal history together with a vibrant café culture, the culinary delights of Lesser Poland, and a nightlife that's nothing short of legendary, there's something in these parts to cater to all sorts. First up: Backpackers. The younger, budget-conscious crowd enjoy more hostel dorms and happy-hour deals than they can shake a Polish blood sausage at. Meanwhile, districts like Kazimierz are laden with concept stores and hip coffee shops.
Those who lean towards the more cultural side of things are also in luck. UNESCO World Heritage Sites abound in this part of Europe. In fact, Krakow's Old Town itself is one, bursting with medieval trading halls, brick-fronted churches, and castles that date back to the 1200s. There's also art by Leonardo da Vinci and Polish masters to get through in the museums, along with archaeology expos of the urban underground that are truly fascinating.
Being stuck between the vast plains of central Poland and the Carpathian Mountains means that Krakow is probably not the city for anyone looking for sun, sand and sea. What's more, the air quality is abysmal, so don't come expecting a break from life in a metropolis.
The Kościół św. Józefa (Saint Josphes church) in the Podgórze district, was inspired by gothic desings but only dates from 1909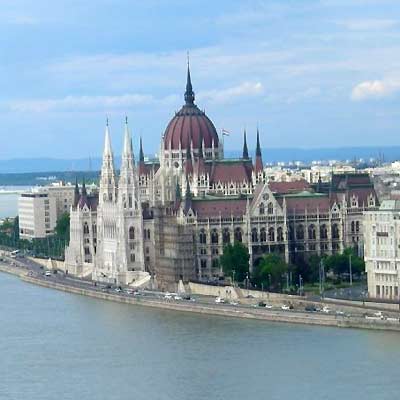 Hungarian Parliament is the tallest building in Budapest
48hours in Budapest
Day 1: Start on the Pest side of the city. That's home to the huge Dohány Street Synagogue. It's one of the great landmarks of Budapest and reigns as the largest synagogue in Europe. From there, head to the wide boulevard of Andrássy, a spectacular thoroughfare and UNESCO site that's lined with Neo-Classical mansions.
Visit the House of Terror museum on one end to unravel the haunting past of Communist rule in Hungary. Then, go for a hard-earned spa session in the famous Art Deco baths of Széchenyi. Dinner can be nothing less than a paprika-smoked goulash in Gettó Gulyás, followed by a beer in the mind-boggling art gallery come bar that is Szimpla Kert.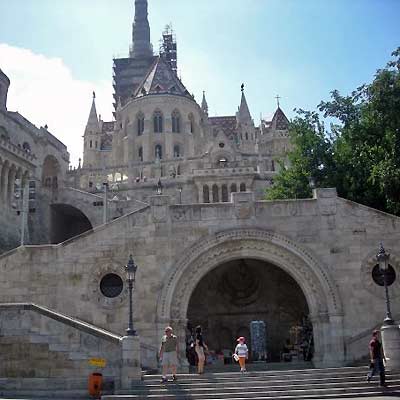 Pest cathedral
Day 2: Breakfast in the Central Market Hall that dates from 1897. Grab some sweet Hungarian pastries and then hop across the Danube on the handsome Liberty Bridge. In front of you, the elegant Gellért Baths are an optional stop. Or, push on up to the Fisherman's Bastion and the Citadella. These were once defensive outposts where Hungarian armies protected their capital. These days, they have stunning views of the Danube. A walk to the north takes you to the Castle District. You can tour the grounds and take in the architecture, or go inside for regal court rooms. Be sure to take some photos of the imposing Hungarian Parliament Building across the water. Finally, drop back into Pest for dinner in the Inner City. That area has everything from Tex-Mex joints to smoky 1930s speakeasies.
Gellért Hill offers some of the best views of Budapest, the hill is named after Saint Gerard who was murdered in 1065 by being put in a barrel and rolled down the hill…
48hours in Krakow
It's a good idea to stick to the city of Krakow itself for your first 48 hours. That's where you'll be able to uncover the rich medieval history, tales of Polish kings and queens, and some of the best dining (and drinking) the country has to offer:
Day 1: Where better to start than the UNESCO-tagged heart of Krakow? The Old Town is the piece de resistance here. Begin on the Market Square. It's one of the largest urban squares in the world, and a lively gathering point for both people and sights. On its eastern side is the wonderful Basilica of St Mary, arguably the most important church in Poland. The Cloth Hall (a stunning Renaissance building) stands in the middle, filled with souvenir stalls.
After learning about powerful kings and battles with Tartar hordes, you'll finish under the mighty Wawel Castle. That's an icon of Krakow. Walk through its gateways to find a green courtyard with a small café. Glug a coffee and then scale the belfry of on-site Krakow Cathedral for sweeping panoramas of the Vistula River and the Tatra Mountains (on a clear day).
For the evening, return to the Market Square and hit the local bars with fellow travellers.
Tourist boats moored along the banks of the Vistula River in the scenic Kazimierz district of Krakow
Day 2: A hangover-cure breakfast (if required) in Milkbar Tomasza complete with traditional Polish sausage starts the day. From there, head to the Planty Park. A famous green space, it follows the route of the old city walls and is a people-watching paradise. Move south to the district of Kazimierz. Known as the Jewish Quarter, it's got centuries-old synagogues and some of the coolest cafes in town.
An optional walking tour here is for you if you want to delve into the darker history of Krakow's wartime past. If not, stroll to the Vistula Boulevards to join the joggers. Then, it's easy to cross over to Podgorze neighborhood and find corner cafés and wine bars. For sunset, push southwards to the Krakus Mound. This off-the-beaten-track spot is great when the light dips low over the city.
Krakus Mound, at 270m high provides the best location to watch the sunset over Krakow
Krakow's transportation system is really efficient. A combo of buses and trams, it uses an integrated ticketing system. You can pay your fare at machines located at most stops, or on most trams themselves.
Contactless payment is generally accepted, but it's always a good idea to have the right change handy. You'll pay 5 PLN for a standard hour-long ticket and 3,20 PLN for a 20-minute ticket. Remember to validate that when you board!
The Sukiennice (Cloth Hall) was historically the commercial hub of Krakow
The Balice International Airport is the main gateway to Krakow from the air. Getting to and from the terminal is now really easy thanks to a dedicated train line that runs every 30 minutes or so to the central station. You can purchase your ticket at the airport platform or on the train (9 PLN). A taxi from the airport typically costs around 50-100 PLN, depending on the company you go for (Mega and Eco taxis are usually the cheapest).
Most of Krakow's hotels can be found at least within walking distance of the Old Town. Generally speaking, the closer you are to that the better. However, you might also prefer the café scene and more local atmosphere of Kazimierz, which sits just a little to the south.
Krakow is generally safe for visitors. Reports of bar scams (when staff charge astronomical rates for just a few beers) and taxi scams are occasional. Also be warned that Police will pounce on anyone caught drinking alcohol in public or crossing the road on a red light (both warrant a fine).
Travelling to and around Budapest is super easy. There's an efficient underground network. Tickets for that cost 350 HUF per ride with a single transfer allowed. You can also use river boats (HUF750 per journey) and buses (350 HUF).
Taxis are rarely needed, but they are cheap, costing 280 HUF per kilometer. Be sure to insist your driver puts the meter on, and never accept offers from taxi touts at the airport.
The Fisherman's Bastion, Budapest
Talking of the airport, Budapest Airport sits around 22 kilometers from the city center. You can get to and from the terminals using the dedicated express bus (€2) or by train (€2.70). Both options take between 30-40 minutes. Be sure to buy tickets at machines by the stops – they're more expensive when purchased direct from drivers.
When it comes to picking hotels in Budapest, you're best off focussing on the Pest side of the city. That's where the bulk of the best lodgings are located. Being in the Jewish Quarter can be noisy, but perfect if you want to hit the nightlife of Szimpla and the other ruin bars. The Inner City area is charming and quieter, with some boutique options. Meanwhile, Újlipótváros is a local's favourite, with its cool cafés and art galleries and sleek Airbnbs.
Related articles: Where to stay in Budapest
Budapest is largely safe and crime statistics are in line with European norms. Some well-known scams include taxi drivers who overcharge and sellers of fake goods. Pickpocketing is also a rare but real problem. Just be aware of your personal possessions and be vigilante, especially when on public transportation.
Price wise, Budapest is surely up there with the cheapest of European capitals. A large beer can cost as little as 500 HUF (€1.50). Food in a midrange restaurant will set you back between 2,000 HUF and 3,000 HUF (€6-9). Nights in hotels are noticeably less than in nearby Vienna, too.