Prague or Budapest; a vs city comparison and travel guide
Both Prague and Budapest are fantastic cities, but which is better for your city-break or holiday?
We understand your dilemma. There is a wealth of information about both cities, but little stating which is the better destination and more suited for your trip.
This article will provide our unbiased opinions of Budapest and Prague, and hopefully help you to choose the best city to visit.
The article is divided into the following sections, and can be jumped to using the links:
• Introduction to the cities
• Scores and ratings
• Which one should I, friends, or family visit?
• When to visit and weather
• Who is the city suited for?
• The perfect 48hours (with map)
• Tourism details (where to stay? airport details?)
Prague, the Czech capital wows visitors with its Gothic castles, cobbled lanes and handsome medieval plazas.It sits on a snaking bend in the Vltava River, unfolding with a fairy-tale Old Town district that flits from curious astronomical clocks to age-old synagogues at just the turn of a corner.
Straddling the snaking Danube in the very heart of Europe is Budapest, the buzzing capital of Hungary. The largest city in the country, it's split into Buda (in the west) and Pest (in the east). They're joined by grand 19th-century chain bridges to form a continuous metropolis that's home to more than 1.7 million people.
Budapest magnetizes visitors with a mixture of rich history, bold architectural sites, café culture, urban spas and vibrant nightlife. Look one way and you'll see the elaborate Habsburg-era palaces that crown Buda Hill.
Look another and you find steaming bathhouses smelling of sulphur. And that's not even mentioning the heady ruin bars, the colossal Dohány Street Synagogue, and the wide boulevards left over from Communist times.
Summary
Which city would I go to?
Budapest
Which one would I recommend to my parents?
Prague
Which location for my 19-year-old cousin?
Budapest
Which for my food obsessed friend?
Budapest
Note: The above comparison does not consider the weather, and assumes travel at the best time of year (which is detailed later in this article)
The following sections compare the two cities and considers; how long to spend in them, when to visit, and provides suggested 48hours in each city (along with an interactive map).
The final section is tourism practicalities and includes which airport to fly into, what district to be based in and how best to explore the city.
We hope that you find all of this information useful, in planning your next exciting trip!
How long to spend each city?
Fly-in visits for three days are enough to check off the major must-see sights of Budapest. This is a compact capital with good underground and bus links. You can get easily get across town – going from Buda Castle on one side of the city all the way to the Széchenyi Thermal Baths at the other takes less than an hour on public transport.
That said, Budapest has plenty of hidden secrets up its sleeve. You could easily while away a whole week enjoying cheap happy hours in the ruin bars, bathing in the Art Deco spas, and visiting islands up the Danube. If you're coming in summer, you could also extend a stay to include the art galleries and cobbled lanes of Szentendre, the mineral-rich waters of Lake Balaton, and the rustic Tokaj wine country to the east.
Prague is one of the original European city break destinations. With countless low-cost carriers whizzing in and out, it should be easy to put together a short trip here on a budget. To unearth the secrets of the Old Town, see Prague Castle, and enjoy at least a night on the beer and the goulash, a few days is probably all you'll need.
Of course, if you've got extra days, Prague will surely fill them. Excursions out to the wooded valleys of Bohemia, where the castles of Český Krumlov and Kutna Hora await, can be added into the mix. But you could also stay in the city itself, to break away from the more touristy centre into neighborhoods like hipster Žižkov and Nusle.
Prague has the usual four seasons of Central Europe. The summer is generally hot and humid, with the highest temperatures in the 30s during July and August. It's also common to have regular thunderstorms that last for short bursts then. Winter, meanwhile, is cold. It's the best time to visit Prague if you're in search of kitschy Christmas markets that sell blood sausages, hot chocolate and warm Czech beer. You'll certainly need the thermals and snow coat between November and March, though. It's not uncommon for temperatures to stay below zero for weeks on end.
The upshot is that the spring and autumn probably see Prague in its prime. In April, May, September and October, things can still be mild and warm. There are fewer visitors hitting the mainstay sites like the Prague Castle. Hotel rates drop considerably to boot, and you're more likely to get bargains on flights into town.
Late spring and early autumn are when locals often say Budapest is at its best. Temperatures average around 23-25 degrees in May and September. There's not an overload of rain then either. And it's perfect for avoiding the crowds of midsummer city breakers that come during the European holidays.
There's also something to be said for visiting Budapest in the midst of winter. Mercury plummets between November and March, and it's not uncommon to see the Danube freeze over with huge chunks of ice. What's more, the tenements and side streets of the Jewish Quarter and the historic Inner City areas ooze atmosphere on cold, snowy days. Just be sure to pack the thermals!
Budapest's layers of history combine with a sleepless nightlife scene, making this European capital a great pick for a whole host of travellers. The backpacking crowd can make for the Jewish Quarter's ruin bars and glug uber-cheap Hungarian beers in bohemian courtyards.
More culturally aligned visitors might prefer to unearth the past of the Hungarian empire on the grounds of Buda Castle, or pay their respects at the haunting House of Terror museum that chronicles the dark days of Stasi rule.
You might not feel totally at home here if you're a big fan of beaches and sun. Budapest is a landlocked city in a landlocked country, so the ocean is never near. Hungary's capital isn't the greenest of towns, either. There are parks, but they're really on the outskirts. It's very much an urban destination.
Prague is a heritage-rich, historic and hedonistic European city. You'll spend your time gawping at haunting castles and getting lost in medieval districts. Of course, there's also plenty of room for evenings of Czech beer and samplings of Slavic dumplings and goulash. If you're a food-loving culture vulture then there's hardly anywhere better on offer. What's more, backpackers and partygoers will find loads to like in the sleepless basement bars and pubs.
What Prague can't excel in is proximity to the ocean. If you're looking for somewhere to dine on seafood and hit the beach, it's not the place for you. The same goes for the great outdoors. It isn't hard to escape to backcountry Bohemia from here, but you will need to rent a car or organise a day trip away from the Old Town to do that.
48hours in Budapest
Day 1: Start on the Pest side of the city. That's home to the huge Dohány Street Synagogue. It's one of the great landmarks of Budapest and reigns as the largest synagogue in Europe. From there, head to the wide boulevard of Andrássy, a spectacular thoroughfare and UNESCO site that's lined with Neo-Classical mansions.
Visit the House of Terror museum on one end to unravel the haunting past of Communist rule in Hungary. Then, go for a hard-earned spa session in the famous Art Deco baths of Széchenyi. Dinner can be nothing less than a paprika-smoked goulash in Gettó Gulyás, followed by a beer in the mind-boggling art gallery come bar that is Szimpla Kert.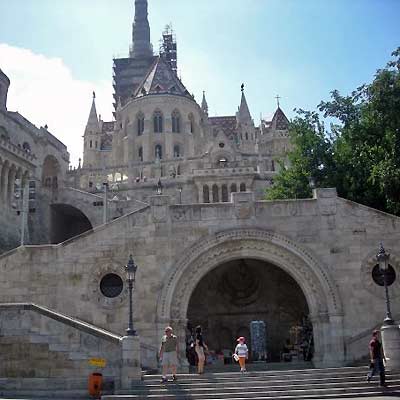 Pest cathedral
Day 2: Breakfast in the Central Market Hall that dates from 1897. Grab some sweet Hungarian pastries and then hop across the Danube on the handsome Liberty Bridge. In front of you, the elegant Gellért Baths are an optional stop. Or, push on up to the Fisherman's Bastion and the Citadella. These were once defensive outposts where Hungarian armies protected their capital. These days, they have stunning views of the Danube. A walk to the north takes you to the Castle District. You can tour the grounds and take in the architecture, or go inside for regal court rooms. Be sure to take some photos of the imposing Hungarian Parliament Building across the water. Finally, drop back into Pest for dinner in the Inner City. That area has everything from Tex-Mex joints to smoky 1930s speakeasies.
48hours in Prague
Two days in Prague is best shared 50/50 between history and urban life. The fairy-tale Old Town and the mighty Prague Castle take care of the first half. Then come cool districts like Žižkov, where you'll sip fair-trade coffees and explore flea bazaars.
Day 1: Go straight to the heart of the city by beginning your weekend on the vast Old Town Square. This is the kernel of the historic quarter of Prague. It bustles with life from summer to winter, with the crowds moving between the great landmarks of the Old Town Hall and the Church of Our Lady before Týn. The latter of those is famed for its coal-black Gothic turrets that loom more than 80 metres up.
The former has gorgeous Gothic doors and gargoyles, along with the strange Prague Astronomical Clock, a 15th-century time keeping device that now reigns as the longest-running working clock on the planet. Crowds will gather below to watch it chime on the hour, as figures of the apostles emerge from doors like a strange version of a cuckoo clock. Go eastwards through the winding lanes of the Old Town and you'll eventually come to the riverside.
That's where the cobbled streets lead straight onto Charles Bridge. An icon of Prague, it's peppered with statues of saints that are a photographer's dream in the misty winter months. Cross the walkway and you'll find yourself in the chocolate-box Malá Strana. This is the oldest part of Prague, where you'll catch hearty beer taverns like the local favourite U Hrocha. Beer finished? Good, it's time to work it off with the walk up to Prague Castle. The steps lead up almost straight from the door of the pub. Spend the afternoon exploring that sprawling site. There is loads to see, from the stunning St. Vitus Cathedral to the cute craft workshops of Golden Lane.
The Dancing House may be one of Prague's most distinctive buildings, but being in the heart of the old town its unique design was extremely controversial
Day 2: Treat yourself to a hearty breakfast in boho Žižkavárna Café. It's loved by the locals for its strong coffees and homemade cakes but is also a fantastic intro to the stylish neighborhood of Žižkov itself. The landmark at the heart of that district of the soaring Žižkov Television Tower in Tower Park Praha. Be sure to take in its futuristic architecture from below before going inside. Then, it's straight up to the observation decks to enjoy sweeping views of the city.
You'll also want to drop by the National Memorial on Vítkov Hill. It's an important spot in the annals of Czech history. It was once a hops plantation but now hosts the colossal equestrian statue of Jan Žižka (a revered Czech military general) and the Tomb of the Unknown Soldier, a symbolic monument to resistance to Nazi occupation.
Keep going north across the river to Prague 7 and you'll find stripped-down hipster cafés like Kavárna Liberál. For dinner, try the multi-ethnic stalls of Hala 22 closer to the waterside, where everything from Rajasthani curry houses to Chinese noodles are options. Finally, get your beer drinking hat on, because Gyllene tigern – a legendary microbrewery – beckons with its hoppy unpasteurized tipples back in the Old Town.
The Václav Havel Airport Prague is the main entry point to the Czech capital. It's also the largest international airport in the Czech Republic. That means short-haul flight connections arrive there from all over, and you can usually bag some wallet-friendly bargains on carriers like Ryanair and EasyJet
All the usual crimes and scams of a European capital are present in Prague, though the town is generally very safe for visitors. Be vigilant of pick pocketers in busy areas and on public transport especially. Also try to dodge picking up taxis straight off the street – tourists are often prime targets for inflated rates. Prague's currency exchange points are notorious for being rip offs, so get your koruna before touching down.
For proximity to the main sites and bars, there's really nowhere better to bed down than in the Prague Old Town. Hotels will usually cost the most there, however. Something quieter and equally as atmospheric is available in the Malá Strana. But the New Town district and Žižkov are also both good options.
Talking of the airport, Budapest Airport sits around 22 kilometers from the city center. You can get to and from the terminals using the dedicated express bus (€2) or by train (€2.70). Both options take between 30-40 minutes. Be sure to buy tickets at machines by the stops – they're more expensive when purchased direct from drivers.
When it comes to picking hotels in Budapest, you're best off focussing on the Pest side of the city. That's where the bulk of the best lodgings are located. Being in the Jewish Quarter can be noisy, but perfect if you want to hit the nightlife of Szimpla and the other ruin bars. The Inner City area is charming and quieter, with some boutique options. Meanwhile, Újlipótváros is a local's favourite, with its cool cafés and art galleries and sleek Airbnbs.
Budapest is largely safe and crime statistics are in line with European norms. Some well-known scams include taxi drivers who overcharge and sellers of fake goods. Pickpocketing is also a rare but real problem. Just be aware of your personal possessions and be vigilante, especially when on public transportation.
Price wise, Budapest is surely up there with the cheapest of European capitals. A large beer can cost as little as 500 HUF (€1.50). Food in a midrange restaurant will set you back between 2,000 HUF and 3,000 HUF (€6-9). Nights in hotels are noticeably less than in nearby Vienna, too.