Prague or Amsterdam; a vs city comparison and travel guide
Both Amsterdam and Prague are fantastic cities, but which is better for your city-break or holiday?
We understand your dilemma. There is a wealth of information about both cities, but little stating which is the better destination and more suited for your trip.
This article will provide our unbiased opinions of Amsterdam and Prague, and hopefully help you to choose the best city to visit.
The article is divided into the following sections, and can be jumped to using the links:
• Introduction to the cities
• Scores and ratings
• Which one should I, friends, or family visit?
• When to visit and weather
• Who is the city suited for?
• The perfect 48hours (with map)
• Tourism details (where to stay? airport details?)
Modern Amsterdam is a great place to visit. Europe's most liberal city is attempting to mature and rebrand itself as a cultural and stylish destination.
There will be always visitors who come for the quirky and liberal aspect of the city, from the coffee shops, which sell no coffee and the red lit streets, but there is so much more than Amsterdam's stereotypes.
Found in the city are world class museums, social nightlife and welcoming attitude rarely experienced elsewhere.
The Vltava River runs through the heart of Prague
Prague, the Czech capital wows visitors with its Gothic castles, cobbled lanes and handsome medieval plazas.It sits on a snaking bend in the Vltava River, unfolding with a fairy-tale Old Town district that flits from curious astronomical clocks to age-old synagogues at just the turn of a corner. Around that are other neighborhoods that beat with hipster cafes or come topped with the stunning spires of Prague Castle – one of the largest medieval fortifications in the world.
You can fill days glugging frothy beers in cosy basement bars. You can trace the footsteps of Franz Kafka in award-winning literature museums. You can delve into enchanting Christmas Markets or gaze at great monuments on Wenceslas Square. What's more, Prague sits smack bang in the heart of the beautiful region of Bohemia, a land of undulating hills and beer breweries that offers a taste of rural Europe.
The main square in Prague with the Tyn Cathedral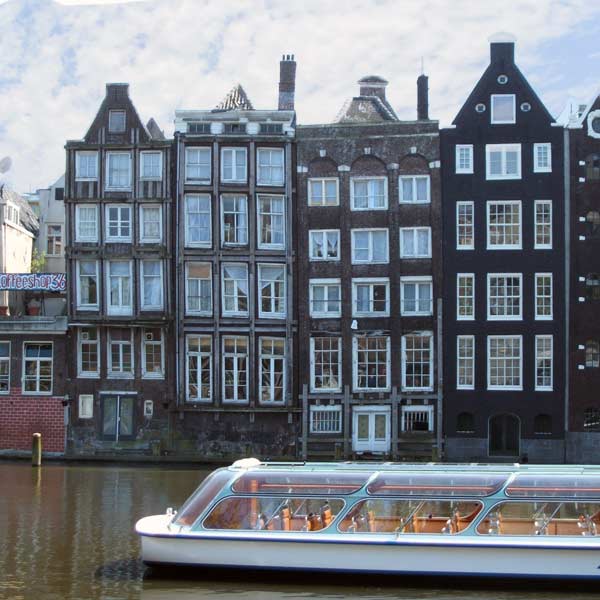 Singel canal in Amsterdam with typical Dutch houses and houseboats.
Summary
Which city would I go to?
Amsterdam
Which one would I recommend to my parents?
Amsterdam
Which location for my 19-year-old cousin?
Prague
Which for my food obsessed friend?
Amsterdam
Note: The above comparison does not consider the weather, and assumes travel at the best time of year - which is detailed later in this article.
The following sections compare the two cities and considers; how long to spend in them, when to visit, and provides suggested 48hours in each city (along with an interactive map).
The final section is tourism practicalities and includes which airport to fly into, what district to be based in and how best to explore the city.
We hope that you find all of this information useful, in planning your next exciting trip!
How long to spend each city?
Prague is one of the original European city break destinations. With countless low-cost carriers whizzing in and out, it should be easy to put together a short trip here on a budget. To unearth the secrets of the Old Town, see Prague Castle, and enjoy at least a night on the beer and the goulash, a few days is probably all you'll need.
Of course, if you've got extra days, Prague will surely fill them. Excursions out to the wooded valleys of Bohemia, where the castles of Český Krumlov and Kutna Hora await, can be added into the mix. But you could also stay in the city itself, to break away from the more touristy centre into neighborhoods like hipster Žižkov and Nusle.
Three days is ideal to get a good flavour of Amsterdam, and in this time you could include a quick day trip out of town. Much less and it might feel a bit rushed, especially if you are visiting for the first time.
If you can afford more time, there are a surprising amount of places worth visiting in the surrounding area. Many people like to visit Keukenhof in spring, the largest flower garden in the world. There are also the Zaanse Schans Windmills and fairy-tale castle 'Kasteel De Haar' not too far away.
Lots of people also like to visit one of the numerous planned cities built on land reclaimed from the sea such as Almere or Lelystad, a short 20-minute train ride from the central train station. Because these cities are so new, they have prided themselves on drawing on the latest innovations in architectural design.
The delightful Prague Orloj is the world's oldest operating astronomical clock, and displays the position of the Sun and Moon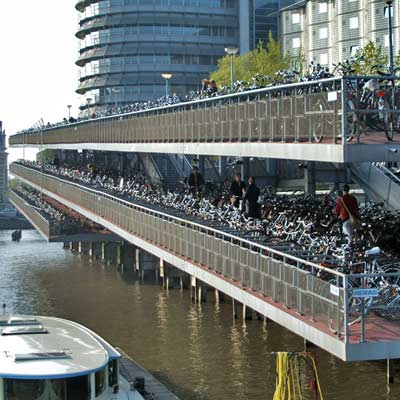 The Dutch love to cycle…..
Spring is the best time of year to visit Amsterdam before the summertime high tourist season hits, and you can catch either the King's Day festival in April or awe at the sea of tulips at Keukenhof.
The warmest month in Amsterdam is August with average temperatures of around 22 degrees (71F) which isn't that hot! It gets pretty chilly in winter, down to just above freezing. The weather is generally very changeable all year round so we recommend you be prepared for all weathers at all times! It could easily rain or be windy for at least one of the days you are there.
Prague has the usual four seasons of Central Europe. The summer is generally hot and humid, with the highest temperatures in the 30s during July and August. It's also common to have regular thunderstorms that last for short bursts then. Winter, meanwhile, is cold. It's the best time to visit Prague if you're in search of kitschy Christmas markets that sell blood sausages, hot chocolate and warm Czech beer. You'll certainly need the thermals and snow coat between November and March, though. It's not uncommon for temperatures to stay below zero for weeks on end.
The upshot is that the spring and autumn probably see Prague in its prime. In April, May, September and October, things can still be mild and warm. There are fewer visitors hitting the mainstay sites like the Prague Castle. Hotel rates drop considerably to boot, and you're more likely to get bargains on flights into town.
Prague is a heritage-rich, historic and hedonistic European city. You'll spend your time gawping at haunting castles and getting lost in medieval districts. Of course, there's also plenty of room for evenings of Czech beer and samplings of Slavic dumplings and goulash. If you're a food-loving culture vulture then there's hardly anywhere better on offer. What's more, backpackers and partygoers will find loads to like in the sleepless basement bars and pubs.
What Prague can't excel in is proximity to the ocean. If you're looking for somewhere to dine on seafood and hit the beach, it's not the place for you. The same goes for the great outdoors. It isn't hard to escape to backcountry Bohemia from here, but you will need to rent a car or organise a day trip away from the Old Town to do that.
There's something for everyone in Amsterdam.
While it has historically attracted hipsters, it also has a lot to offer to those looking for a peaceful and relaxed place to getaway. It's easy to follow one of the canals out from Rembrandtplein in the centre to a quieter neighbourhood such as Jordaan or Prinsengracht either on foot or by bike, or even better, floating along by canal boat.
Believe it or not, Amsterdam is also an incredibly family-friendly city. The relaxed approach to parenting permeates its museums, sights and events and the city is home to hundreds of playgrounds and child-friendly cafes.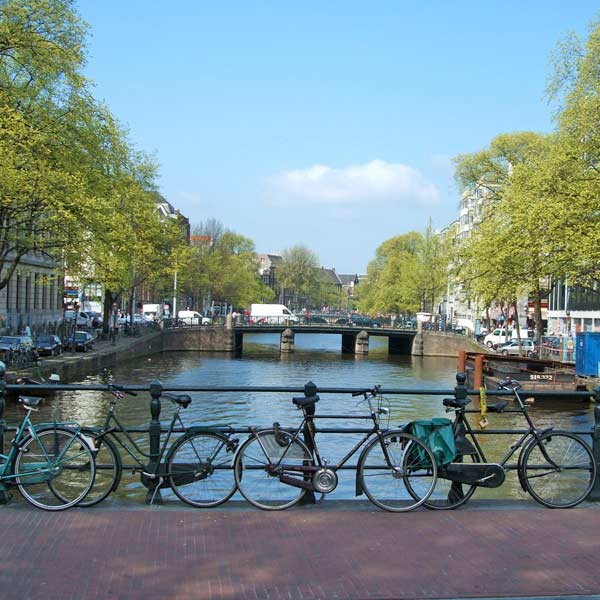 The canals in Amsterdam
The Charles Bridge spans the Vltava River in central Prague and is lined the thirty Baroque statues
48hours in Prague
Two days in Prague is best shared 50/50 between history and urban life. The fairy-tale Old Town and the mighty Prague Castle take care of the first half. Then come cool districts like Žižkov, where you'll sip fair-trade coffees and explore flea bazaars.
Day 1: Go straight to the heart of the city by beginning your weekend on the vast Old Town Square. This is the kernel of the historic quarter of Prague. It bustles with life from summer to winter, with the crowds moving between the great landmarks of the Old Town Hall and the Church of Our Lady before Týn. The latter of those is famed for its coal-black Gothic turrets that loom more than 80 metres up.
The former has gorgeous Gothic doors and gargoyles, along with the strange Prague Astronomical Clock, a 15th-century time keeping device that now reigns as the longest-running working clock on the planet. Crowds will gather below to watch it chime on the hour, as figures of the apostles emerge from doors like a strange version of a cuckoo clock. Go eastwards through the winding lanes of the Old Town and you'll eventually come to the riverside.
That's where the cobbled streets lead straight onto Charles Bridge. An icon of Prague, it's peppered with statues of saints that are a photographer's dream in the misty winter months. Cross the walkway and you'll find yourself in the chocolate-box Malá Strana. This is the oldest part of Prague, where you'll catch hearty beer taverns like the local favourite U Hrocha. Beer finished? Good, it's time to work it off with the walk up to Prague Castle. The steps lead up almost straight from the door of the pub. Spend the afternoon exploring that sprawling site. There is loads to see, from the stunning St. Vitus Cathedral to the cute craft workshops of Golden Lane.
The Dancing House may be one of Prague's most distinctive buildings, but being in the heart of the old town its unique design was extremely controversial
Day 2: Treat yourself to a hearty breakfast in boho Žižkavárna Café. It's loved by the locals for its strong coffees and homemade cakes but is also a fantastic intro to the stylish neighborhood of Žižkov itself. The landmark at the heart of that district of the soaring Žižkov Television Tower in Tower Park Praha. Be sure to take in its futuristic architecture from below before going inside. Then, it's straight up to the observation decks to enjoy sweeping views of the city.
You'll also want to drop by the National Memorial on Vítkov Hill. It's an important spot in the annals of Czech history. It was once a hops plantation but now hosts the colossal equestrian statue of Jan Žižka (a revered Czech military general) and the Tomb of the Unknown Soldier, a symbolic monument to resistance to Nazi occupation.
Keep going north across the river to Prague 7 and you'll find stripped-down hipster cafés like Kavárna Liberál. For dinner, try the multi-ethnic stalls of Hala 22 closer to the waterside, where everything from Rajasthani curry houses to Chinese noodles are options. Finally, get your beer drinking hat on, because Gyllene tigern – a legendary microbrewery – beckons with its hoppy unpasteurized tipples back in the Old Town.
The Klaus synagogue and cemetery, in the Jewish quarter of Prague
48hours in Amsterdam
Start on day 1 in the Museum Quarter where some of Amsterdam's world-class museums are.
Rijksmuseum where Rembrandt's 'The Night Watch' is held can be found here, as well as the Van-Gogh Museum and Stedelijk Museum, which contains a huge collection of everything from sculpture to painting to photography by artists such as Picasso and Warhol.
In the afternoon, head to the artisan area of Jordaan. It has a homely charm to it with all the houseboats along the quays and old crooked buildings.
If you're looking for a night out, head to the areas of Leidseplein or Rembrandtplein in the evening.
Spring at Dam Square with the Royal Palace in the background.
On day 2 head to Dam Square and the Royal Palace then the red-light district.
A visit to the Anne Frank House is a fascinating and sobering experience but this can get very busy so we recommend booking ahead online for a specific time.
If you are looking for something a bit slower paced in the evening - a great photo opportunity is from the Magere Brug. After dark, this bridge is illuminated by over a thousand lights and due to its location, it makes for a good vantage point where you can see 15 bridges at the same time.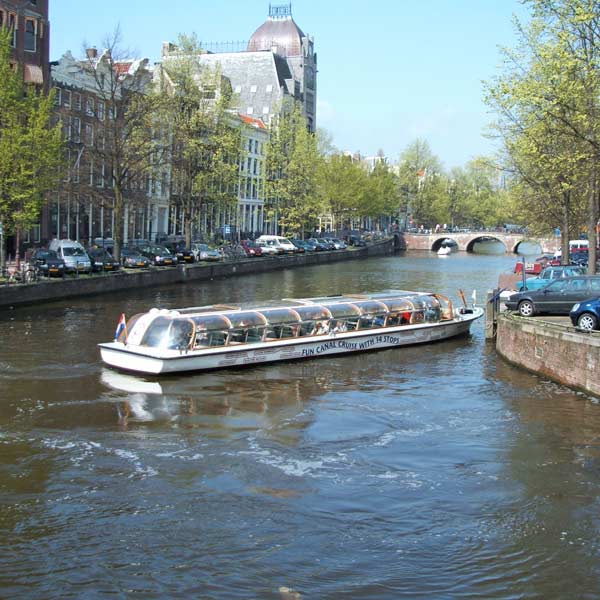 Boat cruise along a canal in Amsterdam
On arrival in Amsterdam Schiphol airport, the quickest way to get into town by public transport is the train which costs €5.40 and takes 20 minutes. The bus costs €5 and takes about 35 minutes.
Amsterdam is an expensive city. Walking and cycling are the best ways to get around. By boat you can see all the big sights too and there are many options for hop-on-hop-off. There is also an impressive public transport system of trams, buses, metros, trains and ferries to help you get around.
Rijksmuseum in Amsterdam
All cities have their perils but with regards to Amsterdam, probably the main ones to consider are bike safety and caution in the "coffee shops". As well as the usual bike safety rules you'd expect at home, keep an eye out for nippy scooters on the bike lanes and avoid rush hour if possible. In terms of the coffeeshop visits – don't underestimate the effects of the products, as the varieties sold here are more potent than elsewhere.
Amsterdam is typically an extremely safe city for solo female travellers but it's not advised to visit the Red Light District at night as the area does have a seedier vibe.
The Václav Havel Airport Prague is the main entry point to the Czech capital. It's also the largest international airport in the Czech Republic. That means short-haul flight connections arrive there from all over, and you can usually bag some wallet-friendly bargains on carriers like Ryanair and EasyJet
For a European capital, Prague is very walkable and bikeable. The whole Old Town is actually best explored on foot, and the same goes for the castle district. For longer trips, the uber-efficient Prague Metro and tram network combine on the PID ticket to offer easy hops from A to B.
The basic ticket costs 24 CZK ($1) and allows access and transfers for 30 minutes. Buy them via the Prague transport mobile app, in local newsagents, or at the tram stops themselves. Don't forget to validate your ticket at the yellow machines on board.
The Gothic Saint Vitus Cathedral lies within the Prague castle complex
All the usual crimes and scams of a European capital are present in Prague, though the town is generally very safe for visitors. Be vigilant of pick pocketers in busy areas and on public transport especially. Also try to dodge picking up taxis straight off the street – tourists are often prime targets for inflated rates. Prague's currency exchange points are notorious for being rip offs, so get your koruna before touching down.
For proximity to the main sites and bars, there's really nowhere better to bed down than in the Prague Old Town. Hotels will usually cost the most there, however. Something quieter and equally as atmospheric is available in the Malá Strana. But the New Town district and Žižkov are also both good options.