Amsterdam or Porto; a vs city comparison and travel guide
Both Porto and Amsterdam are fantastic cities, but which is better for your city-break or holiday?
We understand your dilemma. There is a wealth of information about both cities, but little stating which is the better destination and more suited for your trip.
This article will provide our unbiased opinions, and hopefully help you to choose the best city to visit.
The article is divided into the following sections, and can be jumped to using the links:
• Introduction to the cities
• Scores and ratings
• Which one should I, friends, or family visit?
• When to visit and weather
• Who is the city suited for?
• The perfect 48hours (with map)
• Tourism details (where to stay? airport details?)
Modern Amsterdam is a great place to visit. Europe's most liberal city is attempting to mature and rebrand itself as a cultural and stylish destination.
There will be always visitors who come for the quirky and liberal aspect of the city, from the coffee shops, which sell no coffee and the red lit streets, but there is so much more than Amsterdam's stereotypes.
Found in the city are world class museums, social nightlife and welcoming attitude rarely experienced elsewhere.
Bikes are the best way to travel around Amsterdam
Porto is the surprise of western Europe. This hardworking and unassuming city seems to have stumbled into tourism without even realising its own potential. The variety of historic sights, personable atmosphere, along with a glass of sweet Port wine, creates a wonderful tourist destination.
Porto may be comparatively small and virtually unknown, but it can rival any of the more established tourist destinations. The unique appeal of Porto is that it is not swamped by tourists in the summer season, and is ideal for a summertime city break.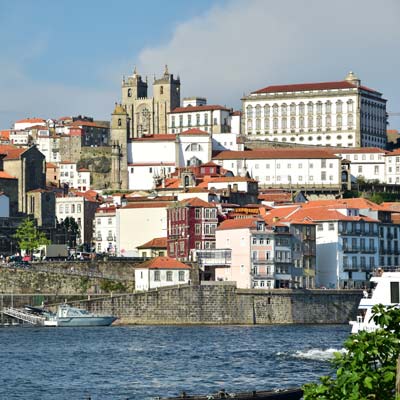 The Ribeira is the oldest district in Porto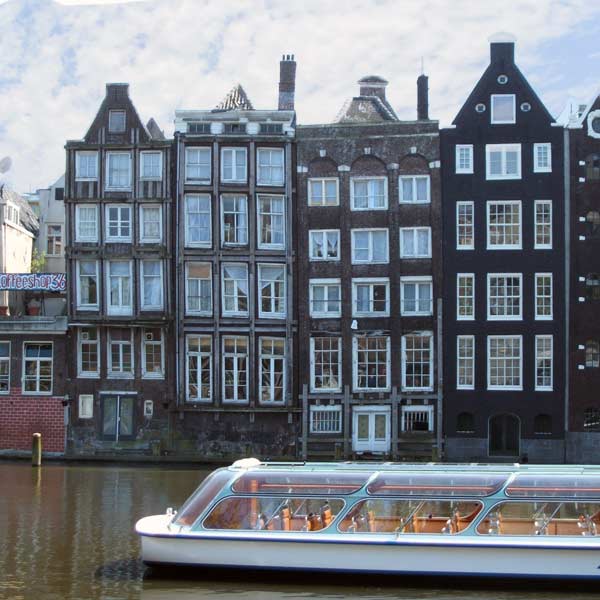 Singel canal in Amsterdam with typical Dutch houses and houseboats.
Summary
Which city would I go to?
Amsterdam
Which one would I recommend to my parents?
Amsterdam
Which location for my 19-year-old cousin?
Amsterdam
Which for my food obsessed friend?
Amsterdam
Note: The above comparison does not consider the weather, and assumes travel at the best time of year - which is detailed later in this article.
The following sections compare the two cities and considers; how long to spend in them, when to visit, and provides suggested 48hours in each city (along with an interactive map).
The final section is tourism practicalities and includes which airport to fly into, what district to be based in and how best to explore the city.
We hope that you find all of this information useful, in planning your next exciting trip!
How long to spend each city?
Three days is ideal to get a good flavour of Amsterdam, and in this time you could include a quick day trip out of town. Much less and it might feel a bit rushed, especially if you are visiting for the first time.
If you can afford more time, there are a surprising amount of places worth visiting in the surrounding area. Many people like to visit Keukenhof in spring, the largest flower garden in the world. There are also the Zaanse Schans Windmills and fairy-tale castle 'Kasteel De Haar' not too far away.
Lots of people also like to visit one of the numerous planned cities built on land reclaimed from the sea such as Almere or Lelystad, a short 20-minute train ride from the central train station. Because these cities are so new, they have prided themselves on drawing on the latest innovations in architectural design.
Porto is a compact city, and if rushed, all of the major tourist areas can be seen in a single day. Typically, we would recommend two days, which would include a short cruise along the Douro River and time for port tasting.
If you wished to extend your trip further, there are some great days out to the historic towns of Guimarães, Braga and Aveiro. During the summer (Jun-Sep) there are beautiful beaches along the Costa Verde coastline, and you could visit the resort towns of Espinho, Vila do Conde or Matosinhos.
Related articles: 2 days in Porto – 1 week in Porto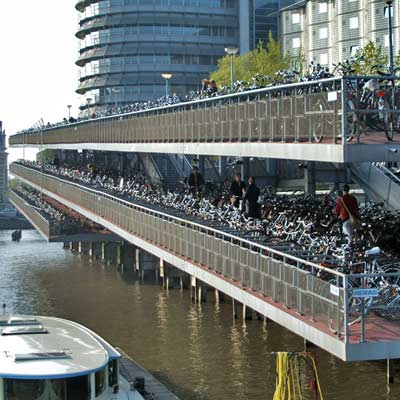 The Dutch love to cycle…..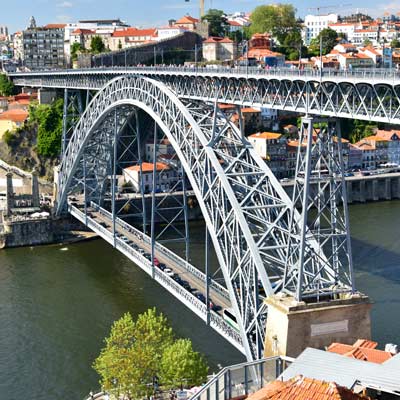 The Ponte Luís I bridge in Porto spans the Douro River
Porto is one of the best European cities for a summer city break. While the rest of southern Europe swelters under the unbearable summer heat, Porto experiences pleasant weather and is not completely overrun by tourists.
Winters are mild and wet, and there is a high chance of rain from October through to May. The middle of June is the best time to visit the city when the Santos Populares festivals are being held.
Spring is the best time of year to visit Amsterdam before the summertime high tourist season hits, and you can catch either the King's Day festival in April or awe at the sea of tulips at Keukenhof.
The warmest month in Amsterdam is August with average temperatures of around 22 degrees (71F) which isn't that hot! It gets pretty chilly in winter, down to just above freezing. The weather is generally very changeable all year round so we recommend you be prepared for all weathers at all times! It could easily rain or be windy for at least one of the days you are there.
There's something for everyone in Amsterdam.
While it has historically attracted hipsters, it also has a lot to offer to those looking for a peaceful and relaxed place to getaway. It's easy to follow one of the canals out from Rembrandtplein in the centre to a quieter neighbourhood such as Jordaan or Prinsengracht either on foot or by bike, or even better, floating along by canal boat.
Believe it or not, Amsterdam is also an incredibly family-friendly city. The relaxed approach to parenting permeates its museums, sights and events and the city is home to hundreds of playgrounds and child-friendly cafes.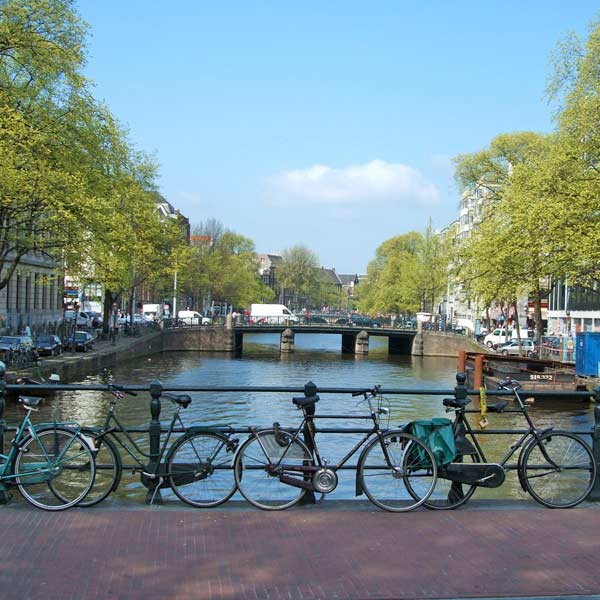 The canals in Amsterdam
The characteristics of Porto traditionally appealed to the older visitor; it is very safe and there is a pleasant unhurried ambience, with a slightly conservative attitude. This mature opinion of Porto is often compounded by the most popular activities; Douro River cruises and Port tasting (which is great fun!).
This demographic of visitors to Porto is rapidly evolving, as younger travellers realise it is actually a progressive city, with a lot to see and do. Porto will appeal to those looking for somewhere slightly different, but who want a hassle-free trip with decent tourist facilities. Being one of the safest cities in Europe makes it ideal for solo/female travellers.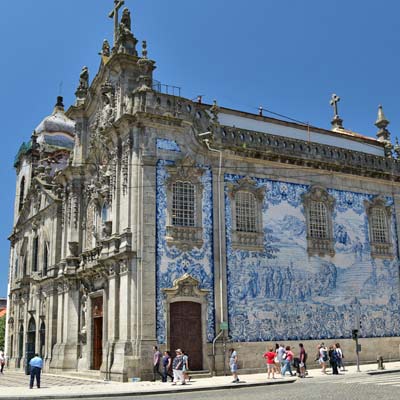 The beautiful Azulejo tile painting on the side of the Igreja do Carmo, Porto
Porto
Considering the size of Porto there is a lot to see, and you can pack in a lot in a 48 hour visit.
Below is an interactive map of where we recommend to go in 48 hours in Porto; day 1 is highlighted in green and day 2 in yellow, with optional sights marked in grey.
A tour of Porto typically starts in the Se district, with the gothic cathedral and ancient city walls. Next is the Baixa district, where you can find the Avenida dos Aliados, and enjoy the view from the top of the Clérigos Tower.
For the latter part of the day and evening visit the ancient Ribeira district, which lines the banks of the Douro River. For the evening, join one of the boat cruises along the river or to party head to the Vitória district.
On the morning of the second day, ride the traditional tram to the Foz district, which is positioned at the mouth of the Douro River and extends along a rocky coastline to the beach of Matosinhos.
In the afternoon, and the highlight of Porto, are the tours of the Port cellars and Port tasting. Lining the southern banks of the Douro River are eight of the major Port producers, each with their vast cellars and tasting tours. You'll happily leave Porto a Port connoisseur and a little tipsy…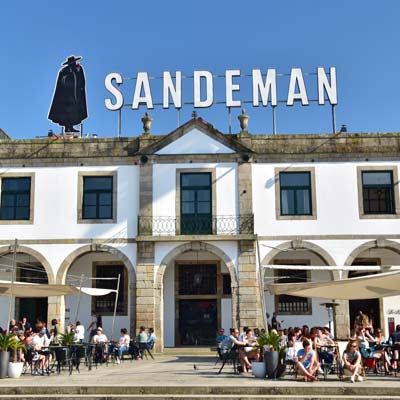 Port tasting at the Sandeman cellars– an enjoyable activity and a great way to meet fellow travellers
48hours in Amsterdam
Start on day 1 in the Museum Quarter where some of Amsterdam's world-class museums are.
Rijksmuseum where Rembrandt's 'The Night Watch' is held can be found here, as well as the Van-Gogh Museum and Stedelijk Museum, which contains a huge collection of everything from sculpture to painting to photography by artists such as Picasso and Warhol.
In the afternoon, head to the artisan area of Jordaan. It has a homely charm to it with all the houseboats along the quays and old crooked buildings.
If you're looking for a night out, head to the areas of Leidseplein or Rembrandtplein in the evening.
Spring at Dam Square with the Royal Palace in the background.
On day 2 head to Dam Square and the Royal Palace then the red-light district.
A visit to the Anne Frank House is a fascinating and sobering experience but this can get very busy so we recommend booking ahead online for a specific time.
If you are looking for something a bit slower paced in the evening - a great photo opportunity is from the Magere Brug. After dark, this bridge is illuminated by over a thousand lights and due to its location, it makes for a good vantage point where you can see 15 bridges at the same time.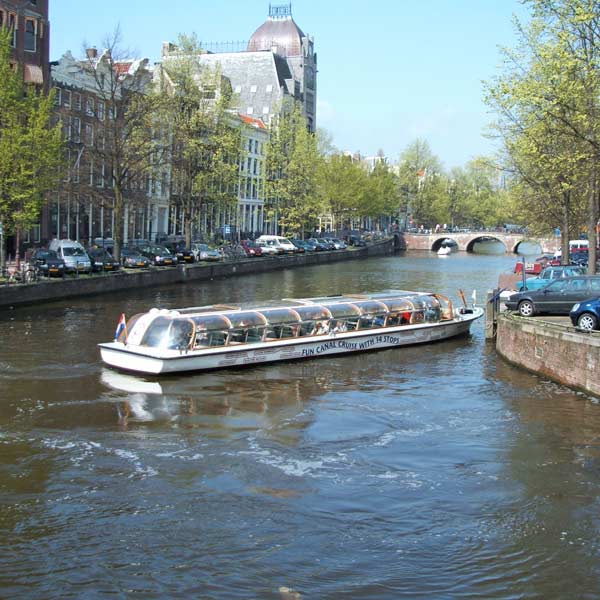 Boat cruise along a canal in Amsterdam
On arrival in Amsterdam Schiphol airport, the quickest way to get into town by public transport is the train which costs €5.40 and takes 20 minutes. The bus costs €5 and takes about 35 minutes.
Amsterdam is an expensive city. Walking and cycling are the best ways to get around. By boat you can see all the big sights too and there are many options for hop-on-hop-off. There is also an impressive public transport system of trams, buses, metros, trains and ferries to help you get around.
Rijksmuseum in Amsterdam
All cities have their perils but with regards to Amsterdam, probably the main ones to consider are bike safety and caution in the "coffee shops". As well as the usual bike safety rules you'd expect at home, keep an eye out for nippy scooters on the bike lanes and avoid rush hour if possible. In terms of the coffeeshop visits – don't underestimate the effects of the products, as the varieties sold here are more potent than elsewhere.
Amsterdam is typically an extremely safe city for solo female travellers but it's not advised to visit the Red Light District at night as the area does have a seedier vibe.
Porto is a recommended destination for an alternative city break. Porto has a single airport which is 12km north of the historic centre and is connected by the metro. Porto has fewer flight routes and departures than other major cities, which means demand for weekend flights can be high. Equally, during the low season, there are bargain flights to be found.
Accommodation tends to be good value with ample supply, and most tourists are based in the Vitória, Sé or Baixa districts (all on the north side of the river). Porto can be easily explored on foot and rarely any public transport or taxis are needed for the entire trip. Just beware, there are steep hills!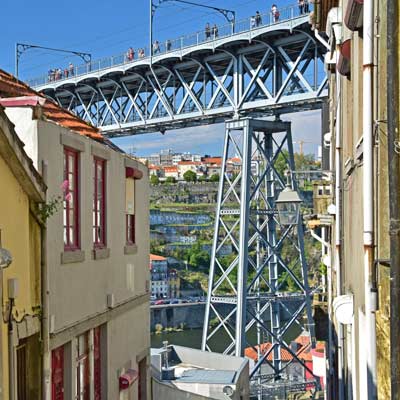 The pretty historic centre of Porto