Dubrovnik or Porto; a vs city comparison and travel guide
Both Porto and Dubrovnik are fantastic cities, but which is better for your city-break or holiday?
We understand your dilemma. There is a wealth of information about both cities, but little stating which is the better destination and more suited for your trip.
This article will provide our unbiased opinions of Porto and Dubrovnik, and hopefully help you to choose the best city to visit.
The article is divided into the following sections, and can be jumped to using the underlined links:
1) Introductions -
2) City scores -
3) Which one should I, friends, or family visit? -
4) When to visit and weather -
5) Who is the city suited for? -
6) The perfect 48hours (with map) -
7) Tourism details (where to stay? airport details?)
Prepare to be wowed by the sheer audacity of Dubrovnik. A castle on the Adriatic, the whole town is ringed by glowing limestone battlements, topped with keeps and turrets, and crowned by Byzantine basilicas.
Porto is the surprise of western Europe. This hardworking and unassuming city seems to have stumbled into tourism without even realising its own potential. The variety of historic sights, personable atmosphere, along with a glass of sweet Port wine, creates a wonderful tourist destination.
Porto may be comparatively small and virtually unknown, but it can rival any of the more established tourist destinations. The unique appeal of Porto is that it is not swamped by tourists in the summer season, and is ideal for a summertime city break.
Summary
Which city would I go to?
Dubrovnik
Which one would I recommend to my parents?
Dubrovnik
Which location for my 19-year-old cousin?
Porto
Which for my food obsessed friend?
Porto
Note: The above comparison does not consider the weather, and assumes travel at the best time of year (which is detailed later in this article)
The following sections compare the two cities and considers; how long to spend in them, when to visit, and provides suggested 48hours in each city (along with an interactive map). The final section is tourism practicalities and includes which airport to fly into, what district to be based in and how best to explore the city.
We hope that you find all of this information useful, in planning your next exciting trip!
How long to spend in the city?
Choosing how long to spend in Dubrovnik really depends on what you want out of your city break. A fly-in whirlwind tour of the Old Town can be great if you're on the hunt for culture and history. The museum collections of the Sponza Palace and the Rector's House, walking routes of the City Walls, and sightings of landmarks like Large Onofrio Fountain can all be packed into just a day or two.
But it might be best to allow a little extra time. With all the castles and churches here, it's easy to forget that Dubrovnik is an Adriatic riviera destination at heart. You've got pine forests, olive groves, rakija distilleries and the lost-paradise island of Mljet to think about. You certainly won't want to rush those during the warmer months, so consider staying a week or more to explore the city itself and those stunning surroundings.
Porto is a compact city, and if rushed, all of the major tourist areas can be seen in a single day. Typically, we would recommend two days, which would include a short cruise along the Douro River and time for port tasting.
If you wished to extend your trip further, there are some great days out to the historic towns of Guimarães, Braga and Aveiro. During the summer (Jun-Sep) there are beautiful beaches along the Costa Verde coastline, and you could visit the resort towns of Espinho, Vila do Conde or Matosinhos.
Related articles: 2 days in Porto – 1 week in Porto
Porto is one of the best European cities for a summer city break. While the rest of southern Europe swelters under the unbearable summer heat, Porto experiences pleasant weather and is not completely overrun by tourists.
Winters are mild and wet, and there is a high chance of rain from October through to May. The middle of June is the best time to visit the city when the Santos Populares festivals are being held.
Summer might seem like the perfect time to put together a trip to Croatia's castle city. However, temperature highs in the low 30s and strong midday sun can make things a little tiring. And that's not even mentioning the whopping great big crowds. Recent protests by Dubrovnik's locals have really highlighted the problem of summertime tourism – there's hardly an inch to move in the Old Town, especially when huge cruise ships are docked at port.
Things might improve thanks to recent laws barring any more than two large vessels per day, but we still think September and October come up trumps. This southern corner of the Balkans stays pleasantly warm well into the autumn, so you shouldn't have to worry about having the weather to laze on Lapad Beach. What's more, visitor numbers, hotel rates, and flight prices all plummet following the end of the summer vacations.
If you're one for enthralling tales of warring republics and battles with the Ottomans, Dubrovnik has you covered. If you're the sort who loves jaw-dropping European old towns with enough castles and churches and cobbled alleys to keep you going for a whole trip, it's also perfect. Oh, and Dubrovnik takes care of globetrotters who come in search of a little Mediterranean sand, sun and sea. You won't have to venture far to find a cove to swim in, a yacht charter, or even a remote island villa where you can crank up the R&R.
If you're not big on crowds, then summer trips (as noted above) to Dubrovnik are surely best avoided. And it's hardly the place for anyone in search of big-metropolis vibes a la Berlin or Amsterdam. For a city, Dubrovnik is relatively small and compact.
The characteristics of Porto traditionally appealed to the older visitor; it is very safe and there is a pleasant unhurried ambience, with a slightly conservative attitude. This mature opinion of Porto is often compounded by the most popular activities; Douro River cruises and Port tasting (which is great fun!).
This demographic of visitors to Porto is rapidly evolving, as younger travellers realise it is actually a progressive city, with a lot to see and do. Porto will appeal to those looking for somewhere slightly different, but who want a hassle-free trip with decent tourist facilities. Being one of the safest cities in Europe makes it ideal for solo/female travellers.
Porto
Considering the size of Porto there is a lot to see, and you can pack in a lot in a 48 hour visit.
Below is an interactive map of where we recommend to go in 48 hours in Porto; day 1 is highlighted in green and day 2 in yellow, with optional sights marked in grey.
A tour of Porto typically starts in the Se district, with the gothic cathedral and ancient city walls. Next is the Baixa district, where you can find the Avenida dos Aliados, and enjoy the view from the top of the Clérigos Tower.
For the latter part of the day and evening visit the ancient Ribeira district, which lines the banks of the Douro River. For the evening, join one of the boat cruises along the river or to party head to the Vitória district.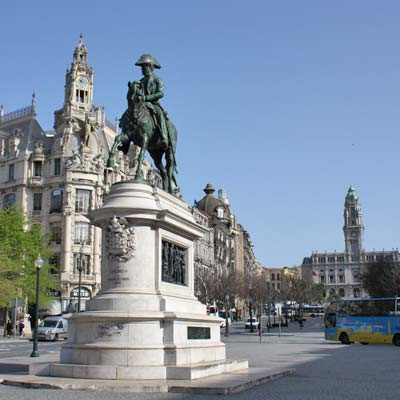 The Avenida dos Aliados is the grand plaza of central Porto
On the morning of the second day, ride the traditional tram to the Foz district, which is positioned at the mouth of the Douro River and extends along a rocky coastline to the beach of Matosinhos.
In the afternoon, and the highlight of Porto, are the tours of the Port cellars and Port tasting. Lining the southern banks of the Douro River are eight of the major Port producers, each with their vast cellars and tasting tours. You'll happily leave Porto a Port connoisseur and a little tipsy…
48hours in Dubrovnik
Hopping from crenulated towers overlooking the Adriatic Sea to hidden local swimming spots to soaring summits in the Dinaric Alps, this fun-filled 48 hours could just be the perfect introduction to this awesome city:
Day 1: Start – where else? – on buzzy Stradun. The main artery of the Old Town of Dubrovnik, it runs from the port to Pile Gate (a 16th-century stone gatehouse that's worth a photo stop), passing Irish pubs, coffee joints, and Croatian konoba (taverns) as it goes. Sip a cappuccino and devour a pastry there before making for the Large Onofrio Fountain.
An elaborate water feature that's stood since the 1430s, it still dispenses crystal-clear water for drinking. Fill the bottle and then move to the iconic City Walls. These can be traversed entirely.
Day 2: Kick start the day with a dip in the Med at Banje Beach. This is the closest beach to the Old Town of Dubrovnik and has a free section where you can take a quick swim while gawping at the high fortresses overhead.
Cafés and gelato shops line Frana Supila just above it, where you can grab a bite for breakfast before making for the base station of the Dubrovnik Cable Car – it's less than 500 metres away. Tickets might cost 170 HRK (€22) apiece, but the sweeping 180-degree views from the top station of Mountain Srd are simply awesome. You'll be able to see the red-tiled roofs of the Old Town below, the wooded crags of Lokrum Island, and the remote Elaphiti Islands (perfect day outings by boat if you have some more time to spare) beyond.
Return to ground level and then hop on a bus going over to the Lapad Peninsula. This is great for the evening. A quick splash in the sea can be followed by uber-fresh seafood dinners with crisp Croatian wine in the traditional taverns just by the bay.
Dubrovnik is a super walkable city. In fact, getting lost in the Old Town area is one of the best things to do here. Don't go thinking you can use the City Walls to navigate. The ticket for those costs 200 HRK (€29) and is only valid for a single entry.
To get back and forth from districts around the Old Town and the beaches of Lapad and beyond, there's an efficient local bus network. Virtually all routes will either take you to the historic heart of Dubrovnik or terminate at the main Kantafig station. You can purchase fares onboard for 15 HRK but they're a little cheaper if bought from a kiosk in advance.
Try to seek out a place to stay as close to the Old Town as you can if you're coming to see the history sights and enjoy the walking tours. Remember that the district is super compact, so boutique B&Bs with cosy rooms are the name of the game within its boundaries. For extra space and proximity to the Adriatic Sea, you could look to the larger hotels and guesthouses around Banje Beach or Gruz to the north.