Berlin or Porto; a vs city comparison and travel guide
Both Porto and Berlin are fantastic cities, but which is better for your city-break or holiday?
We understand your dilemma. There is a wealth of information about both cities, but little stating which is the better destination and more suited for your trip.
This article will provide our unbiased opinions of Porto and Berlin, and hopefully help you to choose the best city to visit.
The article is divided into the following sections, and can be jumped to using the underlined links:
1) Introductions -
2) City scores -
3) Which one should I, friends, or family visit? -
4) When to visit and weather -
5) Who is the city suited for? -
6) The perfect 48hours (with map) -
7) Tourism details (where to stay? airport details?)
Big, bustling, boisterous Berlin. Welcome to the beating heart of modern Germany. A city at once steeped in dark histories and creative culture, it's a place to strut between the ruins of the Berlin Wall seeing subversive graffiti murals, or to sip craft beers within eyeshot of Checkpoint Charlie.
Porto is the surprise of western Europe. This hardworking and unassuming city seems to have stumbled into tourism without even realising its own potential. The variety of historic sights, personable atmosphere, along with a glass of sweet Port wine, creates a wonderful tourist destination.
Porto may be comparatively small and virtually unknown, but it can rival any of the more established tourist destinations. The unique appeal of Porto is that it is not swamped by tourists in the summer season, and is ideal for a summertime city break.
Summary
Which city would I go to?
Berlin
Which one would I recommend to my parents?
Porto
Which location for my 19-year-old cousin?
Berlin
Which for my food obsessed friend?
Berlin
Note: The above comparison does not consider the weather, and assumes travel at the best time of year (which is detailed later in this article)
The following sections compare the two cities and considers; how long to spend in them, when to visit, and provides suggested 48hours in each city (along with an interactive map). The final section is tourism practicalities and includes which airport to fly into, what district to be based in and how best to explore the city.
We hope that you find all of this information useful, in planning your next exciting trip!
How long to spend in the city?
Berlin is one of those vibrant metropolises that always seems to have something extra up its sleeve. You could easily spend months here and not do everything you want. That's really a result of just how big it is – more than 3.5 million people call it home, and it's the largest city in Germany by a long shot.
That said, a weekend or a three-day break is often ample for a whirlwind tour of the capital's most iconic points of interest. Uber-efficient (no pun intended!) U-Bahn, tram, bus, and train links can help you hop from A to B with ease. But you'll also find that most of the mainstay attractions are close together, woven into the blocks of Mitte, Wedding and hipster East Central.
Porto is a compact city, and if rushed, all of the major tourist areas can be seen in a single day. Typically, we would recommend two days, which would include a short cruise along the Douro River and time for port tasting.
If you wished to extend your trip further, there are some great days out to the historic towns of Guimarães, Braga and Aveiro. During the summer (Jun-Sep) there are beautiful beaches along the Costa Verde coastline, and you could visit the resort towns of Espinho, Vila do Conde or Matosinhos.
Related articles: 2 days in Porto – 1 week in Porto
Porto is one of the best European cities for a summer city break. While the rest of southern Europe swelters under the unbearable summer heat, Porto experiences pleasant weather and is not completely overrun by tourists.
Winters are mild and wet, and there is a high chance of rain from October through to May. The middle of June is the best time to visit the city when the Santos Populares festivals are being held.
It's simple: Spring to summer for Berlin. From May to October, the locals of Berlin seem to come out of hibernation. The street-side cafes of Kreuzberg and Prenzlauer Berg get into full swing, with jazz evenings and long lunches fuelled by cold German beer the name of the game. What's more, this is when you'll find the lovely Tiergarten, the Mauer Park, and the Volkspark at their green and vibrant best. Those who prefer cooler days should stick to May and autumn. Those who like daytime highs in the low 30s can come in July and August.
If you prefer exploring European cities with mysterious mists and dustings of snow on the streets, not to mention way fewer tourists around, winter is also a top option. You'll need to wrap up for December, but Berlin will reward with enchanting Christmas markets at the Charlottenburg Palace and on Alexanderplatz.
If you're a city slicker with a soft spot for cool cafes (aka the coolest in Europe), great coffee, ethnic eateries, and urban vibes, then Berlin is arguably the place you should be for the rest of your life!
This is the epitome of a metropolis made up of individual neighbourhoods. Each has crafted its own unique character; some are hedonistic, others laid back and easy going, others packed with famous landmarks.
Those who want fresh air can escape to the Tiergarten and the beautiful Spreewald, but those are just supporting acts to the buzz of the downtown. It's not the place to be to attune yourself to nature, relax under the sun, or have swims in the sea.
The characteristics of Porto traditionally appealed to the older visitor; it is very safe and there is a pleasant unhurried ambience, with a slightly conservative attitude. This mature opinion of Porto is often compounded by the most popular activities; Douro River cruises and Port tasting (which is great fun!).
This demographic of visitors to Porto is rapidly evolving, as younger travellers realise it is actually a progressive city, with a lot to see and do. Porto will appeal to those looking for somewhere slightly different, but who want a hassle-free trip with decent tourist facilities. Being one of the safest cities in Europe makes it ideal for solo/female travellers.
Porto
Considering the size of Porto there is a lot to see, and you can pack in a lot in a 48 hour visit.
Below is an interactive map of where we recommend to go in 48 hours in Porto; day 1 is highlighted in green and day 2 in yellow, with optional sights marked in grey.
A tour of Porto typically starts in the Se district, with the gothic cathedral and ancient city walls. Next is the Baixa district, where you can find the Avenida dos Aliados, and enjoy the view from the top of the Clérigos Tower.
For the latter part of the day and evening visit the ancient Ribeira district, which lines the banks of the Douro River. For the evening, join one of the boat cruises along the river or to party head to the Vitória district.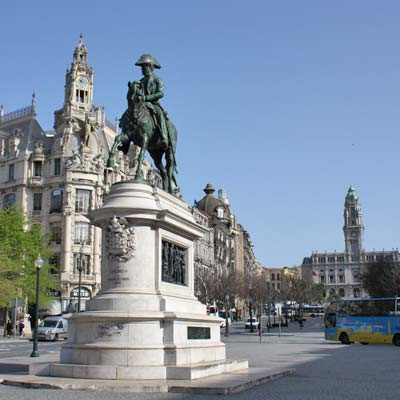 The Avenida dos Aliados is the grand plaza of central Porto
On the morning of the second day, ride the traditional tram to the Foz district, which is positioned at the mouth of the Douro River and extends along a rocky coastline to the beach of Matosinhos.
In the afternoon, and the highlight of Porto, are the tours of the Port cellars and Port tasting. Lining the southern banks of the Douro River are eight of the major Port producers, each with their vast cellars and tasting tours. You'll happily leave Porto a Port connoisseur and a little tipsy…
48hours in Berlin
Does the perfect 48 hours in Berlin even exist? With so many museums and vibey neighbourhoods to get through, it's hard to pack the highlights of the German capital into just two days. Still, the Berlin itinerary below gives it a go, offering everything from ancient Greek artefacts to cool pavement drinkeries and more.
Day 1: Morning in Mitte. As its name implies (Mitte = Middle), it's the hub of Berlin. You can settle in for a refined breakfast in the hidden courtyards of the Hackescher Höfe. The area is brimming with independent boutique stores and elegant tearooms. A few steps to the south take you beneath the needle-like Berliner Fernsehturm. A relic of Communist times, it's home to the fastest elevators in the world, while the lookouts at the top have jaw-dropping panoramas of the city (tickets cost €16.50).
A quick people-watching session on bustling Alexanderplatz and then move west to Museum Island. Culture vultures should take their time here. The Pergamonmuseum is a real highlight, with its priceless Assyrian statues and even the blue-tiled gates of Babylon. A pitstop at the nearby German Historical Museum is one for those who want to unravel the tale of the nation, with particular highlights in the collections that chronicle the world wars of the 20th century.
From there, walk down Unter den Linden to encounter the main artery of Mitte. That takes you to the world-famous Brandenburg Gate, which stands next to the glass-domed Reichstag Building. A picnic lunch in the Tiergarten park can be followed by a sobering walk through the Memorial to the Murdered Jews of Europe. Past that is Checkpoint Charlie – a onetime gateway between East and West Berlin – and then the lively streets of Kreuzberg, with their ramen restaurants, jazz bars, and multicultural kitchens.
The mock gothic Oberbaum Bridge connects the eastern and western sides of Berlin and is prominent icon of the city's unity.
Day 2: If you're lucky enough to escape a hangover courtesy of the Kreuzberg bars, then an early morning start in the area of Friedrichshain is in order. It's brimming with graffiti-scrawled coffee bars and breakfast joints.
On the south side of the district is the striking East Side Gallery. Once a bland concrete section of the Berlin Wall, it's now an artist's homage to the fall of the great divider in 1989. From there, go north to the green lawns of Volkspark Friedrichshain. Chilled and leafy, it's actually the oldest public garden in the capital. And it's got monuments to the Spanish Civil War next to volleyball courts and picnic tables.
Hugging that is the enchanting area of Prenzlauer Berg. This is the perfect place to end your 48 hours. It's not bursting with sights and attractions, but it's got a classic Berliner neighbourhood vibe. If you're unsure where to begin, check out Kulturbrauerei – an all-in-one complex of cinemas, theatres, clubs and beer halls.
Getting around Berlin is a cinch. The capital has a super-efficient and well-linked public network of trams, trains and underground lines. You can purchase tickets at any S-Bahn or U-Bahn station, or at any establishment with a BVG sign. Daily and weekly passes for all public transportation are also available with slight reductions. A new smartphone app allows digital purchasing of tickets (search: FahrInfo Plus). All other tickets must be validated before use.
Violence of any sort in the capital is rare and police can be relied upon. Still, have your wits about you, especially if travelling through Berlin's lesser-known or rougher areas, like the ones bordering Kreuzberg, or the nightlife hubs of Alexanderplatz and Friedrichshain.
When it comes to searching for a hotel, there's a hard choice to be made. There are oodles of neighbourhoods here that are worthy of attention. It's really up to you to decide what you want. Generally speaking: Sightseers can't go wrong in Mitte, Kreuzberg and Friedrichshain are perfect for bar hoppers and foodies, and Neukölln offers something more local.