Copenhagen or Porto; a vs city comparison and travel guide
Both Copenhagen and Porto are fantastic cities, but which is better for your city-break or holiday?
We understand your dilemma. There is a wealth of information about both cities, but little stating which is the better destination and more suited for your trip.
This article will provide our unbiased opinions, and hopefully help you to choose the best city to visit.
The article is divided into the following sections, and can be jumped to using the underlined links:
1) Introductions -
2) City scores -
3) Which one should I, friends, or family visit? -
4) When to visit and weather -
5) Who is the city suited for? -
6) The perfect 48hours (with map) -
7) Tourism details (where to stay? airport details?)
Porto is the surprise of western Europe. This hardworking and unassuming city seems to have stumbled into tourism without even realising its own potential. The variety of historic sights, personable atmosphere, along with a glass of sweet Port wine, creates a wonderful tourist destination.
Porto may be comparatively small and virtually unknown, but it can rival any of the more established tourist destinations. The unique appeal of Porto is that it is not swamped by tourists in the summer season, and is ideal for a summertime city break.
Summary
Which city would I go to?
Copenhagen
Which one would I recommend to my parents?
Copenhagen
Which location for my 19-year-old cousin?
Porto (Copenhagen is too expensive for him!)
Which for my food obsessed friend?
Copenhagen
Note: The above comparison does not consider the weather, and assumes travel at the best time of year (which is detailed later in this article)
The following sections compare the two cities and considers; how long to spend in them, when to visit, and provides suggested 48hours in each city (along with an interactive map). The final section is tourism practicalities and includes which airport to fly into, what district to be based in and how best to explore the city.
We hope that you find all of this information useful, in planning your next exciting trip!
How long to spend in the city?
There are two sides to Copenhagen. There's the side that most visitors will aim to see, and that's all neatly packaged up for a quick two- or three-day break. Then there's the more local side. That can take weeks, or even months to enjoy to the fullest.
The upshot is that everything from short fly-in city breaks to longer jaunts are doable in the Danish capital – there's enough to keep you going, provided you've got the money to keep going!
In addition, it's worth thinking about what out-of-town excursions you might want to do from Copenhagen. These will inevitably add some time to the trip but are also downright tempting. The likes of the ancient Viking capital of Roskilde, and the Swedish city of Malmo, are both on the menu.
Porto is a compact city, and if rushed, all of the major tourist areas can be seen in a single day. Typically, we would recommend two days, which would include a short cruise along the Douro River and time for port tasting.
If you wished to extend your trip further, there are some great days out to the historic towns of Guimarães, Braga and Aveiro. During the summer (Jun-Sep) there are beautiful beaches along the Costa Verde coastline, and you could visit the resort towns of Espinho, Vila do Conde or Matosinhos.
Related articles: 2 days in Porto – 1 week in Porto
Porto is one of the best European cities for a summer city break. While the rest of southern Europe swelters under the unbearable summer heat, Porto experiences pleasant weather and is not completely overrun by tourists.
Winters are mild and wet, and there is a high chance of rain from October through to May. The middle of June is the best time to visit the city when the Santos Populares festivals are being held.
Copenhagen's weather is not as dismal as most visitors initially presume, and not cold as the other Scandinavian countries it is often mentally lumped with.
Summer is Copenhagen's most beloved season. It's easy to see why. Scandinavia emerges from its casing of snow and ice to become a real outdoorsy gem. In the capital, that means the canal-side cafes of Christianshavn come alive with al fresco drinkers and the breweries spill into leafy gardens. This is also the time to enjoy the famous Brygge Harbour Bath and the other marina swimming spots in full swing.
Spring and autumn make good alternatives, particularly if you're on a tight budget. Already high prices can soar in Copenhagen during the summer months, and the streets of the Indre By get busy to boot. Winter has a peak around Christmas, when the Tivoli festive market starts smelling of gingerbread and mulled wine. It's cheaper in January though, and still likely to have enchanting snow cover.
Copenhagen is tailor-made for creative, 30s-something city slickers. Bohemian cafes meet cutting-edge beer halls and restaurants that are breaking the mould, while workshops, design studios, and galleries cram the old town. If you're culturally engaged and enjoy places that fuse the old and the new, you could hardly do any better.
Copenhagen is famously expensive. Expect to pay around the 60kr mark (€8/$9) for a beer in most places – and even that's a decent deal! Hotels will cost a lot, no matter the season, and eating out is off the cards for anyone on a shoestring budget.
You can mitigate that if you picnic and dodge the pubs, but it's not really the place for travelers watching the pennies.
The characteristics of Porto traditionally appealed to the older visitor; it is very safe and there is a pleasant unhurried ambience, with a slightly conservative attitude. This mature opinion of Porto is often compounded by the most popular activities; Douro River cruises and Port tasting (which is great fun!).
This demographic of visitors to Porto is rapidly evolving, as younger travellers realise it is actually a progressive city, with a lot to see and do. Porto will appeal to those looking for somewhere slightly different, but who want a hassle-free trip with decent tourist facilities. Being one of the safest cities in Europe makes it ideal for solo/female travellers.
Porto
Considering the size of Porto there is a lot to see, and you can pack in a lot in a 48 hour visit.
Below is an interactive map of where we recommend to go in 48 hours in Porto; day 1 is highlighted in green and day 2 in yellow, with optional sights marked in grey.
A tour of Porto typically starts in the Se district, with the gothic cathedral and ancient city walls. Next is the Baixa district, where you can find the Avenida dos Aliados, and enjoy the view from the top of the Clérigos Tower.
For the latter part of the day and evening visit the ancient Ribeira district, which lines the banks of the Douro River. For the evening, join one of the boat cruises along the river or to party head to the Vitória district.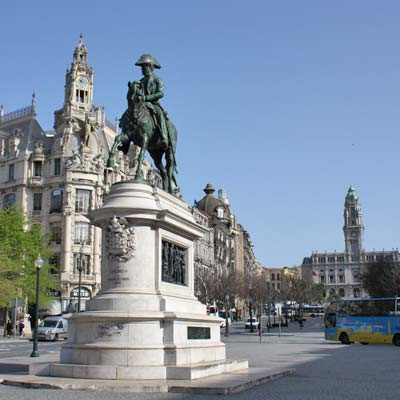 The Avenida dos Aliados is the grand plaza of central Porto
On the morning of the second day, ride the traditional tram to the Foz district, which is positioned at the mouth of the Douro River and extends along a rocky coastline to the beach of Matosinhos.
In the afternoon, and the highlight of Porto, are the tours of the Port cellars and Port tasting. Lining the southern banks of the Douro River are eight of the major Port producers, each with their vast cellars and tasting tours. You'll happily leave Porto a Port connoisseur and a little tipsy…
Copenhagen offers so much for a fun-packed 48 hours. Below is an interactive tour map - day 1 is highlighted in green and day 2 in yellow.
Day 1: Begin the first day in the Rådhuspladsen, where the ochre-tinged walls of the City Hall dominate the skyline. This is a beating hub of the city, and you might find concert stages or markets taking place on the plaza. The bustling shopping street of Strøget starts here. Hit that to move between high-street retailers and lively pubs. The walk will take you all the way to Nyhavn.
This is a charming, historic area with 17th-century canals. The painted houses are a favourite with photographers, and you can opt to do a canal boat tour from the docks. Lunchtime is over in the Bridge Street Kitchen. Sprawling across Greenlandic Trade Square, it's a casual food mecca, with hotdogs mixing with falafel pitas and sourdough pizza breads.
Full? Good – Christiania awaits. This gritty artist community come squat is a unique bohemian commune. There are some pushy drug dealers and lots of tourists, but it's worth a stop. The spire of the lovely Church of Our Saviour is sure to pull you down to one end of the area, before hopping back over to Slotsholmen for a sighting of the grand Christiansborg Palace, the home of the Danish parliament.
The side streets of the Latin Quarter (Latinerkvarteret) are a joy to explore
Day 2: If it's sunny, there's never a better way to kick-off a day in Copenhagen than down on the marina. Free to enter and bustling with life, the Brygge Harbour Bath lets you swim in the refreshing waters of the Baltic Sea right in the heart of town.
Dry off and then grab a Danish pastry on your way up to the Indre By, where you can get lost in weaving lanes of cobblestone. The vast Rosenborg Slot sits at the far end of the district. A mighty palace from the 1600s, it's packed with art and can take a few hours to explore.
Nearby Torvehallerne will do nicely for food, with its array of local Scandi dishes. A hop across the water to hipster Nørrebro is great if you're craving a beer or a coffee – Brus is a good option.
Then head back south to Frederiksstaden district. It's crowned by the Rococo Amalienborg Palace, sports stunning churches, and buts up to the old town, where you'll find loads of bars and eateries to cap off the evening.
Copenhagen has many hotels and accommodation options, but the city has one of highest occupancy rates of Europe (a yearly average of 81%). That means booking early is key. We'd recommend trying to score somewhere in the Indre By area.
The old core, it's close to all the main sights. If you're on a tighter budget, going north to Nørrebro might offer a few extra deals. Meanwhile, the Vesterbro district is an up and coming area, which is trendy and a touch edgy. Frederiksstaden is a more refined and contains many of the smarter hotels.
If you want to get around like a real CPH local, then there's nothing for it but to rent a bike. These are cheap and easy to find in pretty much any area of town. A full day's cycling should cost around 150 DKK (£22).
Copenhagen is a very safe city, especially for a capital. People are often eager to help and there are good public services in general. Be more wary if you're venturing off the beaten track. Certain corners of Nørrebro and Christiania can be sketchy, particularly after dark.