Stockholm or Porto; a vs city comparison and travel guide
Both Porto and Stockholm are fantastic cities, but which is better for your city-break or holiday?
We understand your dilemma. There is an abundance of travel guides for both cities, but few actually comparing them, and advising you which is the better for your trip.
This article will provide our unbiased and independent views of Porto and Stockholm, hopefully making your choice that little easier.
The article is divided into the following sections, and can be jumped to using the links:
• Introduction to the cities
• Scores and ratings
• Which one should I, friends, or family visit?
• When to visit and weather
• Who is the city suited for?
• The perfect 48hours (with map)
• Tourism details (where to stay? airport details?)
Magical, mystical Stockholm spreads over a speckling of islets surrounded by the icy Baltic Sea. At its centre is the fairy-tale Gamla Stan. Cobbled lanes wiggle and writhe around medieval rowhouses in those parts, opening onto a kitschy plaza filled with gingerbread cafés and grand Neo-Classical palaces.
Next door is happening Södermalm, a lived-in quarter with hipster meatball dives and ethnic eateries. Then there are Norrmalm and Östermalm, where amazing museums meet shopping strips and food halls.
Reputation has it that Stockholm isn't cheap. And it's true, this Scandi capital will set you back a bunch. But try not to let that put you off. There are rewards for loosening the purse strings, from days of fika (cosy coffee breaks) to encounters with ABBA the band to experiencing the buzz of a city that's at once modern and historic.
Porto is the surprise of western Europe. This hardworking and unassuming city seems to have stumbled into tourism without even realising its own potential. The variety of historic sights, personable atmosphere, along with a glass of sweet Port wine, creates a wonderful tourist destination.
Porto may be comparatively small and virtually unknown, but it can rival any of the more established tourist destinations. The unique appeal of Porto is that it is not swamped by tourists in the summer season, and is ideal for a summertime city break.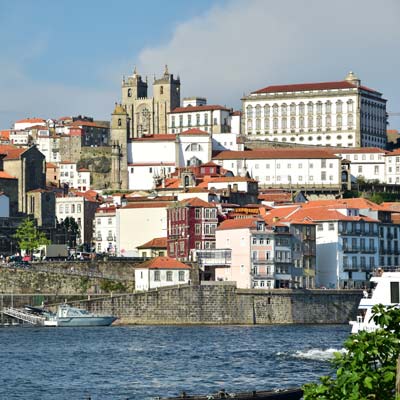 The Ribeira is the oldest district in Porto
Stockholm lies on an Archipelago of islands between Lake Mälaren and the Baltic Sea
Summary
Where would I journey for a personal escape?
Porto
Where would I send my parents for a memorable visit?
Porto
Where's the ideal destination for my adventurous 19-year-old cousin?
Porto
Where should my food-obsessed friend indulge their culinary passions?
Porto
Note: The above comparisons are weather-independent and are based on travel during the most opportune times of the year. Details about the ideal travel seasons are elaborated upon later in this article.
In the sections that follow, you'll find a comprehensive comparison between these two fascinating cities. This includes recommendations on the duration of stay, the best times to visit, and tailored 48-hour itineraries for each city.
The final segment delves into practicalities for your travels, such as the best airport to fly into, the optimal districts for your accommodation, and insider tips, for when you come to explore the city.
We hope that you find all of this information useful, in planning your next exciting trip!
How long to spend each city?
Stockholm is a perfect city break spot. Two or three days is a great amount of time to while away between the historic Gamla Stan and the museums of Östermalm. What's more, planning a fly-in, fly-out jaunt has never been easier. There are no fewer than four airports serving the town, from big Stockholm-Arlanda to low-cost favourite Skavsta Airport. The advantage? It should be a cinch to find affordable connections in and out, say 72 hours apart.
If you've got a little more time to spare, then use it. Stockholm has secrets that aren't on the main tourist menu. For example, you could venture out to the rugged islands of the outer Stockholm Archipelago. They're for sailing, swimming, fishing, and wandering quaint villages. There are also the Viking relics of Birka and the idyllic forests and lake lands of Bornsjön. All those will require more than just a weekend.
Porto is a compact city, and if rushed, all of the major tourist areas can be seen in a single day. Typically, we would recommend two days, which would include a short cruise along the Douro River and time for port tasting.
If you wished to extend your trip further, there are some great days out to the historic towns of Guimarães, Braga and Aveiro. During the summer (Jun-Sep) there are beautiful beaches along the Costa Verde coastline, and you could visit the resort towns of Espinho, Vila do Conde or Matosinhos.
Related articles: 2 days in Porto – 1 week in Porto
The waterfront of the Sodermalm district in Stockholm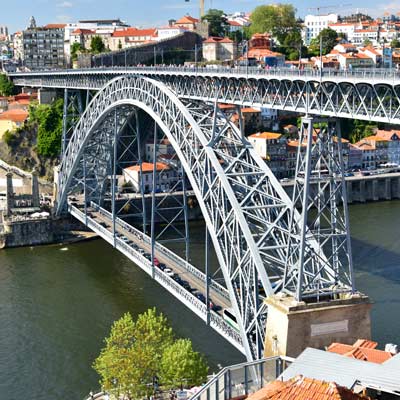 The Ponte Luís I bridge in Porto spans the Douro River
Porto is one of the best European cities for a summer city break. While the rest of southern Europe swelters under the unbearable summer heat, Porto experiences pleasant weather and is not completely overrun by tourists.
Winters are mild and wet, and there is a high chance of rain from October through to May. The middle of June is the best time to visit the city when the Santos Populares festivals are being held.
Wrap up warm if you're heading north in the winter months. Stockholm is a cold capital, but it comes with hefty sides of festive charm. At Christmas, you'll find lovely markets on Stortorget square in the middle of the Gamla Stan, the scents of mulled wine and hot chocolate floating up through the pastel-painted guild mansions. On the flip side, November to March also means uber-short days (think sunset as early as 3pm!) and lots of rain and snowfall.
If you prefer a dose of Vitamin D, consider the white nights of summer. It doesn't get dark until well into the evening between June and August. What's more, the weather is usually warm and mild, with daily averages in the low 20s. Of course, this is also the most popular time to come, so expect hotel rates to be inflated.
If you're a fan of culture-brimming capitals and enchanting old towns, then Stockholm is sure to impress. Whole days of wandering between waterside parks, centuries-old terraces, cobbled squares and stooped taverns are on the menu. And so are visits to places like the Vasa Museum, with its 17th-century Swedish warship pulled up from the deep.
In addition to all that, districts like Södermalm are there to entertain the foodie and the art lover. It's a vibrant mix of multicultural cafés and restaurants. On one corner you'll see a Bahian curry stall, on the next you'll catch a Lebanese rice kitchen. And that's not even mentioning the wealth of fair-trade coffee shops and roasteries that make an appearance.
It's also quite pricy, so we'd recommend anyone on a budget to steer well clear.
The characteristics of Porto traditionally appealed to the older visitor; it is very safe and there is a pleasant unhurried ambience, with a slightly conservative attitude. This mature opinion of Porto is often compounded by the most popular activities; Douro River cruises and Port tasting (which is great fun!).
This demographic of visitors to Porto is rapidly evolving, as younger travellers realise it is actually a progressive city, with a lot to see and do. Porto will appeal to those looking for somewhere slightly different, but who want a hassle-free trip with decent tourist facilities. Being one of the safest cities in Europe makes it ideal for solo/female travellers.
The Royal palace in Stockholm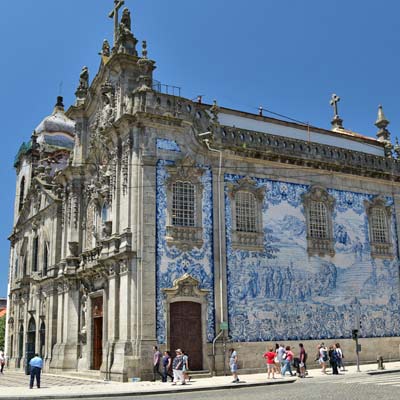 The beautiful Azulejo tile painting on the side of the Igreja do Carmo, Porto
Porto
Considering the size of Porto there is a lot to see, and you can pack in a lot in a 48 hour visit.
Below is an interactive map of where we recommend to go in 48 hours in Porto; day 1 is highlighted in green and day 2 in yellow, with optional sights marked in grey.
A tour of Porto typically starts in the Se district, with the gothic cathedral and ancient city walls. Next is the Baixa district, where you can find the Avenida dos Aliados, and enjoy the view from the top of the Clérigos Tower.
For the latter part of the day and evening visit the ancient Ribeira district, which lines the banks of the Douro River. For the evening, join one of the boat cruises along the river or to party head to the Vitória district.
On the morning of the second day, ride the traditional tram to the Foz district, which is positioned at the mouth of the Douro River and extends along a rocky coastline to the beach of Matosinhos.
In the afternoon, and the highlight of Porto, are the tours of the Port cellars and Port tasting. Lining the southern banks of the Douro River are eight of the major Port producers, each with their vast cellars and tasting tours. You'll happily leave Porto a Port connoisseur and a little tipsy…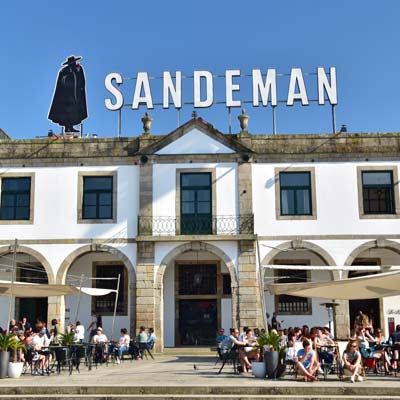 Port tasting at the Sandeman cellars– an enjoyable activity and a great way to meet fellow travellers
48hours in Stockholm
Let's get stuck into Stockholm with this curated 48-hour itinerary. It whisks you from the aged heart of the town to some of its lived-in outer areas, and passes acclaimed museums and eateries as it goes…
Day 1: Hop out at Gamla Stan station in the early morning. Doing that puts you right at the meeting point of the Free Walking Tour Stockholm. Their trips typically take around two hours from start to finish, but they're a fine intro to all the secrets and monuments of the amazing district.
You'll probably encounter the bustling shopping thoroughfare of Stora Nygatan, the narrow alley of Prästgatan, and the handsome Stortorget square, all topped off with the stunning Royal Palace of Stockholm to learn about the boundary-breaking monarchy of Sweden. Once it's finished, be sure to stroll down cobbled Österlånggatan between the toyshops and Nordic taverns.
Have something to eat there and then move south across the water to Södermalm. One of the first things you'll encounter is the Katarina Elevator, with its high lookout points gazing across the old town. A few blocks to the south and you'll be in SoFo. This is the hipster hub of the city. If you can get a place, be sure to dine at quirky Meatballs for the People – expect modern twists on Scandi staples. If not, there are oodles of ramen places and Indian joints to boot.
Stockholm 5
Day 2: Breakfast at the Hötorgshallen. A colossal, two-floor food court, it's bursting with pretzels, smoked-salmon outlets, New Yorker delis, and more. It's also on the edge of Norrmalm's chic shopping area. Wander that to see designer outlets galore before emerging onto the salt-washed quays around Berzelii Park.
From there, you'll be able to see the forested island of Djurgården – your next destination. It's a short walk, with a few riverside cafes like the Sjöcafeet to enjoy en route. Then you delve straight into the Vasa Museum. Simply not to be missed, it's a chart-topper of Stockholm. The whole exhibit revolves around a mighty warship that sunk in Stockholm harbour just minutes after launching in the 17th century.
If time allows, ABBA the Museum is also next door, complete with glitzy pop paraphernalia and the piano on which some of the band's hit tracks were written. Behind all that is the vast open-air museum come park of Skansen. It's got living history that'll transport you back to medieval Sweden, along with a fun funicular train ride and even enclosures with brown bears.
The colourful house on the Stortorget, the main Square of Stockholm
Stockholm has four individual airports. Stockholm-Arlanda is the largest. That's where you're likely to land on long-haul connections. The direct Flygbussarna transfer can get you back and forth in just 45 minutes, but there's also express rail straight to the terminal.
Skavsta Airport is a hub for low-cost carriers like Ryanair and is linked to the city by private coach transfers (travel time: 1.2 hours). Bromma Airport is mainly for domestic links and also has buses straight to the city. Finally, there's Västerås Airport. Over 60 miles to the west, it's popular for Sweden-UK flights. A coach transfer there takes around 80 minutes in total.
If you're struggling on deciding where to stay in Stockholm, look no further than the northern quarters of Södermalm. That's a good balance between affordability, convenience, and proximity to the Gamla Stan. Of course, there are also hotels in the middle of the old town, but you'll usually need to fork out more for the immersion.
Related articles: Where to stay in Stockholm
By far the best way to navigate is on the Storstockholms Lokaltrafik network. The metro is very efficient and clean, running regularly from stop to stop. Get yourself a combined SL Travel Card that allows for unlimited travel for the duration of your trip. These cost around 240 SEK ($25) for three days but will certainly save you money in the long run.
The Royal crown of Sweden and the Royal Palace to the rear
Stockholm is one of the safest capital cities in Europe, though problems are not unheard of. There are still pickpockets and muggings but stay sensible and calm and they are very unlikely to affect your trip. The most common places to fall victim to these sorts of crimes are on the subway, in the Gamla Stan, and in busy food halls..
Never stand on the cycle lane in Stockholm. Getting around on two wheels is an important mode of commuting for many locals. They don't take kindly to folk who get in their way!
Porto is a recommended destination for an alternative city break. Porto has a single airport which is 12km north of the historic centre and is connected by the metro. Porto has fewer flight routes and departures than other major cities, which means demand for weekend flights can be high. Equally, during the low season, there are bargain flights to be found.
Accommodation tends to be good value with ample supply, and most tourists are based in the Vitória, Sé or Baixa districts (all on the north side of the river). Porto can be easily explored on foot and rarely any public transport or taxis are needed for the entire trip. Just beware, there are steep hills!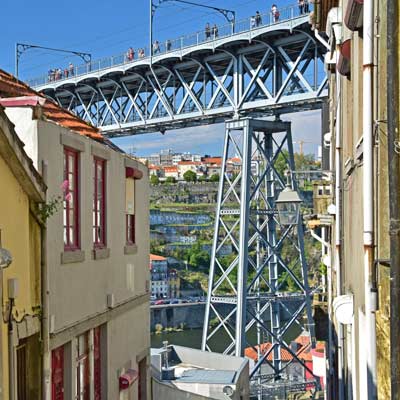 The pretty historic centre of Porto