Stockholm or Amsterdam; a vs city comparison and travel guide
Both Amsterdam and Stockholm are fantastic cities, but which is better for your city-break or holiday?
We understand your dilemma. There is an abundance of travel guides for both cities, but few actually comparing them, and advising you which is the better for your trip.
This article will provide our unbiased and independent views of Amsterdam and Stockholm, hopefully making your choice that little easier.
The article is divided into the following sections, and can be jumped to using the links:
• Introduction to the cities
• Scores and ratings
• Which one should I, friends, or family visit?
• When to visit and weather
• Who is the city suited for?
• The perfect 48hours (with map)
• Tourism details (where to stay? airport details?)
Modern Amsterdam is a great place to visit. Europe's most liberal city is attempting to mature and rebrand itself as a cultural and stylish destination.
There will be always visitors who come for the quirky and liberal aspect of the city, from the coffee shops, which sell no coffee and the red lit streets, but there is so much more than Amsterdam's stereotypes.
Found in the city are world class museums, social nightlife and welcoming attitude rarely experienced elsewhere.
Gamla Stan island contains the beautiful preserved medieval centre of Stockholm
Magical, mystical Stockholm spreads over a speckling of islets surrounded by the icy Baltic Sea. At its centre is the fairy-tale Gamla Stan. Cobbled lanes wiggle and writhe around medieval rowhouses in those parts, opening onto a kitschy plaza filled with gingerbread cafés and grand Neo-Classical palaces.
Next door is happening Södermalm, a lived-in quarter with hipster meatball dives and ethnic eateries. Then there are Norrmalm and Östermalm, where amazing museums meet shopping strips and food halls.
Reputation has it that Stockholm isn't cheap. And it's true, this Scandi capital will set you back a bunch. But try not to let that put you off. There are rewards for loosening the purse strings, from days of fika (cosy coffee breaks) to encounters with ABBA the band to experiencing the buzz of a city that's at once modern and historic.
Stockholm lies on an Archipelago of islands between Lake Mälaren and the Baltic Sea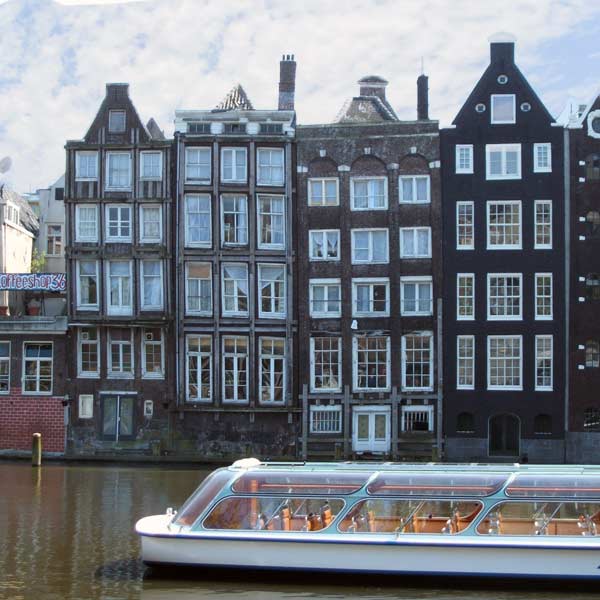 Singel canal in Amsterdam with typical Dutch houses and houseboats.
Summary
Which city would I go to?
Amsterdam
Which one would I recommend to my parents?
Amsterdam
Which location for my 19-year-old cousin?
Amsterdam
Which for my food obsessed friend?
Amsterdam
Note: The above comparison does not consider the weather, and assumes travel at the best time of year - which is detailed later in this article.
The following sections compare the two cities and considers; how long to spend in them, when to visit, and provides suggested 48hours in each city (along with an interactive map).
The final section is tourism practicalities and includes which airport to fly into, what district to be based in and how best to explore the city.
We hope that you find all of this information useful, in planning your next exciting trip!
How long to spend each city?
Stockholm is a perfect city break spot. Two or three days is a great amount of time to while away between the historic Gamla Stan and the museums of Östermalm. What's more, planning a fly-in, fly-out jaunt has never been easier. There are no fewer than four airports serving the town, from big Stockholm-Arlanda to low-cost favourite Skavsta Airport. The advantage? It should be a cinch to find affordable connections in and out, say 72 hours apart.
If you've got a little more time to spare, then use it. Stockholm has secrets that aren't on the main tourist menu. For example, you could venture out to the rugged islands of the outer Stockholm Archipelago. They're for sailing, swimming, fishing, and wandering quaint villages. There are also the Viking relics of Birka and the idyllic forests and lake lands of Bornsjön. All those will require more than just a weekend.
Three days is ideal to get a good flavour of Amsterdam, and in this time you could include a quick day trip out of town. Much less and it might feel a bit rushed, especially if you are visiting for the first time.
If you can afford more time, there are a surprising amount of places worth visiting in the surrounding area. Many people like to visit Keukenhof in spring, the largest flower garden in the world. There are also the Zaanse Schans Windmills and fairy-tale castle 'Kasteel De Haar' not too far away.
Lots of people also like to visit one of the numerous planned cities built on land reclaimed from the sea such as Almere or Lelystad, a short 20-minute train ride from the central train station. Because these cities are so new, they have prided themselves on drawing on the latest innovations in architectural design.
The waterfront of the Sodermalm district in Stockholm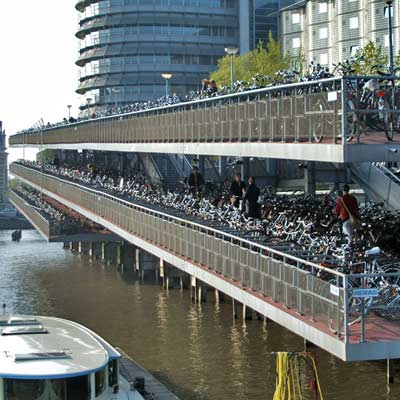 The Dutch love to cycle…..
Spring is the best time of year to visit Amsterdam before the summertime high tourist season hits, and you can catch either the King's Day festival in April or awe at the sea of tulips at Keukenhof.
The warmest month in Amsterdam is August with average temperatures of around 22 degrees (71F) which isn't that hot! It gets pretty chilly in winter, down to just above freezing. The weather is generally very changeable all year round so we recommend you be prepared for all weathers at all times! It could easily rain or be windy for at least one of the days you are there.
Wrap up warm if you're heading north in the winter months. Stockholm is a cold capital, but it comes with hefty sides of festive charm. At Christmas, you'll find lovely markets on Stortorget square in the middle of the Gamla Stan, the scents of mulled wine and hot chocolate floating up through the pastel-painted guild mansions. On the flip side, November to March also means uber-short days (think sunset as early as 3pm!) and lots of rain and snowfall.
If you prefer a dose of Vitamin D, consider the white nights of summer. It doesn't get dark until well into the evening between June and August. What's more, the weather is usually warm and mild, with daily averages in the low 20s. Of course, this is also the most popular time to come, so expect hotel rates to be inflated.
If you're a fan of culture-brimming capitals and enchanting old towns, then Stockholm is sure to impress. Whole days of wandering between waterside parks, centuries-old terraces, cobbled squares and stooped taverns are on the menu. And so are visits to places like the Vasa Museum, with its 17th-century Swedish warship pulled up from the deep.
In addition to all that, districts like Södermalm are there to entertain the foodie and the art lover. It's a vibrant mix of multicultural cafés and restaurants. On one corner you'll see a Bahian curry stall, on the next you'll catch a Lebanese rice kitchen. And that's not even mentioning the wealth of fair-trade coffee shops and roasteries that make an appearance.
It's also quite pricy, so we'd recommend anyone on a budget to steer well clear.
There's something for everyone in Amsterdam.
While it has historically attracted hipsters, it also has a lot to offer to those looking for a peaceful and relaxed place to getaway. It's easy to follow one of the canals out from Rembrandtplein in the centre to a quieter neighbourhood such as Jordaan or Prinsengracht either on foot or by bike, or even better, floating along by canal boat.
Believe it or not, Amsterdam is also an incredibly family-friendly city. The relaxed approach to parenting permeates its museums, sights and events and the city is home to hundreds of playgrounds and child-friendly cafes.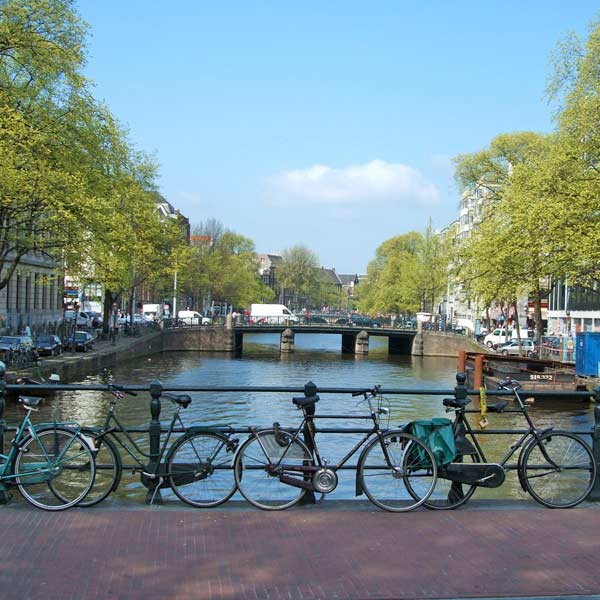 The canals in Amsterdam
The Royal palace in Stockholm
48hours in Stockholm
Let's get stuck into Stockholm with this curated 48-hour itinerary. It whisks you from the aged heart of the town to some of its lived-in outer areas, and passes acclaimed museums and eateries as it goes…
Day 1: Hop out at Gamla Stan station in the early morning. Doing that puts you right at the meeting point of the Free Walking Tour Stockholm. Their trips typically take around two hours from start to finish, but they're a fine intro to all the secrets and monuments of the amazing district.
You'll probably encounter the bustling shopping thoroughfare of Stora Nygatan, the narrow alley of Prästgatan, and the handsome Stortorget square, all topped off with the stunning Royal Palace of Stockholm to learn about the boundary-breaking monarchy of Sweden. Once it's finished, be sure to stroll down cobbled Österlånggatan between the toyshops and Nordic taverns.
Have something to eat there and then move south across the water to Södermalm. One of the first things you'll encounter is the Katarina Elevator, with its high lookout points gazing across the old town. A few blocks to the south and you'll be in SoFo. This is the hipster hub of the city. If you can get a place, be sure to dine at quirky Meatballs for the People – expect modern twists on Scandi staples. If not, there are oodles of ramen places and Indian joints to boot.
Stockholm 5
Day 2: Breakfast at the Hötorgshallen. A colossal, two-floor food court, it's bursting with pretzels, smoked-salmon outlets, New Yorker delis, and more. It's also on the edge of Norrmalm's chic shopping area. Wander that to see designer outlets galore before emerging onto the salt-washed quays around Berzelii Park.
From there, you'll be able to see the forested island of Djurgården – your next destination. It's a short walk, with a few riverside cafes like the Sjöcafeet to enjoy en route. Then you delve straight into the Vasa Museum. Simply not to be missed, it's a chart-topper of Stockholm. The whole exhibit revolves around a mighty warship that sunk in Stockholm harbour just minutes after launching in the 17th century.
If time allows, ABBA the Museum is also next door, complete with glitzy pop paraphernalia and the piano on which some of the band's hit tracks were written. Behind all that is the vast open-air museum come park of Skansen. It's got living history that'll transport you back to medieval Sweden, along with a fun funicular train ride and even enclosures with brown bears.
The colourful house on the Stortorget, the main Square of Stockholm
48hours in Amsterdam
Start on day 1 in the Museum Quarter where some of Amsterdam's world-class museums are.
Rijksmuseum where Rembrandt's 'The Night Watch' is held can be found here, as well as the Van-Gogh Museum and Stedelijk Museum, which contains a huge collection of everything from sculpture to painting to photography by artists such as Picasso and Warhol.
In the afternoon, head to the artisan area of Jordaan. It has a homely charm to it with all the houseboats along the quays and old crooked buildings.
If you're looking for a night out, head to the areas of Leidseplein or Rembrandtplein in the evening.
Spring at Dam Square with the Royal Palace in the background.
On day 2 head to Dam Square and the Royal Palace then the red-light district.
A visit to the Anne Frank House is a fascinating and sobering experience but this can get very busy so we recommend booking ahead online for a specific time.
If you are looking for something a bit slower paced in the evening - a great photo opportunity is from the Magere Brug. After dark, this bridge is illuminated by over a thousand lights and due to its location, it makes for a good vantage point where you can see 15 bridges at the same time.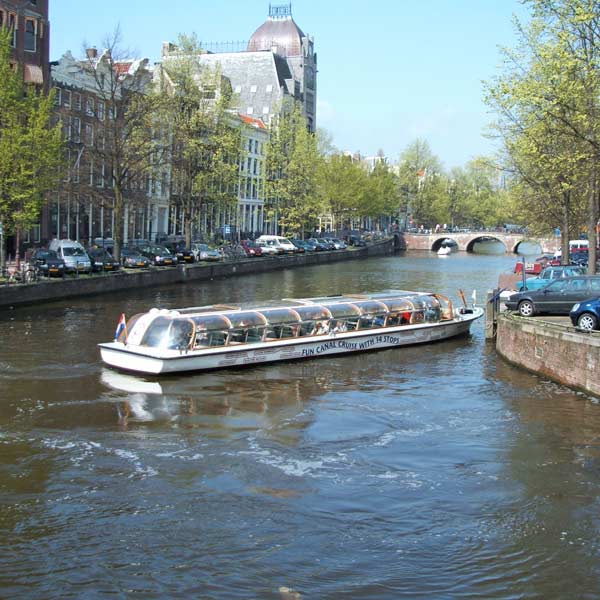 Boat cruise along a canal in Amsterdam
On arrival in Amsterdam Schiphol airport, the quickest way to get into town by public transport is the train which costs €5.40 and takes 20 minutes. The bus costs €5 and takes about 35 minutes.
Amsterdam is an expensive city. Walking and cycling are the best ways to get around. By boat you can see all the big sights too and there are many options for hop-on-hop-off. There is also an impressive public transport system of trams, buses, metros, trains and ferries to help you get around.
Rijksmuseum in Amsterdam
All cities have their perils but with regards to Amsterdam, probably the main ones to consider are bike safety and caution in the "coffee shops". As well as the usual bike safety rules you'd expect at home, keep an eye out for nippy scooters on the bike lanes and avoid rush hour if possible. In terms of the coffeeshop visits – don't underestimate the effects of the products, as the varieties sold here are more potent than elsewhere.
Amsterdam is typically an extremely safe city for solo female travellers but it's not advised to visit the Red Light District at night as the area does have a seedier vibe.
Stockholm has four individual airports. Stockholm-Arlanda is the largest. That's where you're likely to land on long-haul connections. The direct Flygbussarna transfer can get you back and forth in just 45 minutes, but there's also express rail straight to the terminal.
Skavsta Airport is a hub for low-cost carriers like Ryanair and is linked to the city by private coach transfers (travel time: 1.2 hours). Bromma Airport is mainly for domestic links and also has buses straight to the city. Finally, there's Västerås Airport. Over 60 miles to the west, it's popular for Sweden-UK flights. A coach transfer there takes around 80 minutes in total.
If you're struggling on deciding where to stay in Stockholm, look no further than the northern quarters of Södermalm. That's a good balance between affordability, convenience, and proximity to the Gamla Stan. Of course, there are also hotels in the middle of the old town, but you'll usually need to fork out more for the immersion.
Related articles: Where to stay in Stockholm
By far the best way to navigate is on the Storstockholms Lokaltrafik network. The metro is very efficient and clean, running regularly from stop to stop. Get yourself a combined SL Travel Card that allows for unlimited travel for the duration of your trip. These cost around 240 SEK ($25) for three days but will certainly save you money in the long run.
The Royal crown of Sweden and the Royal Palace to the rear
Stockholm is one of the safest capital cities in Europe, though problems are not unheard of. There are still pickpockets and muggings but stay sensible and calm and they are very unlikely to affect your trip. The most common places to fall victim to these sorts of crimes are on the subway, in the Gamla Stan, and in busy food halls..
Never stand on the cycle lane in Stockholm. Getting around on two wheels is an important mode of commuting for many locals. They don't take kindly to folk who get in their way!