Amsterdam or Copenhagen; a vs city comparison and travel guide
Both Amsterdam and Copenhagen are fantastic cities, but which is better for your city-break or holiday?
We understand your dilemma. There is a wealth of information about both cities, but little stating which is the better destination and more suited for your trip.
This article will provide our unbiased opinions, and hopefully help you to choose the best city to visit.
The article is divided into the following sections, and can be jumped to using the links:
• Introduction to the cities
• Scores and ratings
• Which one should I, friends, or family visit?
• When to visit and weather
• Who is the city suited for?
• The perfect 48hours (with map)
• Tourism details (where to stay? airport details?)
Modern Amsterdam is a great place to visit. Europe's most liberal city is attempting to mature and rebrand itself as a cultural and stylish destination.
There will be always visitors who come for the quirky and liberal aspect of the city, from the coffee shops, which sell no coffee and the red lit streets, but there is so much more than Amsterdam's stereotypes.
Found in the city are world class museums, social nightlife and welcoming attitude rarely experienced elsewhere.
Bikes are the best way to travel around Amsterdam
Sleek yet historic, gritty yet creative, Copenhagen fuses all the contradictions of Scandinavia in one outstanding city.
Yes, it's pricy. But your money buys quality in these parts, whether that's the crispy Danish pastry in the morning, the single-origin coffee beans, or those craft beers in the independent drinkeries.
Once the home of Hans Christian Andersen, the city's Indre By – the historic core – is all weaving cobbled lanes and flower-strewn cottages from centuries gone by. Meanwhile, over in districts like Christianshavn and Vesterbro, there's a buzz and energy about proceedings.
Don't forget that this capital is the veritable home of New Nordic cooking, putting foraged foods and mind-boggling flavour combos front and centre…
The canals and traditional houses of the Nyhavn district (Copenhagen) are always a favourite with tourists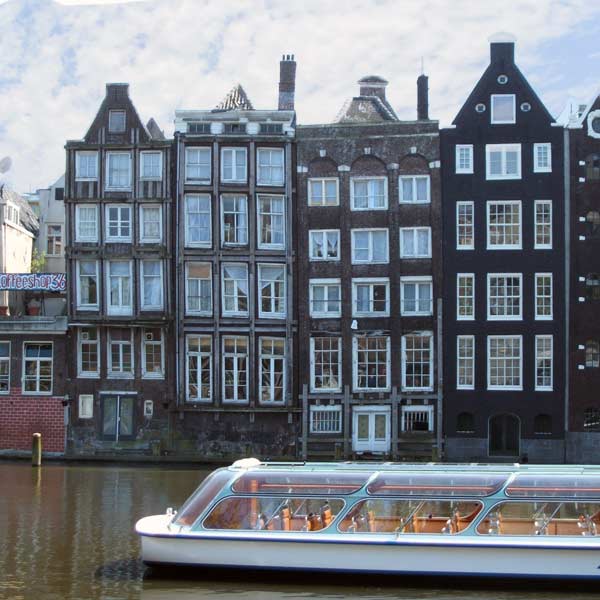 Singel canal in Amsterdam with typical Dutch houses and houseboats.
Summary
Which city would I go to?
Copenhagen
Which one would I recommend to my parents?
Amsterdam
Which location for my 19-year-old cousin?
Amsterdam (Copenhagen is too expensive for him!)
Which for my food obsessed friend?
Amsterdam
Note: The above comparison does not consider the weather, and assumes travel at the best time of year - which is detailed later in this article.
The following sections compare the two cities and considers; how long to spend in them, when to visit, and provides suggested 48hours in each city (along with an interactive map).
The final section is tourism practicalities and includes which airport to fly into, what district to be based in and how best to explore the city.
We hope that you find all of this information useful, in planning your next exciting trip!
How long to spend each city?
Three days is ideal to get a good flavour of Amsterdam, and in this time you could include a quick day trip out of town. Much less and it might feel a bit rushed, especially if you are visiting for the first time.
If you can afford more time, there are a surprising amount of places worth visiting in the surrounding area. Many people like to visit Keukenhof in spring, the largest flower garden in the world. There are also the Zaanse Schans Windmills and fairy-tale castle 'Kasteel De Haar' not too far away.
Lots of people also like to visit one of the numerous planned cities built on land reclaimed from the sea such as Almere or Lelystad, a short 20-minute train ride from the central train station. Because these cities are so new, they have prided themselves on drawing on the latest innovations in architectural design.
There are two sides to Copenhagen. There's the side that most visitors will aim to see, and that's all neatly packaged up for a quick two- or three-day break. Then there's the more local side. That can take weeks, or even months to enjoy to the fullest.
The upshot is that everything from short fly-in city breaks to longer jaunts are doable in the Danish capital – there's enough to keep you going, provided you've got the money to keep going!
In addition, it's worth thinking about what out-of-town excursions you might want to do from Copenhagen. These will inevitably add some time to the trip but are also downright tempting.
The likes of the ancient Viking capital of Roskilde, and the Swedish city of Malmo, are both on the menu.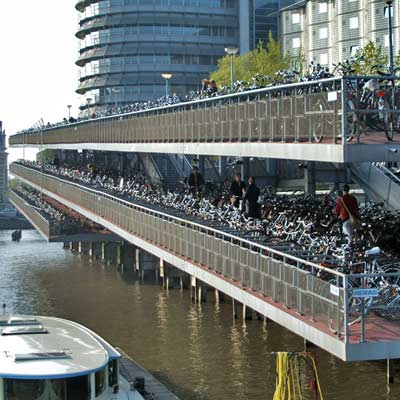 The Dutch love to cycle…..
Tivoli Gardens theme park, in the centre of Copenhagen is the second oldest theme park in the world, and was original constructed in 1850 with the aim of "when the people are amusing themselves, they do not think about politics"
Copenhagen's weather is not as dismal as most visitors initially presume, and not cold as the other Scandinavian countries it is often mentally lumped with.
Summer is Copenhagen's most beloved season. It's easy to see why. Scandinavia emerges from its casing of snow and ice to become a real outdoorsy gem. In the capital, that means the canal-side cafes of Christianshavn come alive with al fresco drinkers and the breweries spill into leafy gardens. This is also the time to enjoy the famous Brygge Harbour Bath and the other marina swimming spots in full swing.
Spring and autumn make good alternatives, particularly if you're on a tight budget. Already high prices can soar in Copenhagen during the summer months, and the streets of the Indre By get busy to boot. Winter has a peak around Christmas, when the Tivoli festive market starts smelling of gingerbread and mulled wine. It's cheaper in January though, and still likely to have enchanting snow cover.
Spring is the best time of year to visit Amsterdam before the summertime high tourist season hits, and you can catch either the King's Day festival in April or awe at the sea of tulips at Keukenhof.
The warmest month in Amsterdam is August with average temperatures of around 22 degrees (71F) which isn't that hot! It gets pretty chilly in winter, down to just above freezing. The weather is generally very changeable all year round so we recommend you be prepared for all weathers at all times! It could easily rain or be windy for at least one of the days you are there.
There's something for everyone in Amsterdam.
While it has historically attracted hipsters, it also has a lot to offer to those looking for a peaceful and relaxed place to getaway. It's easy to follow one of the canals out from Rembrandtplein in the centre to a quieter neighbourhood such as Jordaan or Prinsengracht either on foot or by bike, or even better, floating along by canal boat.
Believe it or not, Amsterdam is also an incredibly family-friendly city. The relaxed approach to parenting permeates its museums, sights and events and the city is home to hundreds of playgrounds and child-friendly cafes.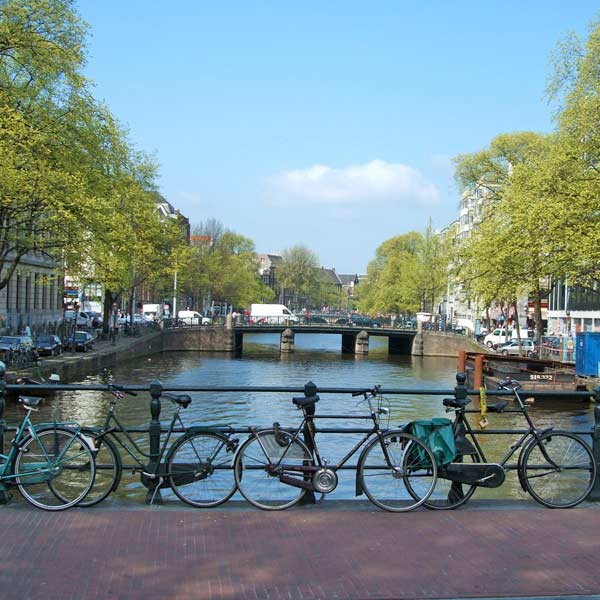 The canals in Amsterdam
Copenhagen is tailor-made for creative, 30s-something city slickers. Bohemian cafes meet cutting-edge beer halls and restaurants that are breaking the mould, while workshops, design studios, and galleries cram the old town. If you're culturally engaged and enjoy places that fuse the old and the new, you could hardly do any better.
Copenhagen is famously expensive. Expect to pay around the 60kr mark (€8/$9) for a beer in most places – and even that's a decent deal! Hotels will cost a lot, no matter the season, and eating out is off the cards for anyone on a shoestring budget.
You can mitigate that if you picnic and dodge the pubs, but it's not really the place for travelers watching the pennies.
Grand Rosenborg Castle, was built as a summer residence by Frederik II in 1624, and today houses the royal treasury and displays the Danish crowns
48hours in Amsterdam
Start on day 1 in the Museum Quarter where some of Amsterdam's world-class museums are.
Rijksmuseum where Rembrandt's 'The Night Watch' is held can be found here, as well as the Van-Gogh Museum and Stedelijk Museum, which contains a huge collection of everything from sculpture to painting to photography by artists such as Picasso and Warhol.
In the afternoon, head to the artisan area of Jordaan. It has a homely charm to it with all the houseboats along the quays and old crooked buildings.
If you're looking for a night out, head to the areas of Leidseplein or Rembrandtplein in the evening.
Spring at Dam Square with the Royal Palace in the background.
On day 2 head to Dam Square and the Royal Palace then the red-light district.
A visit to the Anne Frank House is a fascinating and sobering experience but this can get very busy so we recommend booking ahead online for a specific time.
If you are looking for something a bit slower paced in the evening - a great photo opportunity is from the Magere Brug. After dark, this bridge is illuminated by over a thousand lights and due to its location, it makes for a good vantage point where you can see 15 bridges at the same time.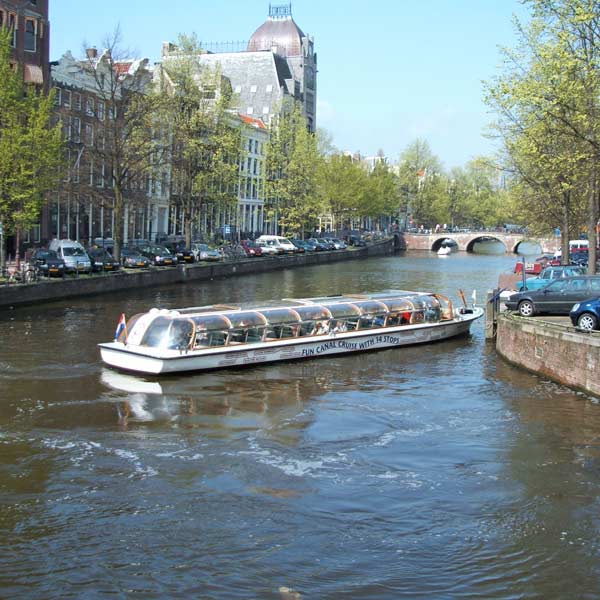 Boat cruise along a canal in Amsterdam
Copenhagen offers so much for a fun-packed 48 hours. Below is an interactive tour map - day 1 is highlighted in green and day 2 in yellow.
Day 1: Begin the first day in the Rådhuspladsen, where the ochre-tinged walls of the City Hall dominate the skyline. This is a beating hub of the city, and you might find concert stages or markets taking place on the plaza. The bustling shopping street of Strøget starts here. Hit that to move between high-street retailers and lively pubs. The walk will take you all the way to Nyhavn.
This is a charming, historic area with 17th-century canals. The painted houses are a favourite with photographers, and you can opt to do a canal boat tour from the docks. Lunchtime is over in the Bridge Street Kitchen. Sprawling across Greenlandic Trade Square, it's a casual food mecca, with hotdogs mixing with falafel pitas and sourdough pizza breads.
Full? Good – Christiania awaits. This gritty artist community come squat is a unique bohemian commune. There are some pushy drug dealers and lots of tourists, but it's worth a stop. The spire of the lovely Church of Our Saviour is sure to pull you down to one end of the area, before hopping back over to Slotsholmen for a sighting of the grand Christiansborg Palace, the home of the Danish parliament.
The side streets of the Latin Quarter (Latinerkvarteret) are a joy to explore
Day 2: If it's sunny, there's never a better way to kick-off a day in Copenhagen than down on the marina. Free to enter and bustling with life, the Brygge Harbour Bath lets you swim in the refreshing waters of the Baltic Sea right in the heart of town.
Dry off and then grab a Danish pastry on your way up to the Indre By, where you can get lost in weaving lanes of cobblestone. The vast Rosenborg Slot sits at the far end of the district. A mighty palace from the 1600s, it's packed with art and can take a few hours to explore.
Nearby Torvehallerne will do nicely for food, with its array of local Scandi dishes. A hop across the water to hipster Nørrebro is great if you're craving a beer or a coffee – Brus is a good option.
Then head back south to Frederiksstaden district. It's crowned by the Rococo Amalienborg Palace, sports stunning churches, and buts up to the old town, where you'll find loads of bars and eateries to cap off the evening.
Christiansborg Palace is the Danish Parliament building along with the official residence of the Prime minister
On arrival in Amsterdam Schiphol airport, the quickest way to get into town by public transport is the train which costs €5.40 and takes 20 minutes. The bus costs €5 and takes about 35 minutes.
Amsterdam is an expensive city. Walking and cycling are the best ways to get around. By boat you can see all the big sights too and there are many options for hop-on-hop-off. There is also an impressive public transport system of trams, buses, metros, trains and ferries to help you get around.
Rijksmuseum in Amsterdam
All cities have their perils but with regards to Amsterdam, probably the main ones to consider are bike safety and caution in the "coffee shops". As well as the usual bike safety rules you'd expect at home, keep an eye out for nippy scooters on the bike lanes and avoid rush hour if possible. In terms of the coffeeshop visits – don't underestimate the effects of the products, as the varieties sold here are more potent than elsewhere.
Amsterdam is typically an extremely safe city for solo female travellers but it's not advised to visit the Red Light District at night as the area does have a seedier vibe.
The infrastructure of Copenhagen is amazing, and you will leave wondering why other cities struggle so badly…
The impressive and uber-efficient Kastrup Airport is the gateway to Copenhagen. A mere 6km from the center, you can hop from the terminals to the downtown by train in just 15 minutes or so. Use either the direct lines or metro links. Tickets are purchased on the station platforms and cost in the region of 36 DKK.
Copenhagen city hall and the Rådhuspladsen, the main plaza of the city
Copenhagen has many hotels and accommodation options, but the city has one of highest occupancy rates of Europe (a yearly average of 81%). That means booking early is key. We'd recommend trying to score somewhere in the Indre By area.
The old core, it's close to all the main sights. If you're on a tighter budget, going north to Nørrebro might offer a few extra deals. Meanwhile, the Vesterbro district is an up and coming area, which is trendy and a touch edgy. Frederiksstaden is a more refined and contains many of the smarter hotels.
If you want to get around like a real CPH local, then there's nothing for it but to rent a bike. These are cheap and easy to find in pretty much any area of town. A full day's cycling should cost around 150 DKK (£22).
Copenhagen is a very safe city, especially for a capital. People are often eager to help and there are good public services in general. Be more wary if you're venturing off the beaten track. Certain corners of Nørrebro and Christiania can be sketchy, particularly after dark.