Brussels or Amsterdam; a vs city comparison and travel guide
Both Amsterdam and Brussels are fantastic cities, but which is better for your city-break or holiday?
We understand your dilemma. There is a wealth of information about both cities, but little stating which is the better destination and more suited for your trip.
This article will provide our unbiased opinions of Amsterdam and Brussels, and hopefully help you to choose the best city to visit.
The article is divided into the following sections, and can be jumped to using the links:
• Introduction to the cities
• Scores and ratings
• Which one should I, friends, or family visit?
• When to visit and weather
• Who is the city suited for?
• The perfect 48hours (with map)
• Tourism details (where to stay? airport details?)
Modern Amsterdam is a great place to visit. Europe's most liberal city is attempting to mature and rebrand itself as a cultural and stylish destination.
There will be always visitors who come for the quirky and liberal aspect of the city, from the coffee shops, which sell no coffee and the red lit streets, but there is so much more than Amsterdam's stereotypes.
Found in the city are world class museums, social nightlife and welcoming attitude rarely experienced elsewhere.
The Royal Palace of Brussels
It is all too easy to over-look Brussels as a city break destination, especially considering it is the home of modern European politics. However, there is a surprising amount here to explore and enjoy, and a visit here can end up being one of those unexpected hits that with hindsight, you can't understand why you hadn't been before.
Being smaller than many of its European counterparts it is able to offer the perks of a more manageable and friendly atmosphere with fewer crowds, exceptional art galleries, museums and medieval churches abundant around every cobbled street corner. It is also brimming with quirky café charm and home to the highest standard of food you will find anywhere in the world.
The Mont des Arts gardens in central Brussels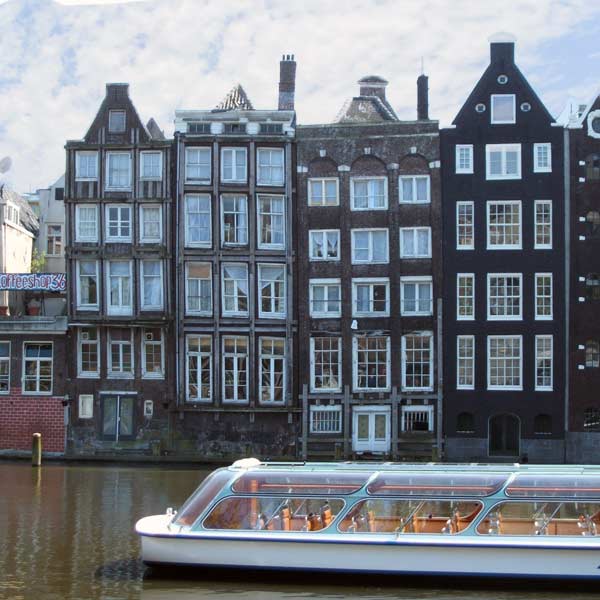 Singel canal in Amsterdam with typical Dutch houses and houseboats.
Summary
Which city would I go to? Amsterdam
Which one would I recommend to my parents?
Amsterdam
Which location for my 19-year-old cousin?
Amsterdam
Which for my food obsessed friend?
Amsterdam
Note: The above comparison does not consider the weather, and assumes travel at the best time of year - which is detailed later in this article.
The following sections compare the two cities and considers; how long to spend in them, when to visit, and provides suggested 48hours in each city (along with an interactive map).
The final section is tourism practicalities and includes which airport to fly into, what district to be based in and how best to explore the city.
We hope that you find all of this information useful, in planning your next exciting trip!
How long to spend each city?
Brussels is compact city, and as such, you can see all the sights in 1 or 2 days. There is ample to see, but most of it is packed into the historical core.
Walking from the Grote Markt (The Grand Place) in the very middle of the city to the EU Parliament and through the bustling streets of the Stalingrad District hardly takes more than a couple of hours – depending on how many Belgian beers you stop for en route, of course!
With extra time, you could consider outings to places like Waterloo (the battlefield where Wellington defeated Napoleon in 1815) and the handsome medieval city of Bruges.
Three days is ideal to get a good flavour of Amsterdam, and in this time you could include a quick day trip out of town. Much less and it might feel a bit rushed, especially if you are visiting for the first time.
If you can afford more time, there are a surprising amount of places worth visiting in the surrounding area. Many people like to visit Keukenhof in spring, the largest flower garden in the world. There are also the Zaanse Schans Windmills and fairy-tale castle 'Kasteel De Haar' not too far away.
Lots of people also like to visit one of the numerous planned cities built on land reclaimed from the sea such as Almere or Lelystad, a short 20-minute train ride from the central train station. Because these cities are so new, they have prided themselves on drawing on the latest innovations in architectural design.
The Saint Jacques-sur-Coudenberg church, Brussels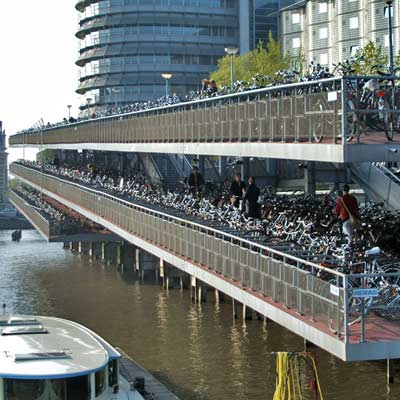 The Dutch love to cycle…..
Spring is the best time of year to visit Amsterdam before the summertime high tourist season hits, and you can catch either the King's Day festival in April or awe at the sea of tulips at Keukenhof.
The warmest month in Amsterdam is August with average temperatures of around 22 degrees (71F) which isn't that hot! It gets pretty chilly in winter, down to just above freezing. The weather is generally very changeable all year round so we recommend you be prepared for all weathers at all times! It could easily rain or be windy for at least one of the days you are there.
Brussels gets busiest during the warm months of the summer. Everyone from city breakers flying in on short-haul budget links to Interrail backpackers on a cross-continent grand tour pass through during the main holidays from June and August.
There's a real buzz about the bars of the Grand Place then, with people chatting and snapping selfies all around the UNESCO-tagged streets. Some downsides: Brussels can have heatwaves, and the price of hotels at this time is sure to be peaking.
While winter is probably best avoided unless you're on the hunt for cosy Christmas markets, spring and autumn have their pluses. They're both typically cheaper. There's fewer people around, so you're more likely to score tours of the EU Parliament and whatnot. And everything costs a little less, from hotels to flights deals into town.
One of the great joys of Brussels is just how many facets there is to the city. You're certain to be entertained if you love architecture. The main square alone comes with Gothic, Neo-Gothic, and Renaissance elements.
Then there's all that fabled Belgian food, from the double-cooked chips to the chocolate-topped waffles to the frothy monk-brewed beers you find in the pubs. Add in enthralling tours of important parliament buildings, pretty parks, and some seriously rich galleries, and you've got a destination suited to all sorts.
Of course, some people might not feel right at home, Brussels is urban to the core. Finally, budget seekers could find themselves a little happier elsewhere. Brussels hardly breaks the bank, but it's no penny saver either.
There's something for everyone in Amsterdam.
While it has historically attracted hipsters, it also has a lot to offer to those looking for a peaceful and relaxed place to getaway. It's easy to follow one of the canals out from Rembrandtplein in the centre to a quieter neighbourhood such as Jordaan or Prinsengracht either on foot or by bike, or even better, floating along by canal boat.
Believe it or not, Amsterdam is also an incredibly family-friendly city. The relaxed approach to parenting permeates its museums, sights and events and the city is home to hundreds of playgrounds and child-friendly cafes.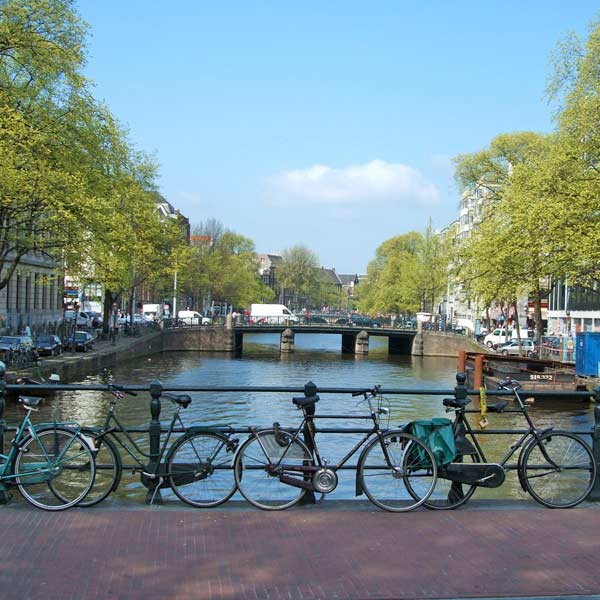 The canals in Amsterdam
The Arc de Triomphe leads to the Park du Cinquantenaire
48hours in Brussels
A whirlwind 48 hours in Brussels can take you from curious statues to modernist structures, regal parklands to beautiful palaces. Of course, there's plenty of time to fit in home-brewed beers and indulgent waffles along the way.
Day 1: The Grand Place is the only real place to begin in Brussels. A UNESCO World Heritage Site, it is the kernel of the city, and has been since time immemorial. Look to the north end and you can see the elegant façade of the Brussels City Museum. It's housed in the Neo-Gothic Maison du Roi, hosting collections that include masterworks by Flemish painters and the original Manneken Pis statue (more on him later).
On the south flank is the indomitable Brussels Town Hall. Gaze up at its gorgeous medievalist spire and wonder at the carvings of dukes on the portals. The rest of the square is a photographer's dream, with guild houses and pubs and more. Next, the area of Stalingrad calls. Curiously named, it's nonetheless one of the liveliest quarters of Brussels.
It's also where you'll find the famously underwhelming Manneken Pis statue – we won't spoil it with a description! After lunching in one of the taverns there, head east to the acclaimed Royal Museum of Fine Arts of Belgium. It's a must for any culture vultures, what with exhibits that contain works by the likes of Anthony van Dyck, Bruegel, and Rubens. It demands a whole afternoon.
The town hall on the Grand Place, the main plaza of Brussels
Day 2: Overdosed on art and ready for something completely different? Good, because day two begins at the Espace Léopold. Welcome to the vast European Parliament; the corridors of power for 27 states that range from Romania to Portugal. Tours of the huge debating chamber and the plenary rooms where the decisions are made run daily from 9am.
After an hour inside, you can head for the grand Parc du Cinquantenaire that sits just behind. It's a prime example of Brussels' flamboyant public garden style, hosting the eye-watering Arc du Cinquantenaire, a national symbol of Belgium.
The afternoon sees you hop on trams (a combo of Tram 5 and Tram 6 usually does the trick) to the area of Laeken. This otherwise green a leafy suburb has one major claim to fame: the strange Atomium. You might not believe it, but it was built in 1958. Up top there's a lookout point with panoramas of the whole city.
For the evening, mosey back to the Grand Place and seek out the iconic Delirium Café on the side streets nearby. It's home to a whopping 2,000 variations of Belgian and global beers!
Brussels is the home to the European Parliament
48hours in Amsterdam
Start on day 1 in the Museum Quarter where some of Amsterdam's world-class museums are.
Rijksmuseum where Rembrandt's 'The Night Watch' is held can be found here, as well as the Van-Gogh Museum and Stedelijk Museum, which contains a huge collection of everything from sculpture to painting to photography by artists such as Picasso and Warhol.
In the afternoon, head to the artisan area of Jordaan. It has a homely charm to it with all the houseboats along the quays and old crooked buildings.
If you're looking for a night out, head to the areas of Leidseplein or Rembrandtplein in the evening.
Spring at Dam Square with the Royal Palace in the background.
On day 2 head to Dam Square and the Royal Palace then the red-light district.
A visit to the Anne Frank House is a fascinating and sobering experience but this can get very busy so we recommend booking ahead online for a specific time.
If you are looking for something a bit slower paced in the evening - a great photo opportunity is from the Magere Brug. After dark, this bridge is illuminated by over a thousand lights and due to its location, it makes for a good vantage point where you can see 15 bridges at the same time.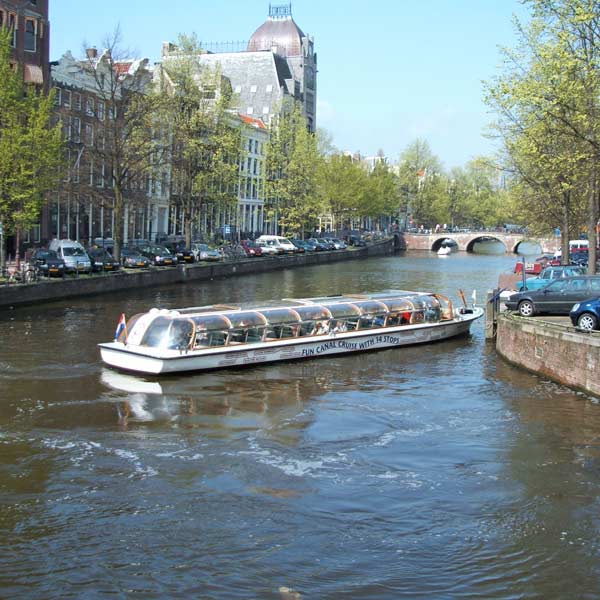 Boat cruise along a canal in Amsterdam
On arrival in Amsterdam Schiphol airport, the quickest way to get into town by public transport is the train which costs €5.40 and takes 20 minutes. The bus costs €5 and takes about 35 minutes.
Amsterdam is an expensive city. Walking and cycling are the best ways to get around. By boat you can see all the big sights too and there are many options for hop-on-hop-off. There is also an impressive public transport system of trams, buses, metros, trains and ferries to help you get around.
Rijksmuseum in Amsterdam
All cities have their perils but with regards to Amsterdam, probably the main ones to consider are bike safety and caution in the "coffee shops". As well as the usual bike safety rules you'd expect at home, keep an eye out for nippy scooters on the bike lanes and avoid rush hour if possible. In terms of the coffeeshop visits – don't underestimate the effects of the products, as the varieties sold here are more potent than elsewhere.
Amsterdam is typically an extremely safe city for solo female travellers but it's not advised to visit the Red Light District at night as the area does have a seedier vibe.
Brussels Airport (BRU) and the Charleroi Airport (CRL) combine to offer all sorts of long-haul and short-haul air links into the capital. The cheapest cross-continent flights on Ryanair and the like usually jet into CRL. Transatlantic and premium carriers usually go to BRU.
You can use Brussels City Shuttle to get to Charleroi for as little as €5 each way if booked online and in advance. Meanwhile, direct rail links go to Brussels Airport from Brussels Central, costing €8.60 and taking a little over 20 minutes in total.
Most of the sights and attractions on the itinerary above are within walking distance of each other. But be ready to make use of Brussels' efficient public transport system if the legs tire and the rain starts falling, though.
The metro and high-speed tram network links up most areas with its six lines. Tickets can be bought at the GO machines on virtually every station. They need to be validated at the orange boxes before use.
The bars and pubs in the historic centre of Brussels
In terms of travel safety, Brussels ranks well. Incidents involving tourists are rare, although thefts, bag snatches, and pickpocketing do occur in many of the visitor hotspots.
Try not to walk alone in the city centre after dark, particularly if you've been drinking. Never leave valuable items within sight if you're parking your car. Also always keep one eye on your handbag or wallet when riding the metro.
For hotels, the best area of Brussels is surely the district immediately around the Grand Place. The closest establishments to that UNESCO site typically cost oodles but ooze luxury. A few streets back and you can find affordable local B&Bs with plenty of charm.