Barcelona or Porto; a vs city comparison and travel guide
Both Barcelona and Porto are fantastic cities, but which is better for your city-break or holiday?
We understand your dilemma. There is a wealth of information about both cities, but little stating which is the better destination and more suited for your trip.
This article will provide our unbiased opinions, and hopefully help you to choose the best city to visit.
The article is divided into the following sections, and can be jumped to using the underlined links:
1) Introductions -
2) City scores -
3) Which one should I, friends, or family visit? -
4) When to visit and weather -
5) Who is the city suited for? -
6) The perfect 48hours (with map) -
7) Tourism details (where to stay? airport details?)
Porto is the surprise of western Europe. This hardworking and unassuming city seems to have stumbled into tourism without even realising its own potential. The variety of historic sights, personable atmosphere, along with a glass of sweet Port wine, creates a wonderful tourist destination.
Porto may be comparatively small and virtually unknown, but it can rival any of the more established tourist destinations. The unique appeal of Porto is that it is not swamped by tourists in the summer season, and is ideal for a summertime city break.
Summary
Which city would I go to?
Barcelona
Which one would I recommend to my parents?
Porto
Which location for my 19-year-old cousin?
Barcelona
Which for my food obsessed friend?
Barcelona
Note: The above comparison does not consider the weather, and assumes travel at the best time of year (which is detailed later in this article)
The following sections compare the two cities and considers; how long to spend in them, when to visit, and provides suggested 48hours in each city (along with an interactive map). The final section is tourism practicalities and includes which airport to fly into, what district to be based in and how best to explore the city.
We hope that you find all of this information useful, in planning your next exciting trip!
How long to spend in the city?
Barcelona can be fully seen with two intense days of sightseeing, but if you include the beaches, the mountain viewpoints and a more leisurely pace, this leads to the conventional four-day visit.
A trip could be extended by visiting the picturesque Montserrat Monastery and mountains or the attractive coastal town of Sitges. Barcelona is much more suited for a short city break than a longer holiday, and does lack the diversity of day trips as with other destinations.
Porto is a compact city, and if rushed, all of the major tourist areas can be seen in a single day. Typically, we would recommend two days, which would include a short cruise along the Douro River and time for port tasting.
If you wished to extend your trip further, there are some great days out to the historic towns of Guimarães, Braga and Aveiro. During the summer (Jun-Sep) there are beautiful beaches along the Costa Verde coastline, and you could visit the resort towns of Espinho, Vila do Conde or Matosinhos.
Related articles: 2 days in Porto – 1 week in Porto
Porto is one of the best European cities for a summer city break. While the rest of southern Europe swelters under the unbearable summer heat, Porto experiences pleasant weather and is not completely overrun by tourists.
Winters are mild and wet, and there is a high chance of rain from October through to May. The middle of June is the best time to visit the city when the Santos Populares festivals are being held.
Barcelona is almost a year-round destination, and the best time of year to visit is either early spring or later autumn as this is outside of the peak season, but the weather is still pleasant.
The peak tourist season is July and August, and we suggest Barcelona is best avoided, as it is just too hectic and crowded. The weather is suitable for spending time on the beaches from May until October. The winter months are cooler and possibly wet but there is a less hectic pace around the city.
Barcelona is flashy, energetic and modern. The city has vibrant tourist attractions and is without the stuffy atmosphere of many other historic destinations. It generally appeals more to the younger visitor with its heady mix of nightlife, beaches and Instagram ready tourist attractions.
It should be noted that Barcelona is not a cheap city, being the most expensive city in Spain. Barcelona great for a short stay or a one-day visit, such as from a cruise ship.
The characteristics of Porto traditionally appealed to the older visitor; it is very safe and there is a pleasant unhurried ambience, with a slightly conservative attitude. This mature opinion of Porto is often compounded by the most popular activities; Douro River cruises and Port tasting (which is great fun!).
This demographic of visitors to Porto is rapidly evolving, as younger travellers realise it is actually a progressive city, with a lot to see and do. Porto will appeal to those looking for somewhere slightly different, but who want a hassle-free trip with decent tourist facilities. Being one of the safest cities in Europe makes it ideal for solo/female travellers.
Barcelona
Barcelona is a tremendous destination for a 48-hours, and excels as a short-stay destination. Below is an interactive map for 48 hours in Barcelona; day 1 is highlighted in green and day 2 in yellow, with optional sights marked grey.
The first morning would start on the La Rambla the authentic shopping street, which is so popular with tourists and locals alike. For the middle of the day explore the Gothic Quarter, which contains the cathedral and Picasso museum.
For the final part of the head towards the harbour and the lively Barceloneta district, that lies the beaches. For the evening both Gothic Quarter or Barceloneta boasts restaurants, atmosphere and entertainment.
The cable car up to Montjuïc Castle provides wonderful views over Barcelona
For the second day begin by visiting the awe-inspiring Sagrada Familia basilica, with is whimsical towers, intricate carvings and masterpiece of Antoni Gaudí. The theme of Gaudí continues with the next sight, the Parc Guell, which was designed by him and includes delightful mosaic-covered buildings and wonderful views of the city.
The final area to discover is Montjuï, where you can ride the cable car to a stunning or visit the MNAC museum housed in the grand Palau Nacional.
The finale for your time in Barcelona is the inspiring Magic Fountain light show, held at the fountain near the MNAC museum (Wed-Sun peak season).
Porto
Considering the size of Porto there is a lot to see, and you can pack in a lot in a 48 hour visit.
Below is an interactive map of where we recommend to go in 48 hours in Porto; day 1 is highlighted in green and day 2 in yellow, with optional sights marked in grey.
A tour of Porto typically starts in the Se district, with the gothic cathedral and ancient city walls. Next is the Baixa district, where you can find the Avenida dos Aliados, and enjoy the view from the top of the Clérigos Tower.
For the latter part of the day and evening visit the ancient Ribeira district, which lines the banks of the Douro River. For the evening, join one of the boat cruises along the river or to party head to the Vitória district.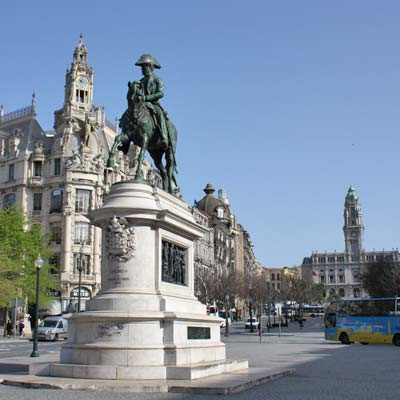 The Avenida dos Aliados is the grand plaza of central Porto
On the morning of the second day, ride the traditional tram to the Foz district, which is positioned at the mouth of the Douro River and extends along a rocky coastline to the beach of Matosinhos.
In the afternoon, and the highlight of Porto, are the tours of the Port cellars and Port tasting. Lining the southern banks of the Douro River are eight of the major Port producers, each with their vast cellars and tasting tours. You'll happily leave Porto a Port connoisseur and a little tipsy…
Barcelona score 5/5 - Porto score 3/5
Once in Barcelona all of the main sights are close and can be easily walked. The standard of food and service at restaurants in the tourist areas varies dramatically, it's always advisable to check reviews first.
The wow you're going to…… factor
Everyone knows of Barcelona and its iconic monument, the La Sagrada, is instantly recognisable, along with its football team. Your friends and family will be impressed that you're heading there, but by an age, everyone has been to Barcelona so it's hardly unique.
Porto has somehow managed to slip under the radar of most travellers and tourists, and this is a good thing. Few people even consider Porto, and consequently is hardly a bucket list location.
Barcelona score 4/5 - Porto Score 2/5
Nightlife?
Barcelona nightlife is buzzing, lively and the whole city parties during the summer season. Being an international and tourist heavy city expect many of the most popular venues to be crammed with foreigners and tourists instead of locals. The nightlife of certain areas can be a touch tacky and excessive, that said it's always fun! For funky bars head to the El Born district or alley of the Gothic Quarter. Barcelona is full of big night memories, but expect a significant chunk of your budget to blown, as it's not a cheap city.
For Porto, the nightlife reflects that of the size of the city; Thursday, Friday and Saturday are lively and late-night, but early in the week is more tame. Porto's nightlife is much more Portuguese focus and many venues are designed to accommodate the large student population. Porto is not really a destination to choose for extreme nightlife, but it is more about late dinners, socialising over a glass of Port.
Porto score 2/5 - Barcelona score 4/5
Museums and galleries?
Museu Nacional d'Art de Catalunya (MNAC) exhibits the finest pieces of Catalina art and history, and is housed in the beautiful Palau Nacional. Pablo Picasso has a close connection to Barcelona and the Museu Picasso, displays over 3,800 pieces of his earlier work. Barcelona has numerous museums and galleries but when compared to other European cultural cities the variety and depth are lacking.
Porto may be the second city of Portugal but still boasts a couple of interesting museums. The Museu Serralves is a contemporary art museum, with the art extending to the tranquil gardens. Museu Nacional de Soares dos Reis exhibits Portuguese art of the 19th and 20th centuries and is housed in an elegant palace. The Museu da Misericórdia do Porto, has a wide selection of religious art.
Barcelona score 2/5 - Porto score 2/5
Foodie trip, regional cuisines and eating out
Catalonian regional dishes are delicious and frequently based around seafood. Regional specialities include Esqueixada (shredded salt cod, tomatoes and onions) Mandonguilles amb sípia (Meatballs, cuttlefish in a rich source). Suquet de Peix (seafood stew with potato). Of course, there are Paellas, with the distinctive Arròs Negre Catalonia Paella dyes the rice black with squid ink. The food may be delicious but there can be sub-standard service in the tourist areas and some meals may be an outright rip-off. It's frustrating having to constantly check restaurant reviews, when the food can be so good. The La Boqueria market may be a major tourist attraction but is still where many of Barcelonés do their daily food shopping.
Barcelona score 3.5/5
For a budget traveller?
Porto could be so budget-friendly if only there were more suitable accommodation options. Public transport and meal cost are some of the cheapest in western Europe cities.
Barcelona is not an easy destination for a budget traveller, especially during the summer when hostels and inexpensive accommodation sells far in advance. If you are a savvy traveller it is possible to eek a decent stay in Barcelona, but lots of walking, eating at locals' restaurants and limited nights out.
Porto score 4/5 - Barcelona score 2/5
Solo travel
Porto is one of the safest large cities in Europe. With its personable atmosphere and compact centre make it great for solo travellers. Porto may not attract the diversity and number of solo travellers as other destinations, but the safe setting makes it ideal as a trail for solo travel. Eating out along in a quiet restaurant, will often end up listening to tales and advice from the waiter or owner.
Barcelona is a worldly and forward-thinking city, which is a great destination if you are planning solo travel. The city attracts a diversity of nationalities and ages, and is well set up for soling. The city is safe for female solo travellers, but as with everywhere, common sense should be used. The only concern is the persistent nuisance of pickpockets and snatch thieves.
Porto score 5/5 - Barcelona score 4/5