Madrid or Barcelona; a vs city comparison and travel guide
Both Barcelona and Madrid are fantastic cities, but which is better for your city-break or holiday?
We understand your dilemma. There is a wealth of information about both cities, but little stating which is the better destination and more suited for your trip.
This article will provide our unbiased opinions, and hopefully help you to choose the best city to visit.
The article is divided into the following sections, and can be jumped to using the links:
• Introduction to the cities
• Scores and ratings
• Which one should I, friends, or family visit?
• When to visit and weather
• Who is the city suited for?
• The perfect 48hours (with map)
• Tourism details (where to stay? airport details?)
Being the original artisan city of western Europe, Madrid's galleries and museums are unrivalled, and are a staple for any cultural holiday.
However beneath this formal exterior is a young and passionate city, with thrilling nightlife, delicious food and genuinely welcoming locals.
The visitors who rave most about Madrid are the long-stay residents – and there is something captivating about the city. The Museo del Prado, the Reina Sofía and the Bernabéu Stadium, for a different type of culture. Just avoid Madrid in August, when the entire city shuts down for the summer holidays.
Barcelona, the pulsating core of Catalonia, exudes a robust and confident identity that's uniquely its own. As a city that's simultaneously youthful, chic, and forward-thinking, it captures the imagination with awe-inspiring landmarks and vibrant culture.
Nestled between the sparkling sea and towering mountains, Barcelona's dynamic and vivacious character thrives. Yet, the ease with which one can retreat to sun-kissed beaches or the rejuvenating mountain landscapes ensures the city never feels confining.
While Barcelona stands as a premier European destination, it's not without its challenges, such as the impact of heavy tourism and sometimes indifferent service. However, for those willing to navigate these aspects, the city's allure is undeniable, offering a blend of cultural richness and natural beauty that continues to enchant visitors from around the world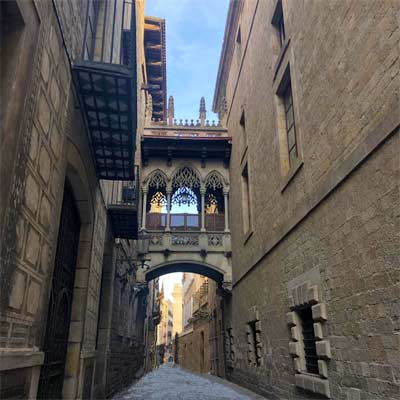 The Barri Gòtic (Gothic Quarter) is one of the most atmospheric areas of Barcelona
The Plaza Mayor and the historic centre of Madrid
Summary
Where would I journey for a personal escape?
Madrid
Where would I send my parents for a memorable visit?
Madrid
Where's the ideal destination for my adventurous 19-year-old cousin?
Barcelona
Where should my food-obsessed friend indulge their culinary passions?
Madrid
Note: The above comparisons are weather-independent and are based on travel during the most opportune times of the year. Details about the ideal travel seasons are elaborated upon later in this article.
In the sections that follow, you'll find a comprehensive comparison between these two fascinating cities. This includes recommendations on the duration of stay, the best times to visit, and tailored 48-hour itineraries for each city.
The final segment delves into practicalities for your travels, such as the best airport to fly into, the optimal districts for your accommodation, and insider tips, for when you come to explore the city.
We hope that you find all of this information useful, in planning your next exciting trip!
How long to spend each city?
Barcelona can be fully seen with two intense days of sightseeing, but if you include the beaches, the mountain viewpoints and a more leisurely pace, this leads to the conventional four-day visit.
A trip could be extended by visiting the picturesque Montserrat Monastery and mountains or the attractive coastal town of Sitges. Barcelona is much more suited for a short city break than a longer holiday, and does lack the diversity of day trips as with other destinations.
For Madrid, the length of stay greatly depends on how much you want to devote to visit the three famed art galleries (Prado Museum, Thyssen-Bornemisza and Reina Sofía), or immerse into Spanish culture. The city can be seen in two days of sightseeing, and a third day is often given to the galleries.
There are many outstanding day trips from Madrid and a trip can be easily extended to 5 or 6 days. A selection of the best day trips includes the medieval town of Segovia, charming Toledo, and the magnificent El Escorial. Madrid makes for a good base from which to explore the region, and is served by inexpensive public transport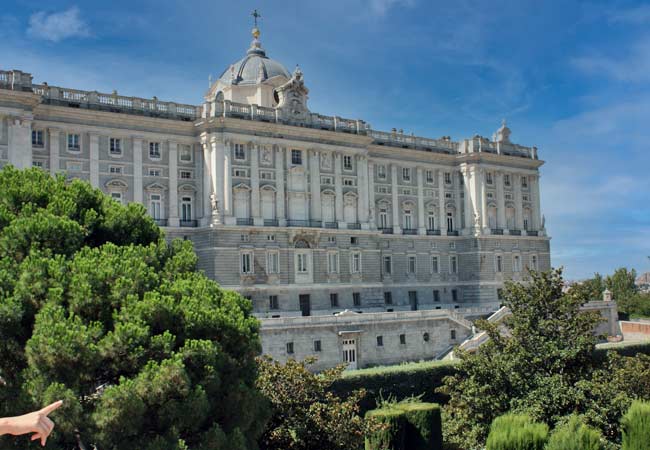 The magnificent Palacio Real in Madrid
The flamboyant Park Guell, colourful mosaics and whimsical buildings all designed by Barcelona great designer Antoni Gaudí
Barcelona is almost a year-round destination, and the best time of year to visit is either early spring or later autumn as this is outside of the peak season, but the weather is still pleasant.
The peak tourist season is July and August, and we suggest Barcelona is best avoided, as it is just too hectic and crowded. The weather is suitable for spending time on the beaches from May until October. The winter months are cooler and possibly wet but there is a less hectic pace around the city.
The major consideration for Madrid, is to avoid August. The entire city shuts down for the month, and everyone heads to the slightly cooler coastal towns.
The best time of year for Madrid is late spring (Jun/Jul) or early autumn. Madrid can be surprisingly chilly in the winter, but is comparatively drier and milder than the rest of northern Europe. As Madrid is in the centre of the Iberian Peninsula, it tends to get more extreme weather than the coastal cities.
Madrid is one of the finest cities in Europe. The city may not have the iconic monuments and attention-grabbing tourist attractions, but in reality, there is a lot to see during a city break.
Much of Madrid's tourist literature focuses on the museums and galleries (which are world-class), but this should not deter you; this is a fun-loving city, which has the best nightlife in Europe. No matter your style of trip, there will be something to love about the Spanish capital.
Madrid excels as a long-stay destination, and if you can work here, the city offers the perfect work/life balance.
Barcelona is flashy, energetic and modern. The city has vibrant tourist attractions, without the stuffy atmosphere of many other historic destinations. It generally appeals more to the younger visitor with its heady mix of nightlife, beaches and Instagram ready tourist attractions.
It should be noted that Barcelona is not a cheap city, being the most expensive city in Spain. Barcelona is great for a short stay or a one-day visit, such as from a cruise ship.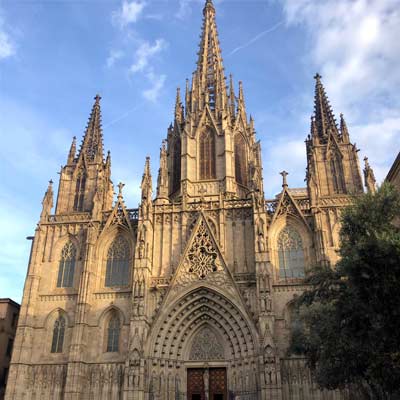 The cathedral of Barcelona is dedicated to Saint Eulalia, and in the adjoining cloister are the 13 white geese commemorating her young martyr death at 13
The Museo Nacional del Prado, is one of the finest art galleries in the world
Barcelona
Barcelona is a tremendous destination for a 48-hours, and excels as a short-stay destination. Below is an interactive map for 48 hours in Barcelona; day 1 is highlighted in green and day 2 in yellow, with optional sights marked grey.
The first morning would start on the La Rambla the authentic shopping street, which is so popular with tourists and locals alike. For the middle of the day explore the Gothic Quarter, which contains the cathedral and Picasso museum.
For the final part of the head towards the harbour and the lively Barceloneta district, that lies the beaches. For the evening both Gothic Quarter or Barceloneta boasts restaurants, atmosphere and entertainment.
The cable car up to Montjuïc Castle provides wonderful views over Barcelona
For the second day begin by visiting the awe-inspiring Sagrada Familia basilica, with is whimsical towers, intricate carvings and masterpiece of Antoni Gaudí. The theme of Gaudí continues with the next sight, the Parc Guell, which was designed by him and includes delightful mosaic-covered buildings and wonderful views of the city.
The final area to discover is Montjuï, where you can ride the cable car to a stunning or visit the MNAC museum housed in the grand Palau Nacional.
The finale for your time in Barcelona is the inspiring Magic Fountain light show, held at the fountain near the MNAC museum (Wed-Sun peak season).
Did we mention Barcelona has beaches, and that they are amazing!
Madrid
48 hours in Madrid is not just the sights but also the atmosphere of the city. Below is an interactive tour map - day 1 is highlighted in green and day 2 in yellow, with optional sights marked grey.
Day 1 - 1) Puerta del Sol 2) Plaza Mayor 3) Plaza de la Villa 4) Mercado de San Miguel 5) Plaza de Oriente 7) Palacio Real 8) Almudena cathedral 9) Basílica de san Francisco 10) Calle de la Cava Alta
Day 2 - 11) Prado museum 12) Thyssen-Bornemisza Museum13) Museo Nacional Reina Sofía 14) Parque de El Retiro 15) Puerta de Alcalá 16) Palacio de Cibeles 17) Gran Vía 18) Malasaña district 19) Plaza de España 20) Templo de Debod
The 48 hours in Madrid begins in the Puerta del Sol, then wanders through charming streets of the El Madrid de los Austrias, which is the oldest section of the city. This leads to the Palacio Real, surrounded by its formal gardens and the Catedral de la Almudena to the south.
For the last part of the day explore the La Latina district and have a delicious tapas meal at one of the restaurants along the Cava Alta or Cava Baja. La Latina boasts numerous bars and is always a great place to start a night in Madrid.
The morning of the second focuses on the three art-museums, the Prado Museum, Thyssen-Bornemisza and Reina Sofía. Close to the museums is the pretty the El Retiro Park.
For the afternoon head down the Gran Vía, the main shopping street of Madrid, and visit the Malasaña district, with its artisan vibe, independent shops and trendy nightlife. For sunset watch it at the Templo de Debod, and then head back to Malasaña for a memorable meal and evening.
The atmospheric Templo de Debod, is Egyptian temple which was moved to Madrid in 1968, due to the construction of the Aswan dam (which would have flooded the temple)
The Gran Vía is the bustling main avenue of Madrid
If you choose a good season to visit, then Madrid is ideal for a city break. There is just one airport severing Madrid and is only 13km from the historic centre. For onward travel take the metro (€1.50 single – 30 minutes). For flights, there is always high demand for Friday/Sunday flights to/from Madrid, so if planning a city break always book at least 6-8 weeks in advance.
On initial appearance Madrid seems to have ample supply of hotel and rental rooms, but this is slightly misleading, as the city is so sprawling.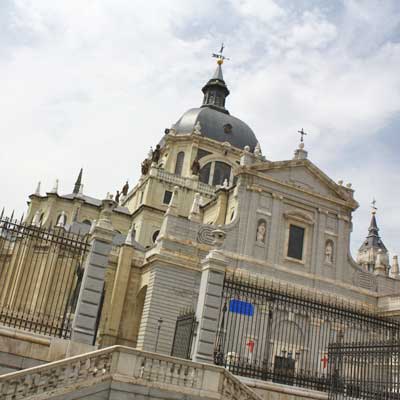 The Catedral de la Almudena
For your first visit, you would want to be based in the Centro or Retiro districts, and this will limit accommodation options. If you do wish a more remote, budget option always ensure it is close to a metro station. While exploring Madrid, you will do a surprising amount of walking.
If you can find decent accommodation, then Barcelona is enjoyable for a city break. The main airport of Barcelona is 17km from the city centre and connected by train, but the low-cost airlines may use the very distant Barcelona-Reus (110km south) or Barcelona-Girona (90km north). Neither airport is good for a short city-break, as so much time will be waste travelling.
Accommodation for Barcelona is always in high demand, and you will typically end up paying much more than you originally planned before making any reservations. The summer months can be a real challenge to find good accommodation – book well in advance.
Once in Barcelona all of the main sights are close and can be easily walked. The standard of food and service at restaurants in the tourist areas varies dramatically, it's always advisable to check reviews first.
The Sagrada Família is the standout attraction of Barcelona
The wow you're going to…… factor
Everyone knows of Barcelona and its iconic monument, the La Sagrada, is instantly recognisable, along with its football team. Your friends and family will be impressed that you're heading there, but by an age, everyone has been to Barcelona so it's hardly unique.
Nightlife?
Madrid nightlife is legendary, it may start late but it will continue for as long as you are still standing. Madrid nightlife always has the perfect balance of Madrileños and foreigners, and the locals are generally social and fun. There are the artisan and fashionable bars of the Malasaña district or the mega clubs of Kapital or Barco. Popular nightlife districts include Lavapiés and La Latina. For something slightly different there a flamenco clubs and performances. Madrid's nightlife is diverse, social and as wild as you want it, and certainly will not disappoint.
Barcelona nightlife is buzzing, lively and the whole city parties during the summer season. Being an international and tourist heavy city expect many of the most popular venues to be crammed with foreigners and tourists instead of locals. The nightlife of certain areas can be a touch tacky and excessive, that said it's always fun! For funky bars head to the El Born district or alley of the Gothic Quarter. Barcelona is full of big night memories, but expect a significant chunk of your budget to blown, as it's not a cheap city.
Museums and galleries?
Museu Nacional d'Art de Catalunya (MNAC) exhibits the finest pieces of Catalina art and history, and is housed in the beautiful Palau Nacional. Pablo Picasso has a close connection to Barcelona and the Museu Picasso, displays over 3,800 pieces of his earlier work. Barcelona has numerous museums and galleries but when compared to other European cultural cities the variety and depth are lacking.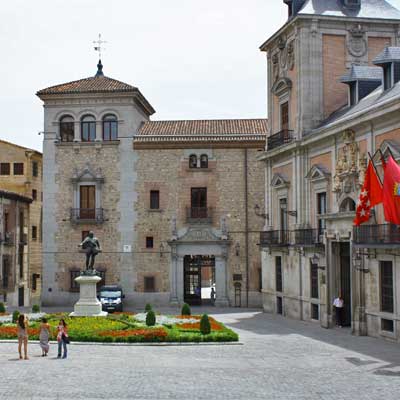 Plaza de la Villa, Madrid
Madrid excels with museums and galleries, boasting three of Europe's finest museum, within walking distance of each other. The Museo del Prado is the national art gallery of Spain and the Reina Sofía focuses on 20th-century art (notably Pablo Picasso and Salvador Dalí). The Thyssen-Bornemisza has over 1,600 paintings and is one of Europe's largest private collections. It is easy to spend a day in each of these galleries; for art Madrid cannot be beaten
Foodie trip, regional cuisines and eating out
Catalonian regional dishes are delicious and frequently based around seafood. Regional specialities include Esqueixada (shredded salt cod, tomatoes and onions) Mandonguilles amb sípia (Meatballs, cuttlefish in a rich source). Suquet de Peix (seafood stew with potato). Of course, there are Paellas, with the distinctive Arròs Negre Catalonia Paella dyes the rice black with squid ink. The food may be delicious but there can be sub-standard service in the tourist areas and some meals may be an outright rip-off. It's frustrating having to constantly check restaurant reviews, when the food can be so good. The La Boqueria market may be a major tourist attraction but is still where many of Barcelonés do their daily food shopping.
Top 5 Barcelona, No.1:
The Sagrada Família
Madrid is a city were mealtimes are the focus of the day, and a two-hour lunch is the norm. Madrid is famed for is tapas, but traditional food is much more heart such as Cocido Madrileño (Spanish stew), and a regional favourite is roasted sucking pig. There is decent seafood in Madrid and is surprisingly one of the world's largest consumers of fish; this can be appreciated in the daily Mercado de Pescados (the fish market). Eating out in Madrid is always a pleasurable experience. There are so many outstanding family run restaurants in Madrid, most are never mentioned in any guide, and are just waiting for you to discover them.
Solo travel
Barcelona is a worldly and forward-thinking city, which is a great destination if you are planning solo travel. The city attracts a diversity of nationalities and ages, and is well set up for soling. The city is safe for female solo travellers, but as with everywhere, common sense should be used. The only concern is the persistent nuisance of pickpockets and snatch thieves.
Madrid is a social and vibrant city, which generally safe and suitable for solo travellers. There are cases of pick-pockets and opportunistic thefts, but no more than in any large city. Madrid is an important business and cultural centre, which attracts numerous solo travellers, many who may not even class themselves as solo travellers, as they are travelling for work or business. The city is not unfamiliar to solo travellers, and there are always many about.