Budapest or Barcelona: a comparative city guide for 2023
Barcelona and Budapest both offer unique and enticing experiences, but which one should you choose for your city break or holiday?
We recognise the difficulty in making this decision. While there is abundant information available on both destinations, clear guidance on which city better aligns with your travel preferences is often hard to find.
This article aims to provide an impartial comparison,and hopefully help you to choose the best city to visit.
The article is structured into several sections, each of which can be directly accessed through the following links:
• Introduction to the cities
• Scores and ratings
• Which one should I, friends, or family visit?
• When to visit and weather
• Who is the city suited for?
• The perfect 48hours (with map)
• Tourism details (where to stay? airport details?)
Barcelona, the pulsating core of Catalonia, exudes a robust and confident identity that's uniquely its own. As a city that's simultaneously youthful, chic, and forward-thinking, it captures the imagination with awe-inspiring landmarks and vibrant culture.
Nestled between the sparkling sea and towering mountains, Barcelona's dynamic and vivacious character thrives. Yet, the ease with which one can retreat to sun-kissed beaches or the rejuvenating mountain landscapes ensures the city never feels confining.
While Barcelona stands as a premier European destination, it's not without its challenges, such as the impact of heavy tourism and sometimes indifferent service. However, for those willing to navigate these aspects, the city's allure is undeniable, offering a blend of cultural richness and natural beauty that continues to enchant visitors from around the world
Straddling the snaking Danube in the very heart of Europe is Budapest, the buzzing capital of Hungary.
Here, a city of two halves – Buda and Pest – unites to form a complex tapestry of over 1.7 million lives. With grand 19th-century bridges stitching together the landscape, Budapest entices with its blend of storied history, striking architecture, café charm, and lively nightspots.
Whether your eyes are drawn to the regal palaces atop Buda Hill or the heady aroma of sulphur from steaming bathhouses, Budapest never ceases to captivate. Venture into ruin bars, gaze upon the monumental Dohány Street Synagogue, or stroll the wide boulevards left behind by the Communist era.
In Budapest, every glance reveals a new layer of intrigue, a city where the past and present are locked in an endless dance.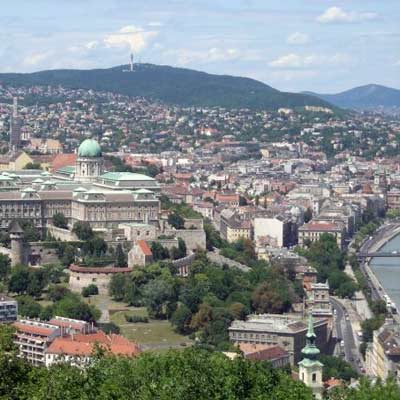 Budapest is a vibrant and modern city just waiting to be explored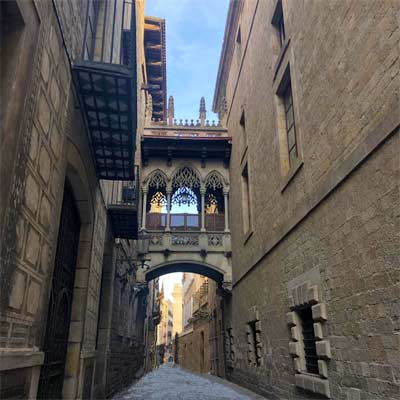 The Barri Gòtic (Gothic Quarter) is one of the most atmospheric areas of Barcelona
Summary
Where would I journey for a personal escape?
Barcelona
Where would I send my parents for a memorable visit?
Barcelona
Where's the ideal destination for my adventurous 19-year-old cousin?
Budapest
Where should my food-obsessed friend indulge their culinary passions?
Barcelona
Note: The above comparisons are weather-independent and are based on travel during the most opportune times of the year. Details about the ideal travel seasons are elaborated upon later in this article.
In the sections that follow, you'll find a comprehensive comparison between these two fascinating cities. This includes recommendations on the duration of stay, the best times to visit, and tailored 48-hour itineraries for each city.
The final segment delves into practicalities for your travels, such as the best airport to fly into, the optimal districts for your accommodation, and insider tips, for when you come to explore the city.
We hope that you find all of this information useful, in planning your next exciting trip!
How long to spend each city?
Barcelona can be fully seen with two intense days of sightseeing, but if you include the beaches, the mountain viewpoints and a more leisurely pace, this leads to the conventional four-day visit.
A trip could be extended by visiting the picturesque Montserrat Monastery and mountains or the attractive coastal town of Sitges. Barcelona is much more suited for a short city break than a longer holiday, and does lack the diversity of day trips as with other destinations.
Fly-in visits for three days are enough to check off the major must-see sights of Budapest. This is a compact capital with good underground and bus links. You can get easily get across town – going from Buda Castle on one side of the city all the way to the Széchenyi Thermal Baths at the other takes less than an hour on public transport.
That said, Budapest has plenty of hidden secrets up its sleeve. You could easily while away a whole week enjoying cheap happy hours in the ruin bars, bathing in the Art Deco spas, and visiting islands up the Danube. If you're coming in summer, you could also extend a stay to include the art galleries and cobbled lanes of Szentendre, the mineral-rich waters of Lake Balaton, and the rustic Tokaj wine country to the east.
The flamboyant Park Guell, colourful mosaics and whimsical buildings all designed by Barcelona great designer Antoni Gaudí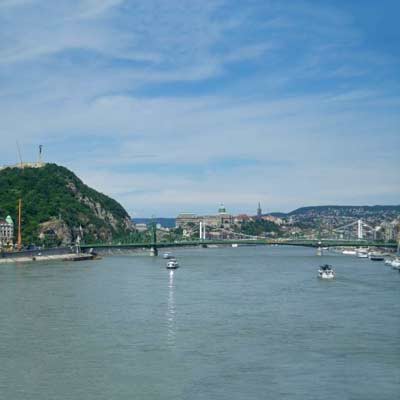 The mighty Danube River cuts Budapest in two
Late spring and early autumn are when locals often say Budapest is at its best. Temperatures average around 23-25 degrees in May and September. There's not an overload of rain then either. And it's perfect for avoiding the crowds of midsummer city breakers that come during the European holidays.
There's also something to be said for visiting Budapest in the midst of winter. Mercury plummets between November and March, and it's not uncommon to see the Danube freeze over with huge chunks of ice. What's more, the tenements and side streets of the Jewish Quarter and the historic Inner City areas ooze atmosphere on cold, snowy days. Just be sure to pack the thermals!
Barcelona is almost a year-round destination, and the best time of year to visit is either early spring or later autumn as this is outside of the peak season, but the weather is still pleasant.
The peak tourist season is July and August, and we suggest Barcelona is best avoided, as it is just too hectic and crowded. The weather is suitable for spending time on the beaches from May until October. The winter months are cooler and possibly wet but there is a less hectic pace around the city.
Barcelona is flashy, energetic and modern. The city has vibrant tourist attractions, without the stuffy atmosphere of many other historic destinations. It generally appeals more to the younger visitor with its heady mix of nightlife, beaches and Instagram ready tourist attractions.
It should be noted that Barcelona is not a cheap city, being the most expensive city in Spain. Barcelona is great for a short stay or a one-day visit, such as from a cruise ship.
Budapest, with its rich historical culture, intertwined seamlessly with an energetic nightlife, has established it as a top destination for a diverse range of travellers. Backpackers gravitate towards the Jewish Quarter's unique ruin bars, where they can indulge in exceptionally affordable Hungarian beers amidst eclectic courtyards.
Meanwhile, those with a cultural focus may choose to delve into the history of the Hungarian empire at Buda Castle or pay homage at the poignant House of Terror museum, which delves into the oppressive Stasi era.
However, if your preference leans towards sun-soaked beaches, Budapest might not feel like a perfect fit. Situated in a landlocked region, both the city and the country are devoid of coastline. Furthermore, while there are parks, they are predominantly located on the city's periphery, making Budapest predominantly an urban experience.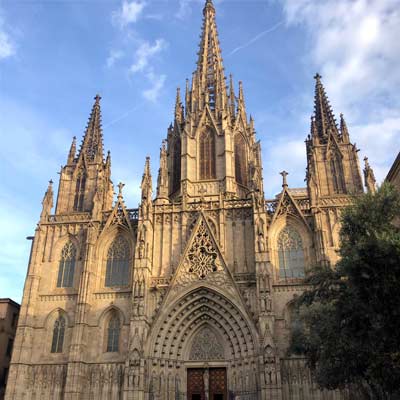 The cathedral of Barcelona is dedicated to Saint Eulalia, and in the adjoining cloister are the 13 white geese commemorating her young martyr death at 13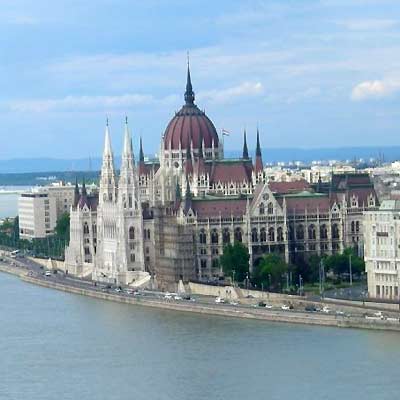 The Hungarian Parliament stands as a stunning testament to Budapest's architectural grandeur, holding the title of the city's tallest building
Barcelona
Barcelona is a tremendous destination for a 48-hours, and excels as a short-stay destination. Below is an interactive map for 48 hours in Barcelona; day 1 is highlighted in green and day 2 in yellow, with optional sights marked grey.
The first morning would start on the La Rambla the authentic shopping street, which is so popular with tourists and locals alike. For the middle of the day explore the Gothic Quarter, which contains the cathedral and Picasso museum.
For the final part of the head towards the harbour and the lively Barceloneta district, that lies the beaches. For the evening both Gothic Quarter or Barceloneta boasts restaurants, atmosphere and entertainment.
The cable car up to Montjuïc Castle provides wonderful views over Barcelona
For the second day begin by visiting the awe-inspiring Sagrada Familia basilica, with is whimsical towers, intricate carvings and masterpiece of Antoni Gaudí. The theme of Gaudí continues with the next sight, the Parc Guell, which was designed by him and includes delightful mosaic-covered buildings and wonderful views of the city.
The final area to discover is Montjuï, where you can ride the cable car to a stunning or visit the MNAC museum housed in the grand Palau Nacional.
The finale for your time in Barcelona is the inspiring Magic Fountain light show, held at the fountain near the MNAC museum (Wed-Sun peak season).
Did we mention Barcelona has beaches, and that they are amazing!
48hours in Budapest
Day 1: Begin your journey on the Pest side of the city, where the magnificent Dohány Street Synagogue resides. This landmark is not only pivotal to Budapest but also stands as the largest synagogue in Europe. Following this, take a stroll along Andrássy Avenue, a grand boulevard and UNESCO World Heritage site, adorned with Neo-Classical mansions.
Delve into Hungary's tumultuous history with a visit to the House of Terror museum, situated at one end of the avenue. Subsequently, unwind with a spa session at the renowned Széchenyi Baths, celebrated for its Art Deco architecture. Cap off the day with a hearty dinner at Gettó Gulyás, indulging in their signature paprika-smoked goulash, and conclude your evening with a drink at Szimpla Kert, a mesmerizing art gallery turned bar.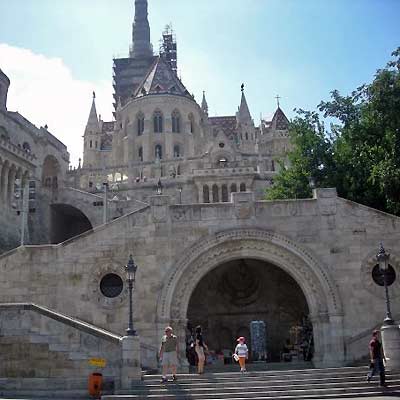 Pest cathedral
Day 2: Start your day with breakfast at the historic Central Market Hall, established in 1897. Savour the taste of sweet Hungarian pastries before crossing the Danube via the striking Liberty Bridge.
Upon arrival, you have the option to visit the elegant Gellért Baths or continue your journey to the Fisherman's Bastion and the Citadella, former military strongholds that now offer breathtaking views of the Danube. A northward stroll leads you to the Castle District, where you can either admire the architecture from the outside or explore the regal court rooms inside.
Don't miss the chance to capture some photos of the imposing Hungarian Parliament Building across the river. Conclude your day with dinner in the Inner City of Pest, offering a diverse range of dining options from Tex-Mex restaurants to atmospheric 1930s speakeasies.
Gellért Hill offers some of the best views of Budapest, the hill is named after Saint Gerard who was murdered in 1065 by being put in a barrel and rolled down the hill…
If you can find decent accommodation, then Barcelona is enjoyable for a city break. The main airport of Barcelona is 17km from the city centre and connected by train, but the low-cost airlines may use the very distant Barcelona-Reus (110km south) or Barcelona-Girona (90km north). Neither airport is good for a short city-break, as so much time will be waste travelling.
Accommodation for Barcelona is always in high demand, and you will typically end up paying much more than you originally planned before making any reservations. The summer months can be a real challenge to find good accommodation – book well in advance.
The Sagrada Família is the standout attraction of Barcelona
Once in Barcelona all of the main sights are close and can be easily walked. The standard of food and service at restaurants in the tourist areas varies dramatically, it's always advisable to check reviews first.
Travelling to and around Budapest is super easy. There's an efficient underground network. Tickets for that cost 350 HUF per ride with a single transfer allowed. You can also use river boats (HUF750 per journey) and buses (350 HUF).
Taxis are rarely needed, but they are cheap, costing 280 HUF per kilometer. Be sure to insist your driver puts the meter on, and never accept offers from taxi touts at the airport.
The Fisherman's Bastion, Budapest
Talking of the airport, Budapest Airport sits around 22 kilometers from the city center. You can get to and from the terminals using the dedicated express bus (€2) or by train (€2.70). Both options take between 30-40 minutes. Be sure to buy tickets at machines by the stops – they're more expensive when purchased direct from drivers.
When it comes to picking hotels in Budapest, you're best off focussing on the Pest side of the city. That's where the bulk of the best lodgings are located. Being in the Jewish Quarter can be noisy, but perfect if you want to hit the nightlife of Szimpla and the other ruin bars. The Inner City area is charming and quieter, with some boutique options. Meanwhile, Újlipótváros is a local's favourite, with its cool cafés and art galleries and sleek Airbnbs.
Related articles: Where to stay in Budapest
Budapest is largely safe and crime statistics are in line with European norms. Some well-known scams include taxi drivers who overcharge and sellers of fake goods. Pickpocketing is also a rare but real problem. Just be aware of your personal possessions and be vigilante, especially when on public transportation.
Price wise, Budapest is surely up there with the cheapest of European capitals. A large beer can cost as little as 500 HUF (€1.50). Food in a midrange restaurant will set you back between 2,000 HUF and 3,000 HUF (€6-9). Nights in hotels are noticeably less than in nearby Vienna, too.