Budapest or Florence; a vs city comparison and travel guide
Both Florence and Budapest are fantastic cities, but which is better for your city-break or holiday?
We understand your dilemma. There is a wealth of information about both cities, but little stating which is the better destination and more suited for your trip.
This article will provide our unbiased opinions, and hopefully help you to choose the best city to visit.
The article is divided into the following sections, and can be jumped to using the underlined links:
1) Introductions -
2) City scores -
3) Which one should I, friends, or family visit? -
4) When to visit and weather -
5) Who is the city suited for? -
6) The perfect 48hours (with map) -
7) Tourism details (where to stay? airport details?)
Florence comes at you in a flurry of priceless art, pastel-painted jewellers, romantic piazzas, marble-gilded basilicas, saffron-scented risotto – the list goes on. Nestled into the lovely Arezzo hills in the northern part of Tuscany, the regional capital is famous around the globe.
Straddling the snaking Danube in the very heart of Europe is Budapest, the buzzing capital of Hungary. The largest city in the country, it's split into Buda (in the west) and Pest (in the east). They're joined by grand 19th-century chain bridges to form a continuous metropolis that's home to more than 1.7 million people.
Budapest magnetizes visitors with a mixture of rich history, bold architectural sites, café culture, urban spas and vibrant nightlife. Look one way and you'll see the elaborate Habsburg-era palaces that crown Buda Hill.
Look another and you find steaming bathhouses smelling of sulphur. And that's not even mentioning the heady ruin bars, the colossal Dohány Street Synagogue, and the wide boulevards left over from Communist times.
Summary
Which city would I go to?
Budapest
Which one would I recommend to my parents?
Florence
Which location for my 19-year-old cousin?
Budapest
Which for my food obsessed friend?
Florence
Note: The above comparison does not consider the weather, and assumes travel at the best time of year (which is detailed later in this article)
The following sections compare the two cities and considers; how long to spend in them, when to visit, and provides suggested 48hours in each city (along with an interactive map). The final section is tourism practicalities and includes which airport to fly into, what district to be based in and how best to explore the city.
We hope that you find all of this information useful, in planning your next exciting trip!
How long to spend in the city?
Fly-in visits for three days are enough to check off the major must-see sights of Budapest. This is a compact capital with good underground and bus links. You can get easily get across town – going from Buda Castle on one side of the city all the way to the Széchenyi Thermal Baths at the other takes less than an hour on public transport.
That said, Budapest has plenty of hidden secrets up its sleeve. You could easily while away a whole week enjoying cheap happy hours in the ruin bars, bathing in the Art Deco spas, and visiting islands up the Danube. If you're coming in summer, you could also extend a stay to include the art galleries and cobbled lanes of Szentendre, the mineral-rich waters of Lake Balaton, and the rustic Tokaj wine country to the east.
Florence demands at least two days. Lovers of this enchanting town will surely scoff at that. They wax lyrical about how Florence seduces folk who pass its way into staying weeks, months, years, and even whole lifetimes. Still, we think it's possible to check off the main sights, try the top dishes, and explore the historic center with around 48-72 hours total.
In the peak season there are extremely long queues for the galleries and Duomo cathedral; to avoid wasting precious time, it is advisable to pre-purchase tickets and start the day sightseeing very early (before 8am).
There are many good day trips from Florence, which are easily accessible by train, and include Siena, Lucca, and Arezzo. Florence may be a smaller city, but a fabulous one-week holiday could be had based here.
Late spring and early autumn are when locals often say Budapest is at its best. Temperatures average around 23-25 degrees in May and September. There's not an overload of rain then either. And it's perfect for avoiding the crowds of midsummer city breakers that come during the European holidays.
There's also something to be said for visiting Budapest in the midst of winter. Mercury plummets between November and March, and it's not uncommon to see the Danube freeze over with huge chunks of ice. What's more, the tenements and side streets of the Jewish Quarter and the historic Inner City areas ooze atmosphere on cold, snowy days. Just be sure to pack the thermals!
You've got to remember that Florence is up there with the most famous in Italy, and the vast majority of the 15.4 million visitors that come annually turn up in the summer months! That sends hotel rates skywards between June and August and means you'll need to jostle for space in front of Giotto's Bell Tower and the Duomo.
The ideal time to visit Florence is from April to June or September and October. They have good weather, fewer people, and cheaper prices, not to mention food festivals and wine harvest events. Winters are cooler and possibly wet but have the lowest number of tourists.
Culture and art are the pillars of Florence. Lovers of the late Middle Ages and the Renaissance will feel right at home between the Accademia Gallery and the Uffizi. Within their halls are iconic sculptures like Michelangelo's David, The Birth of Venus by Botticelli, and Caravaggio's haunting Medusa. And that's only scratching the surface!
Adding to the mix are the intriguing collections of the Museo Galileo for science buffs, the Ponte Vecchio for architecture aficionados, and tasty Tuscan farm foods for gourmands. Downsides include high visitor numbers, so it's best to steer clear if you're not a fan of crowds, particularly in the summer.
Florence is not an overly expensive destination, is relatively safe and has a small city atmosphere.
Budapest's layers of history combine with a sleepless nightlife scene, making this European capital a great pick for a whole host of travellers. The backpacking crowd can make for the Jewish Quarter's ruin bars and glug uber-cheap Hungarian beers in bohemian courtyards.
More culturally aligned visitors might prefer to unearth the past of the Hungarian empire on the grounds of Buda Castle, or pay their respects at the haunting House of Terror museum that chronicles the dark days of Stasi rule.
You might not feel totally at home here if you're a big fan of beaches and sun. Budapest is a landlocked city in a landlocked country, so the ocean is never near. Hungary's capital isn't the greenest of towns, either. There are parks, but they're really on the outskirts. It's very much an urban destination.
48hours in Budapest
Day 1: Start on the Pest side of the city. That's home to the huge Dohány Street Synagogue. It's one of the great landmarks of Budapest and reigns as the largest synagogue in Europe. From there, head to the wide boulevard of Andrássy, a spectacular thoroughfare and UNESCO site that's lined with Neo-Classical mansions.
Visit the House of Terror museum on one end to unravel the haunting past of Communist rule in Hungary. Then, go for a hard-earned spa session in the famous Art Deco baths of Széchenyi. Dinner can be nothing less than a paprika-smoked goulash in Gettó Gulyás, followed by a beer in the mind-boggling art gallery come bar that is Szimpla Kert.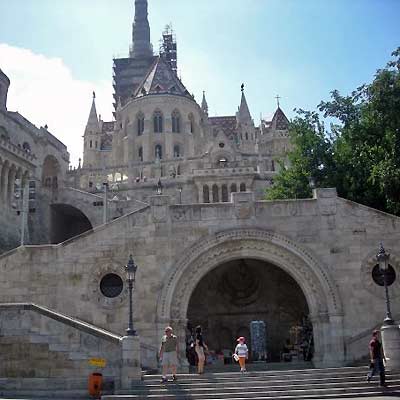 Pest cathedral
Day 2: Breakfast in the Central Market Hall that dates from 1897. Grab some sweet Hungarian pastries and then hop across the Danube on the handsome Liberty Bridge. In front of you, the elegant Gellért Baths are an optional stop. Or, push on up to the Fisherman's Bastion and the Citadella. These were once defensive outposts where Hungarian armies protected their capital. These days, they have stunning views of the Danube. A walk to the north takes you to the Castle District. You can tour the grounds and take in the architecture, or go inside for regal court rooms. Be sure to take some photos of the imposing Hungarian Parliament Building across the water. Finally, drop back into Pest for dinner in the Inner City. That area has everything from Tex-Mex joints to smoky 1930s speakeasies.
48 hours in Florence
Early morningstarts are key in Florence, to hit the galleries and basilicas before the crowds. Don't worry, though, this two-day itinerary has time to rest with beautiful views in Renaissance gardens come the afternoon…
Day 1: Make for the Piazza del Duomo for the break of dawn – seriously, the earlier you can get there the better. That way, you can snap shots of the great cathedral and adjacent Giotto's Bell Tower without plumes of visitors getting in the way!
Look to the green-white marble inlays and the striking Gothic Revivalism of the whole building and think about hitting the 87-meter high lookouts of the belfry for some sweeping views across the city and the Apennines.
Traditional Tuscan design oozes from the lovely Palazzo Vecchio on Piazza della Signoria – this is the town hall, dating from way back in the 1400s. Grab an on-the-go pizza slice and make north to Galleria dell'Accademia after that.
Day 2: It's a museum morning in the famous Uffizi Gallery on day two. For art lovers, the journey here is a rite of passage. The collections span several wings of a great palace in the heart of central Florence and can take hours on end to appreciate fully.
Highlights that simply can't be missed include The Birth of Venus (Botticelli), Laocoön and his Sons (Bandinelli), Raphael's portrait of Pope Leo X, and Caravaggio's unforgettable Medusa. Back outside, the Ponte Vecchio bridge isn't far. It was once a butcher's market but is now famous for its jewellery boutiques.
On the hills beyond are the handsome Boboli Gardens, all brimming with babbling fountains and carved statues. Further up again is Forte di Belvedere, where even more breathtaking views of Florence are on offer come the evening.
Florence
The best place to touchdown on a flight is surely Amerigo Vespucci International Airport. A mere 15 minutes' drive (7km) in a taxi, or 30 minutes in a train, can link you from the downtown to the terminals there.
Unfortunately, the bulk of Europe's budget carriers will jet into Pisa. That's still close – around 1-1.5 hours (83km) in the bus to the west.
Avoid flying into Bologna, as this is even further away (115km), and bus transfer 1.5-2 hours.
In terms of neighborhoods, you'll want to focus on bedding down within the SS67 ring road. More specifically, the districts of San Giovanni (the historic core) and Santa Croce are perhaps the most central, even if the latter retains a lived-in Italian feel. San Marco is a whisker to the north, hosting the bulk of the low-cost hotels and guest houses. Oltrarno boasts buzzy nightlife venues and hip coffee shops.
You probably won't need any forms of transport in Florence other than your own two feet. The town is eminently walkable. Be sure to bring comfy shoes that are suited to long days, however, especially if you're keen to scale to the lookout points around Piazzale Michelangelo.
For exploring the surrounding region, a rental car is a must. These tend to be cheap in Italy and are best organised from the airport to avoid driving through the centre of town.
Aside from the infamous Stendhal syndrome – a condition supposedly caused by exposure to too much beautiful Florentine art – there are no standout risks to visiting this city. The centre is generally safe and well maintained, crime rates are relatively low, and the locals are often happy to help out.
Talking of the airport, Budapest Airport sits around 22 kilometers from the city center. You can get to and from the terminals using the dedicated express bus (€2) or by train (€2.70). Both options take between 30-40 minutes. Be sure to buy tickets at machines by the stops – they're more expensive when purchased direct from drivers.
When it comes to picking hotels in Budapest, you're best off focussing on the Pest side of the city. That's where the bulk of the best lodgings are located. Being in the Jewish Quarter can be noisy, but perfect if you want to hit the nightlife of Szimpla and the other ruin bars. The Inner City area is charming and quieter, with some boutique options. Meanwhile, Újlipótváros is a local's favourite, with its cool cafés and art galleries and sleek Airbnbs.
Budapest is largely safe and crime statistics are in line with European norms. Some well-known scams include taxi drivers who overcharge and sellers of fake goods. Pickpocketing is also a rare but real problem. Just be aware of your personal possessions and be vigilante, especially when on public transportation.
Price wise, Budapest is surely up there with the cheapest of European capitals. A large beer can cost as little as 500 HUF (€1.50). Food in a midrange restaurant will set you back between 2,000 HUF and 3,000 HUF (€6-9). Nights in hotels are noticeably less than in nearby Vienna, too.