Berlin or Budapest; a vs city comparison and travel guide
Both Berlin and Budapest are fantastic cities, but which is better for your city-break or holiday?
We understand your dilemma. There is a wealth of information about both cities, but little stating which is the better destination and more suited for your trip.
This article will provide our unbiased opinions of Budapest and Berlin, and hopefully help you to choose the best city to visit.
The article is divided into the following sections, and can be jumped to using the links:
• Introduction to the cities
• Scores and ratings
• Which one should I, friends, or family visit?
• When to visit and weather
• Who is the city suited for?
• The perfect 48hours (with map)
• Tourism details (where to stay? airport details?)
Big, bustling, boisterous Berlin. Welcome to the beating heart of modern Germany. A city at once steeped in dark histories and creative culture, it's a place to strut between the ruins of the Berlin Wall seeing subversive graffiti murals, or to sip craft beers within eyeshot of Checkpoint Charlie.
At its best, Berlin should be seen as a patchwork of neighbourhoods with their own unique vibes. There's Mitte, with its must-see landmarks and sights, or Prenzlauer Berg, peppered with pavement cafés and jazz joints. Kreuzberg is a hodgepodge of art squats and Turkic grills, while Rixdorf is rustic, replete with cobbled lanes and leafy parks.
And that's just scratching the surface of Berlin…
Straddling the snaking Danube in the very heart of Europe is Budapest, the buzzing capital of Hungary.
The largest city in the country, it's split into Buda (in the west) and Pest (in the east). They're joined by grand 19th-century chain bridges to form a continuous metropolis that's home to more than 1.7 million people.
Budapest magnetizes visitors with a mixture of rich history, bold architectural sites, café culture, urban spas and vibrant nightlife. Look one way and you'll see the elaborate Habsburg-era palaces that crown Buda Hill.
Look another and you find steaming bathhouses smelling of sulphur. And that's not even mentioning the heady ruin bars, the colossal Dohány Street Synagogue, and the wide boulevards left over from Communist times.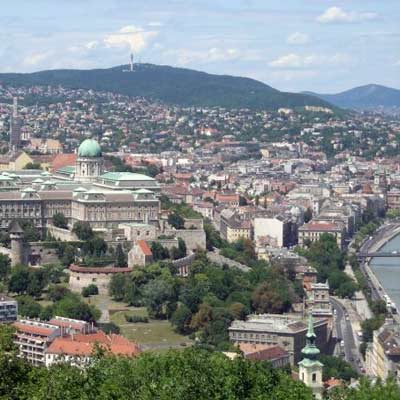 Budapest is a vibrant and modern city just waiting to be explored
The TV tower (Berliner Fernsehturm) at Alexanderplat dominates the skyline of Berlin
Summary
Which city would I go to?
Budapest
Which one would I recommend to my parents?
Budapest
Which location for my 19-year-old cousin?
Berlin
Which for my food obsessed friend?
Budapest
Note: The above comparison does not consider the weather, and assumes travel at the best time of year - which is detailed later in this article.
The following sections compare the two cities and considers; how long to spend in them, when to visit, and provides suggested 48hours in each city (along with an interactive map).
The final section is tourism practicalities and includes which airport to fly into, what district to be based in and how best to explore the city.
We hope that you find all of this information useful, in planning your next exciting trip!
How long to spend each city?
Fly-in visits for three days are enough to check off the major must-see sights of Budapest. This is a compact capital with good underground and bus links. You can get easily get across town – going from Buda Castle on one side of the city all the way to the Széchenyi Thermal Baths at the other takes less than an hour on public transport.
That said, Budapest has plenty of hidden secrets up its sleeve. You could easily while away a whole week enjoying cheap happy hours in the ruin bars, bathing in the Art Deco spas, and visiting islands up the Danube. If you're coming in summer, you could also extend a stay to include the art galleries and cobbled lanes of Szentendre, the mineral-rich waters of Lake Balaton, and the rustic Tokaj wine country to the east.
Berlin is one of those vibrant metropolises that always seems to have something new to discover on each visit.
You could easily spend months here and not do everything you want. That's really a result of just how big it is – more than 3.5 million people call it home, and it's the largest city in Germany by a long shot.
That said, a weekend or a three-day break is often ample for a whirlwind tour of the capital's most iconic points of interest.
The ultra-efficient U-Bahn, tram and buses make it easy to hop around the city, and fortunately, the main attractions are relatively close together; woven into the blocks of Mitte, Wedding and hipster East Central.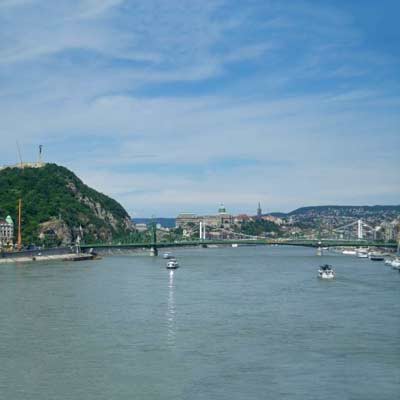 The mighty Danube River cuts Budapest in two
Berlin is a city that lives for it's nightlife……
It's simple: Spring to summer for Berlin.
From May to October, the locals of Berlin seem to come out of their winter hibernation, and the city is in full swing. However, in the summer expect high temperatures where the mid-day heat can easy be over 30C.
If you can handle the cold, snow and greyness, then Berlin is almost free of tourists in the winter. December in Berlin is rewarding, with enchanting Christmas markets at the Charlottenburg Palace and on Alexanderplatz.
Late spring and early autumn are when locals often say Budapest is at its best. Temperatures average around 23-25 degrees in May and September. There's not an overload of rain then either. And it's perfect for avoiding the crowds of midsummer city breakers that come during the European holidays.
There's also something to be said for visiting Budapest in the midst of winter. Mercury plummets between November and March, and it's not uncommon to see the Danube freeze over with huge chunks of ice. What's more, the tenements and side streets of the Jewish Quarter and the historic Inner City areas ooze atmosphere on cold, snowy days. Just be sure to pack the thermals!
Budapest's layers of history combine with a sleepless nightlife scene, making this European capital a great pick for a whole host of travellers. The backpacking crowd can make for the Jewish Quarter's ruin bars and glug uber-cheap Hungarian beers in bohemian courtyards.
More culturally aligned visitors might prefer to unearth the past of the Hungarian empire on the grounds of Buda Castle, or pay their respects at the haunting House of Terror museum that chronicles the dark days of Stasi rule.
You might not feel totally at home here if you're a big fan of beaches and sun. Budapest is a landlocked city in a landlocked country, so the ocean is never near. Hungary's capital isn't the greenest of towns, either. There are parks, but they're really on the outskirts. It's very much an urban destination.
If you're a city slicker with a soft spot for cool cafes (aka the coolest in Europe), great coffee, ethnic eateries, and urban vibes, then Berlin is arguably the place you should be for the rest of your life!
This is the epitome of a metropolis made up of individual neighbourhoods. Each has crafted its own unique character; some are hedonistic, others laid back and easy going, others packed with famous landmarks.
Those who want fresh air can escape to the Tiergarten and the beautiful Spreewald, but those are just supporting acts to the buzz of the downtown. It's not the place to be to attune yourself to nature, relax under the sun, or have swims in the sea.
The Bode Museum standing on the banks of the Spree River on the Museum Island (Museumsinsel), the cultural centre of Berlin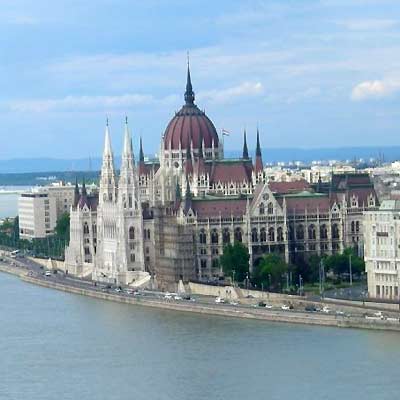 Hungarian Parliament is the tallest building in Budapest
48hours in Budapest
Day 1: Start on the Pest side of the city. That's home to the huge Dohány Street Synagogue. It's one of the great landmarks of Budapest and reigns as the largest synagogue in Europe. From there, head to the wide boulevard of Andrássy, a spectacular thoroughfare and UNESCO site that's lined with Neo-Classical mansions.
Visit the House of Terror museum on one end to unravel the haunting past of Communist rule in Hungary. Then, go for a hard-earned spa session in the famous Art Deco baths of Széchenyi. Dinner can be nothing less than a paprika-smoked goulash in Gettó Gulyás, followed by a beer in the mind-boggling art gallery come bar that is Szimpla Kert.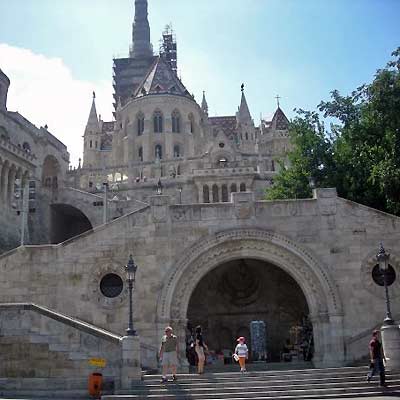 Pest cathedral
Day 2: Breakfast in the Central Market Hall that dates from 1897. Grab some sweet Hungarian pastries and then hop across the Danube on the handsome Liberty Bridge. In front of you, the elegant Gellért Baths are an optional stop. Or, push on up to the Fisherman's Bastion and the Citadella. These were once defensive outposts where Hungarian armies protected their capital. These days, they have stunning views of the Danube. A walk to the north takes you to the Castle District. You can tour the grounds and take in the architecture, or go inside for regal court rooms. Be sure to take some photos of the imposing Hungarian Parliament Building across the water. Finally, drop back into Pest for dinner in the Inner City. That area has everything from Tex-Mex joints to smoky 1930s speakeasies.
Gellért Hill offers some of the best views of Budapest, the hill is named after Saint Gerard who was murdered in 1065 by being put in a barrel and rolled down the hill…
48hours in Berlin
Does the perfect 48 hours in Berlin even exist? With so many museums and vibey neighbourhoods to get through, it's hard to pack the highlights of the German capital into just two days. Still, the Berlin itinerary below gives it a go, offering everything from ancient Greek artefacts to cool pavement drinkeries and more.
Day 1: Morning in Mitte. As its name implies (Mitte = Middle), it's the hub of Berlin. You can settle in for a refined breakfast in the hidden courtyards of the Hackescher Höfe. The area is brimming with independent boutique stores and elegant tearooms. A few steps to the south take you beneath the needle-like Berliner Fernsehturm. A relic of Communist times, it's home to the fastest elevators in the world, while the lookouts at the top have jaw-dropping panoramas of the city (tickets cost €16.50).
A quick people-watching session on bustling Alexanderplatz and then move west to Museum Island. Culture vultures should take their time here. The Pergamonmuseum is a real highlight, with its priceless Assyrian statues and even the blue-tiled gates of Babylon. A pitstop at the nearby German Historical Museum is one for those who want to unravel the tale of the nation, with particular highlights in the collections that chronicle the world wars of the 20th century.
From there, walk down Unter den Linden to encounter the main artery of Mitte. That takes you to the world-famous Brandenburg Gate, which stands next to the glass-domed Reichstag Building. A picnic lunch in the Tiergarten park can be followed by a sobering walk through the Memorial to the Murdered Jews of Europe. Past that is Checkpoint Charlie – a onetime gateway between East and West Berlin – and then the lively streets of Kreuzberg, with their ramen restaurants, jazz bars, and multicultural kitchens.
The mock gothic Oberbaum Bridge connects the eastern and western sides of Berlin and is prominent icon of the city's unity.
Day 2: If you're lucky enough to escape a hangover courtesy of the Kreuzberg bars, then an early morning start in the area of Friedrichshain is in order. It's brimming with graffiti-scrawled coffee bars and breakfast joints.
On the south side of the district is the striking East Side Gallery. Once a bland concrete section of the Berlin Wall, it's now an artist's homage to the fall of the great divider in 1989. From there, go north to the green lawns of Volkspark Friedrichshain. Chilled and leafy, it's actually the oldest public garden in the capital. And it's got monuments to the Spanish Civil War next to volleyball courts and picnic tables.
Hugging that is the enchanting area of Prenzlauer Berg. This is the perfect place to end your 48 hours. It's not bursting with sights and attractions, but it's got a classic Berliner neighbourhood vibe. If you're unsure where to begin, check out Kulturbrauerei – an all-in-one complex of cinemas, theatres, clubs and beer halls.
The Victory Column stands at the centre of Tiergarten Park, and at the viewing platform 285 steps up provides some of the finest views over Berlin
If you're arriving on a low-cost airline to Berlin, then it's likely you'll jet into the old GDR hub of Schönefeld Airport. That's in south-east Berlin. Reach it on regional train lines or via the S-Bahn, which go directly to a station in front of the terminals. Tickets cost €3.40 each way.
The larger Tegel International Airport is where most premium carriers like Lufthansa and BA will land. If you're going there, you certainly don't want to take the train to Tegel – that won't get you into the heart of Berlin. Instead, choose the frequent bus link to Hauptbahnhof or Alexanderplatz. The fare is €2.80 € and journeys take between 35-50 minutes depending on traffic.
The Berliner Dom cathedral, with its 100m high dome and grand Neo-Renaissance architecture
Getting around Berlin is a cinch. The capital has a super-efficient and well-linked public network of trams, trains and underground lines. You can purchase tickets at any S-Bahn or U-Bahn station, or at any establishment with a BVG sign. Daily and weekly passes for all public transportation are also available with slight reductions. A new smartphone app allows digital purchasing of tickets (search: FahrInfo Plus). All other tickets must be validated before use.
Violence of any sort in the capital is rare and police can be relied upon. Still, have your wits about you, especially if travelling through Berlin's lesser-known or rougher areas, like the ones bordering Kreuzberg, or the nightlife hubs of Alexanderplatz and Friedrichshain.
When it comes to searching for a hotel, there's a hard choice to be made. There are oodles of neighbourhoods here that are worthy of attention. It's really up to you to decide what you want. Generally speaking: Sightseers can't go wrong in Mitte, Kreuzberg and Friedrichshain are perfect for bar hoppers and foodies, and Neukölln offers something more local.
Travelling to and around Budapest is super easy. There's an efficient underground network. Tickets for that cost 350 HUF per ride with a single transfer allowed. You can also use river boats (HUF750 per journey) and buses (350 HUF).
Taxis are rarely needed, but they are cheap, costing 280 HUF per kilometer. Be sure to insist your driver puts the meter on, and never accept offers from taxi touts at the airport.
The Fisherman's Bastion, Budapest
Talking of the airport, Budapest Airport sits around 22 kilometers from the city center. You can get to and from the terminals using the dedicated express bus (€2) or by train (€2.70). Both options take between 30-40 minutes. Be sure to buy tickets at machines by the stops – they're more expensive when purchased direct from drivers.
When it comes to picking hotels in Budapest, you're best off focussing on the Pest side of the city. That's where the bulk of the best lodgings are located. Being in the Jewish Quarter can be noisy, but perfect if you want to hit the nightlife of Szimpla and the other ruin bars. The Inner City area is charming and quieter, with some boutique options. Meanwhile, Újlipótváros is a local's favourite, with its cool cafés and art galleries and sleek Airbnbs.
Related articles: Where to stay in Budapest
Budapest is largely safe and crime statistics are in line with European norms. Some well-known scams include taxi drivers who overcharge and sellers of fake goods. Pickpocketing is also a rare but real problem. Just be aware of your personal possessions and be vigilante, especially when on public transportation.
Price wise, Budapest is surely up there with the cheapest of European capitals. A large beer can cost as little as 500 HUF (€1.50). Food in a midrange restaurant will set you back between 2,000 HUF and 3,000 HUF (€6-9). Nights in hotels are noticeably less than in nearby Vienna, too.