Naples or Krakow; a vs city comparison and travel guide
Both Krakow and Naples are fantastic cities, but which is better for your city-break or holiday?
We understand your dilemma. There is an abundance of travel guides for both cities, but few actually comparing them, and advising you which is the better for your trip.
This article will provide our unbiased and independent views of Naples and Krakow, hopefully making your choice that little easier.
The article is divided into the following sections, and can be jumped to using the links:
• Introduction to the cities
• Scores and ratings
• Which one should I, friends, or family visit?
• When to visit and weather
• Who is the city suited for?
• The perfect 48hours (with map)
• Tourism details (where to stay? airport details?)
Krakow is Poland's cultural capital, it was one of the few cities of central Europe to have emerged largely unscathed from WWII. It is famed for its delightful Old Town, with cobbled alleys, centuries-old palaces and medieval castles.
But history aside, Krakow is also very much a lived-in town. Throw in leafy parks, bohemian districts, cutting-edge art galleries, and alluring nearby mountain ranges and it's easy to see why Krakow remains such a popular destination.
In many ways, Naples is split in two halves; a town of shadow and light.
There's the Naples of pizza dough and La Dolce Vita, which is all about kicking it by the azure Tyrrhenian Sea with good food and great wine.
Then there's the gritty city, whose reputation comes from the Camorra mafiosos and the ramshackle alleys around Spaccanapoli street. Both are immersive and interesting in their own right
Put simply, Naples is one of the most authentic and enthralling cities in Italy. The self-proclaimed capital of the south, it's got Roman history and gorgeous landscapes in equal measure.
It promises something for honeymooners, backpackers, foodies, and outdoorsy types, but won't sugar-coat the experience with anything special for tourists.
The harbour front in Naples
The Rynek Główny is the main plaza of Krakow, and standing at the centre is the impressive Bazylika Mariacka (Saint Mary's Basilica)
Summary
Which city would I go to?
Krakow
Which one would I recommend to my parents?
Krakow
Which location for my 19-year-old cousin?
Krakow
Which for my food obsessed friend?
Naples
Note: The above comparison does not consider the weather, and assumes travel at the best time of year - which is detailed later in this article.
The following sections compare the two cities and considers; how long to spend in them, when to visit, and provides suggested 48hours in each city (along with an interactive map).
The final section is tourism practicalities and includes which airport to fly into, what district to be based in and how best to explore the city.
We hope that you find all of this information useful, in planning your next exciting trip!
How long to spend each city?
That's a tricky one. Naples itself can be seen from tip to toe in just a couple of days. We'd say around 48 hours is perfect for tasting Neapolitan pizzas in legendary L'Antica Pizzeria da Michele and feeling the vibes down lively Spaccanapoli – the main drag in the historic centre.
For a longer stay of five to seven days, there's a catch: A lot of Naples's main draws are outside of town. Think the likes of Pompeii, the soaring crater of Vesuvius, and the Amalfi Coast. To add those on, you'll need to plan to come here for considerably more time.
In many ways, Krakow is the perfect example of a city-break destination. Not only is it compact and walkable, but its main-see sights are all connected via leafy parklands or riverside paths. You can check off the castle, the Old Town, the Jewish Quarter, and plenty more in a mere 48 hours. And the airport hosts oodles of low-cost flight links to cities right across Europe, which makes it easy to whiz in for just a couple of days.
If you're looking to add excursions (and there are loads of them) to your itinerary, you might need a little longer. Trips to Auschwitz, the salt mines in Wieliczka, and the Tatra Mountains can be crammed together in a single two-day tour, but it's better to do them separately and leave at least a day for each.
What's more, the wild Krakow nightlife might just put you out of action for a morning. Those with a penchant for vodka might be better off planning 4-5 days at least in the Polish city of kings.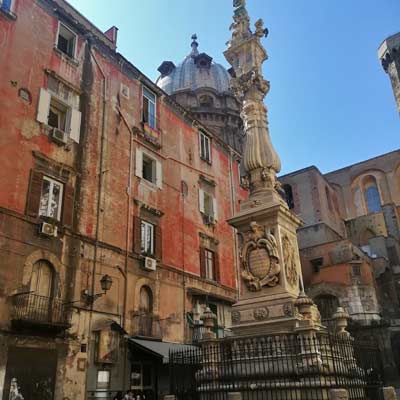 The obelisk of San Gennaro in the Piazza Riario Sforza
The extensive history of Wawel Castle is reflected in the numerous architectural styles, there are baroque renaissance and ancient medieval found within this wonderous castle
Spring is the best time of year in Naples. This southern city gets warm nice and early, so you can expect April highs in the 20s and even enough sun to hit the beaches of Gaiola and the local lidos if you want to take a dip in the Med. There are fewer other travellers about before the summer rush too, which means you'll find it more pleasant strolling the historic centre and Pompeii.
Of course, that's not to say the summer is bad in these parts. It most certainly isn't. Reliable warmth and loads of sunshine, topped off with a buzz about town, help make the months between June and August great options. Just be prepared to pay extra for hotels and flights, and don't expect the city to be quiet.
Summertime sees Krakow fill to bursting with tourists. It's the peak season, and things can get rammed on the main drags of the Old Town. That's why it's often better to try to come in months like May or September. Those are outside of major European vacations. There will be way fewer people queuing for the Wawel Castle. Hotel prices in Krakow also tend to drop considerably after August, while the Tatra Mountains are at their most handsome in spring and autumn.
Krakow in the winter is a totally different beast. Woolly jumpers, thermal underlayers, snow boots – you'll need the lot. Temperatures in south Poland can ebb to minus 25 degrees in the height of the season. However, the Planty Park and the Old Town do look truly stunning under a layer of snowflakes. It's also the time of year to plan ski trips near to Krakow. Just beware that pollution can be bad in the centre – the winter smog is some of the worst on the continent.
Naples is a raw and immersive Italian city. It's got pizza places that are frequented by locals. It's got wine bars serving gorgeous Campanian tipples. It's lived-in and gritty and real. That makes it perfect for city hoppers who like atmosphere and energy. And the joys don't end there…
Just around the Bay of Naples are two of the country's most impressive archaeological sites: Pompeii and Herculaneum. They'll entertain the history lovers, along with the likes of the Castel dell'Ovo and the vast Museo Archeologico Nazionale. Loved-up duos might also want to make Naples a pitstop on a couple's break to the impossibly gorgeous Amalfi Coast that lies to the south.
Naples isn't for those who like small, easy-going towns where there's lots of room. It's crammed between the volcanos and the sea, so things are compact in the centre. It can also be quite hectic, with touts and traffic.
Krakow's a seriously versatile travel destination. Weaving the threads of a long, regal history together with a vibrant café culture, the culinary delights of Lesser Poland, and a nightlife that's nothing short of legendary, there's something in these parts to cater to all sorts. First up: Backpackers. The younger, budget-conscious crowd enjoy more hostel dorms and happy-hour deals than they can shake a Polish blood sausage at. Meanwhile, districts like Kazimierz are laden with concept stores and hip coffee shops.
Those who lean towards the more cultural side of things are also in luck. UNESCO World Heritage Sites abound in this part of Europe. In fact, Krakow's Old Town itself is one, bursting with medieval trading halls, brick-fronted churches, and castles that date back to the 1200s. There's also art by Leonardo da Vinci and Polish masters to get through in the museums, along with archaeology expos of the urban underground that are truly fascinating.
Being stuck between the vast plains of central Poland and the Carpathian Mountains means that Krakow is probably not the city for anyone looking for sun, sand and sea. What's more, the air quality is abysmal, so don't come expecting a break from life in a metropolis.
The Kościół św. Józefa (Saint Josphes church) in the Podgórze district, was inspired by gothic desings but only dates from 1909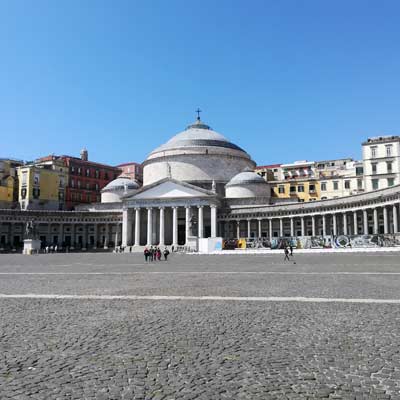 The Piazza Plebiscito is the grand square of Naples
Everything from millennia-old villas to rich art collections is on offer in this 48-hour guide to Naples. Oh, and there are plenty of chances to devour pizza – it's considered the very best in Italy.
Day 1: Start in the Quartieri Spagnoli. Ramshackle and rough around the edges, it's the perfect combo of Neapolitan grit and charm. There's bound to be a cafeteria serving cannoli (crunchy Sicilian pastries) and cappuccino there that takes your fancy.
You'll need the energy, because your next destination is the acclaimed Naples National Archaeological Museum. It's known to have one of the largest collections of Roman artifacts anywhere in the world, but the standout highlight is surely the Alexander Mosaic, reconstructed from the floors of Pompeii's opulent House of the Faun.
Once you're done in there, head south to the sleepless street of Spaccanapoli. Literally meaning 'the street that divides Naples', it does exactly as that implies. It runs right through the heart of the city, with drooping washing lines, street-food vendors and age-old churches looming on both sides. It will take a while to walk its two kilometres but it's all about breathing in the urban energy. What's more, the iconic L'Antica Pizzeria da Michele sits at the eastern end.
You'll be rewarded there by one of the best pizzas in town – choose between marinara (just fresh tomato passata and garlic) and bufalina (with buffalo mozzarella). After lunch, make for the port area.
That's crowned by the turrets of the Castel Nuovo, a grand fortification that has a history of more than 800 years. Behind that comes vast Piazza del Plebiscito. Prepare to be stunned by its sheer size and grand horse statues. For evening, a few cocktails and some tasty homecooked pasta awaits in the osterias of stylish Chiaia district.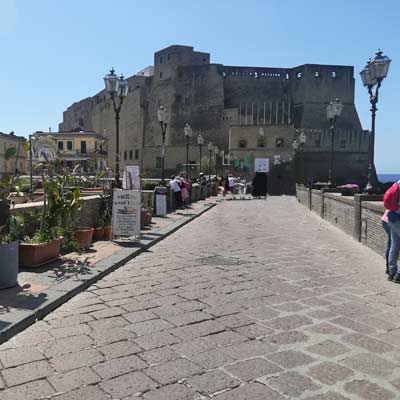 The Castel dell'Ovo (Egg castle) on the harbour front of Naples
Day 2: Rise early and get to the platforms of Naples Centrale station. That's where the trains depart for Pompeii in the morning. You might just have heard of that place – it was once an entire Roman resort town for the nobles and elite of the empire.
That is, until Mount Vesuvius suddenly erupted in 79 AD and flooded it with lava and ash. These days, the site is an amazing and haunting archaeological dig, with whole streets, entire villas, and even brothels complete with Roman wall art just waiting to be discovered.
It's likely Pompeii will take more than half of the day, while the most devoted history buffs can add on a trip to Herculaneum to boot. If not, head back to Naples city and go straight to the hilltops where the Castle of St Elmo keeps watch. That's the Vomero district, and it's famed for its sweeping panoramas of the Gulf of Naples and Mount Vesuvius. With that as the backdrop, find yourself a traditional trattoria or pizzeria and dine with a view of the metropolis to cap off the trip.
Pompeii was covered in 6m of volcanic ash when Mount Vesuvius erupted in AD 79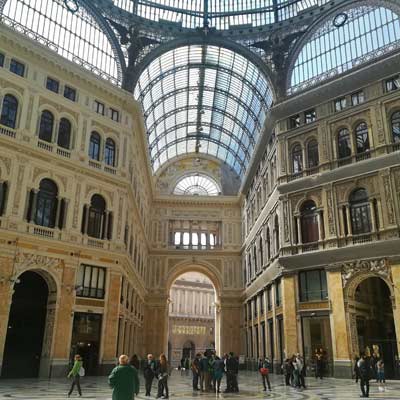 The elegant Galleria Umberto I shopping gallery in Naples
48hours in Krakow
It's a good idea to stick to the city of Krakow itself for your first 48 hours. That's where you'll be able to uncover the rich medieval history, tales of Polish kings and queens, and some of the best dining (and drinking) the country has to offer:
Day 1: Where better to start than the UNESCO-tagged heart of Krakow? The Old Town is the piece de resistance here. Begin on the Market Square. It's one of the largest urban squares in the world, and a lively gathering point for both people and sights. On its eastern side is the wonderful Basilica of St Mary, arguably the most important church in Poland. The Cloth Hall (a stunning Renaissance building) stands in the middle, filled with souvenir stalls.
After learning about powerful kings and battles with Tartar hordes, you'll finish under the mighty Wawel Castle. That's an icon of Krakow. Walk through its gateways to find a green courtyard with a small café. Glug a coffee and then scale the belfry of on-site Krakow Cathedral for sweeping panoramas of the Vistula River and the Tatra Mountains (on a clear day).
For the evening, return to the Market Square and hit the local bars with fellow travellers.
Tourist boats moored along the banks of the Vistula River in the scenic Kazimierz district of Krakow
Day 2: A hangover-cure breakfast (if required) in Milkbar Tomasza complete with traditional Polish sausage starts the day. From there, head to the Planty Park. A famous green space, it follows the route of the old city walls and is a people-watching paradise. Move south to the district of Kazimierz. Known as the Jewish Quarter, it's got centuries-old synagogues and some of the coolest cafes in town.
An optional walking tour here is for you if you want to delve into the darker history of Krakow's wartime past. If not, stroll to the Vistula Boulevards to join the joggers. Then, it's easy to cross over to Podgorze neighborhood and find corner cafés and wine bars. For sunset, push southwards to the Krakus Mound. This off-the-beaten-track spot is great when the light dips low over the city.
Krakus Mound, at 270m high provides the best location to watch the sunset over Krakow
Capodichino Airport, or Naples Airport, is the main gateway to the city by air. It's the fifth largest in the country, so should have lots of low-cost and premium services jetting into its runways. There's a metro line to the terminal in the works, but for now arrivals will need to use the Alibus to Naples Centrale station. Tickets cost about €5 each way and the travel time is roughly 15 minutes outside of rush hours.
Centrale Station is a main stop on the north-south railway line through Italy. It's easy to get there on high-speed links from Rome and even Milan. That's one of the most glamourous ways to arrive in Campania, offering gorgeous views of the countryside before pulling right into the heart of the city.
When it comes to booking hotels in Naples, take some time to consider each neighbourhood one by one. Most travellers are drawn to the Historic Centre (or Centro Storico in local speak). That's the home of the Duomo and the buzzing lane of Spaccanapoli.
It's probably one of the pricier and more lively areas to stay. Alternatively, go to Vomero for boutique B&Bs with great views, not to mention proximity to some of the coolest hipster eateries and cafes. Or, choose the down-to-earth Quartieri Spagnoli, which is filled with hostels and guesthouses that shouldn't break the bank.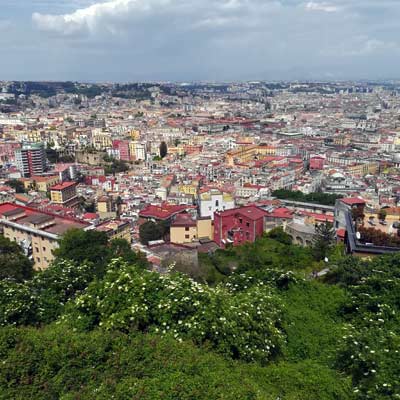 The view over Naples from the surrounding hills
Naples has a reputation for being Italy's roughest and most dangerous place.
It's true that crime rates are higher here than in the north. What's more, the mafia are still in action in these parts. You'll want to be a little more careful walking around areas like the Naples Centrale station and Quartieri Spagnoli.
Also try to stick to more touristy central districts, and don't walk alone at night. On top of that, be wary of street touts selling stolen goods, and be on the guard for pickpockets and drive-by thieves on scooters.
Krakow's transportation system is really efficient. A combo of buses and trams, it uses an integrated ticketing system. You can pay your fare at machines located at most stops, or on most trams themselves.
Contactless payment is generally accepted, but it's always a good idea to have the right change handy. You'll pay 5 PLN for a standard hour-long ticket and 3,20 PLN for a 20-minute ticket. Remember to validate that when you board!
The Sukiennice (Cloth Hall) was historically the commercial hub of Krakow
The Balice International Airport is the main gateway to Krakow from the air. Getting to and from the terminal is now really easy thanks to a dedicated train line that runs every 30 minutes or so to the central station. You can purchase your ticket at the airport platform or on the train (9 PLN). A taxi from the airport typically costs around 50-100 PLN, depending on the company you go for (Mega and Eco taxis are usually the cheapest).
Most of Krakow's hotels can be found at least within walking distance of the Old Town. Generally speaking, the closer you are to that the better. However, you might also prefer the café scene and more local atmosphere of Kazimierz, which sits just a little to the south.
Krakow is generally safe for visitors. Reports of bar scams (when staff charge astronomical rates for just a few beers) and taxi scams are occasional. Also be warned that Police will pounce on anyone caught drinking alcohol in public or crossing the road on a red light (both warrant a fine).