Warsaw or Naples; a vs city comparison and travel guide
Both Warsaw and Naples are fantastic cities, but which is better for your city-break or holiday?
We understand your dilemma. There is an abundance of travel guides for both cities, but few actually comparing them, and advising you which is the better for your trip.
This article will provide our unbiased and independent views of Naples and Warsaw, hopefully making your choice that little easier.
The article is divided into the following sections, and can be jumped to using the links:
• Introduction to the cities
• Scores and ratings
• Which one should I, friends, or family visit?
• When to visit and weather
• Who is the city suited for?
• The perfect 48hours (with map)
• Tourism details (where to stay? airport details?)
At once cutting-edge and steeped in history, vibrant and packed with chilled-out parks, Warsaw is the beating heart of modern Poland.
In many ways, it's a metropolis of contradictions. UFO-like shopping malls loom large on one corner, while a USSR-era skyscraper crowns the square next door. The Old Town looks medieval but it's actually a total reconstruction following the WWII. And the food scene oscillates from hearty Slavic dumplings in traditional milk bars to chic Michelin star restaurants.
But all that's part of the fun. You never really know what's around the corner in this happening capital. From romantic walks through Łazienki Park to sobering tales of anti-Nazi uprisings, masterworks of Polish art in the national galleries to fair-trade coffee roasteries in hipster Mokotow district, there's oodles to add to the itinerary.
In many ways, Naples is split in two halves; a town of shadow and light.
There's the Naples of pizza dough and La Dolce Vita, which is all about kicking it by the azure Tyrrhenian Sea with good food and great wine.
Then there's the gritty city, whose reputation comes from the Camorra mafiosos and the ramshackle alleys around Spaccanapoli street. Both are immersive and interesting in their own right
Put simply, Naples is one of the most authentic and enthralling cities in Italy. The self-proclaimed capital of the south, it's got Roman history and gorgeous landscapes in equal measure.
It promises something for honeymooners, backpackers, foodies, and outdoorsy types, but won't sugar-coat the experience with anything special for tourists.
The harbour front in Naples
The historic centre of Warsaw
Summary
Which city would I go to?
Naples
Which one would I recommend to my parents?
Naples (via a guided tour)
Which location for my 19-year-old cousin?
Naples
Which for my food obsessed friend?
Naples
Note: The above comparison does not consider the weather, and assumes travel at the best time of year - which is detailed later in this article.
The following sections compare the two cities and considers; how long to spend in them, when to visit, and provides suggested 48hours in each city (along with an interactive map).
The final section is tourism practicalities and includes which airport to fly into, what district to be based in and how best to explore the city.
We hope that you find all of this information useful, in planning your next exciting trip!
How long to spend each city?
That's a tricky one. Naples itself can be seen from tip to toe in just a couple of days. We'd say around 48 hours is perfect for tasting Neapolitan pizzas in legendary L'Antica Pizzeria da Michele and feeling the vibes down lively Spaccanapoli – the main drag in the historic centre.
For a longer stay of five to seven days, there's a catch: A lot of Naples's main draws are outside of town. Think the likes of Pompeii, the soaring crater of Vesuvius, and the Amalfi Coast. To add those on, you'll need to plan to come here for considerably more time.
Warsaw can be done quickly. Just a few days is all you'll need to see the Old Town, the Palace of Culture and Science, the grand parks, and the main museums. To squeeze the lot in, you'll need to make use of the extensive public tram and bus networks. It might be worth considering a 72-hour (36 PLN) ticket, which you can buy at newsagent kiosks.
Of course, if you've got extra time to spare, Warsaw will always be able to fill it. Once you've checked off the main attractions, there are stacks of more local sights, eateries, and activities to get stuck into. They include café hopping down in hipster Mokotow, tasting ethnic foods in multicultural Praga, and even day outings to the Kampinos Forest or the post-industrial city of Łódź.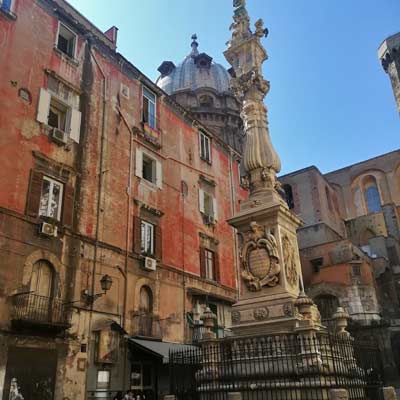 The obelisk of San Gennaro in the Piazza Riario Sforza
The Park Royal Baths Park (Łazienki Królewskie) is the largest park in Warsaw and a great location for a summers day
Spring is the best time of year in Naples. This southern city gets warm nice and early, so you can expect April highs in the 20s and even enough sun to hit the beaches of Gaiola and the local lidos if you want to take a dip in the Med. There are fewer other travellers about before the summer rush too, which means you'll find it more pleasant strolling the historic centre and Pompeii.
Of course, that's not to say the summer is bad in these parts. It most certainly isn't. Reliable warmth and loads of sunshine, topped off with a buzz about town, help make the months between June and August great options. Just be prepared to pay extra for hotels and flights, and don't expect the city to be quiet.
If you don't want to wrap yourself up in cotton wool and thermals every time you step outside, it might be best to avoid the winter months in Warsaw. From November to December, below-zero temperatures are normal in the Polish capital, along with icy rain, sleet and snow.
Most locals often say that spring and early autumn are the sweet spots. While summer's warm, it can often be humid, and there's no beach or ocean nearby to help you cool off. Months like April and May see milder days and cool nights, while September is prime time to wander the famous parks of Warsaw, as the trees begin to change colour and glow orange, ochre and yellow.
Warsaw really charms those who love fast-paced, buzzing capital cities. While the Old Town is a stunner, it's not the main show. Instead, you'll spend your hours exploring vibrant and lived-in neighborhoods that burst with fusion eats and fine dining. You'll embark on craft beer tours and have artisan breakfasts in kitschy cafes.
On the flip side, there's some seriously immersive history. The Warsaw Uprising Museum and the POLIN exhibitions are fine introductions to the struggle of the Polish people and Polish Jews during Nazi occupation. You've got the 800,000 pieces of the acclaimed National Museum to get through. And there are grand parks with Chinese gardens and monuments of Chopin.
Naples is a raw and immersive Italian city. It's got pizza places that are frequented by locals. It's got wine bars serving gorgeous Campanian tipples. It's lived-in and gritty and real. That makes it perfect for city hoppers who like atmosphere and energy. And the joys don't end there…
Just around the Bay of Naples are two of the country's most impressive archaeological sites: Pompeii and Herculaneum. They'll entertain the history lovers, along with the likes of the Castel dell'Ovo and the vast Museo Archeologico Nazionale. Loved-up duos might also want to make Naples a pitstop on a couple's break to the impossibly gorgeous Amalfi Coast that lies to the south.
Naples isn't for those who like small, easy-going towns where there's lots of room. It's crammed between the volcanos and the sea, so things are compact in the centre. It can also be quite hectic, with touts and traffic.
The gothic Saint Florian's Cathedral in Warsaw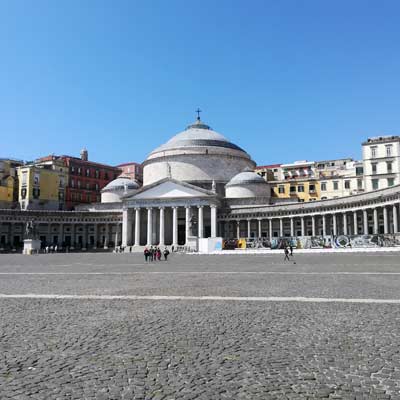 The Piazza Plebiscito is the grand square of Naples
Everything from millennia-old villas to rich art collections is on offer in this 48-hour guide to Naples. Oh, and there are plenty of chances to devour pizza – it's considered the very best in Italy.
Day 1: Start in the Quartieri Spagnoli. Ramshackle and rough around the edges, it's the perfect combo of Neapolitan grit and charm. There's bound to be a cafeteria serving cannoli (crunchy Sicilian pastries) and cappuccino there that takes your fancy.
You'll need the energy, because your next destination is the acclaimed Naples National Archaeological Museum. It's known to have one of the largest collections of Roman artifacts anywhere in the world, but the standout highlight is surely the Alexander Mosaic, reconstructed from the floors of Pompeii's opulent House of the Faun.
Once you're done in there, head south to the sleepless street of Spaccanapoli. Literally meaning 'the street that divides Naples', it does exactly as that implies. It runs right through the heart of the city, with drooping washing lines, street-food vendors and age-old churches looming on both sides. It will take a while to walk its two kilometres but it's all about breathing in the urban energy. What's more, the iconic L'Antica Pizzeria da Michele sits at the eastern end.
You'll be rewarded there by one of the best pizzas in town – choose between marinara (just fresh tomato passata and garlic) and bufalina (with buffalo mozzarella). After lunch, make for the port area.
That's crowned by the turrets of the Castel Nuovo, a grand fortification that has a history of more than 800 years. Behind that comes vast Piazza del Plebiscito. Prepare to be stunned by its sheer size and grand horse statues. For evening, a few cocktails and some tasty homecooked pasta awaits in the osterias of stylish Chiaia district.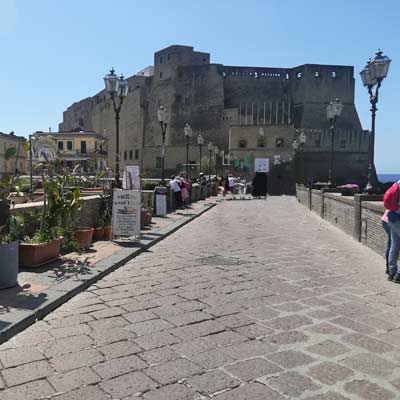 The Castel dell'Ovo (Egg castle) on the harbour front of Naples
Day 2: Rise early and get to the platforms of Naples Centrale station. That's where the trains depart for Pompeii in the morning. You might just have heard of that place – it was once an entire Roman resort town for the nobles and elite of the empire.
That is, until Mount Vesuvius suddenly erupted in 79 AD and flooded it with lava and ash. These days, the site is an amazing and haunting archaeological dig, with whole streets, entire villas, and even brothels complete with Roman wall art just waiting to be discovered.
It's likely Pompeii will take more than half of the day, while the most devoted history buffs can add on a trip to Herculaneum to boot. If not, head back to Naples city and go straight to the hilltops where the Castle of St Elmo keeps watch. That's the Vomero district, and it's famed for its sweeping panoramas of the Gulf of Naples and Mount Vesuvius. With that as the backdrop, find yourself a traditional trattoria or pizzeria and dine with a view of the metropolis to cap off the trip.
Pompeii was covered in 6m of volcanic ash when Mount Vesuvius erupted in AD 79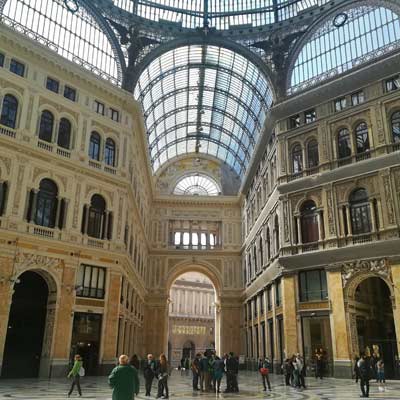 The elegant Galleria Umberto I shopping gallery in Naples
48hours in Warsaw
This perfect first 48 hours offers a fun-filled and exciting introduction to life in the Polish capital. It's a cocktail of wartime history, art, and – of course – good old Slavic beer.
Day 1: Hit the Old Town of Warsaw as early as you can. That way, you'll avoid the crowds, and – on a sunny day – get to catch the gilded medieval-style frontispieces in some perfect photography light. You certainly won't want to miss a moment on grand Plac Zamkowy (Castle Square).
The Royal Castle that gives it the name is the star of the show, with its orange-tinged exteriors and Baroque domes. It, like the whole rest of the Old Town, is actually deceptively new. The entire district had to be rebuilt from ruins in the wake of WWII.
Wait for the folk from the Free Walking Tour under Zygmunt's Column. Their two-hour odyssey through this part of the capital really digs down into the unique mosaic of architecture. After that's done, you can hit Nowy Swiat and follow the route Polish monarchs once took in and out of the city. It's now a buzzing modern thoroughfare with dumpling taverns and beer halls (perfect for lunch).
Follow it all the way south and hop a few more blocks and you'll soon be in Łazienki Park. It's an icon of the metropolis. An evening stroll here could start with a vision of the huge Chopin statue and end with a sighting of the Classicist Temple of Diana. For dinner, where better than hipster Mokotow? The district has everything from Tex-Mex to stylish sushi bars.
The Warsaw Barbican (barbakan warszawski) dates from 1540, and was part of the fortifications that encircle the city
Day 2: A selfie stop outside of the iconic Palace of Culture and Science starts day two with a bout of Soviet architecture. A 237-metre spire of a building, it was a personal gift to Poland by one Joseph Stalin. From there, a few trams stops can whisk you over to the Warsaw Uprising Museum. The enthralling exhibits of that showcase the heroic efforts of Poland's underground resistance during the fight against the Nazis.
Afterwards, make straight for the riverside and the leafy Vistula Boulevards. They're a hubbub of life in the summer months. Dog walkers meet buskers and street entertainers right by the water. (An optional drop into the family-friendly Copernicus Science Centre is a great addition if the rain's a-pouring). For the evening, hip and elegant Praga awaits. That's arguably Warsaw's most stylish area, with Lebanese kitchens giving way to bohemian bars and cool coffee shops.
The striking Palace of Culture, standing at 237m is the tallest building in Poland
Public transport in Warsaw means trams and buses. The network of more than 260 combined lines can take you virtually anywhere you want to go.
What's more – it's cheap! Just 3,4 PLN can get you from A to B on any route, but there are also 24- and 72-hour tickets that won't break the bank. You can get them at machines located at the stops, or in any kiosk dotted around town.
Saint Alexander's Church was constructed in honour of the Russian tsar Alexander I
Warsaw has two international airports. There's the larger Warsaw Frederic Chopin Airport, which can be reached by direct train from Warsaw's main station on line S2 or S3. The smaller Warsaw Modlin International Airport is a hub for European low-cost carriers. To go from terminal to city from there, you can ride the private Modlinbus, or catch the loop train that goes to both airports and then Warszawa Centralna.
A big Polish presence and a welcoming local vibe means there's rarely trouble for tourists in WarsawPickpockets, angry bouncers in clubs, and the classic European taxi scammers are the most common frustrations beyond that. .
When it comes to picking a hotel, it's typically best to be on the western side of the Vistula River. Some of the very best accommodation choices hide amid the cobbled lanes and squares of the Old Town. Others sit within walking distance, by Mirow or the Palace of Culture and Science. Being on the far side of the river means finding some cool aparthotels in local's favourite Praga.
Capodichino Airport, or Naples Airport, is the main gateway to the city by air. It's the fifth largest in the country, so should have lots of low-cost and premium services jetting into its runways. There's a metro line to the terminal in the works, but for now arrivals will need to use the Alibus to Naples Centrale station. Tickets cost about €5 each way and the travel time is roughly 15 minutes outside of rush hours.
Centrale Station is a main stop on the north-south railway line through Italy. It's easy to get there on high-speed links from Rome and even Milan. That's one of the most glamourous ways to arrive in Campania, offering gorgeous views of the countryside before pulling right into the heart of the city.
When it comes to booking hotels in Naples, take some time to consider each neighbourhood one by one. Most travellers are drawn to the Historic Centre (or Centro Storico in local speak). That's the home of the Duomo and the buzzing lane of Spaccanapoli.
It's probably one of the pricier and more lively areas to stay. Alternatively, go to Vomero for boutique B&Bs with great views, not to mention proximity to some of the coolest hipster eateries and cafes. Or, choose the down-to-earth Quartieri Spagnoli, which is filled with hostels and guesthouses that shouldn't break the bank.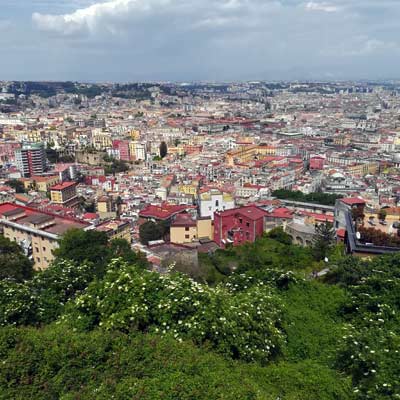 The view over Naples from the surrounding hills
Naples has a reputation for being Italy's roughest and most dangerous place.
It's true that crime rates are higher here than in the north. What's more, the mafia are still in action in these parts. You'll want to be a little more careful walking around areas like the Naples Centrale station and Quartieri Spagnoli.
Also try to stick to more touristy central districts, and don't walk alone at night. On top of that, be wary of street touts selling stolen goods, and be on the guard for pickpockets and drive-by thieves on scooters.