Paris or Budapest; a vs city comparison and travel guide
Both Paris and Budapest are fantastic cities, but which is better for your city-break or holiday?
We understand your dilemma. There is an abundance of travel guides for both cities, but few actually comparing them, and advising you which is the better for your trip.
This article will provide our unbiased and independent views of Budapest and Paris, hopefully making your choice that little easier.
The article is divided into the following sections, and can be jumped to using the links:
• Introduction to the cities
• Scores and ratings
• Which one should I, friends, or family visit?
• When to visit and weather
• Who is the city suited for?
• The perfect 48hours (with map)
• Tourism details (where to stay? airport details?)
Paris is famed as the capital of Romance, the epicentre of French culture and grand European art, and the home of iconic monuments like the Eiffel Tower. There's no question that it's an amazing city to explore.
Straddling the snaking Danube in the very heart of Europe is Budapest, the buzzing capital of Hungary. The largest city in the country, it's split into Buda (in the west) and Pest (in the east). They're joined by grand 19th-century chain bridges to form a continuous metropolis that's home to more than 1.7 million people.
Budapest magnetizes visitors with a mixture of rich history, bold architectural sites, café culture, urban spas and vibrant nightlife. Look one way and you'll see the elaborate Habsburg-era palaces that crown Buda Hill.
Look another and you find steaming bathhouses smelling of sulphur. And that's not even mentioning the heady ruin bars, the colossal Dohány Street Synagogue, and the wide boulevards left over from Communist times.
Summary
Which city would I go to?
Budapest
Which one would I recommend to my parents?
Budapest
Which location for my 19-year-old cousin?
Budapest
Which for my food obsessed friend?
Budapest
Note: The above comparison does not consider the weather, and assumes travel at the best time of year (which is detailed later in this article)
The following sections compare the two cities and considers; how long to spend in them, when to visit, and provides suggested 48hours in each city (along with an interactive map).
The final section is tourism practicalities and includes which airport to fly into, what district to be based in and how best to explore the city.
We hope that you find all of this information useful, in planning your next exciting trip!
How long to spend each city?
Fly-in visits for three days are enough to check off the major must-see sights of Budapest. This is a compact capital with good underground and bus links. You can get easily get across town – going from Buda Castle on one side of the city all the way to the Széchenyi Thermal Baths at the other takes less than an hour on public transport.
That said, Budapest has plenty of hidden secrets up its sleeve. You could easily while away a whole week enjoying cheap happy hours in the ruin bars, bathing in the Art Deco spas, and visiting islands up the Danube. If you're coming in summer, you could also extend a stay to include the art galleries and cobbled lanes of Szentendre, the mineral-rich waters of Lake Balaton, and the rustic Tokaj wine country to the east.
Paris could take a lifetime to explore completely. This is a living, breathing, sprawling capital city, which means even the locals can be surprised at the new cafes, bistros, and cultural events that come and go. For travellers, at least three days is a good idea.
That's probably just enough to see the mainstay sights and hop into the Louvre to catch a glimpse of the Mona Lisa. Trips to explore outer arrondissements and sample Paris's pumping nightlife should probably be between four days and a whole week, with more extensions needed if you want to hit the Loire Valley for wine tasting.
Paris is known for its café culture, it would be a shame to miss all those al fresco coffees on the canal side. Enjoyments like that are most likely to be had in the warmer months, which – this far north in France – means May to September.
Outside of those, the rainfall picks up and things get chilly. That said, the summer is the most expensive and busy part of the year, so you'll be contending with others for those selfies by the Eiffel Tower.
Visits pre-Christmas tend to be pricier than those after Christmas. If you're eager to cosy up and see Paris in the ice and cold, you might want to push your break to February or March. Those months tend to be nice, quiet and free from the tourist masses.
Late spring and early autumn are when locals often say Budapest is at its best. Temperatures average around 23-25 degrees in May and September. There's not an overload of rain then either. And it's perfect for avoiding the crowds of midsummer city breakers that come during the European holidays.
There's also something to be said for visiting Budapest in the midst of winter. Mercury plummets between November and March, and it's not uncommon to see the Danube freeze over with huge chunks of ice. What's more, the tenements and side streets of the Jewish Quarter and the historic Inner City areas ooze atmosphere on cold, snowy days. Just be sure to pack the thermals!
Budapest's layers of history combine with a sleepless nightlife scene, making this European capital a great pick for a whole host of travellers. The backpacking crowd can make for the Jewish Quarter's ruin bars and glug uber-cheap Hungarian beers in bohemian courtyards.
More culturally aligned visitors might prefer to unearth the past of the Hungarian empire on the grounds of Buda Castle, or pay their respects at the haunting House of Terror museum that chronicles the dark days of Stasi rule.
You might not feel totally at home here if you're a big fan of beaches and sun. Budapest is a landlocked city in a landlocked country, so the ocean is never near. Hungary's capital isn't the greenest of towns, either. There are parks, but they're really on the outskirts. It's very much an urban destination.
Paris is a master of art and culture. From the gold-gilded palaces of Versailles to the endless works of the Louvre and the Musée d'Orsay, you'll never be short on paintings or architecture or sculpture.
But the best Paris trips mix all that with a little bit of food, some classic sightseeing, and even a touch of hedonism. That makes this a versatile city-break option, offering wine bars and bucket-list attractions like the Eiffel Tower.
It's probably worth dodging Paris if you're not the sort who deals well with crowds, traffic, and big cities. The nearest place you can go to escape to nature are the forest parks on the outskirts. What's more, it can take a while to get from A to B in the French capital.
48hours in Budapest
Day 1: Start on the Pest side of the city. That's home to the huge Dohány Street Synagogue. It's one of the great landmarks of Budapest and reigns as the largest synagogue in Europe. From there, head to the wide boulevard of Andrássy, a spectacular thoroughfare and UNESCO site that's lined with Neo-Classical mansions.
Visit the House of Terror museum on one end to unravel the haunting past of Communist rule in Hungary. Then, go for a hard-earned spa session in the famous Art Deco baths of Széchenyi. Dinner can be nothing less than a paprika-smoked goulash in Gettó Gulyás, followed by a beer in the mind-boggling art gallery come bar that is Szimpla Kert.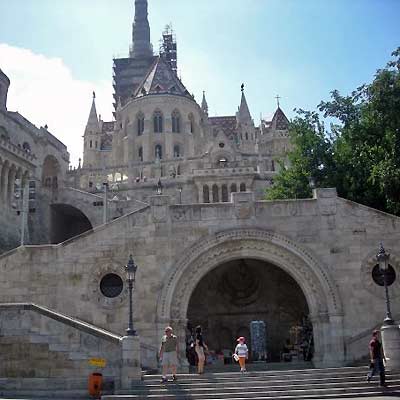 Pest cathedral
Day 2: Breakfast in the Central Market Hall that dates from 1897. Grab some sweet Hungarian pastries and then hop across the Danube on the handsome Liberty Bridge. In front of you, the elegant Gellért Baths are an optional stop. Or, push on up to the Fisherman's Bastion and the Citadella. These were once defensive outposts where Hungarian armies protected their capital. These days, they have stunning views of the Danube. A walk to the north takes you to the Castle District. You can tour the grounds and take in the architecture, or go inside for regal court rooms. Be sure to take some photos of the imposing Hungarian Parliament Building across the water. Finally, drop back into Pest for dinner in the Inner City. That area has everything from Tex-Mex joints to smoky 1930s speakeasies.
Paris in 48 hours is a hard ask, but this itinerary should help distil the city's preeminent culture, art and atmosphere into two short days:
Day 1: Breakfast time in the 19th arrondissement. Local and traveller joints meet there, with some charming cafés and bakeries lining Le Bassin de la Villette, where there are open-air swimming spots in the summer months. Then, move south-west along the picturesque Canal Saint-Martin.
It takes you to the beating heart of the city, just shy of where the Île de la Cité hosts the beautiful Cathedral of Notre Dame. Take your photos and then move across the Seine River to the famous Latin Quarter.
Day 2: Seek out the bohemian neighborhood of Montmartre to start your second day in Paris. It's known for its zigzagging cobbled streets and urban staircases, but also comes replete with cosy coffee houses with crispy croissants. At the very top of the hill where the district is draped is the gorgeous Sacré-Cœur. Its great travertine domes gaze over the city, so expect some awesome views.
On the way down, heading west, you might just pass by the infamous Moulin Rouge and its makeshift windmill all lit up in red neon. You can catch a metro from that to go along to Ternes. Emerge and you'll be looking straight down at the Arc de Triomphe, which marks the start of the Champs-Élysées – a place to shop till you drop.
Be sure to pull yourself from that grand boulevard with enough time (and light) left to see the Eiffel Tower in all its glory. The landmark is just over the river to the south, but the best view might be from the Trocadéro Gardens on the northern banks.
Paris is served by two large international airports. Low-cost carriers typically use Orly. From there, you can hop to Anthony Train Station and then switch to the urban metro line to reach the city. The trip costs around €12 in total. The more famous and larger airport at Roissy Charles de Gaulle is for long-haul fliers and premium services. It's linked straight to the Gare du Nord station in the middle of the city by regular trains that take around 35 minutes from terminal to town.
The Parisian transport network is vast and efficient. Travelers shouldn't need more than the RER and Metro combination. They can be caught to virtually all the major sights and areas around the capital. You can purchase a contactless card ticket to travel on all the lines – tariffs are €1.90 per ride.
Even among the French themselves, the Parisian people are renowned for being curt and a little rude. Remember that this is a working, living metropolis, so expect central areas to be busy with commuters and the like. You'll also want to be especially cautious on public transport when carrying large luggage or travelling at night, because pickpocketing and thefts certainly aren't unheard of.
Talking of the airport, Budapest Airport sits around 22 kilometers from the city center. You can get to and from the terminals using the dedicated express bus (€2) or by train (€2.70). Both options take between 30-40 minutes. Be sure to buy tickets at machines by the stops – they're more expensive when purchased direct from drivers.
When it comes to picking hotels in Budapest, you're best off focussing on the Pest side of the city. That's where the bulk of the best lodgings are located. Being in the Jewish Quarter can be noisy, but perfect if you want to hit the nightlife of Szimpla and the other ruin bars. The Inner City area is charming and quieter, with some boutique options. Meanwhile, Újlipótváros is a local's favourite, with its cool cafés and art galleries and sleek Airbnbs.
Budapest is largely safe and crime statistics are in line with European norms. Some well-known scams include taxi drivers who overcharge and sellers of fake goods. Pickpocketing is also a rare but real problem. Just be aware of your personal possessions and be vigilante, especially when on public transportation.
Price wise, Budapest is surely up there with the cheapest of European capitals. A large beer can cost as little as 500 HUF (€1.50). Food in a midrange restaurant will set you back between 2,000 HUF and 3,000 HUF (€6-9). Nights in hotels are noticeably less than in nearby Vienna, too.