Venice or Marrakesh; a vs city comparison and travel guide
Both Venice and Marrakesh are fantastic cities, but which is better for your city-break or holiday?
We understand your dilemma. There is an abundance of travel guides for both cities, but few actually comparing them, and advising you which is the better for your trip.
This article will provide our unbiased and independent views of Venice and Marrakesh, hopefully making your choice that little easier.
The article is divided into the following sections, and can be jumped to using the links:
• Introduction to the cities
• Scores and ratings
• Which one should I, friends, or family visit?
• When to visit and weather
• Who is the city suited for?
• The perfect 48hours (with map)
• Tourism details (where to stay? airport details?)
Ah, Venice – a bucket-list city if there ever was one! Famed for its myriad canals, vast plazas and grand churches, this is one of Italy's most visited destinations. Once the epicentre of its own trading empire that stretched right across the Mediterranean and even east to the Old Silk Road, it became rich on spices, precious metals, and cloth.
Mystical and magical, Marrakesh could have been plucked from One Thousand and One Nights.
A city of souks and madrassahs, it will enthrall with its spice markets, lantern bazaars, pottery hawkers, carpet stalls – the list goes on. All that resides in the throbbing medina area, anchored on Jemaa el-Fnaa square, where you'll dodge snake charmers, fortune tellers, monkey tamers, and dance troupes come the evening.
Around the medieval centre of town is a sprawling modern city. Neighborhoods there come in the form of stylish Gueliz, with its Parisian-influenced boulevards and palm-lined streets.
There's also the Jardin Majorelle, where the designer Yves Saint-Laurent has wrought the cacti plumes and the ponds into something truly special.
Summary
Which city would I go to?
Marrakesh
Which one would I recommend to my parents?
Venice
Which location for my 19-year-old cousin?
Marrakesh
Which for my food obsessed friend?
Venice
Note: The above comparison does not consider the weather, and assumes travel at the best time of year (which is detailed later in this article)
The following sections compare the two cities and considers; how long to spend in them, when to visit, and provides suggested 48hours in each city (along with an interactive map).
The final section is tourism practicalities and includes which airport to fly into, what district to be based in and how best to explore the city.
We hope that you find all of this information useful, in planning your next exciting trip!
How long to spend each city?
Two or three days is usually enough to get a good feel for the character and charms of Marrakesh.
In fact, lots of travellers say that any more than that is downright exhausting. That's because the touts and hawkers in the bazaars don't ever give up, and there's not much of a conception of personal space.
Still, 48 hours or so shouldn't be too overwhelming. And it will be plenty to check off the medina, the Majorelle Garden, stoic Koutoubia Mosque, and the lovely parks, all while having enough time to enjoy the enchanting riad hotels offered by this corner of the world.
Lots of travellers will be tempted to stay longer by the promise of the Atlas Mountains that loom on the horizon. If you can, a jaunt to those is definitely a good idea. It's a bus of a few hours up to the trekking hub of Imlil. From there, you can get a guide to navigate some gorgeous trails, and even climb the highest peak in North Africa (Mount Toubkal at 4,167 metres).
It's no secret that most people whiz in and out of Venice on big cruise ships, even if recent regulations are bringing a slow end to that.
Lots of weekenders also come on low-cost flights – Venice's Treviso Airport is a major hub for budget airlines like Ryanair and Easyjet. Those sorts of travellers can only ever really expect to scratch the surface of what's on offer.
The upshot? If you really want to explore this amazing city, you're going to need a little longer. If the budget allows, a week is perfect. That will be enough to see the mainstay sights, but also venture across to Murano and the Venice Lido, the party bars of Campo Santa Margherita, and the pathways of Giudecca.
We're almost tempted to say forget Venice in the summer entirely. During the Italian high season between May and August, the whole place is packed to bursting with tourists. You can barely swing a slice of pizza on the Rialto Bridge or down on Piazza San Marco.
What's more, the horizon is tainted with the outlines of huge cruise ships. Far better are the shoulder months of May and September. The crowds diminish considerably during those, but the weather still tends to be reasonable – think daytime temperatures regularly hitting the mid-20s.
The final weeks of February are also popular on account of the centuries-old tradition of the Venice Carnivale. Come then to join the revelry but be sure to bring along a flamboyant face mask (a must) and a good coat, because the winters can be cold.
It's probably a good idea to avoid the rest of the winter. Venice is one of the lowest-lying cities in the world, so flooding comes easy. In the last few years, there have been huge problems with water clogging up even the famous tourist hotspots around Piazza San Marco.
It's no secret that Morocco gets hot. In fact, the summertime here can see temperatures exceed 40 degrees on a regular basis. That's not good for sightseeing and walking around. In fact, it can be downright exhausting. What's more, the crowds spike in Marrakesh between July and August, as holidaymakers flock in, even despite the soaring mercury levels.
Much better options are spring, in April, and autumn, in October. They have average highs in the upper 20s, and hardly a drop of rainfall. It's probably wise to avoid Ramadan dates, however, because that can affect transport and hotel services. Marrakesh also offers winter sun. Drop in between November and March to find average warmth of 18 degrees and clear blue skies. Evenings can be cool then, so a jumper is advisable.
Feeling adventurous? Then, yes – Marrakesh is for you! An amazing place of spice smells and pandemonius markets, it's nothing like the cities you find on mainland Europe. You'll be hassled at every corner.
You'll dodge donkeys and hurtling minibuses. You'll encounter strange snake charmers and magicians. But all that is part of the fun, and what makes this Moroccan jewel the perfect place to break away from the comfort zone.
There's also something of a luxurious edge to Marrakesh. If you're willing to fork out for a hotel, then you can bag some seriously plush places, whether it's an inner-city riad with flower-filled courtyards or an oasis resort with infinity pools overlooking the Atlas Mountains.
Venice is a perfect break for those keen to check off another bucket-list city. Yes, it might be over touristed, but there's still something truly magical about the canals and the gondolas and the great churches here.
It's simply unlike anywhere else on the planet. All that adds an edge of romance to boot. So, consider this one if you're searching for a city-based honeymoon.
On the flip side, Venice isn't for the budget traveller or the outdoorsy person. Yes, you can hop on a bus to go north to the Dolomites, but they are still several hours away.
There are beaches, but they are nowhere near the best on the Italian east coast. And you can expect to pay over the odds for virtually everything, from hotels to ice creams to pizza.
Follow this fun-filled itinerary to make the most of your trip to Marrakesh. In just 48 hours, it packs in broiling tagines and stunning mosques, not to mention walks through the famous souks.
Day 1: Dive straight into the souks. Frantic and fun, these are the lifeblood of Marrakesh; ancient marketplaces where Berbers and spice traders once plied their trade. Things are now a little more tourist orientated. Head to D.El Maâden street and you'll find handcrafted leather bags and sandals.
Coming off that is the souk of the Babouches, where tanned slippers burst from every cobbler shop. You can then move to Souk Chouari to find whittled trinkets and statues in the carpenter's quarter. Still going north, you soon come to Souk des Teinturiers, where the pungent smells of tanning chemicals herald the leathermaker's market.
Double back and walk past Cafe Árabe to refresh with some mint tea and biscuits. Then it's into the heart of the medina, where the hubbub of Souk Semmarine unfolds with lantern shops, pastry vendors, and sparkling gold jewellery. Also be sure to breeze through the fragrant Souk Et Attarin, stacked with colourful soaps and all sorts of healing herbs.
Day 2: Don't be tempted by the allure of the bazaars right away. The other – more modern – half of Marrakesh awaits on day two. Find that to the west and north of the medina, holding the secret Majorelle Garden. This is unquestionably one of the city's (and all of Morocco's) most enchanting attractions.
A pleasure park that has been landscaped and curated by, among others, the French fashion designer Yves Saint-Laurent, it hosts a vivid blue villa and ponds peppered with lily pads. Beyond is the district of Gueliz. That was built in the image of France, so expect wide boulevards and chic café-bakeries, along with classy clothes stores and bistros.
For lunch, the quiet Cyber Park is a great place for a picnic. It's got babbling fountains and benches in the shade of date palms, all framed by the snow-capped Atlas Mountains. It's also a short walk from there to Jemaa el-Fnaa – the great plaza in the middle of the city.
Arrive in the early evening and you'll see entertainers of all sorts. Curious dancers, mystics speaking in tongues, the infamous snake charmers – they all make an appearance. To the side is the wonderful Koutoubia mosque, which looks especially handsome during sunset.
48hours in Venice
Delve into the secrets and the uber-famous sights of Venice with this 48-hour itinerary. It will take you from the legendary walks of the Rialto Bridge all the way to the hidden glass workshops of Murano, revealing some of the most enthralling corners of the iconic City of Canals.
Day 1: Rise early and race to the Piazza San Marco. Beating the crowds to the vast plaza is a great way to see it in all its glory. As the sun rises, watch as the light caresses the red-brick Campanile (a 98-meter belfry dating from the 12th century) and the bulbous domes of St Marks Basilica.
If you've managed to arrive before the queues start to form, be sure to duck into the latter. It's free to enter and has intricate Byzantine apses and frescos. Right next door is the Doge's Palace. Again, if it's too late you can certainly expect a queue. If not, head behind the Gothic frontispiece to wander the old palace of the erstwhile leaders of the Venetian republic.
Then head north through the narrow alleys of the San Marco district. It's a beautiful maze of little side streets, occasionally punctuated by a watery canal. You're sure to find a cafeteria there for lunch, before you go straight for the Rialto Bridge, made famous by Shakespeare and painters. Cross it and hit the buzzing markets of Ruga dei Oresi, which abut the small Campo Bella Vienna, a top spot to sit with a cold beer and watch elegant Venetian gondolas drift in and out of the canals.
If you choose not to ride one, you can push on to see the San Giacomo di Rialto (probably the oldest church in the whole city!) and then the neighbourhood around Campo Santa Margherita. That's a nightlife mecca, where you can unwind with a prosecco or ten.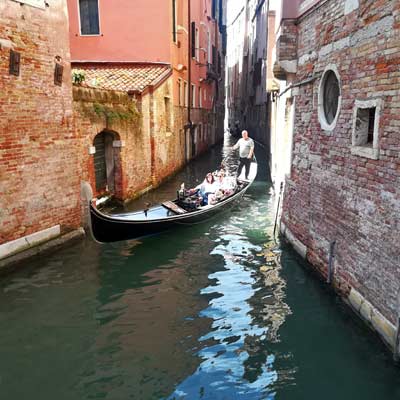 No trip to Venice is complete without a gondolas ride
Day 2: Your second 24 hours in Venice is all about hitting the different districts. We'd recommend starting on the northern side of the archipelago. That's home to characterful Cannaregio; the old Jewish Quarter. These days, it's got canal-side cafés next to the fascinating Muso Ebraico di Venezia, which tells the story of Venetian Jews over the centuries.
From there, move west to Santa Croce. Within, you'll glimpse the lived-in city. It's the only place where cars can travel on the archipelago and it has newer churches and loads of bakeries and shops. Hop the Grand Canal ferry (number 3) from there to Murano.
Pastel-painted workshops meet the water on that island, in an area that's been famed for centuries for its glass making. If you're interested, the Museum of Glass is a great place to start.
Alternatively, enjoy a lunch on the lagoon and then get back on the boat, travelling all the way through the Grand Canal to the Dorsoduro. The zone has beautiful broadside views of Piazza San Marco at sunset. It's also home to plenty of lovely osterias with northern Italian wines and delicacies to get stuck into.
Marrakesh
Marrakesh Menara Airport sits just to the west of the heart of the city. It's now a major arrival point for low-cost carriers coming out of Europe, but also has premium flag-carrying airlines and domestic services coming into its runways. The distance from terminal to souk is just three miles.
However, you'll need to push a hard bargain with the taxi drivers outside for even that short journey – they're renowned for their scams and inflated prices. A fair rate is around 40-50 MAD. There's also a bus. Look for the No 19 Airport Express costing 30 MAD with a free return included if you make the trip within a fortnight.
Hotel wise, there's really nothing like a classic Moroccan riad. In fact, we'd go as far as to say don't book anything else in Marrakesh. They're old, Berber mansions that are centred on a tiled courtyard that either has a babbling fountain or a small splash pool.
You can pay less and get a more traditional one, but the luxurious riads are an experience in themselves. They typically exist in the medina area and on its fringes.
Venice is largely safe and easy to travel. However, there are some things worth knowing before you go. First off, the overload of tourists has seen a huge spike in pickpockets over the years. So, always keep an eye on your valuables, especially in uber-popular spots like the Piazza San Marco and Erbaria.
Second, be wary that Venice's side streets are rarely empty. You'll always need to dodge a crowd and watch where you're walking. When it rains, flooding is common, so pack waterproofs and wellies if you're visiting in the winter months. Also, keep an eye out for pigeons. They're a nuisance on the piazzas and can even carry disease.
There are two airports serving Venice and its region. The largest and the closest to town is the international hub at Marco Polo Airport. That's got connections going all around the world. It's linked to the city by the ATVO bus (arrives at Piazzale Roma) and to the train station in Mestre.
If you're flying low-cost, it's more likely you'll arrive at Treviso Airport. That sits some 20 miles to the north, with buses that link to the archipelago in around 70 minutes for about €10 each way.
Choosing where to stay in Venice is very important. Fly-in, fly-out tourists will want to be in the vicinity of Piazza San Marco. The area is laced with expensive and classy hotels, but also has some more affordable options, all within walking distance of the top sights.
If to save some cash and get somewhere a little quieter, you could sleep closer to Dorsoduro or the Cannaregio, or even out in Murano. The cheapest places of all will be on the mainland, in Mestre.